Stock performance: some winners, some losers
The average stock performance in the Forge River Research Permian Pure Play 14-stock universe for the prior week was a positive 0.51% return. This is a 0.09% underperformance versus a market return of a gain of 0.60% (based upon the SPDR S&P 500 Trust ETF). This was a much better performance than last week's 4.07% decline.
The big winner for the week was Approach Resources (NASDAQ:AREX), up 6.20%. AREX benefited from significant insider buying activity (see our Insider Activity section for details). The big loser for the week was Resolute Energy (NYSE:REN) falling 4.20% for the week. We wrote an article this week on REN titled "Resolute Energy - A Resolutely Unprofitable Shale Oil Producer?"
For the past 52-week period, our 14-stock Permian Pure Play index has underperformed the SPDR S&P 500 Trust ETF by 24.72%, including six stocks that are underperforming by 33% (two over 50%).
See chart below for details of the stock performance of our Forge River Research Permian Pure Play 14-stock universe (note, RED is underperformance and GREEN is overperformance versus SPDR S&P 500 Trust ETF).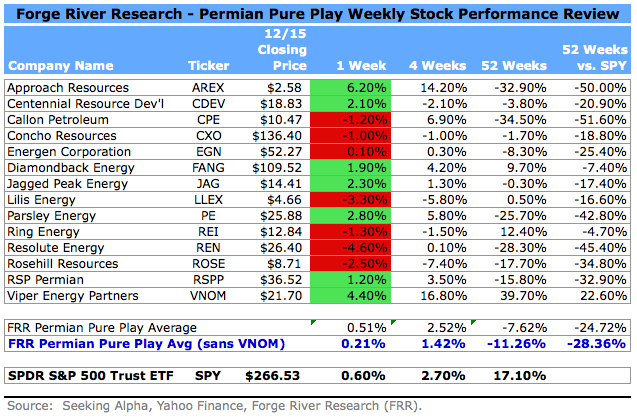 Oil prices up slightly for the week
West Texas Intermediate (WTI) crude oil price ended the week at $57.30 per barrel. WTI crude oil prices increased $0.15 (or 0.26%) from the prior week close. Brent was down about 0.27% for the week.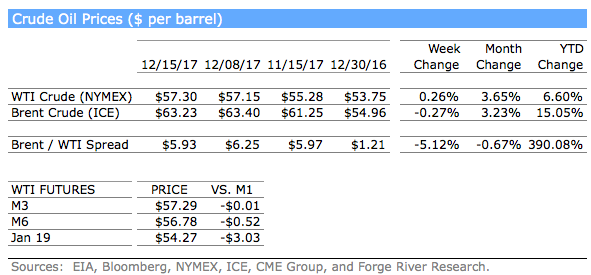 WTI crude remains in backwardation with M3, M6, and January 2019 trading at discounts of $0.01, $0.52, and $3.03; respectively.
Speculators remained bullish on oil. See chart below complements and permission of John Kemp, Senior Market Analyst with Reuters (Twitter: @JKempEnergy).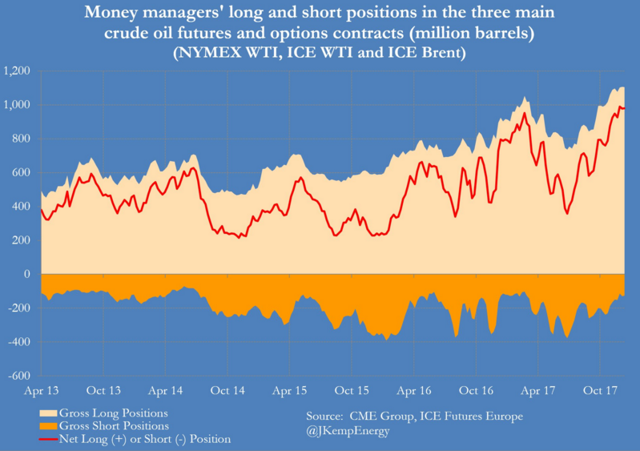 The Brent/WTI spread remains significant helping to drive America crude oil exports.
Getting Permian oil to market, could pipeline capacity derail growth and profitability again?
On December 11, 2017, the Midland Reporter-Telegram (MRT) published an article titled "Permian production expected to exceed pipeline capacity." The gist of the article is that the extraordinary growth in production from the Permian basin may outstrip the ability of getting oil to markets with devastating effects on oil driller's profits.
The Energy Information Administration (EIA) expects the Permian basin to grow oil production by over 800,000 barrels per day in 2017, ending the year at an estimated 2.69 million barrels per day.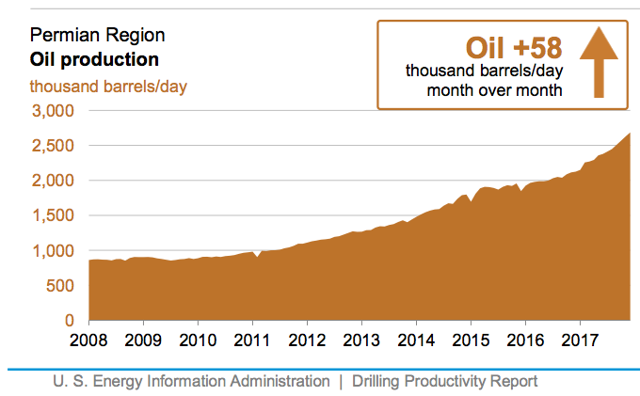 While oil pipeline capacity has come online in 2017 and is expected to continue to grow in the future with multiple projects targeting completion in 2019, a couple of concerns remain: American Petroleum Institute (API) gravity mismatch with local refining requirements, regulatory delays, and access to export markets.
The growth in Permian production is creating a surplus of light-oil in America, whose refineries use a combination of light and heavy crude. There are currently three refineries in the Permian area which process 300,000 barrels per day (bpd) and MMEX Resources Corp. (OTCPK:MMEX) expects to add a fourth with 100,000 bpd. But these do little to address the surplus in light crude oil. The surplus has created a widening of the Brent/WTI spread. This provides export opportunities where WTI could get higher waterborne rates, however, takeaway capacity to ports capable of exporting is constrained in the near term.
Several major pipeline projects are underway and are scheduled to begin operations in the next couple of years. Takeaway from the Permian is expected to get tight in the end of 2018 and into 2019 as new builds of these long distance pipelines take 12-18 months. Investors should monitor developments carefully for any details as the ramp in Permian production is making takeaway capacity just-in-time operation.
A few of the key pipelines to follow:
The 730-mile EPIC pipeline that will carry crude and condensate directly to Corpus Christi, on the Texas coast (TexStar and JV partners Castleton Commodities International and Ironwood Midstream Energy Partners). TexStar and its partners say they also expect the EPIC pipeline to be operational in 2019.
Cactus Pipeline expansion to 390,000 barrels per day by Plains All American (NYSE:PAA).
New 571-mile NGL pipeline, called Shin Oak, will carry NGL's from the Permian to the Houston area is being built by Enterprise. The Shin Oak pipeline scheduled for completion in 2019 will initially transport 250,000 barrels of liquid but could be expanded to 600,000 barrels per day.
Magellan Midstream Partners (NYSE:MMP) and PAA are expanding the capacity of their direct Permian-to-Houston BridgeTex pipeline from 300,000 to 400,000 barrels per day.
A 510-mile, 24-inch line to transport NGLs from the Permian to near Corpus Christi with 300,000 capacity was announced in August by Houston-based Permico Energia. Construction of the system is expected to begin in 2Q18 and be operational by 4Q20.
The Gray Oak Pipeline, announced Monday, December 11, 2017, by Phillips 66 (NYSE:PSX) and Canada's Enbridge (NYSE:ENB) will bring crude oil from West Texas's Permian Basin to export and refining hubs near Corpus Christi, Houston, and Freeport. Gray Oak will have an initial capacity of 385,000 barrels of oil equivalent a day with room to expand.
On December 12, 2017, The Post of Corpus Christi Commission approved a lease agreement with Vitol Inc. and Harvest Pipeline Company for the development of a state of the art crude oil export terminal on Port property. No timetable was provided with regard to achieving operations. However, it is expected to provide waterborne access to Permian oil.
We believe Permian pure play oil producer investors must be aware of the risks posed by market access for the oil produced. Differentials due to transportation can be high and disruptions or tightness in takeaway capacity could lead to very dramatic expansion in differentials and reductions in the net prices realized.
In 2014, the Brent/WTI spread soared to about $20 due to pipeline capacity constraints to move oil to market. Currently, some Canadian oil producers are experiencing well-head prices $26 below market rates (West Canadian Select discount to WTI) due to the recent shutdown of the Keystone Pipeline and rail bottlenecks. In a year where oil hedges may provide a headwind, these experiences are an important reminder of why oil producers hedge their production.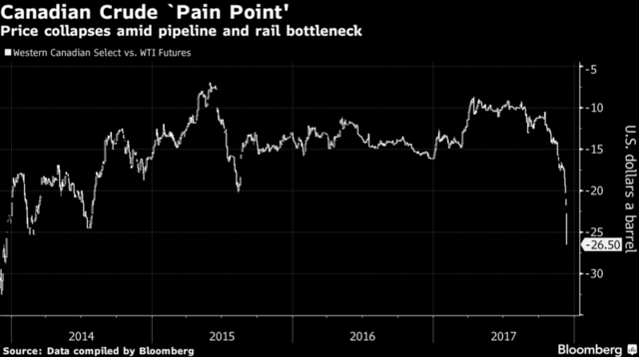 Company-specific news within our Permian Pure Play Universe
The big news this week among our Permian Pure Play Stock Universe came from Rosehill Resources (ROSE) announcing completion of an acquisition and associated financing transactions (see details below). We published an article discussing the announcement titled "Rosehill Resources Guides To 2018 Cash Burn Of $200M+, Completes Delaware Basin Purchase."
In addition, we published an article titled "Resolute Energy - A Resolutely Unprofitable Shale Oil Producer?" Otherwise, things were quiet ahead of the holiday season.
Approach Resources
AREX saw some strong insider buying activity during the week (see the Insider Activity section below for more information).
Concho Resources (CXO)
CXO announced it will host a conference call on Wednesday, February 21, 2018, at 8:00 AM CT (9:00 AM ET) to discuss fourth quarter and full-year 2017 financial and operating results. CXO plans to announce fourth quarter and full-year 2017 results on Tuesday, February 20, 2018, after close of trading. Conference Call Information: Dial-in: (844) 263-8298, Intl. dial-in: (478) 219-0007, Participant Passcode: 2989439. To access the live webcast, visit CXO's website at www.concho.com. The replay will also be available on CXO's website under the "Investors" section.
Diamondback Energy (FANG)
FANG saw some insider selling activity during the week (see the Insider Activity section below for more information).
Jagged Peak Energy (JAG)
JAG will soon have a new corporate address: 1401 Lawrence St. Suite 1800, Denver CO 80202: Effective December 18, 2017. All of its phone and fax numbers will remain the same.
Resolute Energy (REN)
On December 11, 2017, we wrote an article discussing our view of REN's recent completion of its transition to a Permian basin "Pure Play" and upcoming 2018 guidance where we expect management to discuss its aggressive growth strategy, capital plan, and commitment to a massive cash burn. Please read our article titled "Resolute Energy - A Resolutely Unprofitable Shale Oil Producer?" to learn more.
REN's stock fell 4.6% this week and is down 28.30% over the past 52 weeks, underperforming the SPDR S&P 500 Trust ETF by 45.40%.
REN saw some insider selling activity during the week (see the Insider Activity section below for more information).
Rosehill Resources (ROSE)
After the close of the market on December 14, 2017, ROSE issued a press release announcing that it had completed a $78 million South Delaware Basin acreage acquisition. In addition, ROSE announced the closing of $250 million in financing (a combination of debt and preferred stock). We covered the details of the transaction and our reaction to the news in our article titled: "Rosehill Resources Guides To 2018 Cash Burn Of $200M+, Completes Delaware Basin Purchase."
RSP Permian (RSPP)
RSPP saw some insider selling activity during the week (see the Insider Activity section below for more information).
No News is, well … no news: All was quiet at Centennial Resource Development (CDEV), Callon Petroleum (CPE), Energen Corporation (EGN), Lilis Energy (LLEX), Parsley Energy (PE), Ring Energy (REI), and Viper Energy Partners (VNOM)
Insider activity
This week, we saw some insider selling activity AREX, FANG, REN, and RSPP. See details in the chart below. The highlight of the week was the substantial AREX insider buying, a positive sign for the company in our view. The insider selling at FANG remains fairly sustained.
Net insider activity for the week were sales of $190,931 ($1,629,230 insider buys and $1,820,162 sales) versus the prior week's $5,016,201 in insider sales.

Permian basin rig count falls for first time in 8 weeks
On Friday, December 15, 2017, Baker Hughes (NYSE:BHGE) reported that the Permian Basin oil rig count dropped for the first time in eight weeks. The Permian basin oil rig count fell 3 rigs to 397. Total U.S. oil rigs total 747, down four rigs from the prior week, with the Permian Basin now accounting for 53.15% of the total.
The Permian Basin rig count has now increased for the seventh consecutive week, up 22 rigs over that time period. The last down week was reported October 20, 2017.
The number of Permian basin oil rigs has grown 53.9% since last year's 258 rigs reported on December 16, 2016. Over the same time period, total U.S. oil rig count has grown 46.7% and all other basins (excluding the Permian) have grown 38.9%.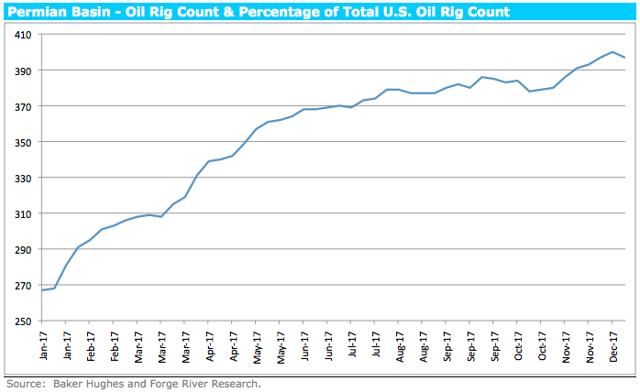 Selected valuation metrics
Forge River Research's Permian Pure Play universe of 14 stocks currently trades at 12.6x EV/EBITDAX (based on a 3Q17 run rate EBITDAX).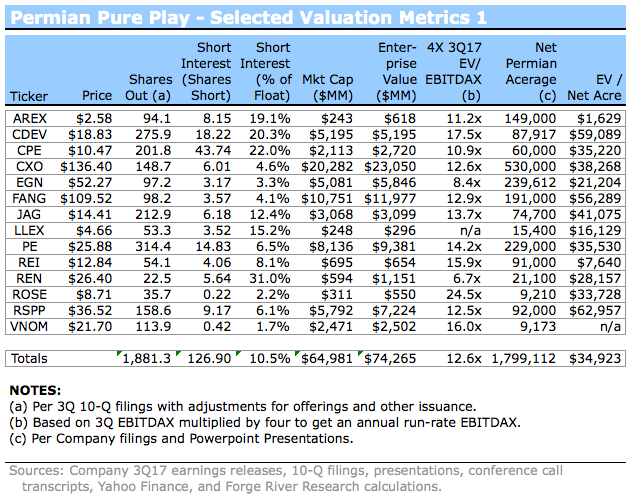 Short interest is about 10.5% for the group as of the most recent measurement data available.
Revenue continued to grow strongly for the Permian Pure Play universe, up 90.6% 2017 YTD versus the 2016 YTD period. Cash flows from operations (CFO) has increased a little more slowly than revenues at 83.5% YTD. As a result, CFO margin has declined slightly to 65.4%.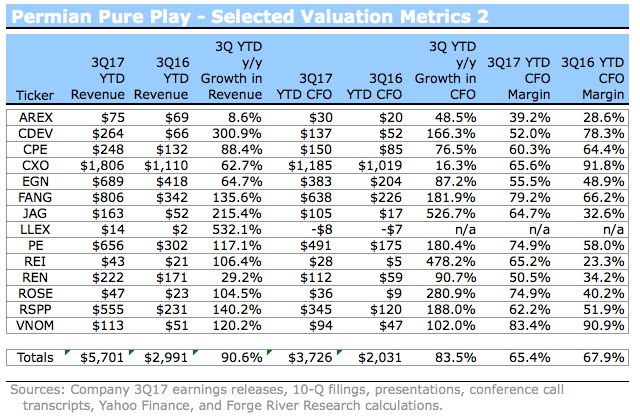 In the weeks ahead, we will work to highlight EBITDAX growth and free cash flow for our Permian Pure Play Universe. In addition, we hope to present more trending of metrics and insights on these going forward. Please feel free to contact us with metrics you find more useful, and please note that those metrics presented are a starting point for our work and the same should be true for others.
Permian mergers and acquisition (M&A)
The big news on the M&A front this week, was Oasis Petroleum Inc.'s (OAS) Monday, December 11, 2017, announcement of its $946 million entry into the Permian with a 20,300 net acre purchase in Delaware Basin. OAS paid a rich $46,600 per net acre. To get our perspective, please read the article we published titled "Oasis Petroleum Stock Crushed (Down 17.2%) On Announcement Of Entry Into Delaware Basin."
Read Prior Weeks Permian Basin Pure Play Oil Producer Weekly Reports
Permian Basin Pure Play Oil Producers Weekly - Week Ending 12/08/2017
Other Permian Basin Related Reports Posted This Week:
Please feel free to suggest improvements or ideas for coverage for our Permian Base Pure Play Oil Producer Weekly and thank you for reading and supporting our efforts.
Disclosure: I/we have no positions in any stocks mentioned, and no plans to initiate any positions within the next 72 hours. I wrote this article myself, and it expresses my own opinions. I am not receiving compensation for it (other than from Seeking Alpha). I have no business relationship with any company whose stock is mentioned in this article.