Listen to any central banker and they'll share their worst fear in two words, "wage inflation." By all accounts, wages should be rising closer to the 3 percent rate that prevailed during the previous recovery. Surveys express the difficulty employers have recruiting skilled workers, an environment that intuitively suggests paying up on paydays.
As a result, every data release that shows wage pressures are subdued leaves central bankers scratching their heads. Chances are policy makers are missing a much more traditional form of inflation they've long since written off as extinct. Why the singular focus on wages?
The answer might simply be a matter of the idea of goods deflation being ingrained into the thinking. Goods prices have been pressured downward for a long time. But what if price pressures, which will eventually filter through to wage inflation, are building in the pipeline?
The Federal Reserve added anecdotal evidence to a wide swath of survey data suggesting that getting product out the door has become pricier. The Fed's latest Beige Book said "several Districts noted input cost increases in manufacturing. In many cases, these increases in transportation and manufacturing were passed through to consumers." It's hard to recall many instances of being able to push price pressures onto customers in the current recovery.
Indeed, for some, pricing power remains an-out-of-reach luxury. As such, some producers have had to turn to the debt markets to shoulder increasing costs. The most recent Credit Managers' Index of the National Association of Credit Management has shown leverage rising across a range of manufacturing and service companies.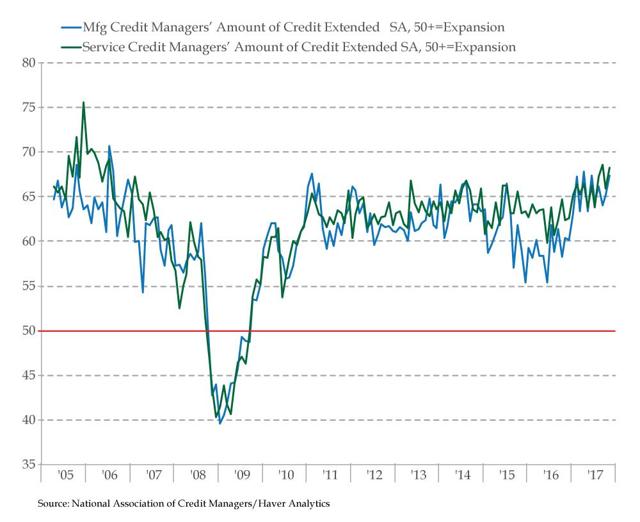 No doubt, some of the pressures arise from the huge rebuilding efforts after the natural disasters of 2017. Look no further than the price of lumber, which spiked to a 13-year high over the summer as the hurricane season quickly became one for the record books.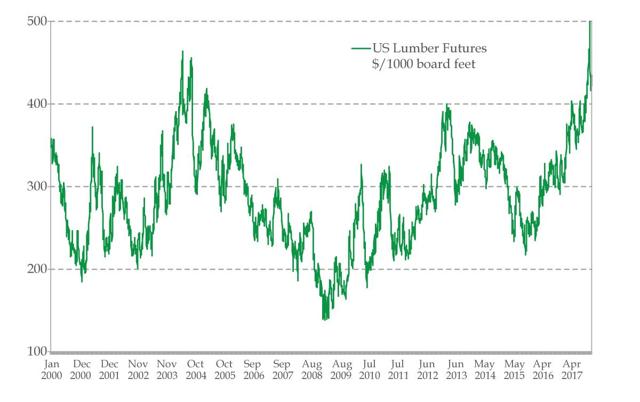 Lumber prices are up by about a quarter over the past year and analysts expect the gains to be largely sustained, underpinned by expectations that housing starts will remain high in part to repair and replace homes.
Nonetheless, price pressures across a wide range of products are a nationwide phenomenon and have been prevalent since the start of the year. As for the coming year, survey data reveal a significant rise in those who expect prices paid to be higher in a year's time compared to the start of the year. If history is any guide, the higher inflation expectations that follow will bleed into the buying ahead of products and further supply-chain bottlenecks.
As for any notion that this phenomenon is localized, purchasing managers' indexes covering California, Dallas, Kansas City, New York, Richmond, Philadelphia and western Washington tell the same tale: Managers expect higher prices. Chicago, Georgia and Milwaukee managers also report they're currently paying higher prices.
The question is, will policy makers at the Fed ever pay attention to producer prices again? It's telling that economists roundly disregard the producer price index released every month and guide investors to pay heed only to the consumer price index report that follows.
And yet, producer prices are accelerating at the fastest pace since 2012. That has begun to seep through to wages in certain industries. For the past three months, wage growth in manufacturing, transportation and warehousing is running at the highest levels of this cycle. It's no coincidence these industries are also among those experiencing the greatest pipeline price pressures.
The Fed's singular focus on aggregate wage growth may be more than myopic; it could even be misleading.
Perhaps the start of the year's data will be sufficiently strong to turn heads. The January PPI report, to be released in mid-February, will reflect companies resetting their prices for the New Year. Look as well for the deflationary impetus from China to fade from import prices.
At this late stage in the economic cycle, it's difficult to envision a wholesale reacceleration in economic activity. It's wholly plausible, however, for a spike in inflation to alarm Fed policy makers grappling with the biggest issue of 2018.
Should the central bank continue tightening to prevent burgeoning inflation from running too hot? Or should Jerome Powell, the chair nominee, and the newly installed Federal Open Market Committee voters tap the brakes for fear of doing as the Fed always has, that is overtighten the economy straight into recession? To say this next generation of central bankers will face tough decisions in the near term is putting it lightly.