The Philadelphia Gold and Silver Index (XAU) has been trading in an extremely tight range of late. When the market trades in a state where volatility is extremely compressed, price action can be pretty explosive when it breaks out from either side. I observe XAUUSD breaking out towards the downside of late, and I think this move downwards still has legs.
From the daily price chart below, XAUUSD has been trading in the 1263 to 1300 range for the past few months since September, as demarcated by the two horizontal lines. Of late, price action in the shiny metal broke the lower support, and remains below it at present.
You can observe the compression of volatility for the past few weeks when XAUUSD remained in that aforementioned range. As such, I expect the breakout to the downside to be potentially violent. Right now, price action remains below the 1263 support (the breakout zone), but is testing it tentatively.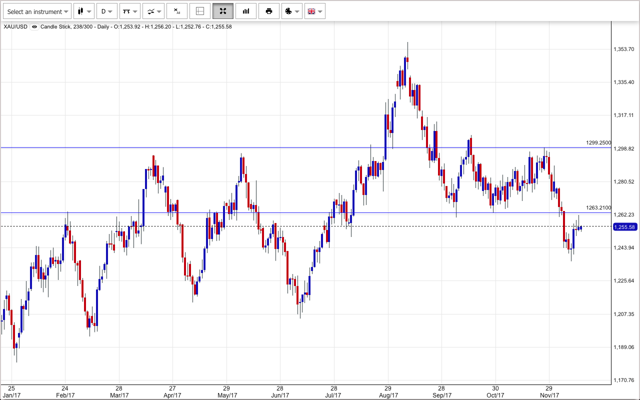 Now, looking at the weekly chart below, a more zoomed-out picture shows XAUUSD trading in a 1120 to 1360 range for the past 2 years, since 2016. We have had 2 rejections at the 1360 level, and now price action seems to be gradually slumping lower. The expansion of volatility following the breakout from the tight daily range could be the impetus for XAUUSD to trade lower towards the 1120 level, or at least the 1200 psychological level to start with.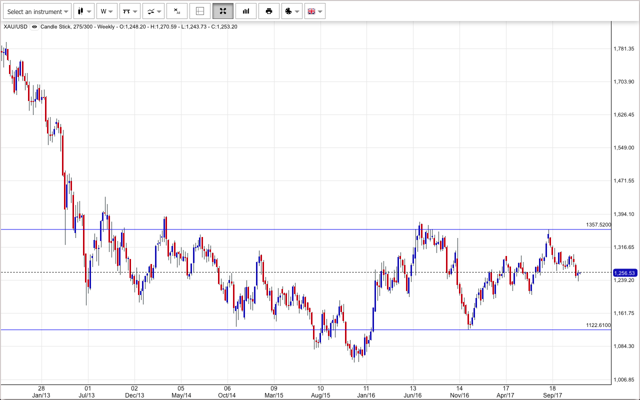 XAUUSD being a safe haven, has not been able to gain much upside traction despite a series of upheavals in the geopolitical arena.
First, North Korea has been testing the patience of Trump and neighbouring countries with its ballistic missile tests. Secondly, to add fuel to the ongoing tensions in the Middle East, Saudi Arabia was alleged to have driven a wedge further into the Shia-Sunni divide in the region by interfering with politics in Lebanon. This has led to growing tensions between Iran and the US-Saudi allegiance, which might result in Iran restarting its nuclear programme should the US choose to resume trade sanctions against the Shia state. Thirdly, Trump has recently recognised Jerusalem as the capital of Israel, further stoking tensions in the Middle East.
All these geopolitical events should technically increase the demand for safe havens like XAUUSD, but even with such headlines dominating the media, XAU has found it hard to stay supported. This is a further indication of bearish price action going forward.
There are further possible catalysts for XAUUSD to trade lower, by virtue of a stronger USD as well. We have tax reform in the US, which is largely seen as a USD-positive. The House and Senate are in the midst of fine-tuning the details of the plan, and we could see the bill signed by Trump by year-end. Next, Trump's administration has also hinted that they would be starting on their infrastructure plan soon, with details likely being released early next year.
As such, in the face of falling XAU prices amidst an environment that should be supportive for safe haven assets, coupled with potentially progressive developments in both tax and infrastructure plans in the US, there is a strong probability we could see XAUUSD going lower.
I would suggest going short XAUUSD at 1260, with a stop loss above the breakout zone at 1285, coupled with a take profit target at 1200.
Disclosure: I/we have no positions in any stocks mentioned, and no plans to initiate any positions within the next 72 hours.
I wrote this article myself, and it expresses my own opinions. I am not receiving compensation for it (other than from Seeking Alpha). I have no business relationship with any company whose stock is mentioned in this article.