I know that many investors probably think that the mere idea of a F.A.N.G. type name paying a shareholder dividend is sacrilege to the disruptive growth narrative that has led to so much success in the markets over recent years. If you're one of those people, I apologize for even bringing it up. However, when I look at a company like Facebook (FB) and its incredible market penetration, I can't help but think this company is nearly mature (or at least, closer to maturity than infancy on the corporate evolution spectrum) . Typically, once a company matures in its industry and growth starts to slow it begins to make more and more sense for management to return cash flows to shareholders as the need for competitively driven R&D diminishes. With this in mind, I see two likely options for Facebook moving forward. One, to initiate a shareholder dividend and use its massive cash flows to generously reward shareholders, or two, take the Tencent (OTCPK:TCEHY) route and use those cash flows to invest in other attractive tech names, becoming a high growth holding company of sorts.
This is the recent study that inspired me to begin putting this piece together: Piper Jaffray's Fall 2017 Teen Survey. As investors, we're always looking to the future so I enjoy seeing what the up and coming consumers think. Honestly, the most interesting aspect of this study to me didn't even involve Facebook. Since Apple is my largest holding I'll go ahead and give that wonderful company a quick shout out; I was amazed to see that 82% of the teens polled said they they expect their next phone to be an iPhone. I would have expected a majority, but not such a high one. People always talk about the stickiness of AAPL's ecosystem and this, combined with the popularity amongst the younger audience seems to bode well for Apple's domestic future.
But, back to Facebook. The results regarding the popularity of the different social media platforms amongst teens was actually a bit disappointing for me as a Facebook shareholder. Both Facebook and Instagram seem to be losing steam when it comes to teens, with Snapchat (SNAP) trending upward and taking a significant lead. The FB properties weren't the worst performers, with Twitter (TWTR) losing the most popularity amongst teens over the last 3 years, but I own shares of FB and not TWTR, so this is of little consolation to me.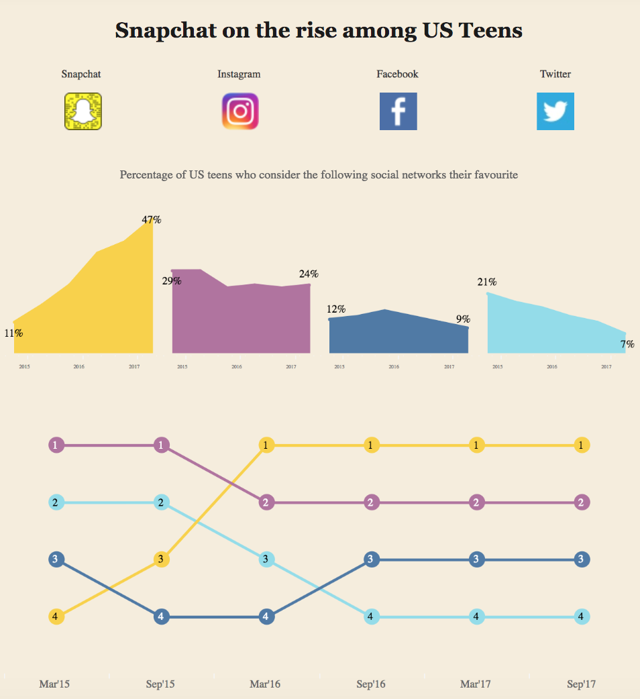 Source: Tableau
Even though the teenage demographic in the U.S. seems to have cooled a bit on Facebook/Instagram, FB's properties are still posting quarterly DAU/MAU growth, which came in at 1.368b and 2.072b people, respectively. Isn't that incredible?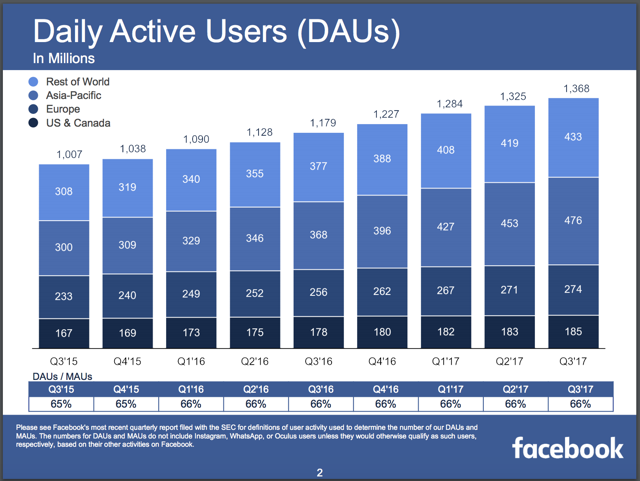 Source: Facebook Q3 Slideshow, page 2
There are ~7.6b people living on planet Earth today. It's expected that just over half of the Earth's population has regular access to the internet (with ~80% penetration in the developed world and ~40% penetration in developing economies). China, where Facebook is currently blocked, as ~1.4b citizens. Assuming that the global internet penetration doesn't change from its ~52% market excluding Chinese data, that means that there are ~3.2b non-Chinese internet users (7.6b-1.4b x 0.52). Assuming these back of the envelope type figures are somewhat accurate, this means that ~65% of the global population that has the option to use one of Facebook's services on a monthly basis does so.
In a highly competitive market, it's amazing to me that Facebook has been able to garner such a high percentage of market share. Now, obviously this market share isn't a take all, be all situation. Many individuals use multiple social media platforms. But even so, first mobile mover advantage aside, I'm sincerely impressed with FB's ability to adapt to changing market trends and sentiment, maintaining relevancy in a relatively unpredictable, volatile market.
Speaking of incredible statistics, it seems pretty crazy to me that roughly half of the world's population doesn't have access to the internet. Technology has become such a big part of my life that I take it for granted. The other night we had a wind storm and the power went out for a few hours and I hardly knew what to do with myself. As you can see on this Statista graphic below, global internet penetration has been rising steadily over the past decade or so.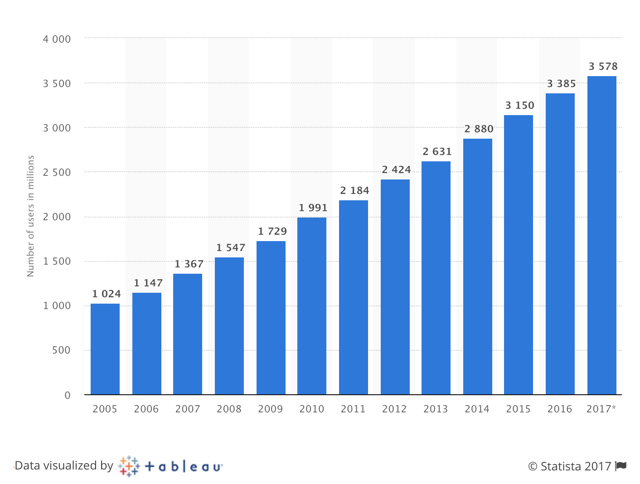 Source: Statista
This trend bodes well for Facebook long-term, but for the time being, it's much more important to focus on developed markets where the company generates the vast majority of its cash flows. In Q3, FB's average revenue per user in the U.S. came in at $21.20, as opposed to just $2.27 in the Asia-Pacific region and $1.59 for users in its "rest of the world" segment, which are the company's two largest in terms of DAU/MAU's.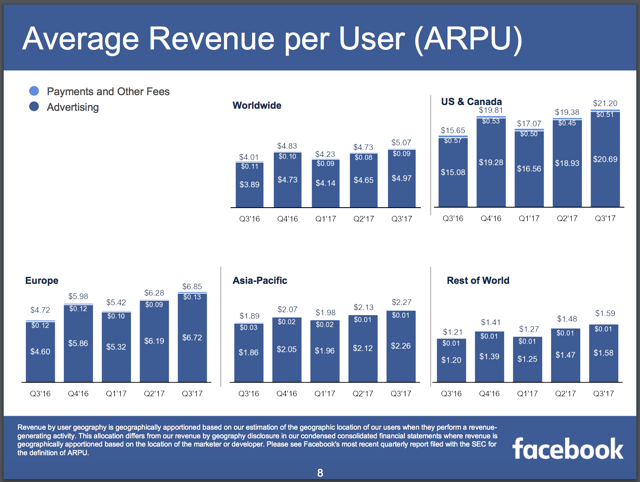 Source: Facebook Q3 Slideshow, page 8
FB's advertising revenue is growing at a much faster pace than user engagement. This is good news for FB longs, but I suspect that this growth will eventually run up against diminishing returns. There are only so many advertising dollars available and FB already dominates the digital/mobile markets. I suspect that digital/mobile ads will continue to take market share from the traditional print/television ad spend as we move forward but eventually this transition trend will reach equilibrium because I have a hard time believing that even though traditional content distribution is being massively disrupted, it will ever totally disappear.
I understand that FB has several properties that it has yet to fully monetize and I expect to continue to see double digit top-line growth for many years to come, but taking a simple look at population growth/internet penetration trends combined with FB's current market share in the ad business, it seems clear to me that this company is close to maturity in its primary end market. In other words, all of the low hanging fruit have been picked and now it will be much more difficult for the company to grow its user base (partly because FB is relying on global infrastructure improvements to increase its addressable market at this point; something that is essentially out of its control).
As high growth companies change their focus from top-line/market share growth to more cash flow oriented metrics, the transition to the more mature model is oftentimes frustrating for shareholders as multiples contract. At $180/share, FB is currently trading for ~26x 2018 average analyst earnings estimates of $6.63. The reason that I own such a large FB position is because this 26x forward estimate is actually pretty attractive when you factor in growth. FB posted 49% y/y revenue growth in its previous quarter and I expect to see annual top-line growth coming in the 20-30% range for the foreseeable future. FB's bottom line is growing even faster than its top-line at the moment; in Q3 FB's net income and diluted EPS were up 79% and 77%, respectively. As a professed DGI investor, it almost seems heretical to say this, but I'd much rather pay 26x for this type of growth than 25x for a company posting flat top-line growth just because it has a reliable 3% yield.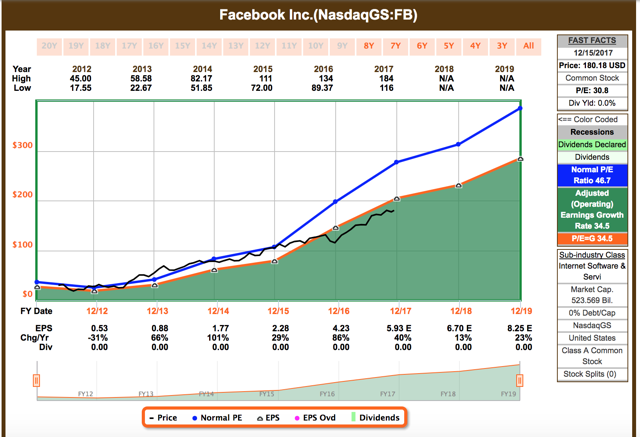 Source: F.A.S.T. Graphs
But, what happens if this growth unexpectedly slows? The results likely wouldn't be good. FB is trading for 40x its ttm EPS figure of $4.47. Let's say that FB only posts 12% growth over the next 4 quarters; this would represent a ~$5.00 EPS figure for 2018, meaning a 36x forward multiple. This is much less attractive than the 26x multiple I discussed above. What's more, a company growing at 12% doesn't deserve a 26x multiple, more or less, a 36x premium. Being that FB's current market premium is based upon outsized growth expectations, in a slow growth situation like this we'd likely see multiple expansion leading to a significant pullback from current levels.
I don't foresee 12% growth anytime soon, but I wouldn't be surprised to see FB posting annual sales increases in the 15-20% range sometime in the next 5-10 years. Obviously this type of growth is nothing to scoff at, but it would likely lead to a repricing of stock. I think that a quickly rising dividend could go wonders to counterbalance the effects of slowing growth on this company's multiple. Starbucks is a great example of a company known for growth, currently experiencing slowing growth, that is maintaining a lofty multiple, in large part because of the generous shareholder rewards that management has committed to.
I think if Facebook initiated an annual dividend in the $2.70 range, representing a 1.5% yield at today's share price, and began increasing it ~10% annually, it would go a long way towards cushioning any blows from the multiple contraction associated with slowing top-line growth. A $2.70 dividend would represent a forward payout ratio of ~41. This is rather conservative and assuming that FB gave investors annual increases in the low-mid double digits (which would be more than acceptable to the vast majority of investors) this payout ratio would likely drop in the short-medium term while FB's bottom line growth outpaces dividend growth.
Obviously, this entire concept is biased and self service due to the fact that FB is one of my largest non-dividend paying positions and I would love for that cash to be contributing to my passive income stream. However, I don't think that I'd be the only happy camper if FB decided to go join many of the other, mature/maturing tech companies with high cash flows that reward shareholders generously. Now that the company is becoming highly profitable, FB could use a portion of its free cash flow to reduce the outstanding share count while still having enough to spend on R&D and/or strategic acquisitions. Due to increased scrutiny and the threat of potential regulation, FB's business is becoming more capital intensive as it makes more hires to monitor content rather than relying on algorithms that have proven to be ineffective in recent years. This is a problem for the company's margins in the short-term (I suspect they will eventually figure out an automated way to effectively monitor their platforms), but it shouldn't prohibit management from rewarding shareholders with cash if that's the direction they decided to go.
| | | | | | | |
| --- | --- | --- | --- | --- | --- | --- |
| | 2012 | 2013 | 2014 | 2015 | 2016 | ttm |
| Free Cash Flow | $377 | $2,860 | $3,626 | $6,076 | $11,617 | $14,305 |
| FCF/Share | $0.17 | $0.99 | $1.27 | $1.76 | $3.00 | $4.86 |
| Outstanding shares | 2372 | 2547 | 2778 | 2834 | 2892 | 2904 |
As cash flows rise, if they aren't put to effective use by management, I wouldn't be surprised to see activist pressure on FB. We haven't gotten to that point in time yet, I'm thinking a few years down the road here, but as I pointed out above, I don't think Zuckerberg and crew will be running up against diminishing returns sometime soon due to population/internet penetration limitations and they're going to have to embrace corporate maturity.
Or, as I said in the intro, go the Tencent route, essentially becoming a VC firm/holding company in the tech world. As a shareholder, I wouldn't mind to see this either as it would potentially broaden the company's moat and make it a more defensive holding due to diversification. This is likely a more difficult road to hoe due to the speculative nature of investing, especially in the tech space. It's much easier to simply return cash to shareholders, creating loyalty amongst them and buying back shares on the one company on earth that you understand the best: your own, than it would be to build stakes in outside firms. With that said, Tencent has built an absolute behemoth using the latter strategy, making it one of my favorite investments in the growth tech space.
So, what do you think? Should Facebook initiate a dividend? Are you concerned with slowing growth here? Which direction, if any, would you like to see FB go with its cash flows? Gaming is interesting to me, as is original content. I suspect that FB could leverage its user base in the fin-tech/market place/digital currency spaces. Zuckerberg has shown a keen interest in virtual reality and I think that's an exciting area of future investment as well. Obviously, the sky is the limit for this company when you have the assets, talent, and cash flows that they have. This is why I'm long Facebook, and happily so.
But, with a cash dividend involved, I'd be even more elated… dreamers can dream, I suppose.
Editor's Note: This article discusses one or more securities that do not trade on a major U.S. exchange. Please be aware of the risks associated with these stocks.