Coming out January and February 2016 lows, the market has been on an unstoppable run. However, even the strongest of trends - like the roaring 1920s, the swinging 60s, and the tech 90s - can have meaningful corrections along the way. During the 1990s, in particular, S&P 500 suffer a minor -10% setbacks during the 1997 Asian Financial Crisis and a broader -20% correction during the Russian Bankruptcy in 1998.
Here are some reasons why I believe a stock market correction is imminent.
Being A Perma Bear Does Not Pay!
The majority of the market investors, having totally forgotten the valuations of US stocks, are focused on ever-rising prices. Their hope is that momentum will keep carrying prices even higher from here - and a lot of times this is true.
Firstly, stock markets tend to rise 7 out of every 10 years or about 70% of the time. Secondly, strong momentum tends to indicate favorable 6-month or even 12-month forward returns. There are plenty of Twitter tables showing positive forward returns when momentum is this strong.
Generally speaking stocks and bonds of most AAA jurisdictions tend to have a positive carry and an upward bias. Therefore, choosing to be a perma-bear means will see you be on the wrong side of the trend. However, even strong momentum has its limits, as shown by hundreds of years of historical financial data.
The S&P 500 is currently on a record-breaking winning streak, which at minimum needs a rest or a technical reset (sentiment falls, breadth becomes oversold, etc).
Not Even A 5% Correction
United States equities have now rallied for 372 trading days, or almost 18 months, without a -5% correction. This is very rare.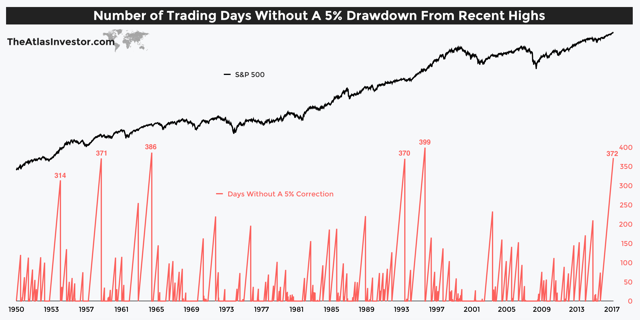 Going back to the late 1940s, this is the third longest rally without even a slight sell-off. Basically, a straight line up since the Brexit panic occurred in the summer months of 2016.
Observing the data since the World War 2 days, record-breaking rallies were experienced in:
1959 @ 371 trading days
1965 @ 386 trading days
1994 @ 370 trading days
1996 @ 399 trading days
Only 1965 and 1996 stand in the way for our generation of investors to experience a "Teflon Market".
Whether we push above 400 trading day record or not, the key takeaway here is that history suggests we are at a momentum extreme - so expect at least a -5% drop soon.
Does Lack Of Volatility Mean Lack Of Risk?
Truth be told, the market didn't even drop -3%. The largest drawdown during the whole 2017 calendar year was -2.8%.
Analyzing almost 90 years of data, the only year that matches current peacefulness and lack of downside volatility was 1995.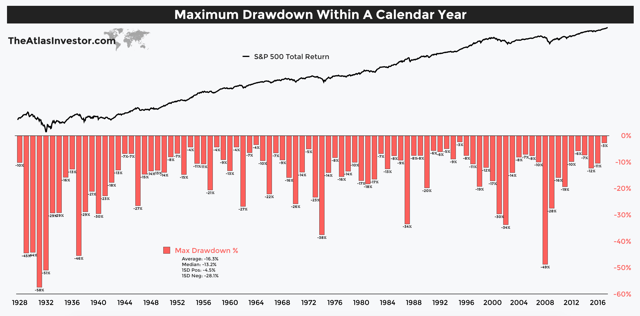 The average and median calendar year drawdowns are -16% and -13%, respectively. Therefore, one standard deviation on the positive side is around -5% and should be considered years with abnormally low volatility and lack of risk.
Throughout the last century, we've seen a handful of these including 1954, 1958, 1961, 1964, 1972, 1991, 1993, 1995, 2013 and 2017. So what happened the following two years?
In 1955/56 drawdown doubled to -11% & -11%
In 1959/60 drawdown also doubled to -9% & -13%
In 1962 drawdown jumped six-fold to -27%
In 1965/66 drawdown rose to -10% & -22%
In 1973/74 drawdown exploded to -23% & -38%
In early-90s drawdown stayed in single digits
In 1996/97 drawdown rose to -8% & -11%
In 2014/15 drawdown rose to -7% & -12%
Apart from the mid-1990s, all other periods saw intra-year drawdowns increase meaningfully over the next 12 and 24 month periods. In some cases - like in 1962, 1966, 1973 and 1974 - it led to substantial downside volatility. Something most investors today are not expecting, nor preparing for.
When The Winners Keep Winning
Forget about the lucky 13. The US equities are now up 14 months in the row, counting December, which is not yet finished. Out of all the months in the calendar, December has never been the worst month of the year for investors. Seasonality traders call December the month that keeps on giving, while Wall Street refers to it as the Santa Claus rally.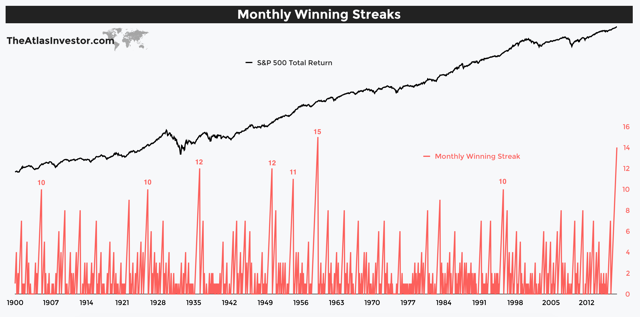 Watching the market rally for more than 10 months in a row is a pretty rare occurrence. My data, produced by the Global Financial Data company, states that 15 was the record - which ended in May 1959. There is no reason why the market couldn't break yet another record, however, the odds are not on the bulls side.
So what happened right after at least a 10-month winning streak ended?
In 1905 a two month -6% pullback
In 1926 a two month -10% pullback
In 1936 one month drop of -8%
In 1950 one month drop of -6%
In 1954 one month drop of -3%
In 1959 a two month -6% pullback
In 1995 next month was flat, then another 8-month winning streak
Once again, risks clearly stand out apart from the mid-90s. However, analyzing these statistics can easily turn into a data mining exercise. For example, markets rose 8 months in a row by April 2011 and then fell by -18% in the next 5 months. Or even during the powerful bull run of 1975, just after the generational low in 1974, markets rose for 6 months straight and then sold off by -11% over the coming 3 months.
The key takeaway here, once again, is even the strongest of trends need to take a rest.
The Ninth Inning
When it's all said and done, history shows that the baby boomers invested through a pretty extraordinary time. While the period from 2000 until 2012 was the worst since The Great Depression, the majority of the years saw stock markets rising. And the streaks have been record-breaking, too.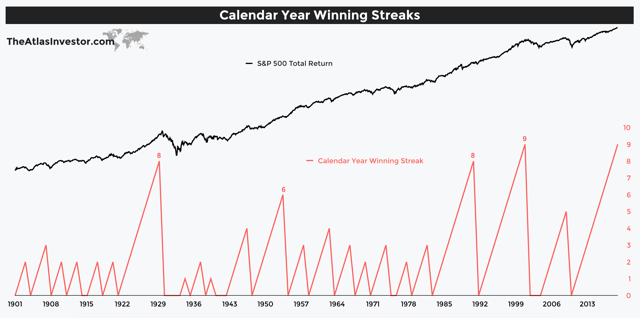 Since Alan Greenspan took over as the Fed chair, with dovish chairs thereafter following in his footsteps, the market only declined in 5 out of the last 36 calendar years. And out of those 5, we saw 3 down years in the row right after the Tech Bubble peaked in the year 2000. The other two were 1990 and 2008.
Since the early 1980s, United States stock market has achieved three 8 to 9-year winning streaks, as the chart above shows.
Here are some interesting stats for you:
the 1920s 8-year winning streak end with The Great Depression
the 1980s 8-year winning streak end with The Savings & Loan crisis
the 1990s 9-year winning streak end with The Tech crash
the 2010s 9-year winning streak is still in progress…
You're probably thinking that the Savings & Loan crisis wasn't all that bad. This was true for the US stocks. However, 1990 was an important inflection point which saw financial pain spread throughout the world. Scandinavia had a banking crisis, the USSR and much of Eastern Europe entered a decade-long decline, and the Japanese economic (or better said, debt) miracle topped out - with its stock and property market crashing. It was also the last time developed market countries like Australia suffered a significant economic contraction. Finally, Yugoslavia broke up as the European continent witnessed the worst bloodshed since World War 2.
What To Expect In 2018
Not only is the market rallying through less important statistical extremes, such as 18 months without a -5% drop or 14-month winning streak, but investors are also going through a 9-year winning streak with one of the lowest intra-year drawdowns on record.
How will the current streak end? Will bullish momentum prevail or has it already overheated? And how should investors position their portfolios for 2018? One thing is for certain. 2017 was an easy ride none of us expected and history shows they rarely repeat.