We all know that Seeking Alpha has become a terrific site for debating stocks and today it's my turn to debunk the work of my friend and fellow contributor, Julian Lin.
Last week Lin authored this article, The Value Of Reliability And Why Omega Healthcare Is A Value Trap, in which he used just ONE chart to refer to Omega Healthcare Investors (NYSE:OHI) as a "value trap"? Here's what he wrote,
"I know that this is a very popular stock here on Seeking Alpha, with some even calling it a SWAN. I need only present one slide from their own investor presentation"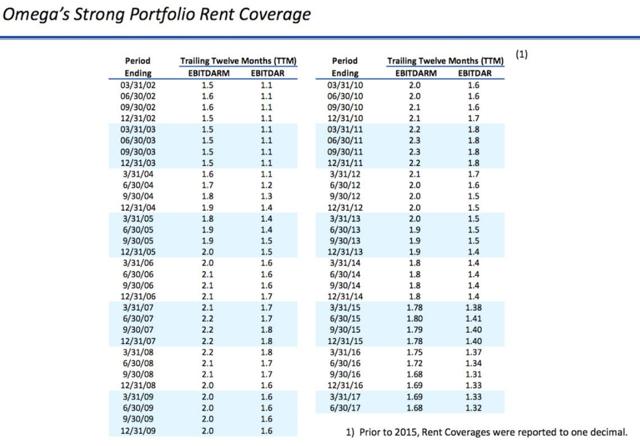 Lin went on to explain,
"They (Omega Healthcare) are showing a clear downward trend of rent coverage, and show overall portfolio rent coverage of 1.32 based on EBITDAR.

I need to make one thing clear: 1.32 EBITDAR coverage screams risk to the maximum. Assuming their tenants do indeed have debt, and do indeed pay taxes, what is left after paying rent?

It should be clear that as a whole their tenants are underwater. Further, given that Omega Healthcare has acquired and grown its portfolio tremendously over the previous years, why are trends going down? Is this indicating that they are acquiring riskier properties in order to boost earnings?

Further, why did management call this "strong portfolio rent coverage?" Were they hoping that the reader would skip over the slide and only read the title? Do they really think 1.32 EBITDAR coverage is "strong?

If I was management, I would have titled this slide "Rent Coverage is a work in progress, but we have a plan." Trying to cover up very poor fundamentals is just unacceptable.

I really need to ask Omega bulls: is this really the kind of management you want to trust your money to?

Make no mistake, this is no SWAN. This can only be bought as a deep value play, and it's sub 10% dividend yield is nowhere near sufficient compensation for the risk."
That's the entire bear case for Omega from Lin, he used one chart and then opted to call this reliable REIT a value trap… Really?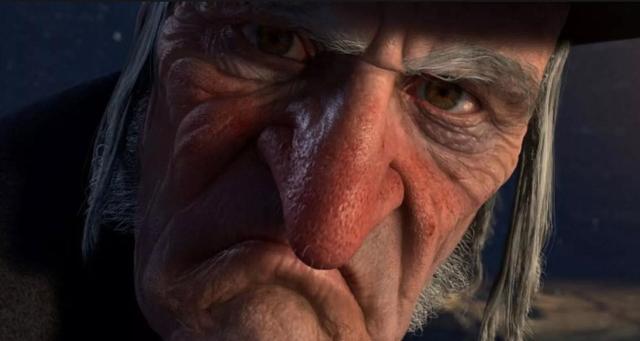 First off, Lin does a deep dive on his buys, but clearly, has not done that with Omega, instead relying on one slide that he obviously does not understand to make the statement that it is not a SWAN (sleep well at night).
The rent coverage (referenced by Lin) is after the payment of all costs including taxes. Therefore, he is incorrect in his statement that there are other costs that will drive coverage down further.
Furthermore, virtually all tenants have no debt other than accounts receivable lines and Omega's collateral position is senior to any debt that the tenants may have. Normal underwriting for new transactions is 1.4x coverage so 1.32x is in fact strong.
The decline reflects well documented industry headwinds and any investor, who has in fact taken the time to understand the business, knows that it is a) cyclical, b) the industry has been difficult for two years but there is a significant demographic light at the end of the tunnel and c) the balance sheet and portfolio diversification has been built to withstand difficult cycles and thrive long term.
Let me explain now why Omega is not a value trap but a value stock…
The Business Model
Omega Healthcare Investors is the largest Skilled Nursing Facility (or SNF)-focused REIT with a portfolio consisting of 992 operating facilities in 42 states and the UK, operated by 77 third-party operators. In other words, OHI is the most diversified "pure play" Skilled Nursing REIT.
OHI's gross real estate investments total approximately $8.9 billion and the company's primary focus is on leasing long-term care facilities (primarily skilled nursing facilities) to strong regional and local operators.
OHI has long-term, triple-net master leases with cross collateralization provisions and most operators have strong credit profiles (with security deposits of three to six months). Around 84% of the portfolio is skilled nursing and around 16% is senior housing.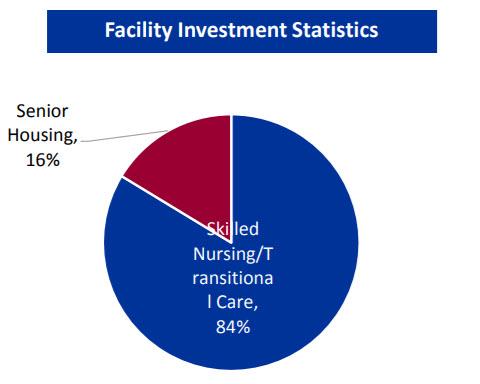 OHI's revenue consists of Medicaid (51%), Medicare (37.3%) and Private Pay (11.7%). Since the leases are triple-net, property level expenses are operator's responsibility (labor, insurance, property taxes, capital expenditures). OHI receives fixed rent payments from tenants, with annual escalators, and operators receive revenues through reimbursement of Medicare, Medicaid and private pay for services.

One of OHI's largest tenant relationships is Ciena, with around 10% exposure (70 properties) and other top 5 operators include Communicare (8% exposure), Signature (7% exposure), Genesis (7% exposure), and Orianna (5% exposure).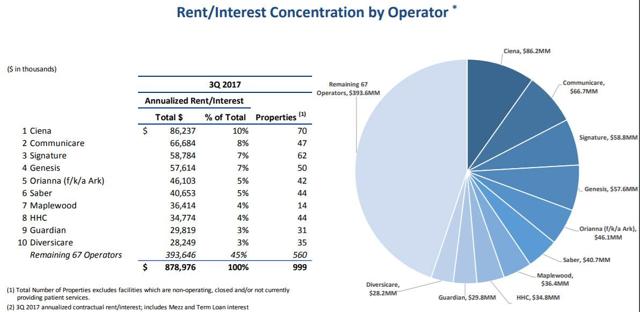 Lin's reference to Omega's rent coverage and his comment that management is "trying to cover up very poor fundamentals" is ludicrous. The author is essentially taking a shot at the management team and this is borderline insulting.
In fact, I have found Omega's management team to be best-in-class as the company has been completely genuine and transparent as it relates to the industry headwinds.
I have documented the various operator risks for Orianna and Genesis, in an effort to provide granular details impacting earnings and dividends.
My conclusive evidence suggests very clearly that Omega's management team is doing an excellent job at managing risk, and part of the success has been maintaining steady and reliable earnings and dividend growth. To be clear, showcasing one chart with incorrect commentary is not the way to intelligently analyze a security.
Of course, one way that Omega mitigates the operator risk is by maintaining healthy diversification. In addition to the US properties (around 850 in US), the company also has holdings in the U.K. that consists of 53 care homes across central London and the southern and eastern regions of England.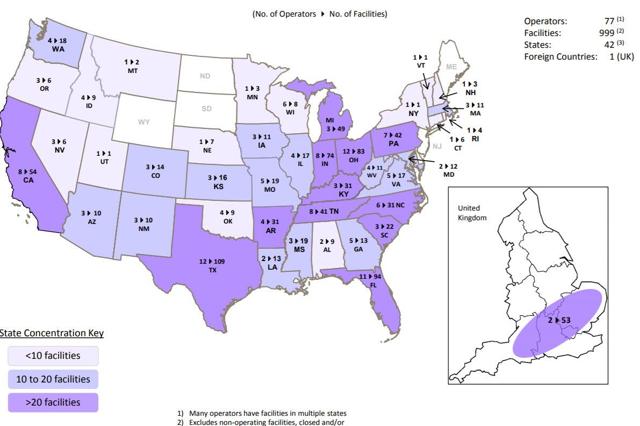 Omega's portfolio generates around $900 million in annual rental income, so there's ample cushion and the company is in excellent shape to continue to diversify its holdings.
Don't Ignore The Balance Sheet
There's a reason that Omega acquires properties at cap rates of 9-9.5%. It's a function of risk and return, and when you buy properties to higher-risk tenants, there will always be operators that get into trouble. To manage the operator risk, Omega maintains a disciplined balance sheet.
Again, giving credit to Omega's management team, the balance sheet remains exceptionally strong. At Q3-17, the company's net debt to adjusted annualized EBITDA was 5.46x and fixed charge coverage ratio was 4.2x.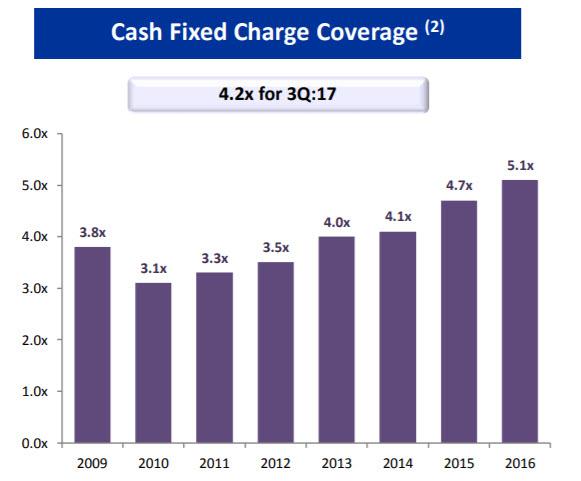 Omega has significant liquidity: $1.25B revolving credit facility with $910 million of availability (as of October 31, 2017). As illustrated below, the company has well-laddered debt maturities (no material maturities until 2022, assuming allowable credit facility extensions).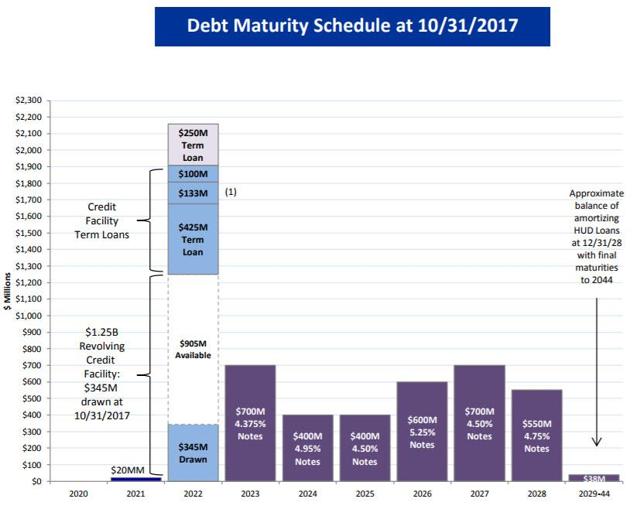 Omega minimizes encumbered assets (0.8% of Total Assets), providing the company with exceptional flexibility.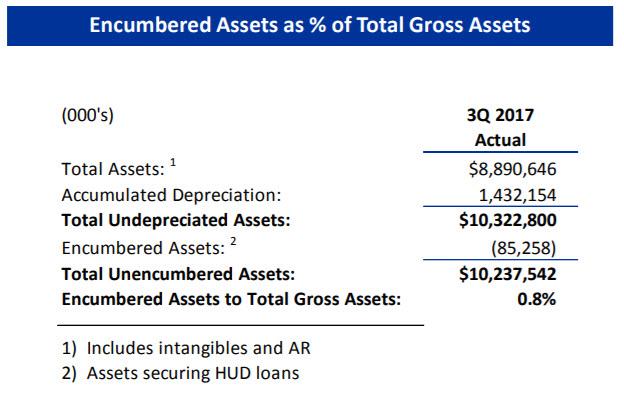 Omega is rated BBB- by S&P and the company's robust credit metrics provide an adequate buffer against the possible effects of tenant-related operating headwinds amid Medicare reimbursement changes and regulatory/licensing risk. Note that Omega is in much better shape than SBRA (rated BB-).
Management Matters
Omega's management team is long tenured and has an unprecedented record of FFO and dividend growth, consider the chart below (if I used one chart it would be this one):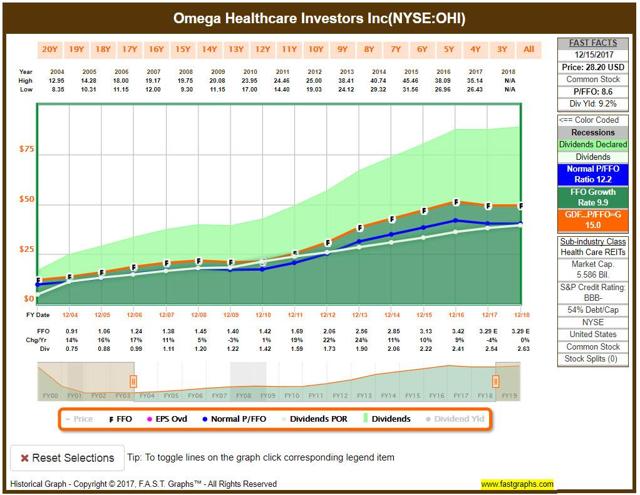 Let's examine the history of the dividends/share:

Let's go back even further…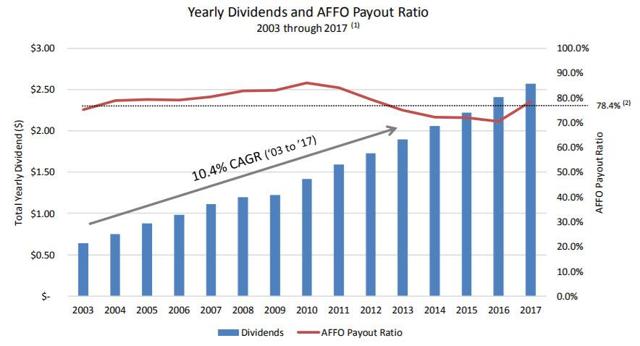 This chart illustrates Omega's long-history of dividend growth and disciplined AFFO Payout Ratio.
As you see, the company has generated very steady and reliable dividend growth, averaging 9.6% annual growth since 2009. On the recent earnings call, Omega's CEO, Taylor Pickett, said he "remains confident in our ability to pay our dividend, increasing our quarterly common dividend by $0.01 to $0.65 per share.
We've now increased the dividend 21 consecutive quarters. Our dividend payout ratio remains conservative at 82% of adjusted FFO and 89% of FAD, and we expect these percentages will improve as the Orianna facilities return to paying rent."
Omega's revised 2017 guidance reflects the impact of Orianna's cash accounting and the anticipation that no cash will be received for the balance of the year. Omega said it had lowered 2017 adjusted FFO guidance to $3.27-3.28 per share.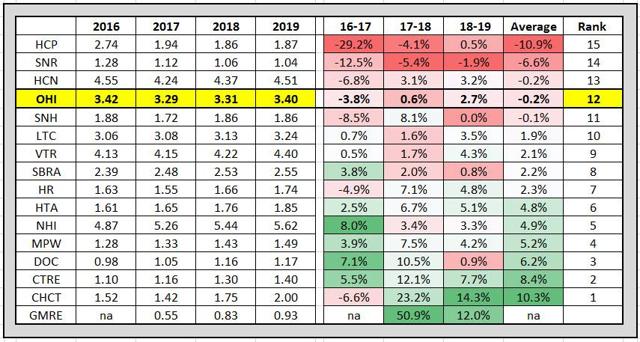 Source: Brad Thomas
Omega generates approximately $150 million of cash flow after dividends, and even if the company lost all of the Orianna rental income (~47 million), it is well positioned to weather the storm, and it would have another $100 million of cash flow after dividends.
Show Me The Money
In Lin's article, the stock price does not calculate as a sub 10% dividend stock. With the dividend run rate at $2.60 per share, the dividend yield is 9.2%.

We are maintaining a BUY rating, and our value thesis remains intact: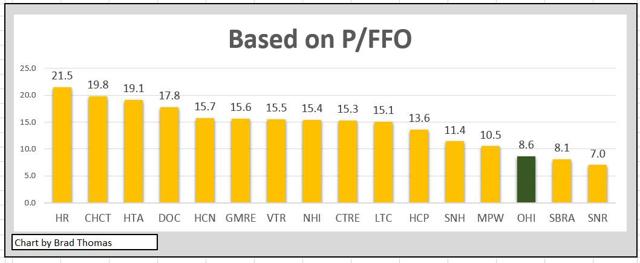 Keep in mind, the investing game is all about price and value, paying less than what you are getting, so it should be no surprise that value investors look to own beaten down stocks when prices are falling. As any value investor will attest, buying shares in high-quality companies on sale reaps the highest returns.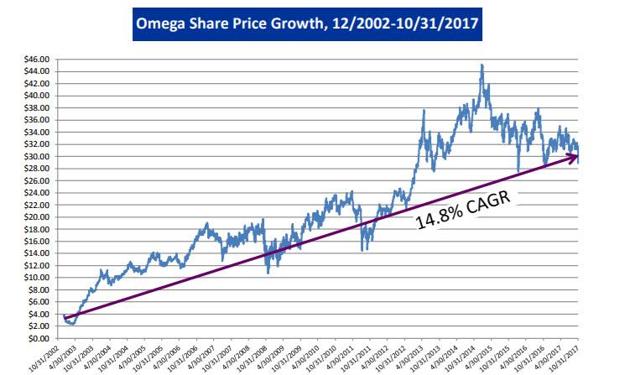 Always remember that earnings are the principal factor driving stock prices and while Omega has been wrestling with cyclical headwinds, the demographic trends suggest that the investment model is sound. Omega's management team (balance sheet, diversification, and experience) are well-positioned to withstand the cycle and thrive long term.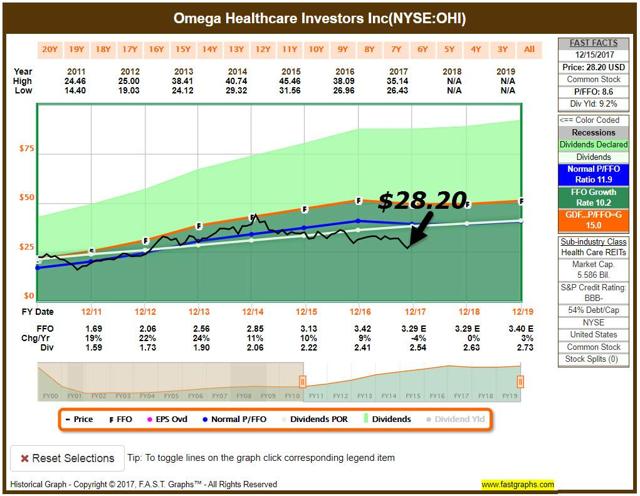 Following the principles of value investing, if stocks are cheap, you buy them, ignore the noise, and begin to sleep well at night. In the upcoming edition of the Forbes Real Estate Investor, we will be updating our Rhino Rating Scores for all of the REITs in our Intelligent REIT Lab.
Special thanks to Julian Lin. If you don't follow him, you should.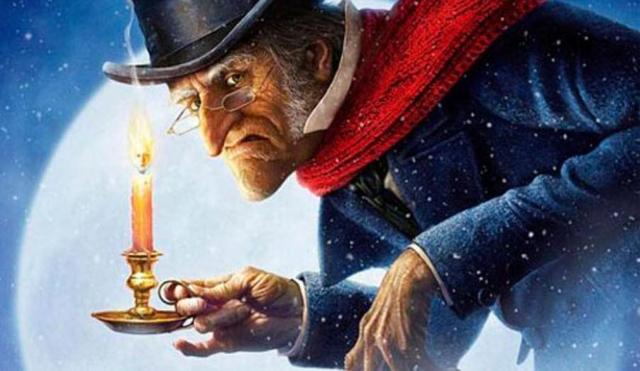 We will be putting together a stocking stuffer portfolio for marketplace members... for more information...
Rubicon Associates is now part of The Intelligent REIT Investor and he contributed to this article. He is one of the best REIT analysts with a focus on debt and preferred issues.
The Intelligent REIT Investor is the #1 REIT Research site. We publish exclusive content on over 100 REITs, and our Durable Income Portfolio has returned over 12% YTD. We recently announced that the Small Cap REIT Portfolio has returned over 20% YTD. There is absolutely no reason to chase yield... let us do all of the heavy-lifting so you can "sleep well at night."
Note: Brad Thomas is a Wall Street writer, and that means he is not always right with his predictions or recommendations. That also applies to his grammar. Please excuse any typos, and be assured that he will do his best to correct any errors, if they are overlooked.
Finally, this article is free, and the sole purpose for writing it is to assist with research, while also providing a forum for second-level thinking. If you have not followed him, please take five seconds and click his name above (top of the page).
REITs mentioned: (LTC), (VTR), (HTA), (HCN), (CTRE), (HR), (NHI), (UHT), (SBRA), (DOC), (HCP), (MPW), (SNH), (SNR), (CHCT), (QCP), and (GMRE).
Sources: FAST Graph and OHI Investor Presentation