Pandora Radio (NYSE:P) has its many detractors on Seeking Alpha. However, the radio service by and far the most impressive of the options available.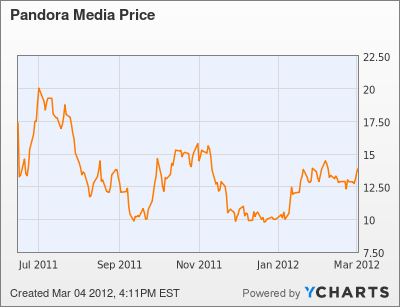 Let's start with the algorithmic song selection engine. As a listener to almost exclusively electronic music, the song selection engine literally finds songs that I would never discover otherwise. On traditional radio I am forced to listen to whatever the DJ is playing. On Pandora, as I like radio stations, the songs playing begin to match my musical taste perfectly. It is almost uncanny how this program can keep me in a state of rhythmic bliss.
Second, the platform is migrating to almost every electronic device in the home and automobile. It easily integrates into the car using any iPhone jack. It is now available on BlueRay players for the home and stand alone products are appearing.
Third, the platform is excellent for businesses. It reminds me of the Muzak system that I used to have to use when I worked at Quiznos. The only difference is it allows the business to completely control the atmosphere of their enterprise. As stated in the first paragraph, after using the program for awhile, the music selection becomes almost perfectly tuned to the listener's taste.
The detractors cite lack of infrastructure to support streaming music directly to the phone; a valid point. However, the bandwidth squeeze is affecting the entire wireless industry and pretty much all the apps that run on its infrastructure. No one is arguing Google's YouTube or any other streaming product is going to fail because of the lack of infrastructure.
The infrastructure argument is similar to the argument against Tesla (NASDAQ:TSLA). It is also similar to the argument against the personal computer, the automobile, and pretty much every cutting edge technology ever invented.
Pandora is not just a streaming radio provider. As mentioned above, it functions as a personal DJ for all types of devices and in all types of environments. The opportunities for this company are almost infinite. Consider the intangible asset of having a collection of data elucidating the most popular beats and lyrical arrangements in the world.
Understandably, the company has hurdles to overcome. However, I would not write it off as a non-performer and definitely not as a failure. I would argue the companies biggest weakness is its lack of marketing and explanation of how invaluable its service could be.
Disclosure: I am long P.