A little over a month ago I reported a bullish outlook on zinc in the article titled A Glencore Restart Will Not Stop Zinc From Moving Higher. Since that time a number of important production announcements have come through so I decided to provide an update.
New Mines Coming Online
Ivanhoe Mines (OTCQX:IVPAF) announced a pre-feasibility study for its Kipushi mine in the Democratic Republic of Congo ("DRC"). The mine appears ready to add 135,000 tonnes of zinc to the market in 2019 before ramping to a 200,000+ tonnes per annum ("tpa") production level in 2020.

Titan Mining (Symbol: TI in Toronto) recently IPO'd in Canada with plans to revamp the historic Empire State mine in Northern New York State (U.S.A.). Empire is shaping up to add 36,000 tonnes to the market in 2019 before ramping to a 50,000+ tpa production level in 2020.
New Century Resources (OTC:NWNNF) is going to reprocess the tailings from MMG's old Century Mine in Northeastern Australia. This is set to add 66,000 tonnes to the market in 2018 before ramping to a considerable production rate of 264,000 tpa for six years thereafter.

Altogether, these three mines look poised to add 435,000 tonnes of zinc production to the market in 2019.
Glencore Taking it Slow
In my last article, I assumed Glencore (OTCPK:GLCNF; GLCNY), the world's largest zinc miner, would produce 1,540,000 tonnes in 2019. They provided production guidance in their Investor Update last week. Notably, only Lady Loretta in Australia is scheduled to come back online and this during the 1st half of 2018. Glencore's overall outlook has them poised to produce about 1,160,000 tonnes of zinc in their FY 2019, almost 400,000 tonnes less than my prior, very conservative estimate. Glencore is very much committed to doing their part to buoy the zinc price.
Zinc Poised to Accelerate Higher
Incorporating these new variables into supply and demand, the fundamental outlook for zinc remains exceptionally strong: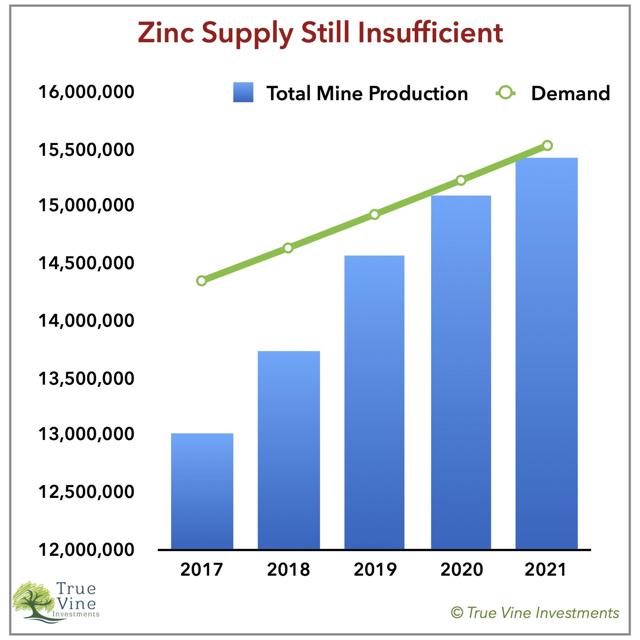 (Note: this chart assumes 2% annual demand growth.)
Glencore's announcement is clearly bullish for the price of zinc going into 2018. The following weekly chart of zinc shows how it has been correcting of late: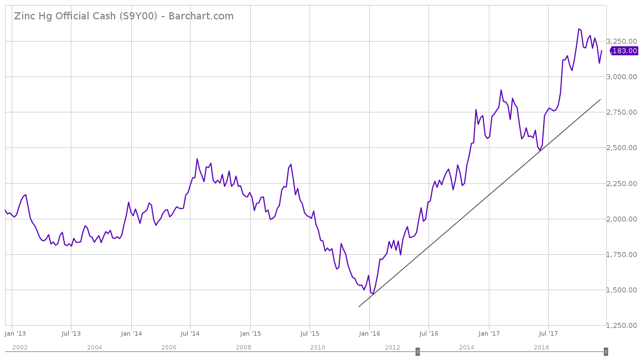 The trendline in this chart is the monthly trendline, which represents the long-term base of its upward movement. We could see the price of zinc continue to correct a bit, possibly to around the $3,000 per tonne level, however, the metal's upward push is far from over. Zinc sentiment remains weak with few believing the story and valuations surely reflecting this. Case in point is Trevali Mining (OTCQX:TREVF) which is trading for only 4.5 times my estimate of 2018 free cash flow (assuming $3,100 per tonne / $1.41 per lb. zinc). The valuations of correlated zinc equities demonstrate that we are nowhere near a top in this move.

I expect we will continue to see zinc surge higher in 2018, which will bring some accelerant to the junior sector as producers look to add new projects. The price of zinc is simply going to have to move higher to spur enough new mine production.
Industrial Minefinder is my Marketplace service focused on providing subscribers with exceptional opportunities in the industrial mining sector (i.e., everything but primary gold producers). For example, subscribers recently received strategic guidance for taking advantage of this zinc bull market as well as detailed coverage of a zinc junior that is poised to offer investors significant upside in the coming months
Disclosure: I/we have no positions in any stocks mentioned, and no plans to initiate any positions within the next 72 hours. I wrote this article myself, and it expresses my own opinions. I am not receiving compensation for it (other than from Seeking Alpha). I have no business relationship with any company whose stock is mentioned in this article.
Additional disclosure: I am an investment adviser and owner of True Vine Investments, a Registered Investment Advisor in the State of Pennsylvania (U.S.A.). I screen electronic communications from prospective clients in other states to ensure that I do not communicate directly with any prospect in another state where I have not met the registration requirements or do not have an applicable exemption.

Any investment advice or recommendations involving securities referenced in this article is general in nature and geared towards a readership of sophisticated investors. This article does not involve an attempt to effect transactions in a specific security nor constitute specific investment advice to any particular individual. It does not take into the account the specific financial situation, investment objectives, or particular needs of any specific person who may read this article. Individual investors are encouraged to independently evaluate specific investments and consult a licensed professional before making any investment decisions.

All data presented by the author is regarded as factual, however, its accuracy is not guaranteed. Investors are encouraged to conduct their own comprehensive analysis.

Positive comments made regarding this article should not be construed by readers to be an endorsement of my abilities to act as an investment adviser.

My clients always come first. I reserve the right to buy or sell any security at any time, often for reasons not related to my articles, in order to properly manage their portfolios.
Editor's Note: This article covers one or more microcap stocks. Please be aware of the risks associated with these stocks.