The Census Bureau came out with excellent news on the U.S. consumer this past week. The bureau reported that "advance estimates of U.S. retail and food services sales for November 2017, adjusted for seasonal variation and holiday and trading-day differences, but not for price changes, were $492.7 billion, an increase of 0.8 percent (±0.5 percent) from the previous month, and 5.8 percent (±0.7 percent) above November 2016."
According to the New York Federal Reserve, median household spending growth expectations improved from 2.8% in October to 3.6% in November, reaching a level well above the trailing 12-month average of 3.1%. The increase was broad-based across education and income groups.
The U.S. consumer is shopping, and that means they are using their credit cards, which should bode well for financial companies specializing in consumers.
Back in August, I published a piece titled What If The Sky Doesn't Fall? The Case For Owning Consumer Finance Stocks Now where I argued that investors were overly pessimistic on consumer financial companies at the time.
Since then, stock prices for Synchrony Financial (SYF), Discover Financial Services (DFS), Capital One Financial (COF), and Ally Financial (ALLY) have all risen 20% to 25% or more doubling the rise in finance stocks in general as measured by the Financial Select Sector SPDR ETF (XLF). Meanwhile, American Express (AXP) has also moved up nearly 15%.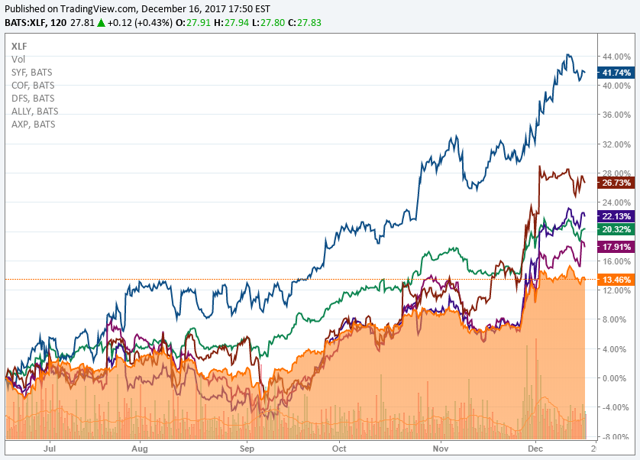 General optimism about the economy, lower unemployment rates, and even a rising stock market is firing up the consumer who may not actually own stock but wants to participate in what they are being told is a wonderful economy that will only get better.
Consumers see an optimistic future and want it now
Unfortunately, in simple terms, consumers are spending money they don't have. Even with the low rate of inflation, their pay increases have been eaten up by higher costs over the past year.
The Bureau of Labor Statistics has calculated that "from November 2016 to November 2017, real average hourly earnings were unchanged, seasonally adjusted. The unchanged real average hourly earnings combined with a 0.3-percent increase in the average workweek resulted in a 0.3-percent increase in real average weekly earnings over this period."
To cover this shortfall, consumers are borrowing and digging into their savings.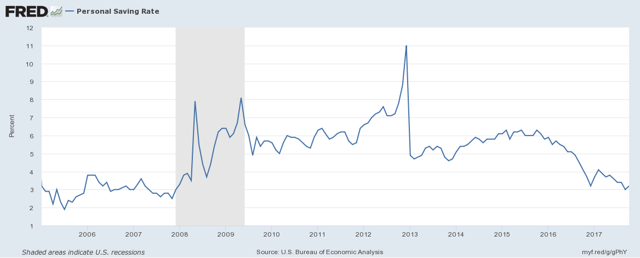 None of this has stopped consumers from shopping. So, if they don't have the money, why are they spending it?
Because consumers are optimistic about their future earnings.
Regarding the current labor market, the Fed's November 2017 Survey of Consumer Expectations found
Median one-year ahead earnings growth expectations rebounded from 2.1% in October to 2.6% in November, back to its level from July of this year. The increase was driven by respondents with less than a college education.
Mean unemployment expectations-or the mean probability that the U.S. unemployment rate will be higher one year from now-retreated from 36.0% in October to 33.7% in November.
Both the mean perceived probability of losing one's job in the next 12 months and the mean probability of leaving one's job voluntarily in the next 12 months declined, from 15.3% to 13.5%, and 23.1% to 21.5%, respectively. The decline in the likelihood of job loss was broad-based across education and income groups, while the decrease in the likelihood of a voluntary departure was driven by those with incomes above $50,000.
The mean perceived probability of finding a job (if one's current job was lost) increased from 57.7% to 60.1%, remaining well above its trailing 12-month average of 57.1%.
Delinquencies rising
Unfortunately, as stock prices have risen, so have net charge-offs for these companies.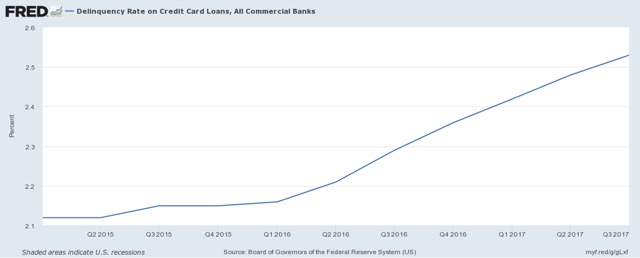 As of the end of the October, Synchrony Financial net charge-off percentages have risen 18% over the past year, Discover has increased 24%, and Capital One rose nearly 8%. Surprisingly, American Express's net charge offs have soared by more than 26% over the past 12 months, although their charge-off rate remains a low 1.9% (card member loans - net write-off rate - principal only).
Company-specific conditions
Within this general outlook, financial companies focused on the consumer have some specific delineations.
Synchrony Financial has announced its intention to purchase PayPal's consumer credit portfolio along becoming the exclusive issuer of the PayPal Credit online consumer financing program, in the U.S. for 10 years.
Barron's has announced that Ally Financial is on its list of favorite unloved stocks in 2018. It has been the real standout of the group, with its adjusted stock price rising 26% since September 1.
American Express's long-time CEO is retiring that is causing investors to expect more changes at the company, whose stock has languished recently.
All this optimism is positive for the consumer financial stocks, but it is tinged with the reality of credit delinquencies.
Looking to the future
If the New York Fed's Consumer Expectations survey is correct, hopefully, charge-offs will not continue to rise. Their survey response is telling them that
The perceived change in credit availability compared to a year ago improved slightly in November, while expectations for year-ahead credit availability became slightly more polarized.
The average perceived probability of missing a minimum debt payment over the next three months decreased from 12.8 % in October to 12.5% in November.
To ease the delinquency problem will require bigger paychecks. The key to these companies' financial futures lies in the ability of workers to have their earnings rise faster in 2018.
This is a possibility. In their 2018 outlook, Fidelity investments believes that wage inflation may return.
"The relationship between lower unemployment rates and higher wages (the so-called wage inflation Phillips curve)-pronounced dead by some-should also begin to re-emerge in 2018 (see Figure I-8). Many explanations for persistently low inflation have been put forth, including structural forces such as demographics, technology, and globalization. Despite the struggles policymakers will face in hitting their inflation targets in the medium term, we believe that in 2018, the growing impact of cyclical factors such as tightening labor markets and stable and broader global growth may lead to wage and price inflation stronger than currently anticipated by financial markets."
Conclusion
At current levels, all of these consumer finance stocks are fully valued with current P/E ratios ranging between 12 to 19. While many investors search for the next rocket in valuations, they would do well to see these companies in a more moderate light.
If wages finally lift off in 2018, then consumers will have more money in their pockets, delinquency rates should at least level off, and companies' stock prices show a nice upward glide subject to overall market conditions.
If real wages continue to stagnate, or worse, then these companies are moderate bets, but nothing particularly exciting. Their greatest threat is not from their own activities, but a general market implosion or an economic recession.
The easy money has already been made in consumer finance, but the stocks still offer value to the longer-term investor.