Purpose
The purpose of this post is to provide a snapshot view of how bank investors have responded to expected corporate tax reform during the past few days.
This analysis overviews key tax rate and stock price return metrics for 134 banks, all but six with assets greater than $4 billion. The tax rates reflected in this post include all taxes reported, not just Federal which is expected to fall from 35% to 21%.
Year-to-Date
Let's begin with a review of year-to-date average stock price returns for bank stocks by asset size as of midday December 19, 2017. Chart 1 shows 2017 bank performance is a story of two cities. Banks with assets over $50 billion are up on average double-digits while smaller banks show single-digit appreciation on average.
Clearly, the bank stock story for 2017 is dominated by the biggest, most widely held, banks.
Chart 1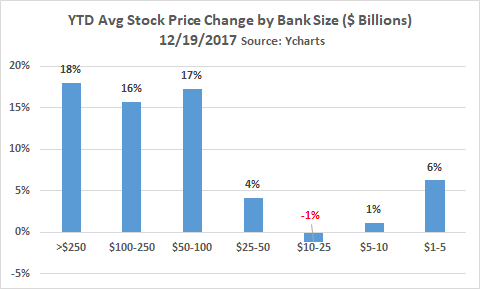 The analysis shifts to a review of year-to-date stock price performance for 134 large US banks based on tax rates.
Chart 2 shows a scatterplot of year-to-date change in stock price as of midday December 18, 2017 compared to the average 2017 tax rate for 134 large banks. Eyeballing the chart shows no apparent pattern, further evidenced by an R square of .0334.
Based on this chart, it appears investors either do not believe corporate tax reform is imminent, or, investors have yet to discriminate between the highest taxed banks and all others. If either statement is true, that is actually good news for bank investors as it suggests the expected improvement in bank profits has not yet been factored fully into prices. My comparison of forward Price/Earnings to Price/Earnings TTM (twelve months trailing) seems to support this conjecture.
Chart 2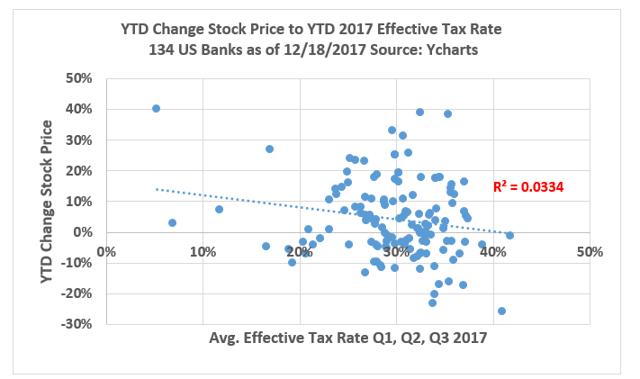 Chart 3 provides another view of the data shown in chart 2. Banks have been divided into five populations based on average tax rate for the three quarters of 2017. It shows that banks with the highest tax rates have actually seen the lowest average improvement in stock price from January 1 through midday December 18, 2017. This chart seems further evidence bank investors are not mindful of tax rates.
Chart 3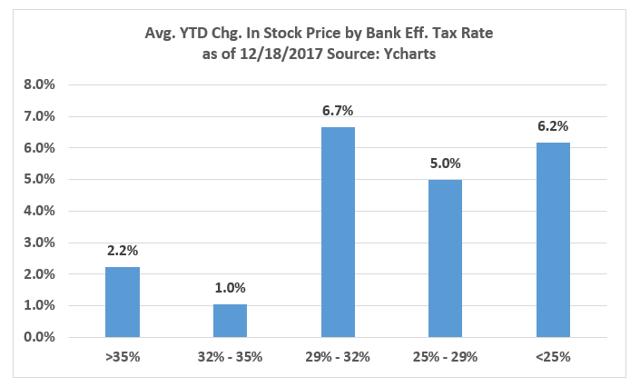 Chart 4 is the first of three charts examining stock price changes for banks over the past five days as of end of trading December 18.
On Friday the 15th Pres. Trump announced that the Senate and House had struck a deal on tax reform. With this announcement bank stock prices moved upward.
Chart 4 shows the 5-day change in price for the nation's 11 biggest banks as well as the S&P 500 Regional Stock ETF (KRE). On average the big banks are up 1.31% over the past five days while KRE is up 1.75%.
Chart 4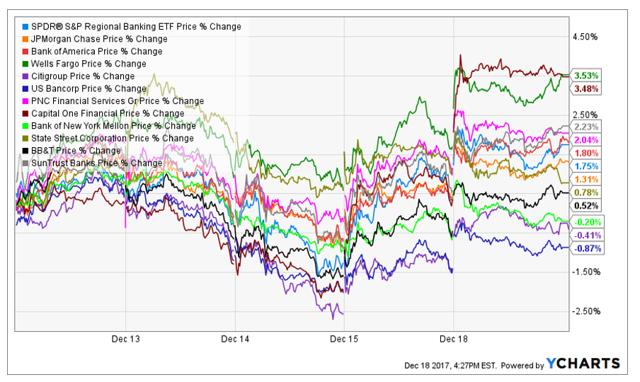 Chart 5 examines the 5-day stock price performance of KRE and the 11 banks with the lowest tax rates year-to-date 2017. On average these 11 banks have seen their stock price increase by 1.88% over the past five days.
Chart 5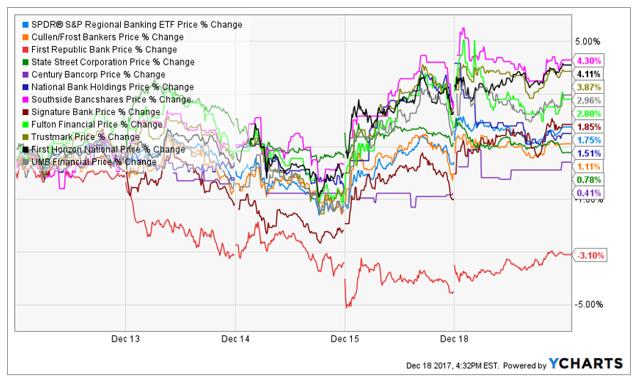 Chart 6 shows the change in stock price during the past five days for KRE as well as the 11 banks with the highest tax rates through the first three quarters of 2017. Note that the average increase in stock price for this group is 3.08%.
Two of these banks, Bank of the Internet (BOFI) and Eagle Bancorp (EGBN) are up over the past five days by more than 5%. BOFI has faced heavy short activity in recent months. Perhaps news of imminent tax reform is influencing the shorts.
EGBN, which recently went on the counter-attack against an anonymous short seller, has been one of the country's top bank performers for more than a decade. EGBN, which does all of its business in the nation's capital, is essentially a bet on the continuing growth of Washington DC.
It is also worth noting that the bank with the worst stock price performance on chart 5 is TriCo Bancshares (TCBK). This $4.6 billion California bank headquartered in Chico announced its plan to buy FNB Bancshares (FNBG) on Tuesday, December 12. Safe to say the announcement is influencing the bank's stock price in the short-term.
Chart 6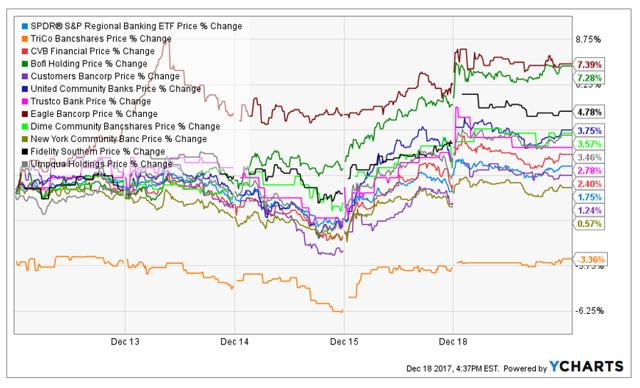 Chart 6 shows the following banks as the top 11 year-to-date in overall tax rate: Bank of the Internet, Customers Bancorp (CUBI), CVB Financial (CVBF), Dime Community Bancshares (DCOM), Eagle Bancorp, Fidelity Southern (LION), New York Community (NYCB), TriCo Bancshares, TrustCo (TRST), United Community Banks (UCBI), Umpqua (UMPQ). Of this group, three are headquartered in New York, three in California, and two in Georgia. Clearly, state tax rates influence the data as presented. Investors in Bank of the Ozarks (OZRK) may be interested to know that OZRK -- up 5.84% over the past five days -- just missed the cutoff as the 12th highest taxed bank through Q3 2017.
Summary
No doubt corporate tax reform is a shot in the arm for bank profits in 2018. If credit quality holds up, earnings for the industry next year will eclipse $200 billion for the first time.
Bank investors may be beginning to pay more attention to smaller banks with the highest tax rates. Likely some of these higher taxed banks - notably those with strong business models, solid credit performance, and unique competitive advantages like a low cost of funds - will outperform peer banks in the year ahead.
As I will review in an upcoming analysis of my favorite banks for 2018, tax reform will no doubt influence bank stock prices in the year ahead, but lower taxes alone are not a compelling reason to move into bank stocks. Not all banks are created equal and 2018 will likely reward certain business models over others.
Expect to hear from me in early January with a list of bank investment themes and banks likely to be best positioned for the year ahead.
Disclosure: I am/we are long JPM, FRC, CFR, CVBF, OZRK. I wrote this article myself, and it expresses my own opinions. I am not receiving compensation for it (other than from Seeking Alpha). I have no business relationship with any company whose stock is mentioned in this article.
Additional disclosure: As a retired Bank of America employee, I have certain financial interests in BAC, but I do not currently own BAC.
Editor's Note: This article discusses one or more securities that do not trade on a major U.S. exchange. Please be aware of the risks associated with these stocks.