John Hancock Preferred Income Fund III (HPS)
Investment thesis: With a well-established monthly distribution and negative correlation to stocks, HPS is a great pick for the core holding in a diversified portfolio to generate stable retirement income.
Historically stable income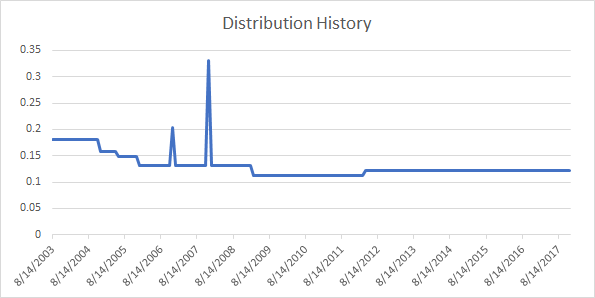 (Source: Original Image - Data from Yahoo Finance)
A key feature of preferred securities is the above average fixed yield. This becomes evident when assessing past income from HPS. Despite having significant exposure to preferred securities rated BBB and lower, the monthly distributions have been relatively stable. Even during the Great Recession the distribution was only modestly affected. In fact, they haven't changed the distribution for 6 years now. The fund offers an impressive 7.8% current yield despite being up 8% in its 52 week range.
Are the distributions stable going forward?

(Source: Original Image - Data from HPS semi-annual and annual 2017 reports)
There are two main components for a closed end fund to generate a return for investors:
Net Investment Income
Growth of NAV
CEF's are able to generate such a high yield by borrowing at one rate and earning a higher return in dividends and/or interest. In the case of HPS, they have done well by generating enough investment income to pay the distribution and put funds in reserve. This is a great indication of future success in generating income because it exempts them from having to raise more cash via debt or equity which can affect overall performance of the fund. While it doesn't guarantee future payment, it should give investors confidence that the fund has allocated a significant amount of assets to cumulative preferred securities. As most investors know, this means that they have a contractual obligation to be paid ahead of common shareholders and will be paid back in arrears for missed dividends.
NAV, which is (assets - liabilities)/outstanding shares, grows and depreciates with the market value of the underlying securities selected.
NAV Performance

(Source: Original Image - Data from HPS 2017 Semi-Annual and Annual Reports)
Due to interest rate changes and a raging bull market, the market hasn't been too kind to fixed income the past few years. As such, it is impressive that the fund has only had 2 down years out of 6. While I'd like the returns to be more consistent from year to year, volatility is to be expected. This is especially so for a leveraged fixed income product. As of end of fiscal year 2017, the fund's investments have appreciated $35.4 million which is about a 4% gain.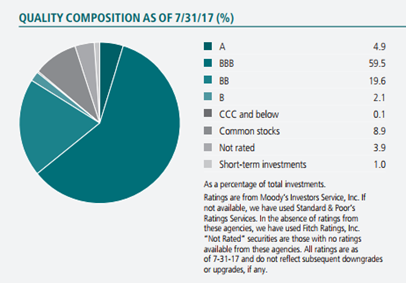 On the other hand, downside risk is an issue during bear markets as the asset class underperforms higher quality counter parts like corporate bonds and treasuries. This is compounded by the fact that the fund uses 33% effective leverage and has exposure to securities rated BBB and lower. While we will discuss asset allocation strategies shortly, the short answer is to diversify your risk exposures.
Valuation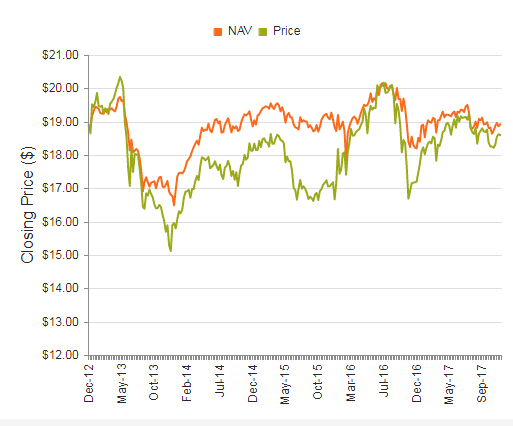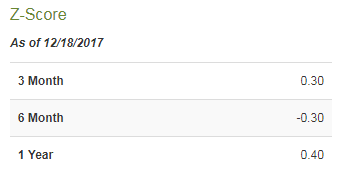 (Source: CEF Connect)
As you can see from the chart above, HPS has historically traded at a discount to NAV. While it is currently trading at about a 2% discount, the spreads have really thinned over the past 2 years. This is an indication of investors getting more confident in the future prospects of the fund. As such, there is still an opportunity to pick up shares relatively cheaply.
Price Performance

(Source: Yahoo Finance)
As you can see from the graph above, HPS is highly correlated to the iShares Preferred Stock ETF (PFF) albeit a lot more aggressive. Normally this would mean accepting more principal volatility in exchange for a higher yield. While HPS does have a higher current yield (7.8% compared to ~5.5%), the historical price patterns present an opportunity to pair the fund with core equities (SPY) and decrease the standard deviation of the overall portfolio.
Asset Allocation Strategy

The above visual is the resulting performance of my suggested asset allocation. In additional to yielding between 6-7% income annually, the asset allocation would have resulted in only a slightly higher standard deviation than if VWESX was used.
HPS 50%
SPY 30%
TLT 10%
Cash 10%
Create a retirement income stream

(Source: Author's calculation)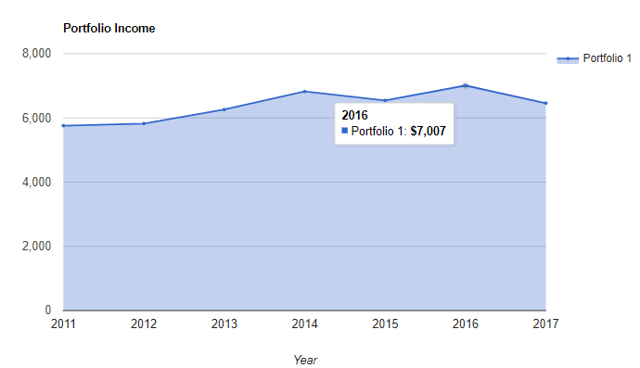 (Source: Portfolio Visualizer)
Conclusion
All things considered, I really like the value proposition of this fund as a fixed income position that can be diversified. If historical performance is any indication, the monthly distributions are well-established and the risk can be diversified. As such, prospective income investors should consider picking up this fund as a means to create an income stream and achieve modest growth.
Disclosure: I/we have no positions in any stocks mentioned, and no plans to initiate any positions within the next 72 hours.
I wrote this article myself, and it expresses my own opinions. I am not receiving compensation for it (other than from Seeking Alpha). I have no business relationship with any company whose stock is mentioned in this article.