Market Intro

In an economic week that features a lot of housing-related data, the Housing Starts figure came in above the top of the consensus range. This is a notoriously noisy data set, but the trend does appear to be in good shape. Permits also looked strong.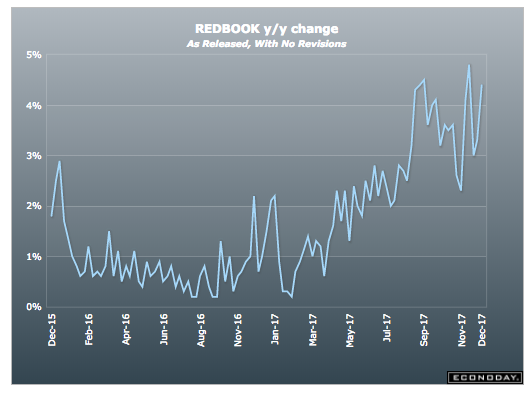 Redbook same-store sales also look promising, perhaps promising strong retail sales figures in the all-important holiday season; above is a graphic of the unadjusted year-over-year data.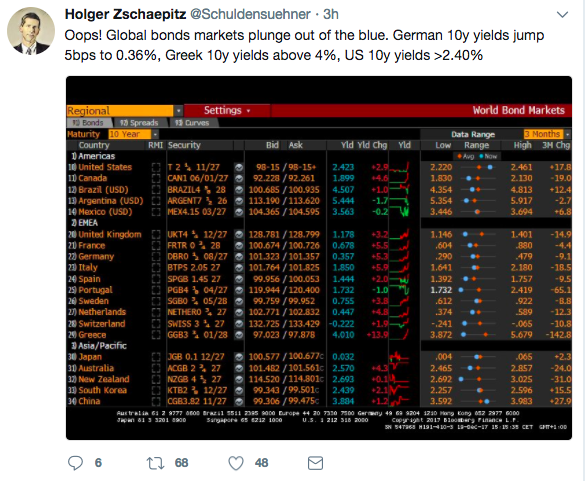 We finally saw the US10 Yr trade out of its very narrow range, in concert with a broader cluster of sovereign debt instruments. The 10-Yr VIX, while not exactly spiking, took notice of the development.

IB: CBOE 10-Yr Treasury VIX

CNBC: 1:45 PM (Post European Close)
Perhaps the run-up in sovereign yields spooked European equities (VGK), which gave up some ground for their trading session. On the US side, spot VIX has travelled northward alongside a modest sell-off in equities (SPY, DIA, QQQ, IWM).

Thoughts on Volatility
Picking up on a point we made in yesterday's MVB about the nature of the short trade, Silent Trader responded with the following: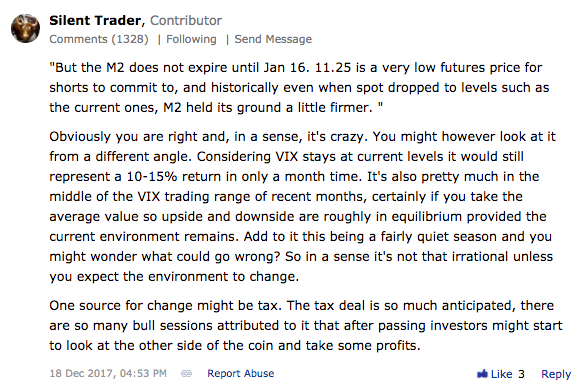 Let's look at the volscape through the lens of this comment.
First: contango. What is it that short vol positions (XIV, SVXY, ZIV) are hoping to gain from shorting VIX futures? Given that the front month Dec contract expires tomorrow, let's have a look at the Jan ("F2") contract relative to spot: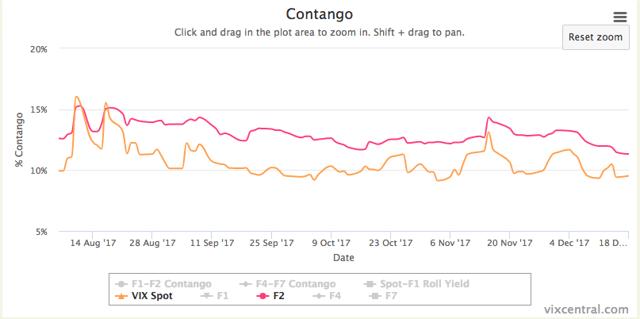 The gap between spot and Jan is frankly on the narrow side, which is not altogether surprising since today's M2 is probably more similar to an M1 given that Jan becomes the front month tomorrow.
However you want to cut it, the gap is narrow. Which would seem to indicate that futures are calling "Boy Who Cried Wolf" on spot. The front end of the VX term structure is effectively saying that any surge will be short lived. To see this premise in action, observe that currently, even just a couple hours before the close heading into Dec VX expiration, spot VIX trades mildly above the Dec contract: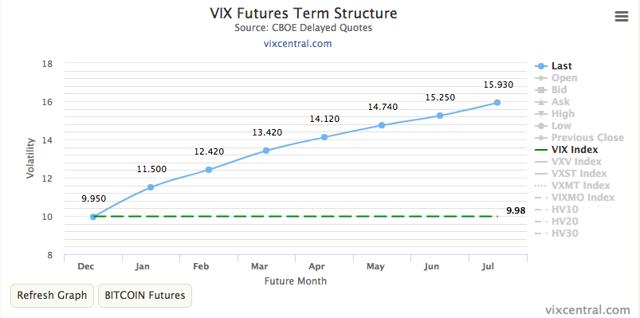 So one possibility from the outlook of VX shorts and those who trade on that basic strategy is that spot VIX will trade in a lower spectrum. And perhaps it will, but today's price action demonstrated that it is perfectly likely that spot can reassert itself to the upside on very little notice or perturbance:

IB: VIX in candles, Dec VX futures in blue
The other interpretation is that VX futures get stickier on spot run-ups:


IB: XIV after .3% mini-spill in SPX
Organic Vol

Organic at-the-money ES volatility trades quite in line today with where it did a week ago, with the weekly contract being the notable exception.
As we frequently mention, weekly vol trades most over the upcoming news. With plenty of central bank meetings last week and a market that was calming down after a jolting prior week, it makes sense that weekly vol has fallen off. This is especially the case if tax reform is seen as a done deal and we're heading into what is often characterized as a sleepy pre-Christmas season.
The monthly and quarterly vols are trading above the lows that we saw in October of around 6.3% and 8.7% respectively. In this sense organic vol appears to be a bit "elevated". But what is perhaps more noteworthy is that while spot VIX has really gotten bogged down since last we visited this market, the monthly and quarterlies held tight.
We believe that the refusal of monthly or quarterly spot to drop lower alongside spot suggests that perhaps the imminent potential for a new and starkly lower trading range in VIX may be limited.
Conclusion
If this is your first time reading Market Volatility Bulletin, thanks for giving it a try. If you're a regular, we thank you for your ongoing contributions in the comments section. We'll close with a thought-provoking comment left by Vol_Trader: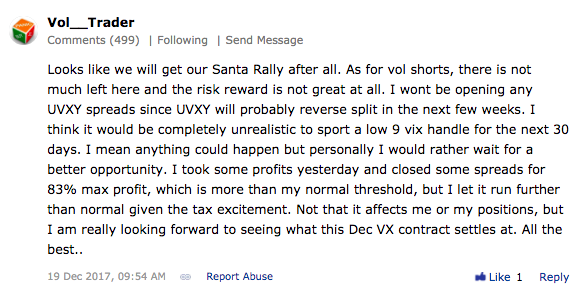 Thank you Vol_Trader ( DJ Thompson) for sharing your ideas in relation to the current set-up.
Please consider following us.