Investment Thesis
We believe the continued growth in Permian basin Drilled but Uncompleted (DUC) wells is a not a negative overhang for oil producers or for crude oil prices.
The benefits of the growing DUC inventory include: current stability of crude oil pricing, a more measured growth in oil production supply to market, efficiencies gained in the management of fracking crews, management of near-term infrastructure constraints, management of service cost inflation, and the ability of oil producers to manage oil production guidance through completion.
While some investors worry about a sudden surge in supply should oil prices increase significantly due to rapid completion efforts, therefore, an overhang; we believe that the benefits outweigh concerns. Oil prices have recovered nicely this year despite the rise in DUC wells. While DUC well growth and completions deserve careful attention, we believe the current level of DUC wells is no providing an overhang to price stability.
Permian DUC Well Count Continues to Surge, Another All-Time High
The most recent Energy Information Administration (EIA) report of Permian DUC wells for November 2017 shows that the total grew for the 15th consecutive month to a record 2,613 wells.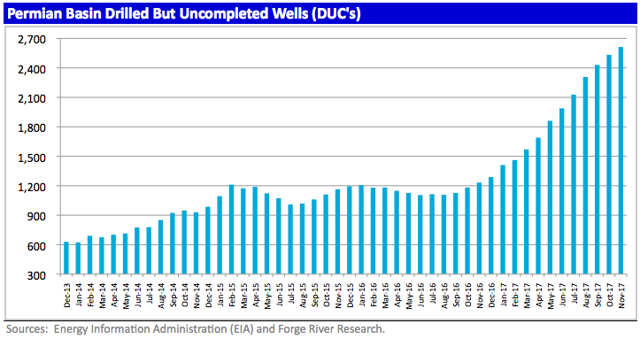 The Permian Continues to Drive America DUC Growth
In fact, the Permian region has seen DUC wells increase over 112% over the past twelve months, driving the total number of DUC wells in all shale producing regions to a record 7,354 (with the Permian basin making up 35% of America's total).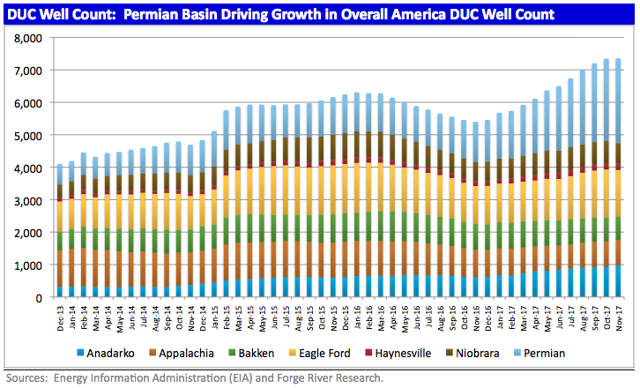 While other basins have contributed to the overall growth in DUC wells, the Permian basin has accounted for 1,381 of the 1,955 additional DUC wells in the past year (or a remarkable 70.6% of total growth). See chart below on DUC Wells by EIA Drilling Productivity Report (DRP) Region.

In basins other than Permian, DUC wells post first monthly decline since November 2016
In the month of November 2017, total DUC wells grew by 12 from the prior month. The Permian basin continued to drive overall growth, adding 80 DUC wells. The rest of America's basins declined by 68 DUC wells, the first monthly decline in these basins since November 2016. The main driver was a decline in drilling activity while completions rose slightly.
It is possible that in December America's total DUC well count could decline sequentially for the first time in 17 months.
Vast majority of Permian DUC wells are profitable under $50 WTI crude oil price
As part of the EIA's Webinar held on Thursday, November 16, 2017, "Webinar: Forecasting U.S. Crude Oil Production," Rystad Energy's Artem Abramov, VP Analysis presented a breakdown analysis of Permian DUC wells by aging / sub-basin (within the Permian) and a break-even analysis of the Permian DUC inventory (see chart below).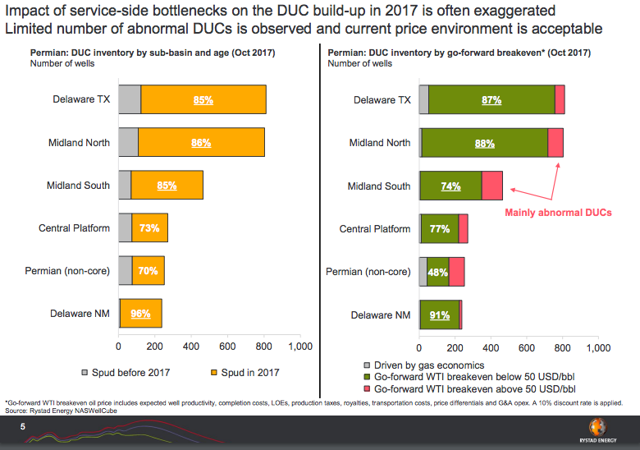 For purposes of this article, we believe there are two key takeaways from the Rystad Energy chart above are: 1. A vast majority of the Permian DUC inventory was drilled in the current year and 2. A vast majority of the Permian DUC inventory is profitable below $50 per barrel West Texas Intermediate ((WTI)) crude oil pricing.
While the backlog in Permian DUC wells is significant, the good news is that the great majority of the DUC wells are newly drilled and that they are not accumulating because they are uneconomic to complete.
We continue to believe that capacity constraints are playing a role in the growth Permian region DUC wells
In the previous 12 months ended November 2017, 4,975 wells were drilled in the Permian region per the EIA. This represents an 82.8% increase over the 2,721 wells drilled in the Permian region in 12 months ended November 2016.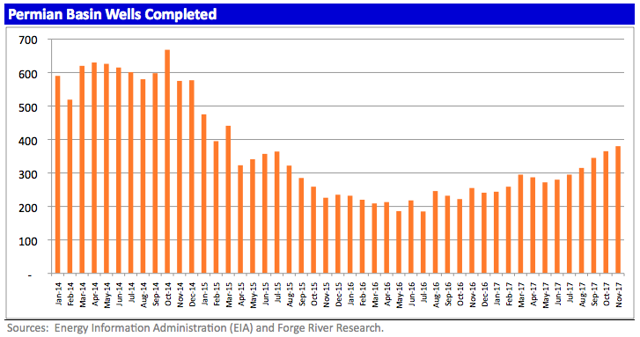 While the Permian drilling recovery has been impressive, Permian DUC wells are at an all-time high because Permian well completions have been slow to recover. Despite Permian completions being well below the October 2014 high of 668, oil production from the Permian has soared to new records as production per well has tripled.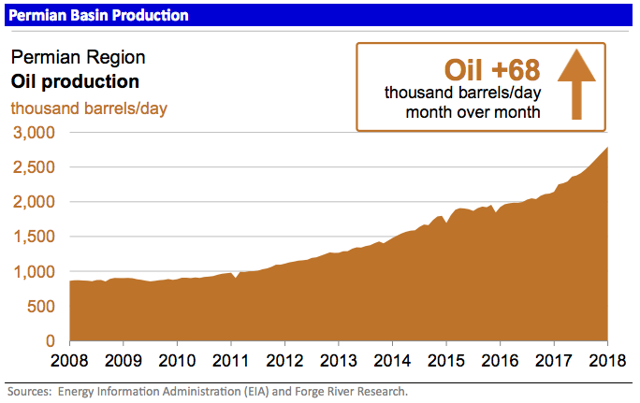 A shortage of completion (hydraulic fracturing) crews has been a factor as service companies seek experienced oil field service workers and work to make inexperienced workers more efficient.
Well design completion complexity and intensities have increased substantially in the past year with the use of longer laterals, more frac stages, more proppant usage, and more frac water. Completion crews are being added and becoming more experienced, but it takes some time as demand continues to climb.
Several companies have announced expansion of their fracking operations: Keane Group (FRAC), a leading oil field services company offering fracking fleets, announced: higher frac fleet deployed, investments in new frac fleets, and additions of fracking horsepower.
We believe that other factors have also contributed to the growth in Permian basin DUC wells including flowback water handling, electrical power, gathering systems, and pipeline capacity, and other infrastructure elements. Relief of constraints is on the way, but takes time (as in the case of pipelines comes on in chucks and takes twelve to eighteen months to build). We discuss several key pipelines for investors to watch for regulatory or other delays that will be important to keep the oil flowing to market in our recent Weekly Permian Pure Play Oil Producer article.
In addition, the abundant supplies of natural gas, natural gas liquids, and light crude oils is stressing storage capacity and refinery demand. Crude oil exports have increased to record levels in recent months (driven by light tight crude oil supply greater than local refiner demand and high storage capacity driving Brent-WTI spread widening). However pipeline, port, loading capacity, and widening and deepening of waterways at the Gulf Coast are constraints to greater export levels. Projects are underway to expand, but require large investments and time (the Port of Corpus Christi announced expansion project approvals in July and December.)
For these reasons, we anticipate that the Permian region's DUC well inventory is likely to continue to grow and take time to work off.
What has the massive growth and record high level of DUC wells mean for WTI Oil Prices and Permian focused oil producers?
We believe the impact of the growth in DUC wells due to capacity constraints has had a positive impact by limiting the explosiveness of oil production supply growth and limiting the potential negative impact on the WTI price.
Imagine for a moment if well completion growth (up 43.1% y/y) were running as high as well drilling (up 68.6% y/y), supplies would overwhelm infrastructure and demand in our view. This would likely have a disastrous impact on WTI prices, harking back to 2013 when the Brent-WTI spread grew to nearly $20 (nearly a 20% differential of Brent prices, compared with roughly 10% differential today) due to pipeline and other constraints.
In our opinion, the growth in DUC wells has indeed tempered the growth of U.S. shale oil production and contributed to the reduction in U.S. crude oil inventories by holding off supply to the market.
So, should oil market investors and producers be worried that the DUC wells are creating an overhang that will hold prices down in the future? We continue to believe that the current growth in DUC wells is different than the one that occurred following the 2014 downturn in oil prices. At that time, the DUC wells were created due to commitments to drill that were made at higher prices, while completions in the price environment were not very economic and companies cut crews to reduce expenses.
In addition, during 3Q17 earnings conference calls a number of companies mentioned the efficiencies to be gained in managing frac crews, pad drilling, and well interference issues by having a higher inventory of DUC wells. Several companies we track have guided to running higher numbers of DUC well inventories in the future.
The backlog today is in a favorable pricing environment and is due in large part to a growth in drilling activity and capacity constraints. We believe that DUC wells will be worked off over time as more crews are added and other capacity constraints are addressed.
In our opinion, an unintended positive consequence of constrained U.S. production growth has been a reduction of crude oil inventories, stabilization and rising prices, and a forced discipline on America shale oil producers to not grow themselves into crisis again.
Disclosure: I/we have no positions in any stocks mentioned, and no plans to initiate any positions within the next 72 hours. I wrote this article myself, and it expresses my own opinions. I am not receiving compensation for it (other than from Seeking Alpha). I have no business relationship with any company whose stock is mentioned in this article.