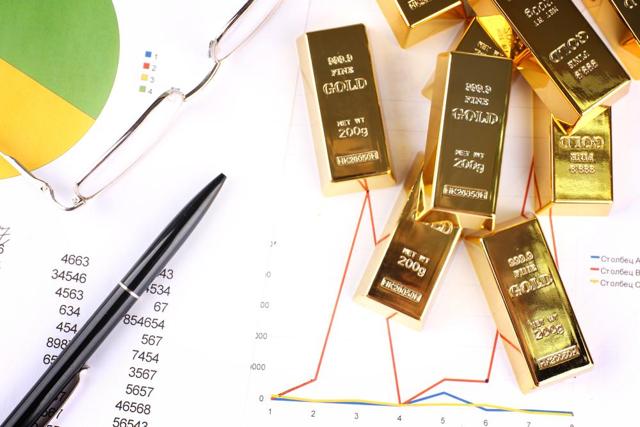 How will gold be affected by the GOP Tax Plan? I believe that the long-term effects of the proposed tax plan are bullish and will help boost the metal to new highs. However, in the short-term, with positive jobs numbers and consumer confidence hitting highs, the effects of the GOP Tax Plan may not be felt for some time. In my opinion, it all boils down to public sentiment and investor confidence. To that end, the following are major factors:
National Debt
In a Washington Post article writer, Heather Long states that "The Senate GOP bill would add $1 trillion to the debt even after accounting for economic growth generated by the tax cuts." This estimate is based on analysis by the Joint Committee on Taxation, a nonpartisan group of experts whose findings can be read here.
Long continues, "The Senate GOP tax plan would cause faster economic growth -- about 0.8 percent more over the next decade, JCT found. But that amount of growth only covers about a third of the cost, far short of what is needed to have revenue-neutral tax reform, as the White House initially claimed."
Interest Rates and Inflation
Janet L. Yellen, the Federal Reserve chairwoman, told the National Association for Business Economics that the Fed plans to keep raising its benchmark interest rate citing "wages for individual jobs and prices of goods and services" as some of her chief concerns when it comes to managing inflation. Even with the good news about jobs last month, wage gains were disappointing and came in well below expectations.
If wages are down or stagnant but the prices of goods and services rise, how do you think consumers will react?
Stock Market
According to research conducted and compiled by the Vanguard Group, there is a 70 percent chance of a US stock market correction in 2018. "Vanguard, which manages roughly $5 trillion in assets and is a proponent of long-term investing" is not alone in their sentiment. Earlier this year, Bank of America Merrill Lynch chief investment strategist Michael Hartnett said the market could be heading to a "significant correction". In a CNBC interview, Hartnett stated that his firm's Bull and Bear indicator is close to "a euphoric level that would trigger a sell signal" adding that it won't be "your average correction. It's going to be something a little more meaningful."
There are quite a few analysts that would disagree with Vanguard Group and Mr. Harntnett's findings, but what does the average investor think? A Bloomberg article referencing a recent Wells Fargo/Gallup poll stated that "A little more than half of U.S. investors anticipate a decline this year that will wipe out 'significant gains.'" Meanwhile, a number of funds like Chevy Chase Trust Holdings Inc. have increased their holdings in SPDR Gold Shares, I believe in anticipation of a possible (or dare I say probable) correction.
US Dollar
Already down 8% this year, Athanasios Vamvakidis, the global head of G10 FX Strategy at Bank America Merrill Lynch said about the US Dollar, "It seems to us that the consensus is that the tax reform will not matter much." To be fair, a number of currency analysts do expect a boost in the US Dollar should the tax plan become law. In the same Business Insider article, Daniel Katzive, the head of North America FX strategy at BNP Paribas forecasts a rally in the dollar, though "only through the middle of 2018."
Bad News for Gold?
While rising interest rates and stronger dollar typically mean bad news for gold bugs, if the tax plan passes and the resulting dollar rally is indeed short-lived as many expect it to be, that leaves only interest rates left to hold back the price of gold.
However, rising interest rates are not a death sentence for the yellow metal as Peter Schiff pointed out in a recent CNBC commentary piece. "Beginning in June 2004, Alan Greenspan raised rates by 25 basis points for 17 consecutive meetings," Schiff wrote. "During that entire two-year period, gold rose almost continuously, rising 62 percent (from $390 to $630) by the time the Fed stopped tightening. So it's a myth that higher interest rates are automatically bearish for gold."
Conclusion
Imagine a scenario where the national debt has risen by 1 trillion dollars, interest rates are higher, goods and services cost more, and both wages and the stock market are either sideways or down. What does public sentiment look like then?
When confidence in the economy falls, demand for safe-haven investments like gold increase dramatically. Remember that in August 2008, Gold was at $740 an ounce. By August 2011, Gold was at $1,900 an ounce! That's a 157% move in three years!
Because of the trillion dollar impact that the GOP tax plan would have on the national debt, coupled with rising interest rates and inflation, plus low wages and a looming stock market correction, I believe that investor sentiment will depart from our current state of euphoria and land somewhere around realistic, if not negative.
Consumer confidence and investor sentiment are key factors in the price of gold and should the above scenario play out, I believe that the long-term outlook for gold as it relates to the GOP tax plan is quite favorable.
Disclosure: I/we have no positions in any stocks mentioned, and no plans to initiate any positions within the next 72 hours. I wrote this article myself, and it expresses my own opinions. I am not receiving compensation for it (other than from Seeking Alpha). I have no business relationship with any company whose stock is mentioned in this article.