Downside risks threaten Canadian economy.
The U.S Dollar has recovered from a five-month rout vs. the Canadian Dollar which saw the pair tumble from a high of $1.3792 to a lows of $1.2062 in September. With the Greenback now taking aim at $1.30, this trend should continue further in 2018 as a collection of drivers line up in favor of the U.S. currency.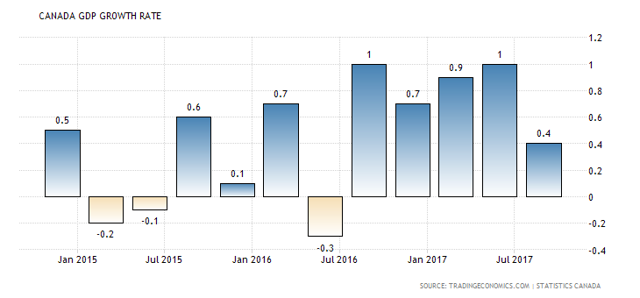 (Source: Trading Economics)
The first headwind for the Canadian Dollar is the recent slowing of the GDP growth rate. Canada has seen two dips into negative territory since 2015 and has recently slipped to 0.4%, with the market expecting 0.2% in the next release.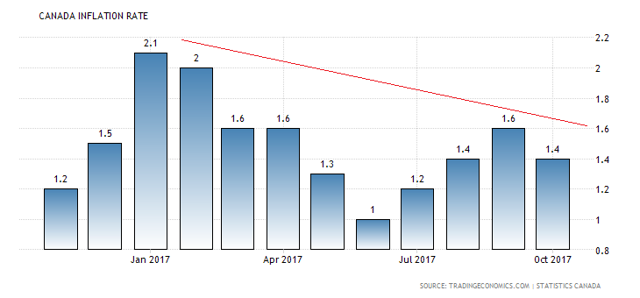 (Source: Trading Economics)
Analysts are currently favoring a potential spring rate hike but with inflation also trending downward, these expectations may be ahead of the curve. In a recent speech, Bank of Canada Governor, Stephen Poloz, noted that he was "increasingly confident" that the economy will need less stimulus over time. The comments provided some immediate boost for the Canadian Dollar, however the market quickly erased those gains. With only one more GDP figure before the Central Bank meeting in January, it is unlikely that the BoC will have anything to warrant an early hike.
Further concerns also still exist regarding the Canadian housing sector and in personal credit. The deleveraging that occurred in the United States following the subprime debt crisis did not occur in Canada and there's a serious risk of a comparatively hard landing for Canada if there is a global slowdown in growth. The charts below probably keep BoC members awake at night.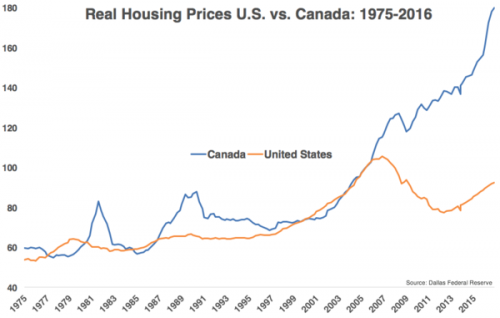 (Source: Federal Reserve)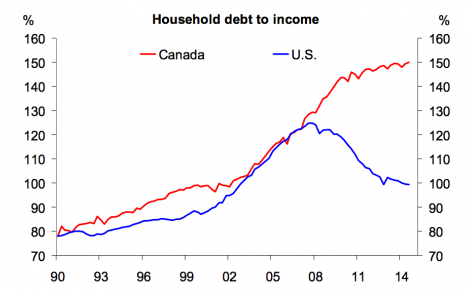 (Source: Deutsche Bank)
Like most of the developed nations' Central Banks, policy makers are now backed into a corner where they must decide between taking the steam out of frothy asset prices at the expense of GDP growth. The slowing of inflation will take some heat off the BoC, but this does not solve the housing problem. These scenarios make it likely that Governor Poloz will lean on the dovish side until forced otherwise.
White House tax deal will boost U.S. Dollar demand.
As Congress is putting the finishing touches to an overhaul of the U.S. tax system, there is real potential for a surge in U.S. Dollar demand and economic growth in 2018.
As the FT notes, "Analysts and executives expect corporate earnings to be boosted by an average of about 10 percent, with some companies set to see significantly higher benefits of up to 30 percent, thanks to the proposed reduction in the main rate of US federal corporate tax from 35 percent to 21 percent."
With lower tax rates coming into effect on January 1, 2018, the first quarter could be strong for the U.S. Dollar as the potential for a repatriation of foreign profits combines with the potential for a widening interest rate differential if the Canadian economy slows further.
Estimates for repatriations run into the hundreds of billions and would likely be used to fund stock buybacks and acquisitions. An increase in FX volume and U.S. Dollar demand should be expected by traders.
Speculative positioning will add fuel to the fire.
Adding fuel to the fire for a U.S. Dollar rally is the current speculative positioning in futures markets, which is heavily long the Canadian Dollar and is at all-time highs in crude oil. In a recent article I warned of a possible bull trap in oil and if we were to see an unwind toward $50 per barrel, it would create a perfect storm, where the ensuing short covering rally in the Canadian would be brisk.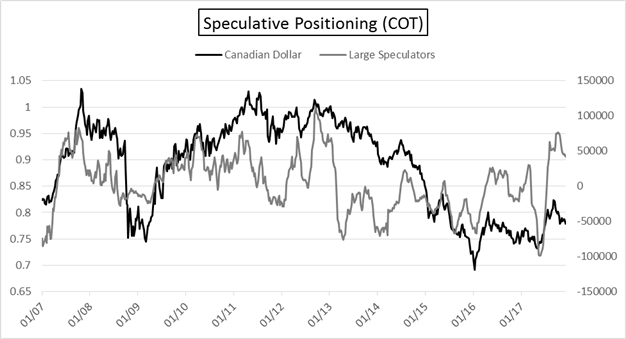 (Source: Daily FX)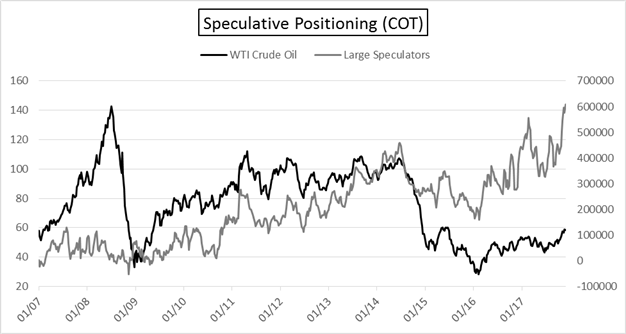 (Source: Daily FX)
Conclusion
When looking at the trends in U.S. and Canadian economies, the historic overhaul of U.S. taxes, and the extreme positioning present in crude oil and the Canadian Dollar, it is clear that there is large downside risk in being long the Canadian Dollar. However these trends play out, probability favors the U.S. Dollar and now would be a good time to be long the U.S. Dollar and the opportunity also offers the potential for a rotation into Canadian stocks that are immune to oil and the housing market. I am expecting USD/CAD to test 1.30 by year-end and in 2018 there is potential for a gain of up to 25-30%.
Disclosure: I am/we are long USD/CAD. I wrote this article myself, and it expresses my own opinions. I am not receiving compensation for it (other than from Seeking Alpha). I have no business relationship with any company whose stock is mentioned in this article.