By Bob Ciura
At Sure Dividend, we are constantly recommending income investors consider the Dividend Aristocrats. The Dividend Aristocrats are a group of high-quality stocks in the S&P 500 Index, with over 25+ consecutive years of dividend increases. You can see all 51 Dividend Aristocrats here.
The Dividend Aristocrats are a great source of dividend stocks. If there were one limitation of the Dividend Aristocrats list, it would be that it only includes U.S. stocks. There are plenty of companies based outside the U.S., that have highly profitable business models, growth potential, and reward their shareholders with hefty dividends.
In fact, many internationally-based companies have dividend yields higher than those of their U.S.-based competitors. As a result, investors could be doing themselves a disservice by focusing solely on companies based in the U.S.
With all this in mind, this article will discuss the top 5 international dividend stocks for 2018, in no particular order.
International Dividend Stock #1: BP (BP)
Dividend Yield: 5.9%
As previously mentioned, in many cases international stocks have higher dividend yields than their U.S. peers. The energy sector is a great example of this. While the U.S. integrated giants Exxon Mobil (XOM) and Chevron (CVX) have dividend yields below 4%, BP has a nearly 6% dividend yield. BP's high dividend yield places it on our list of 397 stocks with 5%+ dividend yields. You can see the full list of established 5%+ yielding stocks here.
BP is based in the U.K. It is an integrated oil and gas company, with an upstream exploration and production business, and a downstream refining business. It also owns a nearly 20% investment stake in Russia-based energy producer Rosneft.
Perhaps the biggest reason why BP has maintained its hefty dividend over the past year, in spite of weak oil prices, is that it has aggressively cut costs. This has helped BP reduce its breakeven points over the past year.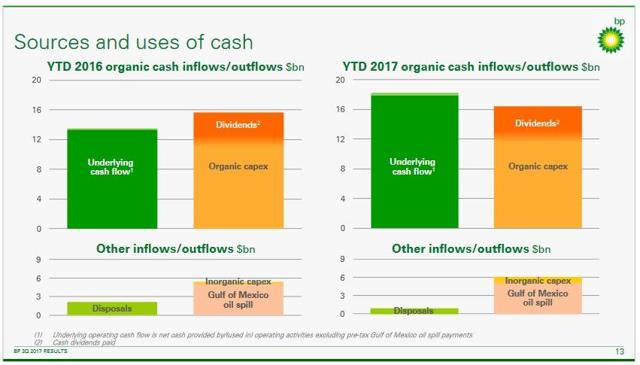 Source: Q3 Earnings Presentation, page 13
Production costs are down 16% over the first three quarters of 2017. As a result, BP's operating cash flow exceeded its capital expenditures and dividend payments, at a Brent oil price of $49 per barrel.
At the same time, the company has placed several major projects into service, including three last quarter—the Persephone project in Australia, the Juniper project in Trinidad, and the first phase of the Khazzan tight gas development in Oman. Total company oil and gas production rose 14% last quarter, year over year.
BP is a leaner and more efficient company, and continues to streamline its portfolio, selling off non-core assets and reinvesting in more attractive growth projects. BP expects $4.5 billion in divestments this year.
The company expects to further reduce its oil breakeven point, to $35-$45 per barrel, by 2021.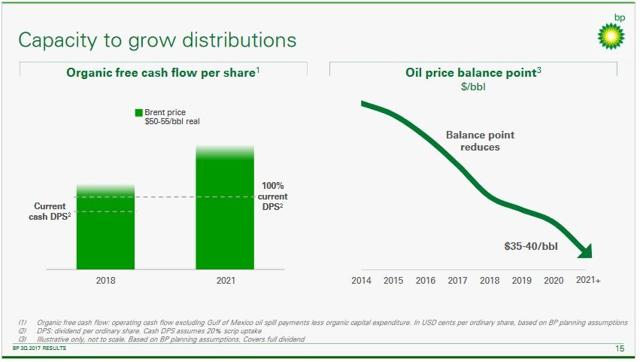 Source: Q3 Earnings Presentation, page 15
With improving oil and gas prices in recent months, things are looking up for BP. Underlying profit increased 85% over the first three quarters of 2017, to $4.06 billion. BP has now completed six of the seven major projects that were set for completion this year. The company expects these new projects will add 800,000 barrels of new daily production by 2020.
BP's dividend yield is highly attractive, and the payout appears secure. Excluding organic capital expenditures, BP states the dividend is fully covered at a Brent price of $42 per barrel. With Brent currently trading around ~$63, there is a hefty cushion for BP's dividend.
International Dividend Stock #2: Diageo (DEO)
Dividend Yield: 2.3%
Diageo is a highly profitable dividend stock in the consumer staples sector. You can see the full list of all 350 consumer staples dividend stocks here.
Diageo is a giant spirits manufacturer. It has a huge portfolio of alcoholic beverages, including 20 of the world's top 100 spirits brands. Some of its major brands include:
Johnnie Walker
Smirnoff
Captain Morgan
Baileys
Tanqueray
Guinness
Crown Royal
Ketel One
Don Julio
Diageo is an appealing dividend stock because it has an above-average yield, growth potential, and a strong product portfolio. Its financial performance has improved significantly over the past few years.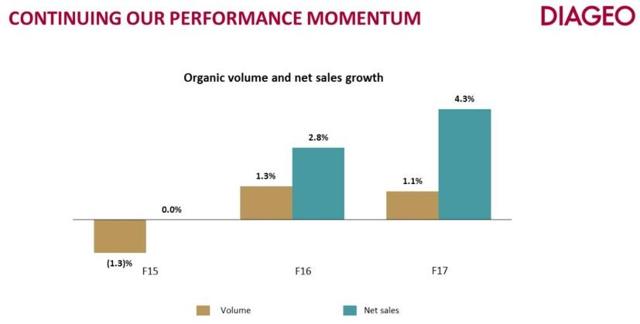 Source: FY17 Earnings Presentation, page 5
In fiscal 2017, volumes and sales increased 1.1% and 4.3%, respectively. Diageo also has tremendous scale benefits, which gives it the ability to expand margins. Last year, operating profit margins expanded by 37 basis points. In all, adjusted earnings-per-share increased 21% for the fiscal year.
Diageo generated a 13.8% return on capital in fiscal 2017, up 138 basis points from the previous year. Free cash flow increased 27% for the year.
Diageo has excellent long-term growth potential, thanks in large part to its significant presence in emerging markets. All key geographic regions grew sales last year, led by Latin America, Africa, and Asia.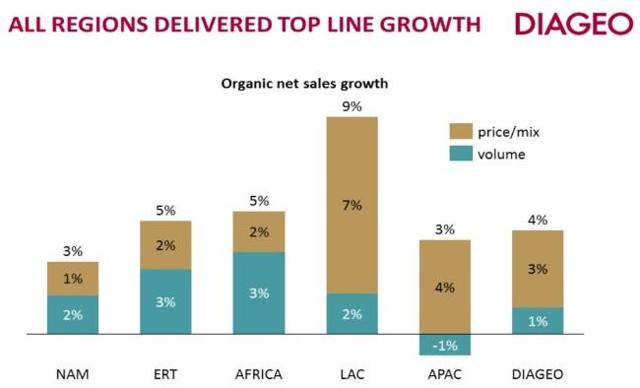 Source: FY17 Earnings Presentation, page 11
With its high returns on capital and strong free cash flow, Diageo is a strong dividend stock. It pays a semi-annual dividend, consisting of an interim dividend in April, and a final dividend in October. The approximate split between the two payments is 40-60.
2017 dividend payments came to $3.21 per share in U.S. dollars, which represents a current dividend yield of 2.3%. Diageo does not have a very high dividend yield, but it grows the dividend regularly. For example, the company's final dividend for 2017 was 10% higher than the same payout last year.
International Dividend Stock #3: Royal Dutch Shell (RDS.A) (RDS.B)
Dividend Yield: 5.7%
The great thing about the Dividend Aristocrats, is their long history of reliable dividends. But international dividend stocks like Royal Dutch Shell offer consistent dividend payouts as well.
Shell has been in business for over 100 years, and it currently offers a 5.7% dividend yield. The combination of 100+ years in operation, and a 3%+ dividend yield, earns Shell a place on our list of "blue chip" stocks. You can see the entire list of blue chip stocks here.
Like BP, Shell is an integrated oil and gas giant, based in Europe. And, Shell has also maintained its hefty dividend through the industry downturn over the past few years. Similar to BP, Shell has exercised financial discipline, by cutting costs and selling off non-core assets to raise cash. From 2014-2016, Shell slashed $20 billion from capital spending. And, Shell embarked on a three-year divestment program, which is expected to raise $30 billion through 2018.
Shell also benefits from a large refining business, which helps generate consistent profits, even when commodity prices decline. Downstream activities generated $7.69 billion of Shell's earnings in the first three quarters of 2017. Shell has returned to strong profitability in exploration and production, meaning its momentum is accelerating as 2017 draws to a close.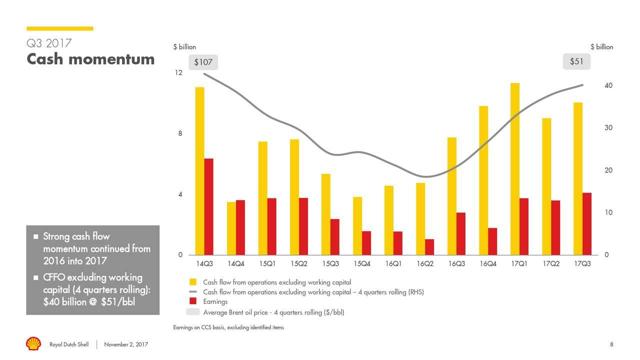 Source: Q3 Earnings Presentation, page 8
Thanks to higher price realizations and production growth, Shell's upstream segment earned $1.44 billion in this period, which reversed a $2.76 billion loss in the same nine-month period last year. Overall core earnings more than doubled in the first nine months, to $11.79 billion.
Going forward, Shell has promising growth prospects, thanks in large part to a lineup of new projects.
By the end of next year, the company expects $10 billion of new cash flow each year from its project lineup. These new projects, along with rising commodity prices, will fuel strong cash flow for the company. Shell expects annual organic free cash flow of $25 to $30 billion by 2020, at $60 per barrel. Cash flow growth, from capital discipline and completion of new projects, will secure Shell's dividend.
International Dividend Stock #4: Vodafone (VOD)
Dividend Yield: 4.8%
Vodafone is a high-yielding stock in the telecommunications sector. You can see all 138 telecom dividend stocks here.
Vodafone is based in Europe, where it conducts the majority of its business operations. However, the company also has a significant presence in the emerging markets. A breakdown of its revenue by geographic region is as follows:
Europe (73% of revenue)
Africa, Middle East, and Asia Pacific (25% of revenue)
Other (2% of revenue)
Vodafone has over 500 million mobile customers, and more than 30 million fixed-service customers. The company is performing well. Organic revenue increased 1.9% last fiscal year, and increased 1.7% over the first half of 2017. Revenue growth and cost cuts fueled 13% growth of adjusted EBITDA in that time.
Going forward, Vodafone's growth potential is very attractive, especially because of the company's aggressive expansion in India. In 2017, Vodafone announced a huge merger between its Vodafone India, and Idea Cellular (OTC:ICLQY).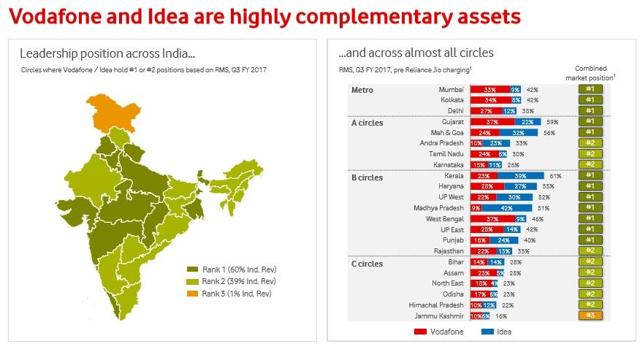 Source: Vodafone Idea Merger Presentation, page 7
The acquisition gave Vodafone the #1 market share position across India, one of the most attractive emerging markets in the world. India is a highly competitive and fragmented market for the time being, but the long-term potential is easy to see. India has a population exceeding 1 billion, with high economic growth. And, the economics are slowly changing—Vodafone noted industry consolidation drove price increases and improved profitability in the region to start 2017.
The complex deal involved Vodafone receiving a 50% stake in Vodafone-Idea, with approximately 3.63 billion shares. Vodafone then sold a 4.9% stake in Vodafone-Idea, to Aditya Birla Group, for $579 million. The deal accomplishes several strategic priorities for Vodafone. First, it gives Vodafone a huge presence in India. Going forward, Vodafone will own 45.1% of Vodafone-India, which will have 395 million customers. It will also have the largest share of spectrum in India. In addition, the $579 million cash payment will allow Vodafone to repay debt, and improve its balance sheet.
Lastly, the merger involves significant cost synergies for Vodafone. By the fourth year after the merger, Vodafone expects to reach an annual run-rate of $2.1 billion per year in cost reductions.
Vodafone pays a semi-annual dividend. Vodafone's last two semi-annual dividend payments totaled approximately $1.50 per share for holders of the American Depositary Shares. This represents an annual dividend yield of 4.8%.
International Dividend Stock #5: Unilever (UL)
Dividend Yield: 3.0%
Last but not least is Unilever. Like Diageo, Unilever is a dividend stock in the consumer staples sector, based in Europe. But instead of alcoholic beverages, Unilever's business model is roughly evenly split between food and beverages. Unilever was founded in 1885. It has a large portfolio of strong brands, which includes 13 individual brands that each generate $1 billion or more in annual sales.
The 13 "billion-dollar brands" are as follows:
Axe
Dove
Heartbrand
Hellman's
Knorr
Lipton
Lux
Magnum
Omo
Rama
Rexona
Sunsilk
Surf
Unilever has a number of competitive advantages, which will help ensure future growth. First, it is a global company, with scale and geographic diversification. Unilever has a strong presence in emerging markets, such as China, India, and Africa. Unilever is ahead of many U.S. consumer products companies in the emerging markets, which gives it a significant edge.
The emerging markets have large populations, and enjoy high economic growth rates. These qualities make the under-developed nations of the world very attractive for consumer goods firms. In 2016, Unilever's emerging-market revenue increased 6%, thanks to 1% growth in volumes, and 5% growth from price increases. Earnings-per-share increased 7% last year.
Results have been equally impressive to start 2017. Sales increased 5.7% in Asia and 5.5% in Latin America over the first three quarters, while sales in North America declined 0.8% in the same period.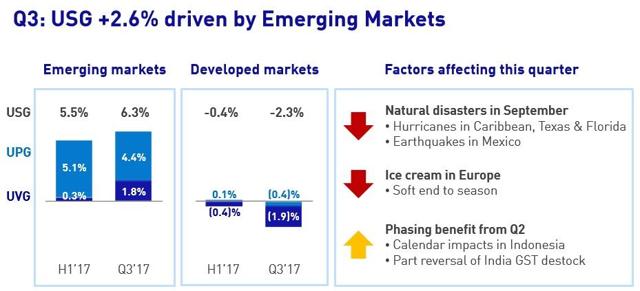 Source: Q3 Earnings Presentation, page 3
U.S. sales were negatively impacted by hurricanes and adverse weather impacts, while the emerging markets continue to lead the way.
Future growth will be supplemented by Unilever's aggressive acquisition strategy. The company seeks to acquire companies with the potential to disrupt existing product categories in the consumer goods sector. The company made 18 acquisitions since 2015.
Some of the major deals include the $1 billion acquisition of razor blade startup Dollar Shave Club, and the $600 million acquisition of natural cleaning products manufacturer Seventh Generation. In all, the company expects acquisitions to add 1% to annual sales growth.
Unilever has a quarterly dividend payment of 0.3585 euros per share. In U.S. dollar terms, the annualized dividend of $1.69 per share represents a 3% yield.
Final Thoughts
None of the stocks mentioned in this article appear on the list of Dividend Aristocrats. But that does not mean international stocks should be avoided. Quite the opposite; the stocks on this list have all the qualities income investors should desire. They are highly profitable, with strong brands, and hefty dividend yields.
Moreover, these international stocks have strong growth potential over the long-term, thanks to the emerging markets. With the average dividend yield of the S&P 500 Index at just 2%, income investors should consider higher-yielding international dividend stocks.
Disclosure: I am/we are long BP, XOM. I wrote this article myself, and it expresses my own opinions. I am not receiving compensation for it (other than from Seeking Alpha). I have no business relationship with any company whose stock is mentioned in this article.