I recently penned the article Those Big Juicy Dividends Beat The Market In Canada, US and International. From inception, the MSCI High Dividend Yield Indices beat the underlying broad market indices in total returns. They also delivered that market beat with lesser volatility from inception dates. But did they consistently deliver a lesser draw down or decline in the last recession and major market correction from 2008 through 2009?
Here are the annual returns for the US High Dividend Yield Index. As always past performance does not guarantee future returns.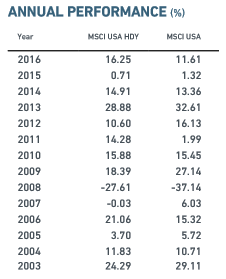 We see that while the underlying broad market MSCI index fell by 37.14% in 2008, the big dividend payers fell by only 27.61%. Also in 2011, while it was a challenging year for the markets, those companies paying those Big Juicy Dividend delivered an impressive 14.28%.
Here are the index's risk characteristics.

Again we see a much lower overall beta from the inception date and through the 3, 5, and 10 year periods. Once again, from the Fund Fact Sheet here is the index outline.
"Each MSCI High Dividend Yield Index targets companies with high dividend income and quality characteristics and includes companies that have higher than average dividend yields that are both sustainable and persistent. Index construction starts with a dividend screening process: only securities with a track record of consistent dividend payments and with the capacity to sustain dividend payouts into the future are eligible index constituents. Securities are also screened based on certain "quality" factors such as return on equity (ROE), earnings variability, debt to equity (D/E), and on recent 12-month price performance. The goal is to exclude stocks with potentially deteriorating fundamentals that could be forced to cut or reduce dividends. From the list of eligible companies, only those with higher than average dividend yields are selected for inclusion in the index. Issuer weights are capped at 5%. The index is market cap weighted and rebalanced semi-annually in May and November."
And let's have a look at the Canadian High Dividend Yield Index.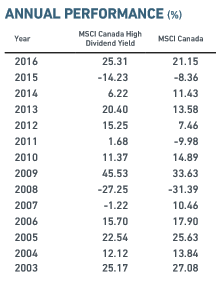 We see that it's a bit more of a wild ride for the Canadian Index, but the big dividend payers declined 27.25% in 2008, compared to 31.39% for the total MSCI Canada broad market index. In 2011 the big dividend payers were up 1.68% while the broad market was down by -9.98%. From inception we see the dividend payers providing a much better ride with a beta of .54. But recently, the index has a standard deviation equal to or greater than the broader market. While the Canadian market is concentrated in the financials and energy sectors, the higher yielding dividend indices can greatly exaggerate that concentration risk. The last recession was, of course, a financial crisis.

And on to the MSCI International High Dividend Yield Index.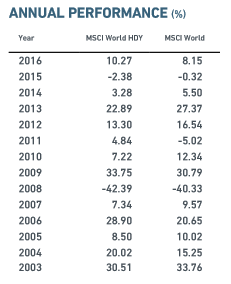 We see that the big dividend payers declined slightly more than market average in 2008, but the performance of the dividend index was much greater from 2004 through 2007 leading into the market correction. Once again, in 2011 the big dividend payers delivered positive returns while the underlying market index was negative. Here's a look at the index characteristics.

Once again beta from inception is favourable at .91 but through the last market cycle the Standard Deviation is greater than the market average. This suggests of course that the big International dividend payers delivered that favourable beta through the previous market cycle and market correction of 2000 through 2003. That lower volatility has resumed according to the 3 year and 5 year evaluations.
While the 3 High Dividend Indices delivered greater returns from inception dates, with lower beta, there may be a false sense of security that our bigger dividend payers will hold up a little better, or a lot better, in market corrections. If we look at two of the more popular High Dividend ETFs that were available through the financial crisis, we see greater volatility than the underlying broad market. Courtesy of portfoliovisualizer.com, here's The Vanguard High Yield Index (VYM) as Portfolio 1 and The Dividend Aristocrats High Yield Index (SDY) as Portfolio 2. Once again, past performance does not guarantee future returns. The period is January of 2007 through to end of 2011, a 5 year period.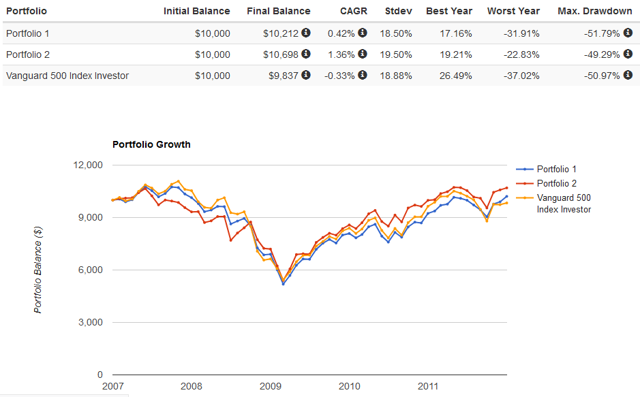 While there are greater total returns for the period, and that is meaningful, there is not much help on the lesser volatility or lesser draw down front. Dividend investors might offer 'ya but as long as my dividends hold up' I don't care about any price declines. Well here's the dividend income for the period, without dividend reinvestment. Once again Portfolio 1 is VYM, Portfolio 2 is SDY. The dividend income is based on an initial $10,000 investment.
Also, I've never met an investor that does not care about seeing their investment portfolio get cut in half or worse. I think that's just over-the-internet chatter.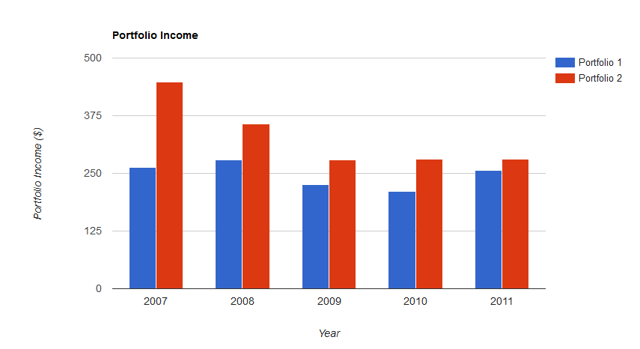 Of course, I will certainly check in with the creators of those MSCI indices in an attempt to obtain the dividend history of the MSCI High Dividend Yield Indices.
While the indices are listed as Medium Risk investments for investors with longer time horizons, I am somewhat surprised that the big dividends and financial screens did not find companies with much greater price stability. All said, we should keep in mind that the last recession and financial crisis is a study of 1 period. It was the worst percentage market decline since the Great Depression. Each market correction has its own causes and characteristics.
Here's a wonderful article from dividend.com detailing the last 5 recessions and market meltdowns and performance of Dow 30 constituents.
There is no investment approach that is infallible, and we might consider the risks, our personal goals and situation and attempt to address those risks in an intelligent and meaningful way. Companies that pay bigger dividends may or may not be part of the magic tonic in the next major market correction. We should keep in mind it is more about the 'kind of companies' that pay dividends, more than the physical dividend at work. Larry Swedroe recently reminded me ...
Dividend strategies may just give you exposure to other factors, not just value, but quality/profitability for example---and if you run regressions you see there is no alpha from the strategies typically. Which means dividends are irrelevant, just as theory predicts.
Let's assume that's true. But if certain dividend factors find certain kinds of companies that historically deliver better risk adjusted returns, well that's good enough for me. But that does not necessarily mean that it's good enough for you. As Mr. Swedroe also points out ...
So instead of focusing on dividends just focus on gaining exposure to value and quality/profitability and you get two benefits you don't get with the dividend strategy, First, more tax efficiency and second more diversified portfolios (which by definition are more efficient as they reduce risks.)
I often write that a meaningful dividend growth history (VIG) (NOBL) is a divining rod that has a habit of finding financial stability and profitability. If a divining rod leads me to water, I don't have to know the physical mechanics of how the divining rod finds that water. I have the water, I can drink the water. The water is real, not irrelevant. Now a Mr. Swedroe might argue that if I can better understand the physical mechanics, I might discover better ways to find that water.
I certainly have some research to conduct on how and why that dividend divining rod works.
Thanks for reading. Please always know and invest within your risk tolerance level. Always know and understand all tax implications and consequences.
Happy Holidays. Happy Investing. With Big Juicy Dividends, or otherwise.
Dale
Disclosure: I am/we are long AAPL, NKE, BCE, TU, ENB, TRP, CVS, WBA, MSFT, MMM, CL, JNJ, QCOM, MDT, BRK.B, ABT, PEP, TXN, WMT, UTX, LOW, BNS, BLK. I wrote this article myself, and it expresses my own opinions. I am not receiving compensation for it (other than from Seeking Alpha). I have no business relationship with any company whose stock is mentioned in this article.
Additional disclosure: Dale Roberts is an Investment Funds Advisor at Tangerine Investment Funds Limited a subsidiary of Tangerine Bank, wholly owned by Scotia Bank; he is not licensed to provide professional advice on stocks. The opinions expressed herein are Dale Roberts' personal opinions relating to his experience as an investor and are not those of Tangerine Bank or its subsidiaries and/or affiliates. This article is for information purposes only and does not constitute investment advice or an offer or the solicitation of an offer to buy or sell any securities. Past performance is not a guarantee and may not be repeated. Investment strategies are not suitable for everyone and you should always conduct your own research or speak to a financial advisor.