If you're used to this series, jump to Table 1.
If you have any challenges reading the charts in this article, check out the first article on quick and dirty discounts to book value for mortgage REITs. This piece is designed to be short and to emphasize providing easy charts that help investors identify opportunities for further inspection.
The mREITs
I put most of the mREITs, one corporation, and one ETF into the table because I wanted to get a more complete estimation.
| | | |
| --- | --- | --- |
| (AGNC) | American Capital Agency Corp | |
| (AI) | Arlington Asset Investment Corporation | Not a REIT |
| (ANH) | Anworth Mortgage Asset Corporation | |
| (ARR) | ARMOUR Residential REIT | |
| (CHMI) | Cherry Hill Mortgage Investment | |
| (CIM) | Chimera Investment Corporation | |
| (CMO) | Capstead Mortgage Corporation | |
| (CYS) | CYS Investments | |
| (DX) | Dynex Capital | |
| (EARN) | Ellington Residential Mortgage REIT | |
| (IVR) | Invesco Mortgage Capital | |
| (MFA) | MFA Financial | |
| (MITT) | AG Mortgage Investment Trust, Inc. | |
| (MTGE) | American Capital Mortgage Investment | |
| (NLY) | Annaly Capital Management | |
| (NYMT) | New York Mortgage Trust | |
| (OAKS) | Five Oaks | |
| (ORC) | Orchid Island Capital | |
| (TWO) | Two Harbors Investment Corp | |
| (WMC) | Western Asset Mortgage Capital Corp. | |
| (ARI) | Apollo Commercial Real Estate Finance, Inc. | |
| (BXMT) | Blackstone Mortgage Trust | |
| (GPMT) | Granite Point Mortgage Trust | |
| (RSO) | Resource Capital Corporation | |
| (SLD) | Sutherland Asset Management | |
| (REM) | iShares Mortgage Real Estate Capped ETF | |
| (MORT) | VanEck Vectors Mortgage REIT Income ETF | |
| (MORL) | UBS ETRACKS Monthly Pay 2x Leveraged Mortgage REIT ETN | |
The goal here is to have a fairly large sample size so we can identify trends and similarities throughout the sector. The mREIT sector only contains about 25 total organizations but the investing and hedging strategies have very material differences.
It is also worth emphasizing that I opted to use the GAAP book value for each mREIT. Most of the time this was available from the earnings release.
Table 1
If you're primarily using this article for the quick discounts to book value, use the column with the red heading in this table.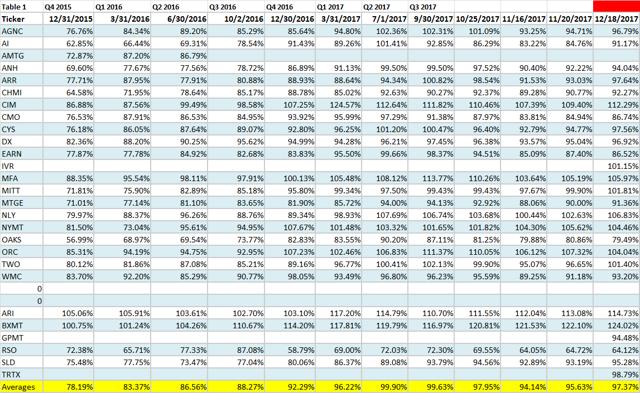 Price to book value across the sector is running slightly over 97%. The yield curve has flattened materially over the course of the year and even more during the fourth quarter. The rough price to book value ratios are up slightly since 1 month ago. On the other hand, they are moderately lower than they were at the start of the third quarter.
The fourth quarter of 2016 was rough for many mortgage REITs. Since then, it has been an extremely easy environment for mRIETs to protect book value. However, the dividend sustainability throughout the sector will be declining. Some investors will refuse to accept the basic fundamentals. They will see dividend increases from a few mortgage REITs and believe the entire sector is doing great. They will ignore the shape of the yield curve and they will ignore the spread on non-agency RMBS. Both of those factors make it materially more difficult for a mortgage REIT to earn a decent level of net interest income on book value.
The amount of net interest income they can generate is a function of two factors. One is the amount of book value they have and the other is the spreads available on potential investments. Currently, the spreads available on new investments are dreadful. In this environment the mREITs should generally trade at a much larger discount to book value. When spreads are exceptionally wide and it is much easier for an mREIT to create net interest income, the price to book value ratios should be higher.
Table 2
This table helps us assess the changes for each reporting period.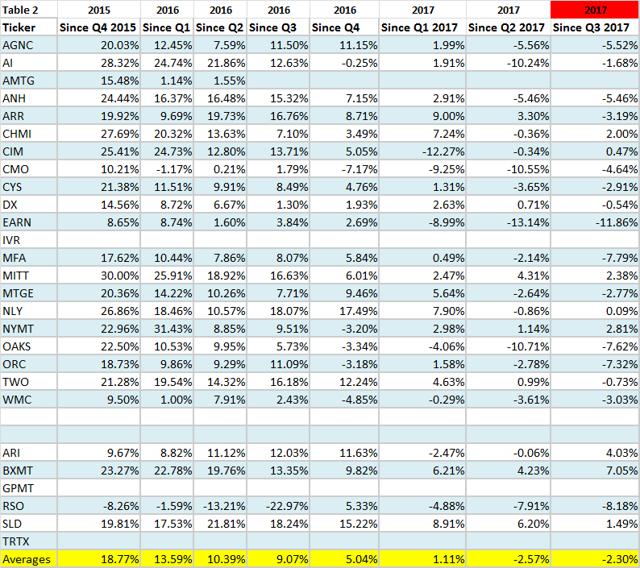 BXMT usually trades at a much higher price to book value ratio than many of their peers. However, their price to book value ratio is climbing again. They are up another 7% on price to book value ratio since the beginning of the quarter. For net interest accrual it would make sense to be up about 2%, but they have gained another 5% on top of that. Investors may be very attracted to BXMT because of the floating rate loan portfolio. When short-term rates increase, BXMT is able to produce more net interest income. The shape of the yield curve is far less relevant to BXMT than it is to other mortgage REITs.
ARI, GPMT, RSO, SLD, and TRTX also benefit from rising short-term rates. ARI saw a moderate boost to their price to book value ratio. For RSO, the price to book value ratio has declined lately as the share price struggled despite book value increasing.
I believe GPMT is currently the top play in the sector. I expect a nice dividend increase for the fourth quarter (they declared $0.38 last night) and expect their price to book value ratio will rise afterwards. I also think the discount on RSO is large enough to be compelling. Therefore, I will also give RSO a buy rating.
Sell ratings
I believe NLY and NYMT are both overvalued here. I see them as two of the easier mortgage REITs to pick for sell ratings. Both trade at material premiums to their last reported book value and they are exposed to the dangers of a flattening yield curve.
Ratings
Buy rating for GPMT with the expected dividend increase.
Buy rating for RSO due to an exceptionally low price to book value.
Sell rating for NLY due to their high price to book value.
Sell rating for NYMT due to their unusually high price to book value.
My quick and dirty articles are a glimpse of all the research I do for subscribers. Sign up toThe REIT Forum for access to all of my research and spreadsheets. The spreadsheets include stable dividend yields for buy-and-hold investors and the best prices I can find for active traders. I also have updated actionable buy and sell target prices on every investment I cover. Subscribers get instant actionable SMS alerts and a friendly forum of investors. The REIT Forum has the best ratings on the site with 305/305 star.

Disclosure: I am/we are long GPMT, NYMTN, MFA-B, BMNM. I wrote this article myself, and it expresses my own opinions. I am not receiving compensation for it (other than from Seeking Alpha). I have no business relationship with any company whose stock is mentioned in this article.
Additional disclosure: No financial advice. Investors are expected to do their own due diligence and consult with a professional who knows their objectives and constraints. CWMF actively trades in preferred shares and may buy or sell anything in the sector without prior notice. Tipranks: Buy GPMT & RSO. Sell NYMT & NLY.