Many investors have been predicting China's imminent crash for some time now. We're not calling for a crash, but we did forecast the Chinese economic slowdown in June.
It's happening.
The crux of our thesis argued that the central planners in China simply couldn't keep up the staggering stimulus it pumped into the economy in 2016, particularly with the Chinese property market so bubbly.
For the full year of 2016, the PBoC pumped a staggering net 1.727 trillion Chinese yuan into mainland financial markets. PBoC Open Market Operations are down -246% year-over-year in 2017 versus an increase of +689% year-over-year by this time last year.
How do you play the slowdown in China?
"There's a lot of ways to skin that cat," says CEO Keith McCullough in the video above from The Macro Show. "One of the ways is to take out long exposure in a global industrial that has a big Chinese demand exposure industrially."
Another developing short idea is the Shanghai Composite.
"China slowing is an economic view but the Shanghai Composite is turning into a pretty good short since it's bearish from a trend perspective. We haven't put that on just yet."
Still, as you can see in the chart below, the inflection in the Old China industrial complex is rolling over. We anticipate a lot more short ideas in the month's to come as the Chinese slowdown reverberates through global financial markets.
Stay nimble. And stay tuned.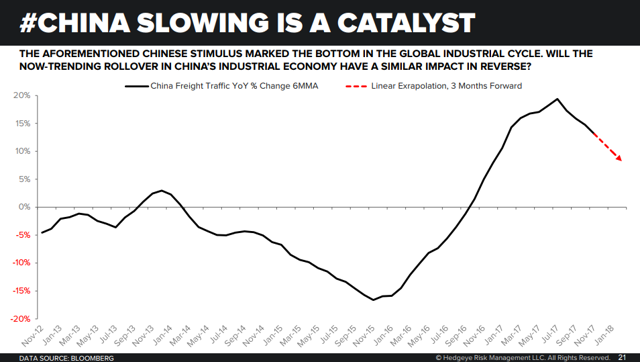 Disclosure: I/we have no positions in any stocks mentioned, and no plans to initiate any positions within the next 72 hours. I wrote this article myself, and it expresses my own opinions. I am not receiving compensation for it. I have no business relationship with any company whose stock is mentioned in this article.