Predictable Surprise
The report by the Industrial Commission of North Dakota last Friday likely left some shale growth skeptics puzzled.
The preliminary data shows a ~76,000 barrel per day step up in October for production from the Bakken. This equates to ~7.2% growth - in one month.
At 1.13 million barrels a day in October, the Bakken is just few short steps away from a new production record. For reference, the high watermark for monthly production was set in November 2014 at 1.16 MMb/d.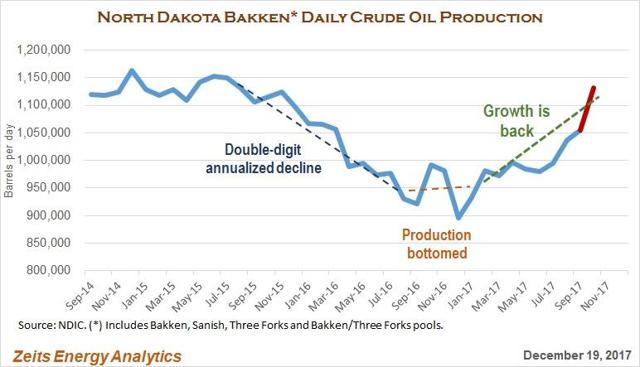 The report gives fresh food for thought to those investors who have written the Bakken off as a play that is running out of prolific locations, is uneconomic at current oil prices and therefore is irrelevant as a contributor to supply growth unless oil prices rise significantly above the recent levels.
The report also sends a warning with regard to the supply growth potential of the U.S. shale oil industry as a whole. Indeed, among major U.S. resource plays, the Bakken has been a laggard in terms of drilling activity. In 2017, the Williston rig count averaged just 45 rigs drilling horizontally, according to Baker Hughes. To put this figure in perspective, there are 650 rigs drilling horizontally in the Lower 48 currently, ~14 times the current Bakken count.
In terms of the number of active rigs, the Bakken is currently lagging each of the Midland Basin, Delaware Basin, STACK/SCOOP and Eagle Ford. It is also lagging the D-J Basin and Powder River Basin in the number of rigs relative to existing oil production base.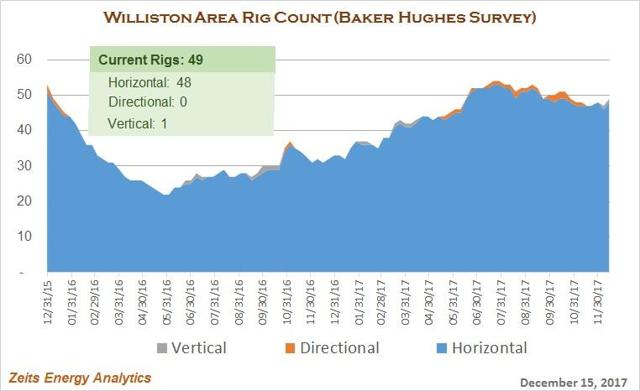 In this context, the strong growth momentum regained by North Dakota in the second half of this year is impressive and exhibits the same trend the U.S. E&P industry has already demonstrated in natural gas shales: it can accomplish more with less, particularly once the full field development mode is achieved.
Obviously, it would be a big mistake to annualize the October data point for North Dakota, as production growth tends to be lumpy. However, the NDIC's report convincingly demonstrates that claims of production stagnation in the Bakken are strongly exaggerated.
"You Ain't Seen Nothing Yet"
It is important to note that the reported recovery in production in North Dakota does not reflect the powerful encouragement from higher oil prices that operators received in the last three months. In fact, the vast majority of operating decisions underpinning the reported increases in volumes were based on WTI futures curves below $50 per barrel or barely above that level (as one can see from select curves below).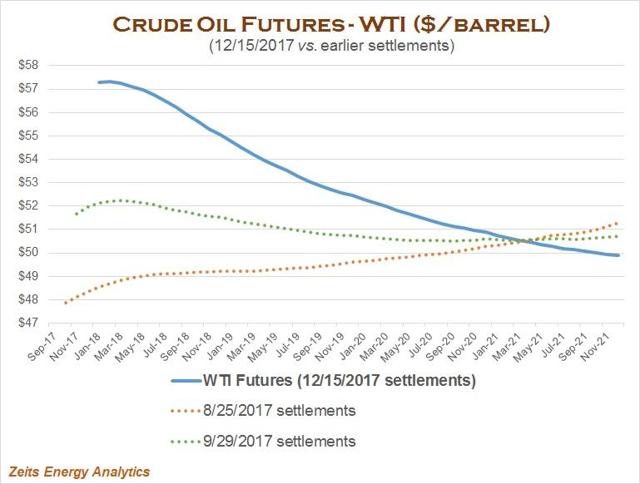 They've Told You So
This solid growth in production would not be particularly surprising had one followed signals from Bakken operators regarding strong well performance improvements in the play.
Investors often take operators' type curves - which drive EURs - with skepticism. This is understandable. However, early-time production metrics are relatively easy to observe and validate. Based on OIL ANALYTICS' estimates, in the current price environment, new Bakken wells that can be expected to produce 225,000 barrels of oil in the first two years would pass thresholds for capital deployment for many operators.
In this assessment, we assume the cost to drill, complete and connect a new well of $7.5 million. Such wells are likely to reach payout in less than three years. In our assessment, many new wells in the Bakken Core would fall within that category (excluding infill wells in existing drilling units on tight downspacing, which may fall short of this threshold).
Recent investor communications indicate that E&P companies often have much higher ambitions as it relates to early-time cumulative volumes. In its November 28, 2017 presentation, Continental Resources (CLR), a leading Bakken operator, highlights a payout expectation of 15 months for its wells with enhanced completions (pages 11 and 22 of the 11/28/17 presentation). In the world of resource plays, this kind of payout - if it can be indeed achieved and sustained - is as close as it can get to a financial perpetuum mobile.
In simplified terms, a 15-month payout means that every one year and three months, the operator can recoup its entire investment in the new well and also keep the entire massive cash flow tail from the well as the return on the investment. The recovered cash can be used to pay service providers for a new similar well that has already been drilled and completed. The reinvestment sequence continues until one runs out of such locations.
To add few more illustrations of advertised strong well performance, Oasis Petroleum (OAS) is using a type curve for its Middle Bakken wells outside Wild Basin that calls for ~140 thousand barrels of oil to be produced in the first nine months online.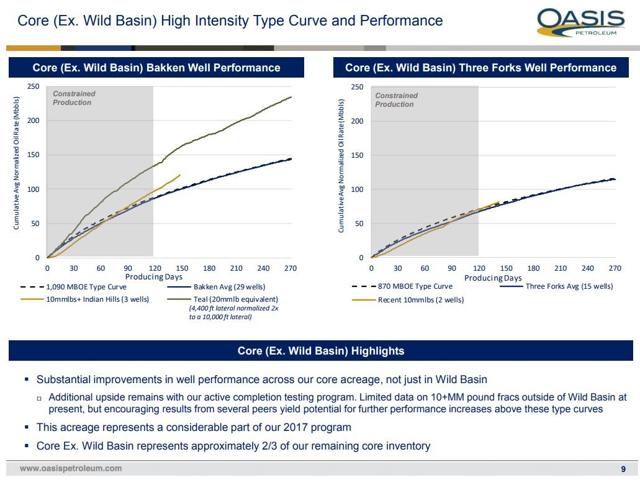 For Wild Basin, which is Oasis' most prolific asset and is located in the deep, high-pressure part of the Williston, the type curve calls for even stronger early-time volumes. Please note that the graphs show oil volumes only and do not include natural gas volumes.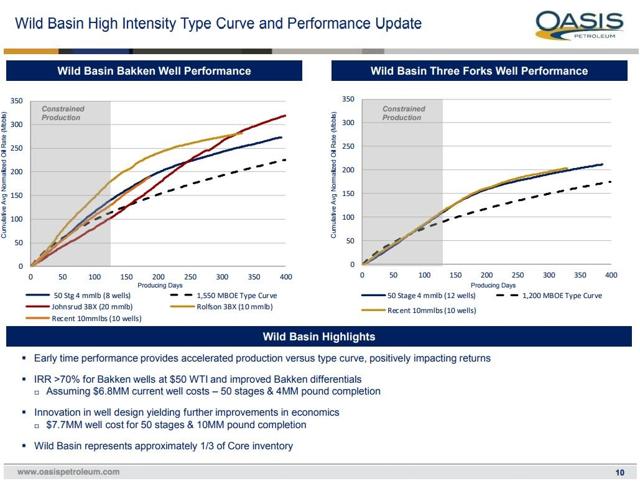 Strong early-time volumes are also advertised by WPX Energy (WPX) (volumes on the slide below are shown in BOEs)...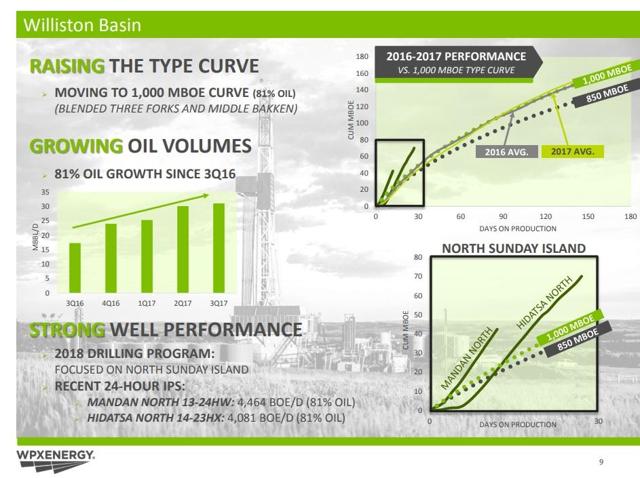 (Source: WPX Energy, Q3 2017 Investor Presentation)
... and Enerplus (ERF) (the slide below is showing oil only)...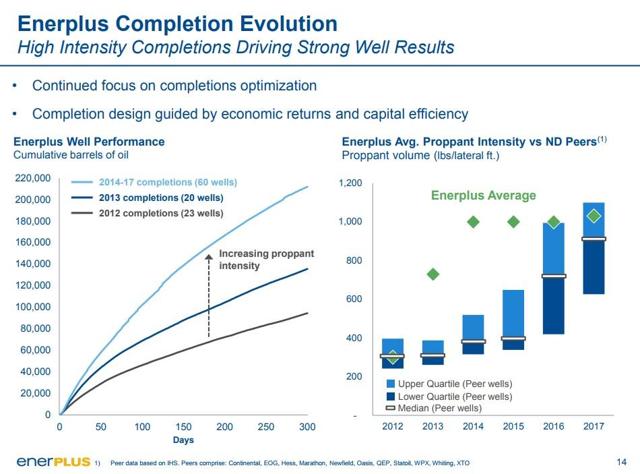 (Source: Enerplus, November 2017 Investor Presentation)
... and Whiting Petroleum (WLL) (volumes in BOEs)...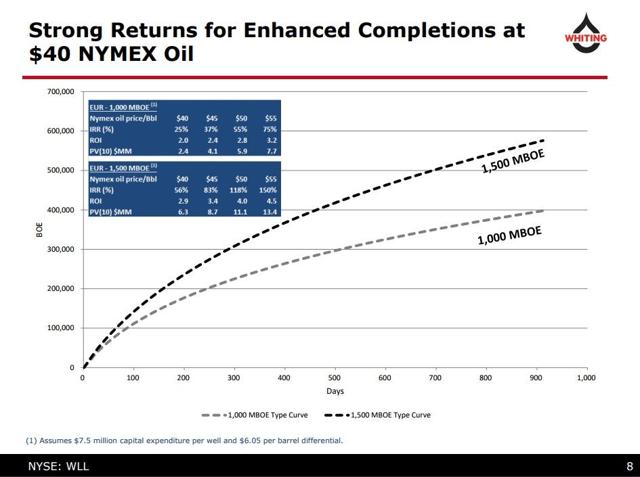 (Source: Whiting Petroleum, December 2017 Investor Presentation)
... just to mention a few.
Even if one were to "haircut" operators' advertised type curves, projected volumes are strong enough to allow for acceptable drilling returns even after some risking.
Did It Once, Will Do It Again
In the context of operator reports, production growth in the Bakken is not particularly surprising. In fact, this recent growth is just a replica of the historical growth rates achieved in the play during the years of its early development (the difference of course is the amount of capital required to achieve the same result and the price environment).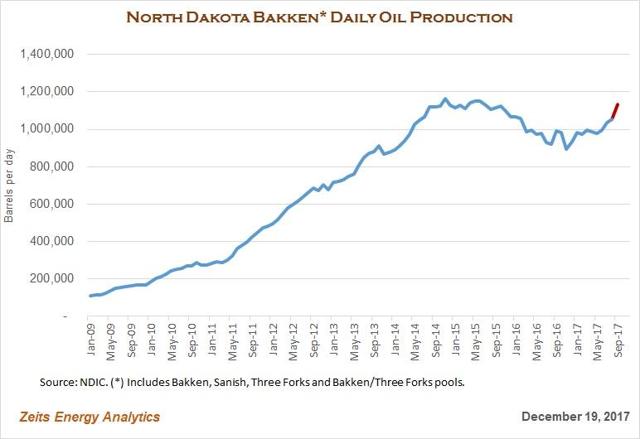 U.S. Oil Shales On Production Tsunami Watch
A case can be made that the Bakken - and other established shale oil plays for that matter - have not shown their full growth capacity yet. Growth has just started and may continue (if, of course, one believes that the current oil prices will be sustained or increase further).