Note: This article was originally published December 1st on Value Investor's Edge, a Seeking Alpha subscription service.
Overview
Dry bulk shippers specialize in transporting cargos, typically commodities, such as iron ore, coal, grain, and other materials around the world.
Companies with exposure to dry bulk include Diana Shipping, Inc. (DSX), DryShips (DRYS), Eagle Bulk (EGLE), Genco Shipping (GNK), Golden Ocean Group Ltd. (GOGL), Navios Maritime Holdings, Inc. (NM), Navios Maritime Partners L.P. (NMM), Scorpio Bulkers (SALT), Safe Bulkers, Inc. (SB), Star Bulk Carriers Corp. (SBLK) and Ship Finance International Limited (SFL).
Background
In January of 2016, I authored an article entitled 2016 Will Be Catastrophic For Dry Bulk where I stated that "the dry bulk sector is bracing for what could be the worst year ever, yes, ever."
That proved to be true as the Baltic Dry Index set an all-time low of 290 on February 10th of 2016. The Baltic Dry Index (BDI) is a composite of the Baltic Capesize, Supramax, Panamax, and Handysize indices. It is useful in determining the cost to move materials by sea and serves as benchmark for charter rates.
But a high level of demolitions, coupled with reasonable demand side increases, paved the way for a different headline in 2017 when I wrote Why Dry Bulk Shipping Could Look Very Different One Year From Now. Here, I noted that "the first signs of recovery may be emerging." I concluded that "that a correction appears to be on the horizon, and I am able to forecast, for the first time in years, that a recovery may be setting up in the long-run."
2017 saw a significant improvement in both the BDI and charter rates across all vessel classes.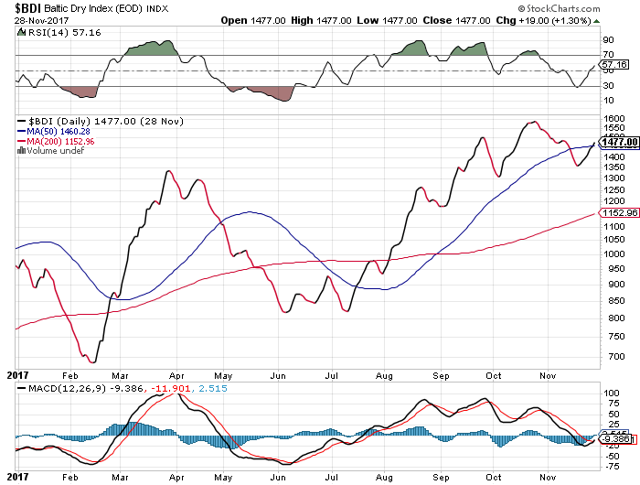 Source: stockcharts.com
In their week 47 report, Allied Shipping Research noted:
The Dry Bulk market has shown a remarkable recovery this year with the average earnings having increased by around 63% this year so far compared to the average earnings noted back in 2016. This strong increase has been in part a reflection on the improvement witnessed in terms of trade flows and the much better economic growth figures given by most of the major trading economies. At the same time and thanks to a considerable effort made within the industry the growth of the trading fleet had managed to remain relatively flat during 2016 and has held at a rate of just above 2% up until the start of November 2017. Both these factors helped to bring back a sense of balance in the market, allowing for freight rates achieved by owners to recover back to a sense of normality and away from the loss-making levels witnessed back in the Spring of 2016.
If we were to look at rates from last December, charter rates are more than triple what they were on a year-over-year basis.
However, let's put things into context. Following a downturn, especially a historic one, sometimes the percentage increases in earnings can look very impressive, but that's because we are starting from a very low base. But nevertheless, the recovery has allowed some companies to turn a profit for the first time in several quarters, even years.
So, the question, naturally, is can this continue?
Required Reading
On October 19th, Joeri van der Sman released an article entitled Bulk Shipping's Exciting Outlook where he offered a very detailed and accurate analysis of factors that should continue the recent bullish trend into 2018.
Instead of repeating much of what Joeri has previously discussed, I would like to take this time to review the supply side outlook in more detail and then spend a bit of time on factors to watch in 2018 that could derail this bull market.
Make no mistake, I am bullish on dry bulk in 2018. But when things are going badly, I'm cautiously looking for what could spark a turnaround. When things are going well, I'm far more focused on what could spoil the party. Right now, things are going well, and I feel it would be best to spend this time focusing on issues that I believe should be watched in 2018 that might negatively impact the market. So, instead of repeating much of the bull case I have detailed since February of 2017, along with Joeri's article, let's just take a moment to look at the other side of the coin.
After all, I would be remiss if I didn't bring up potential issues to watch, and I would hate, HATE, it if my readers thought everything was all peachy and then were caught off guard by bearish developments.
Supply Side
The vast majority of problems in the dry bulk market as of late can be traced to an oversupply of vessels.
In late 2008, the dry bulk orderbook peaked at 332m dwt, representing approximately 52% of the fleet at that time. But as these vessels hit the water, rates consequently plunged as a result of both vessel oversupply and the global economic slowdown. Forecasts of a prolonged downturn, low charter rates, and limited access to finance for many owners caused ordering of newbuilds to slow down. Today, we find ourselves in a drastically different situation. Currently, the dry bulk orderbook comes in just under 7% of the total trading fleet in terms of number of vessels and 9.2% in terms of total dwt capacity, which has broken a previous 20-year low of 7.2% (trading fleet) recorded in April 2002.
2017 is on pace for demand growth to outpace vessel supply, which has been a rarity since 2008. This has allowed for a badly needed rebalancing to take place, and this trend is set to continue in 2018 provided the demand side holds up its end of the bargain.
Though some headlines lately have noted that dry bulk orders have quadrupled in 2017 during the first 10 months, once again, some context is needed. 2016 saw the lowest number of orders in many, many years. So, the quadrupling represents just a total of 287 vessels, which is a drop in the bucket, given the over 11,000 dry bulk vessels currently on the water.
Though a detailed analysis of the supply side was done this past August, here is an update on the delivery schedule.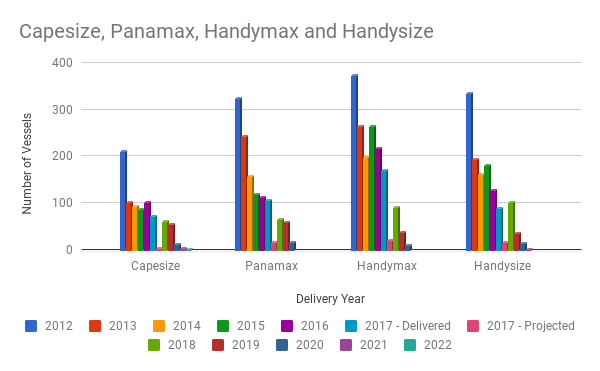 Source: Data from Clarksons Research with chart by James Catlin
The graph above already shows a very positive situation developing with vessels hitting the water decreasing significantly. But let's take a look at each class individually starting with the Capesize class.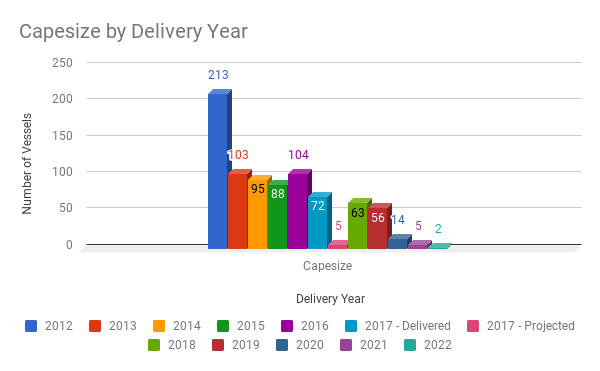 Source: Data from Clarksons Research with chart by James Catlin
There are currently 1,692 bulkers above 100,000 dwt (classified as Capesize here for simplicity) with five more set to hit the water by the end of the year. With 63 set for delivery in 2018, this comes out to about 3.7% of the total fleet. But if we account for slippage and expected demolitions, this number will likely be closer to 1.5% net total fleet growth. An easily manageable number if we can maintain the approximate 4% overall trade growth I expect 2017 will show.
Here is the Panamax delivery schedule.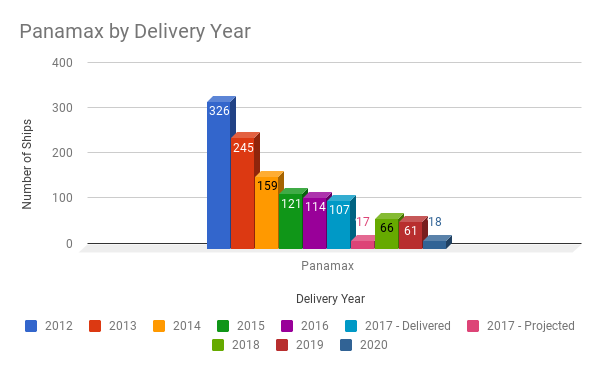 Source: Data from Clarksons Research with chart by James Catlin
The Panamax segment, representing vessels between 65,000 and 99,999 dwt, has a total of 2,506 vessels on the water with 17 more set for delivery by the end of the year. With 66 set to hit the water in 2018, this comes out to approximately 2.6% of the total fleet. With expected slippage and demolitions, we will see net fleet growth likely below 1%.
Next, the Handymax.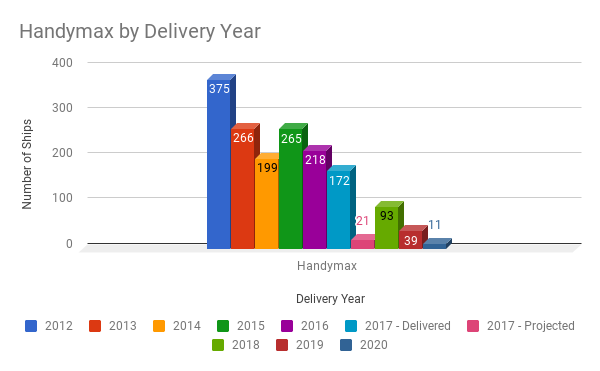 Source: Data from Clarksons Research with chart by James Catlin
The Handymax class, representing vessels between 40,000 dwt and 64,999 dwt, has 3,547 vessels on the water with another 21 anticipated by the year's end. The 93 set for delivery in 2018 represents 2.6% of the total fleet, and once again, with expected slippage and demolitions, total net fleet growth is likely to be under 1%.
Finally, the Handysize class.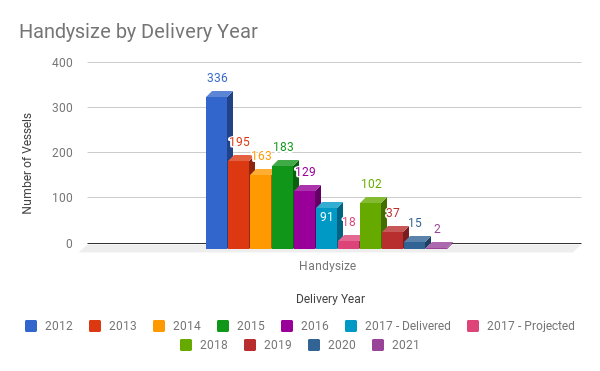 Source: Data from Clarksons Research with chart by James Catlin
The Handysize class, representing vessels from 10,000 to 39,000 dwt, has 3,363 vessels on the water with another 18 anticipated before the end of the year. With 102 set for delivery in 2018, this comes out to 3% of the total fleet. Once again, with expected slippage and demolitions, we should see approximately 1-1.5% total net fleet growth.
In that aforementioned August supply side update, the bullish impact of this shrinking orderbook was discussed even further if you care to explore this situation further, including age of ships and therefore demolition potential. So, aside from this bullish setup, let's move ahead to another important point about the orderbook which could be consequence of this situation.
Despite increased ordering so far in 2017, the bulk carrier orderbook has continued to shrink. But this shrinking orderbook can't last forever. The fact is that owners are reactionary. So, as charter rates improve, more orders will likely be placed. Let's also not forget that with increasing charter rates comes an increase in asset values altering the debt/asset metric leaving more room for owners to leverage up (purchase more assets). Currently, the industry average D/A ratio already allows for some increased leveraging as asset prices have climbed significantly over the past year. In fact, 5-year old Capesize, Panamax, Supramax, and Handysize asset values have increased 42%, 63%, 36%, and 42%, respectively, over the past year.
Remember the historic low for the dry bulk orderbook came in at just 7.2%, and the current orderbook is close to that level. But I anticipate that 2018 will see an uptick of orders meaning that the current orderbook is likely near or even at a cyclical bottom. Some rough math shows that if 2018 orders replicate the past six-month average the orderbook could reach between 9% and 10% by the end of 2018 taking into account expected deliveries and slippage. If 2018 orders coincide with some of the more recent heavy ordering months such as May or September, we will most likely end up around 12%-13%.
Therefore, while a shrinking orderbook will provide a catalyst for an improving market and may capture the most headlines in 2018, the real story could turn out to be how owners react to this situation regarding new orders placed.
Demand Side
As we can see from the supply side, above all, we really need is for global trade growth to maintain at least 2% or above for the bullish trend to continue. Over the past decade, only 2009 and 2015 came in under 2% growth.
So far, forecasts have reached a fair consensus placing total dry bulk demand growth for 2018 between 3.5% and 4.5%. This bodes well for demand growth outpacing net fleet growth and even gross fleet growth. So, already things are looking bullish.
These projections seem more than reasonable if the global economy remains on track. But with increasing skepticism surrounding the prolonged bull market, the potential for a global economic slowdown can't be ignored. So, instead of getting all swept away in the euphoria of this apparently never-ending bull market, let's discuss a few demand side factors we should watch in 2018.
The majority of dry bulk demand revolves around coal and iron ore, with China being the key customer. So, let's spend a bit of time on that subject.
First, it might be important to know what caused the lackluster 2015 growth and if a repeat is possible.
The main factor which affected the trade during 2015 and into 2016 (leading to additional lackluster growth that year as well) was the weakening coal imports of China, totaling a drop of 30%, that resulted in a drop of the global seaborne coal trade by almost 7% in 2015 and 2% in 2016, respectively. The coal market is the main segment that softened during these two years, but it wasn't the only one as iron ore demand growth came in at just 1% for 2015 as well before normalizing in 2016 to 4%.
In the week 47 report, Allied Shipping Research stated:
A shift away from this current model and any decisions such as those noted back in 2015 with regards to coal could just as easily send the market back into a momentary tail spin.
Coal
Recently, China has embarked on two different efforts which could have an impact on coal imports. As many already know, China has been on a mission to reduce coal consumption and promote cleaner energy to curb air pollution. Part of that plan entails the elimination of 44,000 coal-fired industrial boilers and the replacement of coal-fueled household heating with gas or electricity in millions of residences.
Already several million residences have been switched over and more are waiting. In fact, they are waiting in the cold as Sixth Tone reports:
State news agency China News Service reported Wednesday that a laborer in Xinzhou, Shanxi province, was punished with five days' detention for burning coal outside the construction site where he was working. According to police, the man had violated a law on preventing and controlling atmospheric pollution.

The case of the detained construction worker is emblematic of a much larger problem: Burning coal is being prohibited in more and more cities, even where more environmentally friendly initiatives have not yet been fully implemented.
Aside from burning restrictions, China has also implemented import restrictions.
Fenwei Energy Information Services Co., Ltd. reports:
Many ports in southeastern China's Fujian and Guangdong provinces have restricted arrival of imported coal recently, further weighing on China's seaborne import market, traders said.

"Lots of ports are no longer able to discharge import coal, and well-stocked utilities seldom make inquiries for overseas cargoes," said a Beijing-based trader.

The curb, however, may boost demand for China's domestic thermal coal, he noted.
After imports of steaming coal for use in power stations surged 25% during the first half of the year. But slowing things down could add additional costs to imported coal as discharge times have doubled to 35 days in the second half of the year, leading to longer vessel queues resulting in more demurrage costs.
Increasing the cost of imported coal will increase the competitive advantage for domestic coal. This is crucial to China's previously embattled coal sector which just returned to profitability over the last year.
In fact, that demand boost for domestic thermal coal has already started to materialize.
Reuters reports:
The utilization rate for the coal mining and coal washing sectors rose to 69 percent in the third quarter, up 10.6 percentage points from same period a year ago, reaching the highest level since 2015, the statistics bureau said in a statement on Monday.

"There is still upside potential for coal industry to increase the utilization rate as it takes time for miners to release high-quality coal capacity and to resume production after meeting environmental and safety standards," the bureau said in the statement.
Aside from China, there are efforts by several other nations to reduce coal consumption over the long run. At least 15 countries have joined an international alliance to phase out coal use for power generation before 2030. The alliance aims to have 50 members by the next UN climate summit in 2018.
Alibra Shipping reports:
The alliance further problematizes the future of coal as a fuel for power generation and, by extension, some aspects of its bulk transport.
Finally, India will also play a role in coal trade shifts. Clarksons Research posted an excellent analysis of the role India has played recently in its growth and made some predictions about the future declines. I recommend this article, but here is a brief summary.
David Whittaker of Clarksons reports:
Between 2008 and 2014, Indian steam coal imports grew rapidly, by a CAGR of 30%, to reach 172mt. Growth in Indian steam coal imports accounted for over a third of expansion in global seaborne steam coal trade in 2008-14, and by 2014 India was the second largest importer of steam coal globally.

However, in 2015-16, Indian steam coal imports fell by an average of 9% p.a. A further 8% y-o-y decline was recorded in the first four months of 2017, whilst reports indicate that imports by Indian coal-fired power plants fell 19% y-o-y in April to July 2017. The most significant driver of this change in direction has been rising domestic coal output.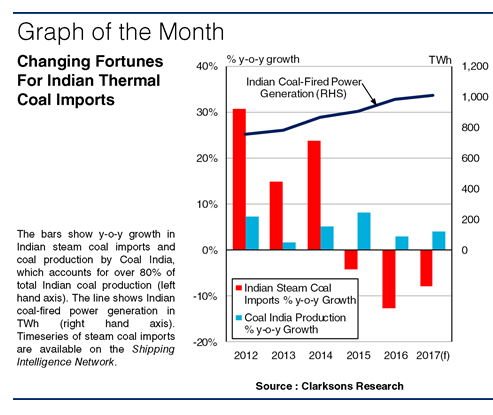 Source: Clarksons Research
Mr. Whittaker concludes:
While previously India had been seen as a likely key driver of further growth in global steam coal trade, recent trends have cast doubt over this outlook. The government has set the ambitious target of Coal India producing 1,000mt of coal in 2020. While production seems unlikely to rise sufficiently quickly in the short-term to meet that target (partly reflecting the impact of slower than expected growth in coal demand in recent years on the rate of increase in production), overall expansion in domestic coal output (including potentially from private miners) could well further limit imports in the coming years.
2018 will see these policies play out a bit more. A consensus has yet to be reached on the exact pace and impact of these shifts, but this issue will absolutely be something to watch as the year progresses.
Iron Ore
Turning now to iron ore, much of the attention lately has been focused on China's steel production cuts and the potential negative impact on iron ore imports. I recently authored an article offering a different view. Here, I noted a shift in iron ore quality demand favoring imports from Australia and Brazil at the expense of lower quality domestic iron ore, how previous steel capacity cuts had failed to result in reduced steel production as more efficient operations increased utilization to capitalize on higher margins and steel demand, and discussed mandated iron ore capacity cuts in China. The conclusion was that this would not be a major factor.
However, on October 28th, I released a report entitled Does China's Debt Management Pose A Threat To Shipping? which examined the possibility that China's stated plans to curb the increasing debt load could negatively impact the dry bulk segment. This is my major concern going forward.
China imports approximately two-thirds of the world's seaborne iron ore making them the most crucial market to watch. Of course, iron ore is the key ingredient in steel production.
China's real estate sector constitutes about 30% of end-user demand within the country and infrastructure composes approximately 40%. These two sectors within China represent more than 35% of global end user demand for steel.
In late November, Klaveness Research reported:
In the last couple of months we have seen a clear deceleration in the growth within this sector (real estate) as the Chinese government has tightened liquidity and regulations.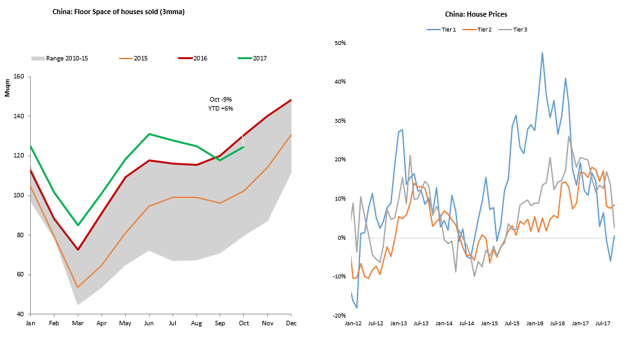 Source: Klaveness Research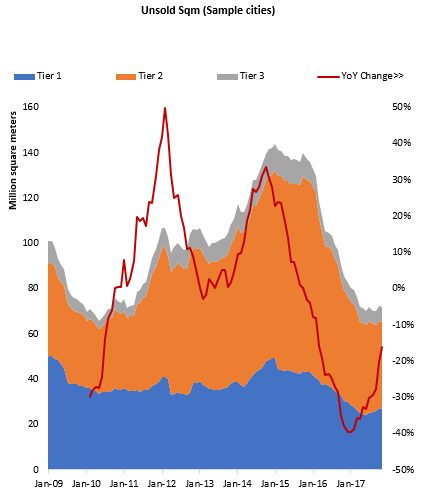 Source: Klaveness Research
Additionally Klaveness noted:
Floor space of houses sold in September and October was down 5.7% and 8.6% respectively on a YoY basis, after being up close to 11% in the first 8 months of the year. Floor space of houses newly started posted a negative YoY growth of 2.9% in October after being up 11.5% in the first 9 months of the year. House prices in China are not growing at the same pace as in 2016 and the first half of this year. We think that the growth in the real estate sector might turn negative next year.
Of course, much of the red hot housing market in China has been driven by speculation, courtesy of rising home prices, which was made possible by loose credit. This trend looks to be in jeopardy.
But Klaveness had a much more upbeat view on infrastructure:
The positive news is that China's infrastructure sector shows no sign of weakness. Fixed asset investments in the infrastructure sector was up 13.5% on a YoY basis in October. We, expect the growth rate in infrastructure investments to remain strong in 2018.
Therefore, going forward, it looks like the biggest risk to maintaining robust iron ore import demand into China will be a cooling real estate sector.
Conclusion
2018 will be an interesting year as the supply side clears up, but issues on the demand front begin to surface. While much of our focus over the past years has been on the oversupply of vessels, we must now shift our attention to factors influencing the need for cargoes.
Coal could face some pressure in the near term but will most certainly face it the longer term. But I would like to throw in one more idea that I plan to watch which hasn't been discussed anywhere else. Just as iron ore quality has been a determining factor in trade flow shifts into China, it could be that coal quality will have an impact on trade flow shifts as well. The coal export market is dominated by two nations, Australia and Indonesia. What if in an effort to reduce carbon emissions, coal quality was targeted? in terms of carbon emissions, the most important aspect of coal is moisture content, and to a lesser extent, ash. Basically, the more moisture you have in a coal the less useful energy you recover per unit of energy. Australian coal was exports average around 9% to 10% moisture, whereas Indonesian coal would have around 30%. Most of Indonesia's coal exports end up in East Asia, a relatively short haul. But suppose that Australia was to begin taking market share. Haul distance would approximately double to someplace like China. As we learned in iron ore, quality matters, perhaps the coal market may begin seeing this same trend as the world struggles to bring carbon emissions under control?
Regarding iron ore, the Chinese real estate sector looks to play an important role in 2018. But infrastructure is still going strong and the substitution of lower quality domestic iron ore to higher quality imported iron ore may mitigate some of the damage from a slowing real estate segment.
While most of this article was devoted to potentially bearish scenarios, it should be noted that 2018 still looks positive for dry bulk. As noted in the beginning, estimates for 3.5% to 4.5% demand growth are the consensus, and as of right now, I think those are pretty fair. Remember, it's only going to take north of 2% to outpace net fleet growth, which is not a difficult achievement. But if I were just to come out and repeat the bull case, which is fairly well known (global GDP growth will remain strong, OCED leading the way requiring infrastructure development, etc. etc.) without providing the other side, I feel I would be leaving my readers unprepared. Therefore, I hope that this article will serve as a sort of guide for those to follow regarding things that may spoil the party.
Thank you for reading, and I welcome all questions/comments. If you would like to stay up to date on my latest analysis, I invite you to follow me on Seeking Alpha (click the "Follow" button next to my profile picture at the top) as I continue to cover all aspects of maritime trade.
Value Investor's Edge
Value Investor's Edge is a top-rated Seeking Alpha research service, which focuses primarily on the volatile, and therefore potentially very profitable, shipping industry. Members receive a two-week lead time on all reports by James Catlin, alongside exclusive content by J. Mintzmyer, a top-tier deep value analyst. This platform offers actionable trades and strategic income opportunities through Mr. Catlin's data-driven macro analysis, which often complements Mr. Mintzmyer's company-specific analysis. This winning team has developed a dedicated following of highly knowledgeable investors and industry professionals who also share their own thoughts and ideas on Value Investor's Edge.
Disclosure: I am/we are long SALT, NMM, GNK, GOGL. I wrote this article myself, and it expresses my own opinions. I am not receiving compensation for it (other than from Seeking Alpha). I have no business relationship with any company whose stock is mentioned in this article.
Editor's Note: This article covers one or more microcap stocks. Please be aware of the risks associated with these stocks.