The role of the artist is to ask questions, not answer them." ― Anton Chekhov

The year is rapidly coming to a close. The major indices are at or near all-time highs with the S&P 500 up over 20% for 2017 including dividends. After a dismal 2015 & 2016, the biotech sector has largely kept pace with the overall market although recently it has fallen back significantly from the highs of the year.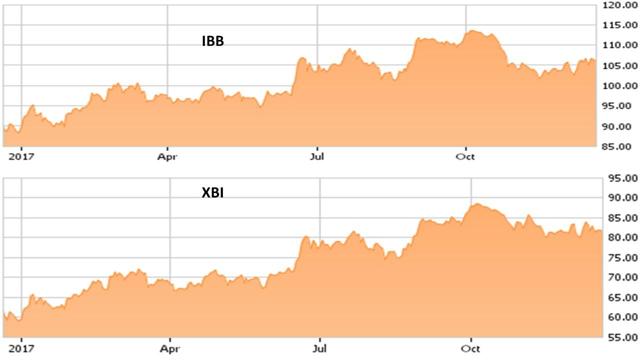 Tax reform is all but a lock to pass and be signed into law this week. The drop in the corporate tax rate from 35% to 21% puts the country more in line with the OECD average (22.5%). This cut should ensure another year of double digit earnings gains for the overall market in 2018. Clarification on 'repatriation' and overall tax policy should set up M&A across the industry for a big year in 2018 after deal volume fell to multi-year lows in 2017.
Author's note: To get these Biotech Forum Daily Digests as soon as they are published, just click here on my profile, hit the big orange "Follow" button, and choose the "real-time alerts" option.

Getting a jump on the benefits of the soon to be passed tax legislation, Pfizer (PFE) announces it will add $10 billion to its stock buyback authorization and hike its dividend by six percent as well. I think this will be a recurring theme in 2018 for the biotech and pharma industries and should be a tailwind for the sector as well.
This is not your father's slow moving FDA. After giving the green light to Rhopressa from Aerie Pharmaceuticals (see Spotlight section) two months early, the FDA also gives the go ahead to the company's Prior Approval Supplement (PAS) for Bevyxxa (betrixaban) from Portola Pharmaceuticals (PTLA). This triggered a seven percent rally in its shares Tuesday. The action date for this was originally January 30th after conditional approval was granted in June. However, in Europe the Committee for Medicinal Products for Human Use (CHMP) has requested additional information pertaining to its marketing application for betrixaban. Bevyxxa should launch in the first quarter in the United States and my guess is the second quarter in Europe.
Spark Therapeutics (ONCE) also gets an early FDA approval of its compound 'Luxturna'. This is the first such AAV-delivered gene therapy designed to cure a eye disease triggered by a rare genetic mutation. The ~$1 million price tag for this cure is sure to grab headlines. Peak sales estimates are in the $500 million range.

TherapeuticsMD (TXMD) gets some positive analyst commentary to start the week. Yesterday, Cantor Fitzgerald reissued its Buy rating and whopping $28 price target. Today, it is Deustche Bank reissuing its Buy rating with more subdued $9 price target. Cantor's analyst had this to say on the company's prospects which seems less encouraging than the analyst firm's price target.
FDA may not be as accommodating as it seemed. TXMD's press release noted that the submission of endometrial safety data "was outside of an official review cycle, thus procedurally designating a Class 2 response." We suppose the ability to gain approval without the need to generate endometrial safety data, de novo, could be regarded as a positive, but the fact is that TX-004 will likely be launched at least a year after it could have been with a first cycle approval. The inability to do so has had the obvious effect of deferring incremental FCF generation and creating dilution from financing activities"
Voyager Therapeutics (VYGR) gets initiated as a Buy with a $32 price target at BTIG on Tuesday. Three weeks ago, Piper Jaffray assumed coverage with an Overweight rating and $28 price target. Jaffray's analyst believes the company's efforts may lead to the first disease-modifying treatment in advanced Parkinson's Disease. The stock is up almost 50% since we did a favorable piece on it from our sister feed, The Busted IPO Forum.

Citigroup lowers its price target from $216 to $135 on oncology concern Tesaro (TSRO) this morning but maintains Buy rating. Citi's analyst lowers here peak sales for Varubi from $685 million to $400 million but remains optimistic around its ovarian cancer drug Zejula. The company recently announced that compound was now available in Germany.
Note: New analyst ratings are a great place to begin your due diligence, but nothing substitutes for deeper individual research in this very volatile sector of the market. Many of the small-cap names highlighted in "Analyst Insight" will eventually appear in the "Spotlight" section, where we do deeper dives on this type of promising but speculative small-cap concerns.

Aerie Pharmaceuticals (AERI) is near and dear to my heart. The stock was our one of the first selections for the 20-stock model portfolio of The Insiders Forum. It produced a 113% return in the six weeks it was in the portfolio until we 'flipped' it for better opportunities late in October of 2016. It has gone on to post further gains. Those that followed the 'Jensen Rules', now have half of their original stake riding on the 'House's Money'.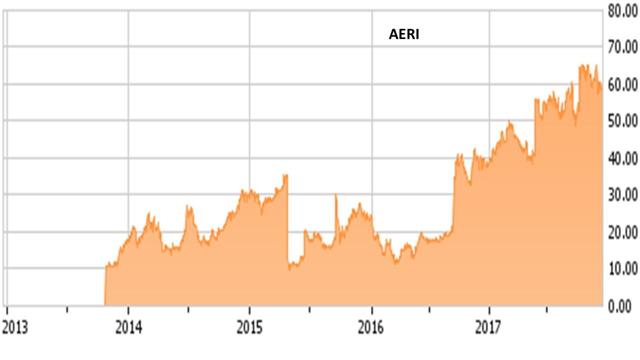 I have not revisited this name in quite some time, but the company is in the news this week so I thought it was a good time to provide a quick update on Aerie in today's Spotlight feature.
Company Overview:
Aerie Pharmaceuticals focuses on the discovery, development, and commercialization of first-in-class therapies for the treatment of glaucoma and other eye diseases. The company came public in 2013, has grown into a market capitalization of ~$2.1 bilion and trades for around $57 a share currently.
Tuesday it was announced that Rhopressa, Aerie's candidate to treat Glaucoma was approved by the FDA. Approval was expected given trial results and AdComm Panel recommendation, but came two months before the PDUFA date. Aerie's CEO has said Rhopressa could eventually see peak sales of ~$1 billion. The drug is wholly owned and the company has stated it plans to hire 100 sales reps early in 2018 with initial rollout of Rhopressa scheduled for the middle part of the second quarter of next year.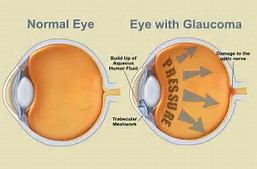 The company's focus will be on gaining formulary coverage for commercial plans which cover approximately half of the glaucoma population. It will also launch efforts to gain access to Medicare's formularies (the other ~half) with the goal of being available in this space starting in January 2019.
In addition, the company posted positive late stage trial results from Roclatan in late May. It plans to file a NDA for this compound in the second quarter of 2018. Roclatan is a combination of Rhopressa and latanoprost also aimed at treating glaucoma.
Analyst Commentary & Balance Sheet:
The company ended the third quarter with some $275 million in cash and marketable securities on the balance sheet. Cash burn was just under $75 million in first nine months of the year. Management guided for full year cash burn to be in the range of $115 million to $120 million as the fourth quarter should see an increase in cash burn as the company prepares to launch Rhopressa.
The current median analyst price target is approximately $80.00 a share on AERI. Over the past 24 hours, Canaccord Genuity ($73 price target), Cantor Fitzgerald ($77 price target) and Mizuho Securities ($87 price target) have all reissued or assigned Buy ratings on the stock. Cantor's analyst lifted his price target to $77 from $69 previously. He is modeling $27 million in revenue from Rhopressa in 2018 and an eventual $500 million in peak sales from this compound. This approval makes Roclatan's approval seemingly assured and combined he believes the two compounds could see $1 billion peak sales.
Verdict:
Despite the early approval of Rhopressa, the stock has done little in trading this week. That is not surprising given approval was expected and the stock has run up some 50% since May. Worries about approval always migrate towards concerns about the actual rollout as Aerie becomes a Tier 3 stock.
I like Aerie's longer term prospects as they are aiming at a lucrative market. If M&A picks up in 2018, I could see AERI attracting some interest as a buyout target. That said, I am not chasing the stock here. New rollouts to large markets always have some 'hiccups' along the way. In addition, I would expect the company to do at least other capital raise at some point in 2018. If those factors drag the stock back below the ~$50 level, I might reassess and do a little 'nibbling' then. Until then, I am happy keeping half my original stake in this emerging ocular concern.

Artists are people driven by the tension between the desire to communicate and the desire to hide." - D.W. Winnicott
Disclosure: I am/we are long AERI,PTLA, TSRO,VYGR. I wrote this article myself, and it expresses my own opinions. I am not receiving compensation for it (other than from Seeking Alpha). I have no business relationship with any company whose stock is mentioned in this article.