Royce Micro Cap Trust Fund (RMT)
Investment thesis: While the current income and capital growth are both very strong, the lack of NII generation has me concerned about the long-term sustainability of the distribution.
Historical income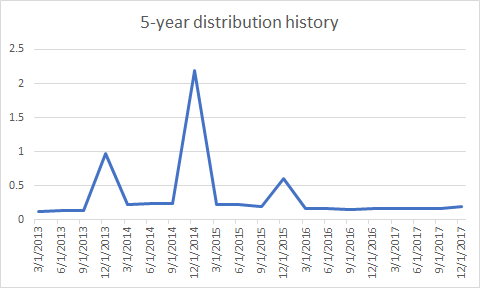 (Source: Original Image – Data from Yahoo Finance)
For an equity fund that uses a modest amount of leverage (~11%), they have been able to consistently deliver a high amount of current income for investors. While the payouts have not been so consistent from year to year, it is not a reason for concern. The fund has a Managed Distribution Policy in which they distribute 7% of the average net asset value for the preceding four quarters. Because they are invested in one of the more volatile asset classes (microcap), variations in the distribution are to be expected. An investment at the beginning of 2017 would have yielded 8.5% income and 15% capital growth.
Taxation
There have been various instances of return of capital distributions declared throughout 2017 according to fund documents. While this can be construed as a sign of financial distress, it appears to be benign as the fund's latest Section 19 notice details that no destructive RoC distributions have been declared. As investors know, these benign distributions have potential tax benefits with the delay of tax liability until cost basis is recovered.
Sustainability of distributions and NAV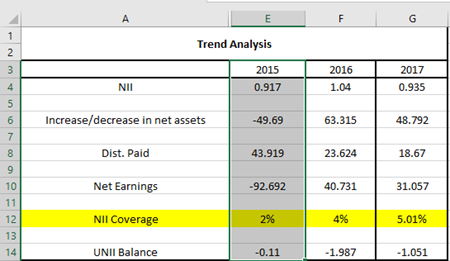 (Source: Original Image – Data from RMT 2016 and 2017 reports)
For the information readily available to investors, a sustainability analysis yields mixed results. The fund posted strong earnings figures the past twofiscal years after being in the red in 2015. While it's good to see that the underlying holdings are delivering capital appreciation to fuel NAV growth, it doesn't appear that the fund is generating enough Investment Income to sustain the distribution.
Despite the fund's Managed Distribution Policy as a method of controlling expenses, covering 2-5% of the distribution isn't sustainable over the long term. This is because they have to keep using resources from the investment portfolio to fund the distribution and would have to eventually raise cash either via debt or equity. The problem with either of these methods is that it will inevitably have a negative impact on performance by increasing interest expense or decrease NAV by not raising enough funds relative to outstanding shares. It is worth mentioning that distribution coverage has steadily increased but is really something for prospective investors to watch going forward. The sliver lining for all this is that net earnings covered the distributions 1.7X the past two years.
Price performance of fund

(Source: Yahoo Finance)
Despite issues with generating net investment income, the fund's price performance has been very impressive. While it's been more volatile than its benchmark small-cap index, it has delivered alpha throughout the years. Considering how highly correlated the fund is to the index, investors should be able to use it for small-cap exposure without distorting their portfolio diversification.
Valuation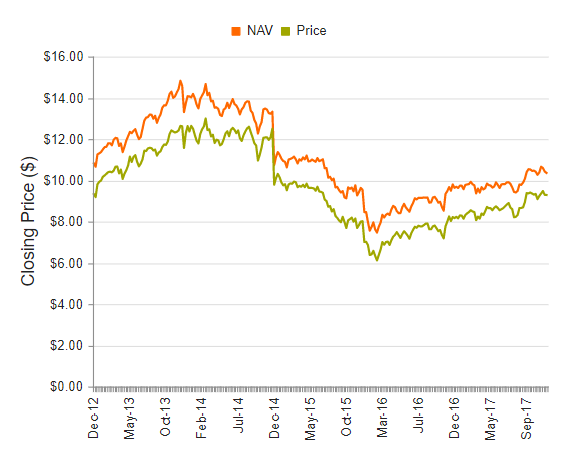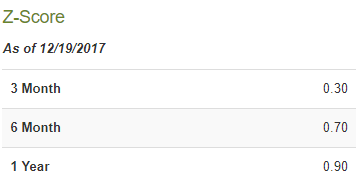 (Source: CEF Connect)
The fund has historically traded at a discount to NAV and the trend is continuing as such. The z-scores also don't indicate any dramatic deviation from past discounts. This really is an indication of investors feeling not so confident in the fund's future.
Conclusion
All things considered, I am impressed with the fund's ability to pay the distribution and grow NAV from net portfolio gains. The lack of NII generation, however, is enough to give most investors pause. I suggest investors take a wait and see approach to see if they're able to properly cover the distribution from Investment Income.
Disclosure: I/we have no positions in any stocks mentioned, and no plans to initiate any positions within the next 72 hours.
I wrote this article myself, and it expresses my own opinions. I am not receiving compensation for it (other than from Seeking Alpha). I have no business relationship with any company whose stock is mentioned in this article.