As gold continues its bottoming process after a disappointing early December decline, it faces two major challenges. The first challenge is the establishment of the Dec. 12 price low as a major low, that is, a bottom of intermediate-term (3-6 month) proportions. Its second challenge is the search for a compelling reason for investors to give gold a second chance. What's needed, in other words, is the return of safe-haven buying. Having laid down this proposition, we'll examine the near-term prospects for gold establishing a bottom as well as finding a "fear catalyst" in this commentary.
The price of gold was slightly lower on Tuesday as U.S. Treasury yields rose on a positive housing starts report for November. Spot gold was down 0.04 percent at $1,260 after hitting a two-week high of $1,265, while February gold futures closed 0.1 lower at $1,264. Silver was down 0.5 percent at $16.05.
The volume of trade in gold ETFs has diminished in recent days as traders are apparently waiting until after the holidays to initiate major new trading positions in the yellow metal. Gold is on track to post its narrowest quarterly trading range in a decade.
In my previous commentary I stated that a simple two-day close above the five-day moving average would signal that a preliminary bottoming process was underway for gold. Gold accomplished this on Dec. 14 and has since rallied to its next most important trend line, the 15-day moving average (green line in chart below).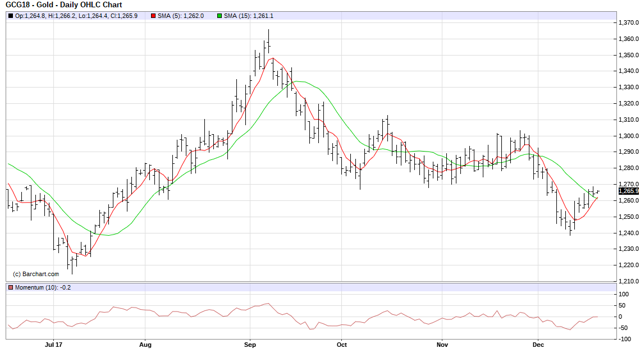 Source: www.Barchart.com
February gold also managed to close above its 15-day moving average on Monday, the first such close above a key trend line since last month. Under the rules of my technical trading discipline, a two-day higher close above the 15-day MA is required to confirm an immediate-term (1-4 week) buy signal. Ideally, however, the 15-day MA also should be flattening out and preferably rising. Right now the 15-day trend line is still in decline, as can be seen in the graph showing the February gold future price.
It also should be noted that whenever gold has experienced a steep fall under a lateral trading range, such as happened when gold fell under the $1,270 level earlier this month, an extended period of recuperation is often needed before the price can rebound to its former levels above the $1,270 support (which has now become resistance). For this reason, even if gold manages to confirm an immediate-term breakout signal by closing above the $1,265 level (the closing price of gold's initial breakout above the 15-day MA), I won't be initiating a new long position in gold. Instead, I will wait for gold to establish the Dec. 12 closing low – its lowest price since July and therefore the new interim low.
What normally happens in cases like this is that after the initial rally after a major decline like gold just experienced, the price will pull back at some point and either establish a double bottom (in this case at the $1,241 level) or a higher low. This process in turn will allow the 15-day MA to flatten out and eventually turn up again thereby increasing the odds that the next rally off the secondary low will be worthwhile to initiate a new trading position. If gold manages to establish the Dec. 12 low as the intermediate-term (3-6 month) low, this will enable the bulls to regain control and force a renewed upward trending move in January, when the seasonal factor is in gold's favor.
It should also be noted that the price of silver is beginning to show a small measure of relative strength versus gold. This is an encouraging sign since leadership in silver normally portends well for gold. Assuming the March silver price closes above the $16.20 level this week, we'll have a confirmed immediate-term bottom for silver per the rules of my technical trading discipline. The key for silver establishing a more lasting intermediate-term bottom will be if it remains above its Dec. 12 low of $12.66 in the next couple of weeks while the recuperation process is ongoing. See the silver price graph below.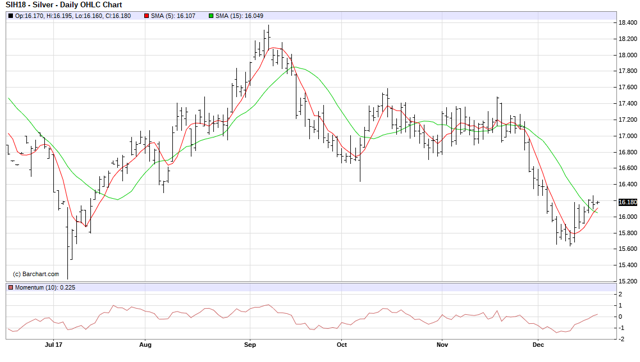 Source: www.Barchart.com
Beyond the technical considerations discussed here, gold is also still in search of a "fear catalyst" which will serve as the primary motive force for its next interim rally. Without it, there is reason to believe that the rallies in the gold market from here will be sporadic and of short duration. What that catalyst might be is still open for debate - without a stimulus which encourages safe-haven buying, however, the gold bulls will be hard-pressed to enforce their will on the market for an extended period.
For disclosure purposes, I remain in a cash position as gold continues its bottoming process which began last week. I'll continue to monitor gold's progression in relation to its Dec. 12 low and the 15-day moving average while gold tries to establish an intermediate-term bottom.
Disclosure: I/we have no positions in any stocks mentioned, and no plans to initiate any positions within the next 72 hours. I wrote this article myself, and it expresses my own opinions. I am not receiving compensation for it (other than from Seeking Alpha). I have no business relationship with any company whose stock is mentioned in this article.