In the early 1600s, as Dutch East India Company began issuing stocks to the public, those who bought a stake in the business had to physically obtain, conceal, track, trade and deposit their certificates and transactions. Today, all of this is done electronically. With the advent of information technology, most would agree that the world is becoming increasingly reliant on instant communication – particularly telecommunication and data storage technologies. At any rate, very few would make the argument that communication technology is less important today than it has been in the past. Part of this is due to the fact that the need to efficiently and rapidly share data points has been cemented into business operations and social life. As investors, we ask: who will be the next winners and losers in this technological transformation?
Interestingly, REIT markets have shed a light on this modern quandary. One answer to this question can be uncovered through an analysis of REIT markets and considering megatrends. Although the death of major retail outlets has threatened some sectors of the real estate market, the demand for information technology has driven growth in others. REITs focusing on cell tower infrastructure have emerged as top performers in the REIT sector over the past year. Why? Primarily because cell tower infrastructure has maintained its value due to an ever-growing demand for reliable telecommunication networks. This is driven not only by heightened social demand, but can also be largely attributed to the rising use of e-commerce, cloud computing and the Internet of Things. Even in the face of smaller networks and public Wi-Fi threatening their advancement, large cell towers have persisted as the most widely-used technology for providing comprehensive communication network coverage. Some of the largest players in the cell tower industry by market capitalization are American Tower (AMT), Crown Castle (CCI) and SBA Communications (SBAC). After introducing these companies, we will take a look at some of their recent numbers.
By purchasing multiple AT&T towers, repurposing them into appropriate cell towers and leasing them to communications companies, AMT has taken its place as the largest cell tower REIT. In 1998 AMT began to expand internationally by establishing operations in Mexico and Brazil. Since then it has expanded its international portfolio and its colossal portfolio of almost 145,000 communications sites, as of December 31, 2016, included communications sites in the United States Asia, Europe, Middle East, Africa and Latin America. AMT plans to acquire tower businesses from Vodafone India and Idea Cellular Deal, which is ‍expected to create roughly $320 million in property revenue, and an estimated $120 million in gross margin during their first full year. As the most geographically widespread cell tower REIT, AMT has built itself into the foundation of the cell tower REIT sector.
CCI began as a subsidiary of a larger company and incorporated as a REIT in 2014. CCI's portfolio includes towers and small cells, often on rooftops. At the end of 2016, CCI had approximately 40,000 towers and other structures and approximately 26,500 route miles of fiber optic cables (collectively small cells, and together with towers, wireless infrastructure). This infrastructure expands across the US and is also located in Puerto Rico. Recently, CCI has been expanding its' small cell portfolio by purchasing Quanta Fiber Networks and Lightower – two fiber optic focused companies.
SBAC was incorporated in 1996 and was called "The best-performing REIT of 2017 so far" by Matthew Frankel of the Motley Fool. The company operates under two branches of business: site leasing and site development. For site leasing operations, the SBAC leases antenna space to wireless service providers on towers that it owns or operates and manages tower sites for property owners under various contractual arrangements. For the site development business, they perform network design, site audits, obtaining zoning approvals and permits, tower and related site construction, antenna installation, and radio equipment installation, commissioning, and maintenance. SBAC owns towers throughout North, Central and South America. Frankel also notes that "SBAC has stated that it is well on track to achieve its intermediate-term goal of $10 in annual AFFO by 2020, which would be a 43% increase in just over two years."
Compared to other REIT sectors, these cell tower REITs seem to have a competitive edge. As of December 13th, 2017, Vanguard REIT ETF (VNQ) - the most widely-owned real estate ETF – saw a share price increase of 3.2% during the past year. Only slightly better, MFS Intermediate High Income Fund Common Stock (CIF) – another largely diversified REIT – saw a share price increase of 8.3%. Compare this to the nearly 35% increase of the AMT, the 29.2% increase of CCI and the 60.9% increase of SBAC over roughly the same period, and it is easy to see why the growth in cell tower REITs is gaining the attention of REIT investors.
The comparably high performance of cell tower REITs is undoubtedly connected the modern struggles of the retail industry. Retail REITs have been hard hit by the 'Amazonification' of their products, and this trend does not seem to be slowing. The cell tower real estate industry has dodged these bullets and perhaps even benefitted from them. Not only is it impossible to 'Amazon' a cell tower, but cell towers are a much-needed part of ecommerce overtaking traditional shopping. Just think about how common it has become to purchase something from smartphones.
Emerging technologies such as self-driving cars will surely drive demand for cell tower REITs because macro cell tower infrastructure has remained the most reliable method of transmitting data. Additionally, the expected growth in demand for mobile data can only bolster the importance of cell tower infrastructure. Boingo Wireless recently made an interesting chart to predict and quantify this wireless expansion: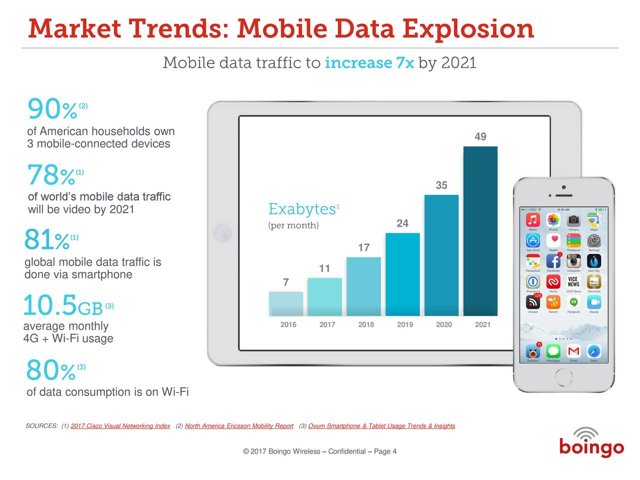 Source: Boingo Wireless (NASDAQ:WIFI) Presents At Oppenheimer 20th Annual Technology, Internet & Communications Conference - Slideshow
Furthermore, it is also a tell tale sign that "Beginning in 2018… VNQ will change their benchmark from the MSCI US REIT index to the MSCI US Investable Real Estate index, which includes a 10%+ weighting in cell towers" (Source). As demand for telecommunication services continue to rise, cell tower REITs are positioned well to benefit from the growth of wireless communication methods and are outperforming the general REIT market. Indeed, the increasing importance of telecommunication technology in social and professional livelihoods substantiates the argument that telecommunication-based sectors of the economy are posed to grow the most in the near future. Although this realization is somewhat helpful for informing investing strategies, simply putting faith in telecommunication-based economic sectors is still a vague venture. However, a quick analysis of the REIT market is revealing as to which parts of the telecommunications industry will be most profitable in the near future. If the first investors of the 1600s could see into the present moment, they would surely note the importance – and thus value – of the telecommunications industry for relatively all modern business needs, not just stock trading with the Dutch East India Company. Certainly, keeping an eye on cell tower REITs will help modern investors take advantage of this pivotal moment in technological history.
Buy these three REITs (AMT, CCI, SBAC) when they touch the 50-day moving average with appropriate risk controls as part of a diversified portfolio.
Disclosure: I/we have no positions in any stocks mentioned, and no plans to initiate any positions within the next 72 hours. I wrote this article myself, and it expresses my own opinions. I am not receiving compensation for it (other than from Seeking Alpha). I have no business relationship with any company whose stock is mentioned in this article.