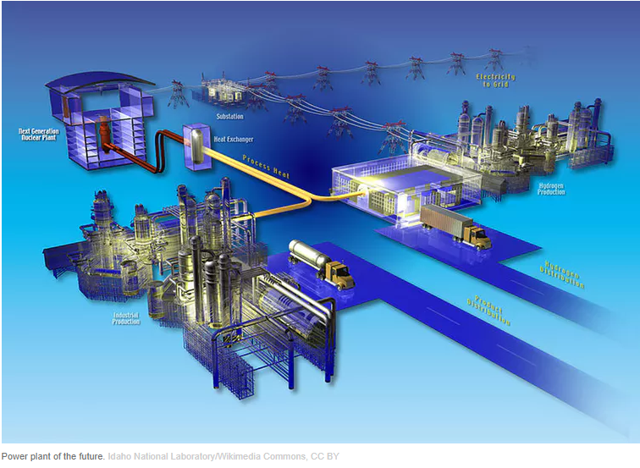 Image from: Nuclear power is set to get a lot safer (and cheaper) - here's why
Since the Fukushima disaster in March 2011, uranium prices have been on the decline. As the market currently stands, uranium producers are just meeting demand, but there is also a good amount of recycled uranium products in the supply line as well. According to the World Nuclear Association mines make up for 90% of supply for energy generated from uranium, decommissioned military and stockpiles make up for the rest. Over the years, nuclear power has seen boom and bust times. To start, the world was excited to have a new form of energy that would not produce greenhouse gases. As the years passed we came to realize that the technology can be extremely dangerous and harmful to humans if not properly executed. New safety regulations and excessive worries have brought uranium price to its knees. The thinking behind getting long uranium for the long term is that as global warming increasingly becomes a bigger issue, countries, especially the ones in development will be looking for the best bang for their buck in green energy options.
Over the years we have learned a lot about how to make nuclear power safer and more efficient, just like with any technology in development. The new Generation IV reactors are much safer then the ones that had been built in Chernobyl and Fukushima. These reactors use passive cooling systems that will continue to work in the event of an outage. They are passive because rather than pumping the water to the reactor. The reactor is situated under water tanks and are gravity driven, so cooling of the core can happen no matter what. They also have scrapped the use of alternative coolants that could produce explosive gases as they are used. Many of them employ duplicate cooling systems and "core catchers" in the event of a meltdown. The new reactors are also much more efficient, they deplete the uranium more extensively, to the point that complete decay can occur in 100 years after retirement.
New reactors are being built with many additional safeguards to older versions. The main issue here is that these power plants are very expensive to build. This is for a couple of reasons, construction is painstakingly scrutinized, for good reason, and more need to be built. Nuclear reactor power plants have fallen out of favor with the majority of the public mainly due to the most recent large accident in Japan.
Plant designs and collaboration on the international level is at an all time high for this industry. People are starting to see that nuclear power will be one of the mainstays for green energy. Much of the technology has been built and safeguards have been developed and implemented over the years. Where as large storage batteries for collection from other alternatives to carbon based energy generation are still in the works.
The Kingdom of Saudi Arabia is starting to look at these types of alternative energies. The new prince is said to be searching for uranium and thorium resources. The resources are to be used for civilian energy programs and seawater desalination. These plans were originally announced in 2010, the Kingdom has decided to construct 16 plants between now and 2040, at an estimated cost of over $80 billion. For water desalination, the Kingdom plans to erect a number of smaller nuclear plants within this timeframe as well. Due to announcements like this, nuclear power spending is proposed to come in third over the coming years, in green energy spending.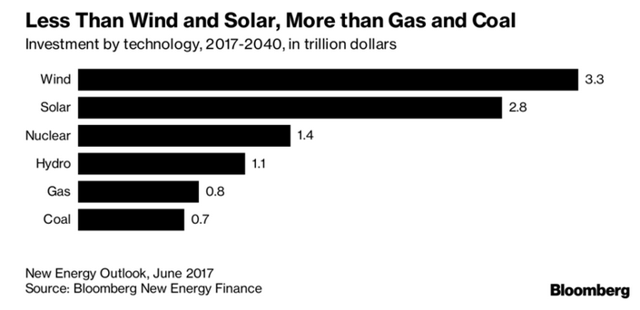 Image from: French Tycoon Bets Global Warming Will Spur Nuclear Comeback
Announcements like this, and the increasing possibility that global warming is a human created development has convinced large investors in nuclear energy to take up more of a stake. With China looking to reduce pollution and move away from the use of coal as an energy source, renewables will not be able to handle the burden on their own. If you keep up with energy news it should be apparent that with all of the spending China is putting into green energy sources, they plan to, or wish to, hop straight from coal burning to green sources. In other words, it appears as though they plan to skip the footprint reduction step that natural gas resources provide and go for the no footprint gusto. China already has 38 power generating reactors and there are currently 19 under construction, as of Oct, 2017. This makes them the fastest expanding nuclear power country in the world for now.
There are many countries in nuclear power expansion phase at the moment. This includes India, another highly populated country looking to significantly reduce its carbon footprint. For example, India recently announced that all gasoline only burning cars would be banned by the year 2030. It is clear that most countries are taking the Paris Agreement seriously and working to do their part in clean energy production.
As more nuclear power plants are constructed the more inexpensive they will become, this has he potential to shit the green energy paradigm in the nuclear direction. Every green energy source has its downfalls. For example, batteries contain chemicals that are hazardous to the environment, costly and relatively rare to mine (to be scaled to worldwide household use). Solar cells are also depleted over time and create environmentally hazardous trash. They contain heavy metals such as lead, cadmium, gallium and indium, could become rare to mine and if not discarded properly the metals can contaminate water supplies. One of the major issues as far as other alternatives is that consumers will not have the nuclear option in their hands and waste will be dispensed of in regulation compliant ways, rather than buried in the back yard and forgotten about. Overall, it is safe to say that nothing is perfect in electron generation and it is going to take a mixture of available green power sources to satiate our hunger for the little charged particles.
The easiest way to get in on this trade is through the global x uranium ETF (URA), which is currently at $15.96, down from $130 at he beginning of 2011. If you look at the chart I have included below, you will see that prices have been basing around this area for about the last year and a half. I think that it makes sense to start building a long position here. I would also like to point out the recent volume from 2017 and on. This indicates that large investors are likely accumulating long positions.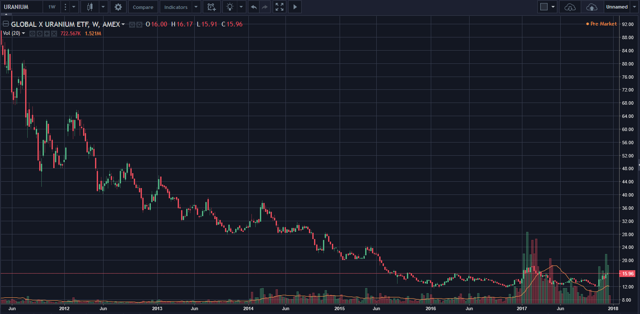 Chart from: Live stock, index, futures, Forex and Bitcoin charts on TradingView
Of course, there are many other options out there for investing in the uranium industry. Most of the companies that are solely dedicated to uranium mining and other related services are small cap and OTC companies. These types of investments come along with their own risk as far as company size and structure and could fail even if uranium prices soar. I will let you do your due diligence on these. Some of the larger corporations involved in uranium supply are BHP Billition (BHP) and Tepco (9501).
The only potential issue I see for uranium prices is another huge nuclear power disaster. With plants becoming increasingly safe over the years, this holds remote probability at best. Another potential deterrent is that, returns could take a bit to generate as adaptation and construction takes time. Other than those two items, I see this as a great investment choice for the long term segment of any portfolio.
Disclosure: I/we have no positions in any stocks mentioned, and no plans to initiate any positions within the next 72 hours. I wrote this article myself, and it expresses my own opinions. I am not receiving compensation for it (other than from Seeking Alpha). I have no business relationship with any company whose stock is mentioned in this article.