We already had reduced exposure to large-cap U.S. equity in our model portfolios in previous months, and more recently the risk reductions have been focused instead on trimming foreign developed equity holdings. Overall, our asset allocation stance as we finish the year is best described as neutral. Yes, stock prices and valuations are high in absolute terms, but stubbornly low prospective real interest rates and lack of risk premia offered to bond investors keeps the optimal mix of equity roughly in line with longer term averages for our model portfolios.
The overall risk profiles of our model portfolios are flat or slightly lower m/m. Equity return projection changes are mixed while projected fixed income returns are lower for longer maturities. Allocation changes varied m/m depending upon the level of risk tolerance targeted. However, most portfolios saw a third straight month of reductions of foreign developed stock holdings and a small increase in emerging market equity exposure.
Our optimal portfolio for an investor with average risk tolerance includes a 53% allocation to equity, down 2 percentage points m/m. Holdings of foreign developed equity have been reduced by 3 points m/m for the second consecutive month. Exposure to fixed income and emerging market equity have been increased slightly. TIPS holdings increased by one point.
Optimal Long-term Asset Allocation for Investor with Average Risk Tolerance

Source: ArcPoint Advisor
Long-Term Equity Market Return Outlook
Projected Long-Run Annual Real Returns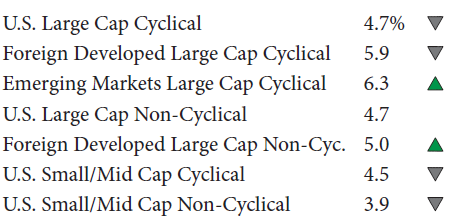 Source: ArcPoint Advisor
Projected U.S. large-cap equity returns are lower following a 3% return for the S&P 500 in November.
Consumer stocks, industrials, and financials led the index higher, due in part to optimism around U.S. tax reform.
Our forecast for U.S. large-cap equity returns implies average annual mid-cycle earnings of ~$125 for the S&P 500 index companies, up $2 from our prior estimate. This earnings outlook compares to the consensus bottoms-up forecast of ~$143 over the next four quarters for S&P 500 earnings.
The gap between the projected returns of cyclical and non-cyclical U.S. large cap equity is now zero. The last time these two asset classes were at parity from an expected return perspective was the middle of 2013.
Difference Between Projected Cyclical and Non-cyclical Equity Returns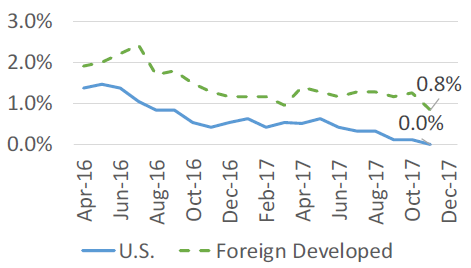 Source: ArcPoint Advisor
The Russell 2000 was up 3% in November, driving slightly lower projected returns m/m for U.S. small and mid-cap equity.
We have included U.S. small and mid-cap funds in our most aggressive model portfolios for the second straight month as lower projected returns in foreign developed and emerging market equity have boosted the relative diversification benefit of smaller cap U.S. stocks.
The projected return for foreign developed large-cap equity is mixed m/m (the MSCI EAFE Index was up 1.1% in November). The outlook has improved slightly for non-cyclical sectors while projected returns are modestly lower for cyclical equity.
The estimated 110 bp premium offered by foreign-developed cyclical equity over U.S. cyclical equity is above the average of 85 bp over the past five years. Our model portfolios continue to favor foreign developed over U.S. cyclical equity, though foreign developed equity holdings have declined in recent months.
The return outlook for emerging markets large-cap cyclical equity is higher m/m following a flat MSCI Emerging Markets Index in November. The 150 bp return premium offered by emerging markets over U.S. equity is slightly below the three-year average of 170 bp, and the 40 bp return premium over foreign-developed cyclical equity is below the three-year average of 80 bp.
Cyclical Large-Cap Equity Premia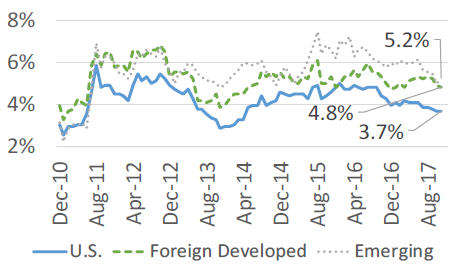 Source: ArcPoint Advisor
Long-Term Fixed Income Market Return Outlook
Projected Long-Run Annual Real Returns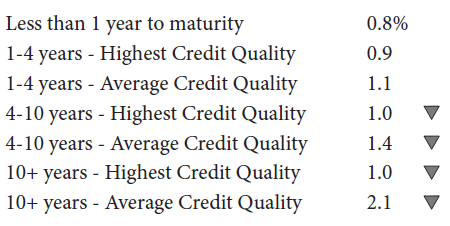 Source: ArcPoint Advisor
Projected real fixed income returns are slightly lower at the longer end of the maturity curve as U.S. forward TIP rates edged lower for such bonds.
The estimated real term premium offered for 10-year U.S. Treasury (NYSEARCA:UST) bonds is down 3 bp m/m. A 10-year UST note purchased in five years offers 23 bp of additional return over a 52-week UST bill. This level is below the 10-year average real term premium of 56 bp.
Risk Free Real Term Premium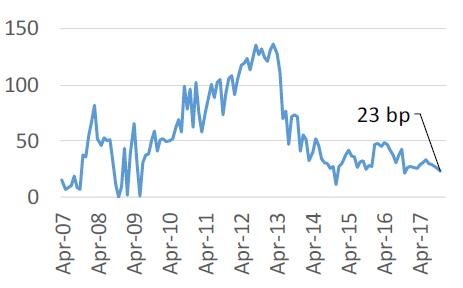 Source: ArcPoint Advisor
The estimated inflation risk premium is unchanged m/m for a 15-year bond. The inflation premium remains below 20 bp for the 26th consecutive month as bond markets continue to imply a significant possibility of disinflation.
Inflation Term Premium (15-Yr. Bond)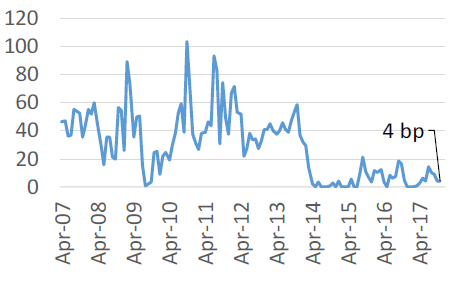 Source: ArcPoint Advisor
We estimate that investors in investment grade corporate bonds are receiving ~8 bp of return for every year to maturity as compensation for credit risk, unchanged from a month ago. The current credit risk premium is above the 5-year average of 5 bp for every year to maturity.
Credit Risk Premium Per Year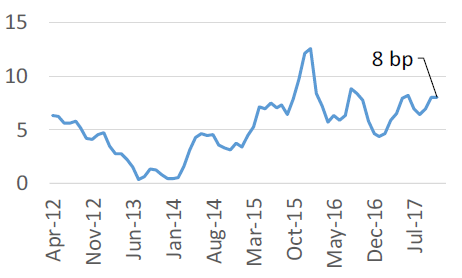 Source: ArcPoint Advisor
Disclosure: I/we have no positions in any stocks mentioned, and no plans to initiate any positions within the next 72 hours. I wrote this article myself, and it expresses my own opinions. I am not receiving compensation for it (other than from Seeking Alpha). I have no business relationship with any company whose stock is mentioned in this article.