The top 5 dividend ETFs each make sense as the cornerstone of a dividend portfolio. These ETFs were screened for low expense ratios: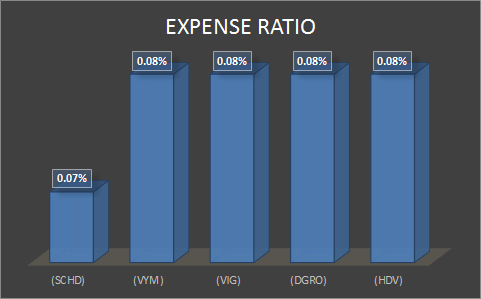 Source: CWMF
They were also evaluated based on their sector allocations.
Looking at the last year of data, the 5 ETFs collectively outperformed the S&P 500 on a risk adjusted basis. In absolute returns, they came in lower than the S&P 500. However, if we are adjusting for the beta on the ETFs, they were delivering alpha.
The 5 ETFs
The top 5 dividend ETFs are:
| | | |
| --- | --- | --- |
| Ticker | ETF | Index |
| (SCHD) | Schwab U.S Dividend Equity ETF | Dow Jones U.S. Dividend 100 Index |
| (VYM) | Vanguard High Dividend Yield ETF | FTSE High Dividend Yield Index |
| (VIG) | Vanguard Dividend Appreciation ETF | NASDAQ US Dividend Achievers Select Index |
| (DGRO) | iShares Core Dividend Growth ETF | Morningstar U.S. Dividend Growth Index |
| (HDV) | iShares Core High Dividend ETF | Morningstar Dividend Yield Focus Index |
When we evaluate the last year of performance, we can see that our equal weighted hypothetical portfolio delivered an 18.1% return compared to 20.6% for the S&P 500: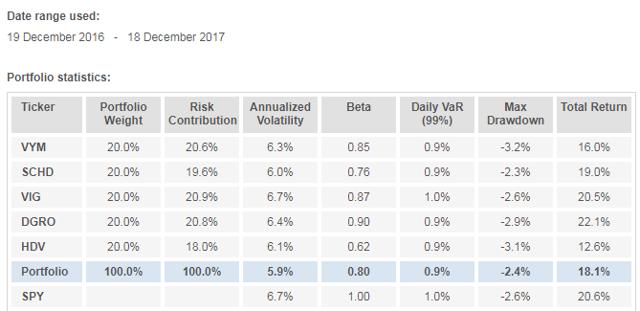 Source: Investspy
However, the portfolio would've demonstrated a beta of only .80. If investors are concerned about the total level of risk in their portfolio, it would make more sense to use these 5 ETFs as the cornerstone rather than to use the S&P 500.
Dividend yields
Here are the current dividend yields of all 5 funds: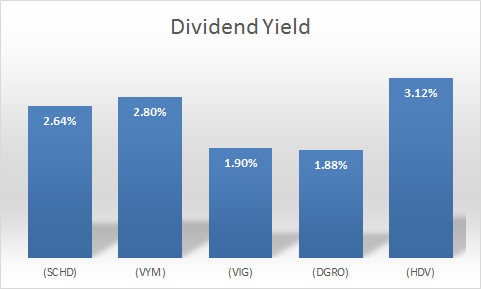 Source: CWMF
Investors need to look beyond just the dividend yield. I will be going over each fund, their allocation, and how I would build a portfolio around them.
Let's begin!
HDV
The iShares Core High Dividend ETF carried the lowest returns over the last year, but it also had the lowest beta.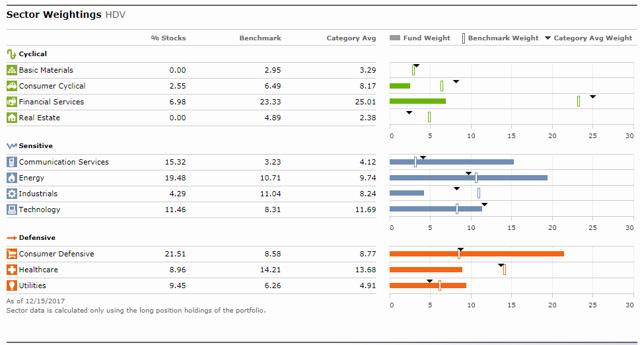 Source: Morningstar
HDV has no allocation to basic materials or real estate. Exposure to the consumer cyclical sector and financial services is also very low. Essentially, HDV is allocated to the less aggressive sectors. Their highest defensive allocation is in the consumer defensive sector which is also known as consumer staples. If the market were to enter a recession, I believe HDV would perform much better than the S&P 500. In a prolonged bull market, it should generally fall behind.
Building around HDV
If an investor just wants to use HDV as the key piece in their portfolio, then they would either be taking on an extremely defensive approach or they would want to spend their time learning about one of the cyclical sectors so that they could manually pick stocks for that exposure. Personally, I like this strategy; it allows the investor to pick any of the 4 cyclical sectors for studying. I find the real estate sector most interesting. If the investor doesn't want to learn about that sector, they could use Vanguard REIT Index ETF (VNQ) as a way to get diversified exposure to REITs.
VYM
The Vanguard High Dividend Yield ETF is materially more aggressive than HDV.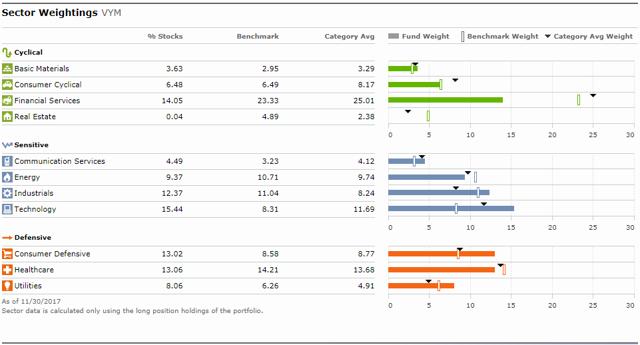 Source: Morningstar
It still underweights the cyclical sectors, but the allocations there are material. Combined the cyclical sectors represent over 20% of VYM's allocation.
Building around VYM
A portfolio built around VYM could use a couple supplementary allocations. Real estate is missing again, but it is missing from each of these funds. On a comparable basis, VYM has a relatively lower allocation to the consumer staples sector. An investor wanting to increase that allocation could use the Vanguard Consumer Staples ETF (VDC). Alternatively, Altria Group (MO) and Philip Morris (PM) are both solid consumer staples. Among this group, VYM carries the second highest allocation to the financial services sector. Investors who are expecting rates to continually increase over the next several years may want to consider VYM as a frontrunner.
VIG
The Vanguard Dividend Appreciation ETF is extremely concentrated in the industrials sector.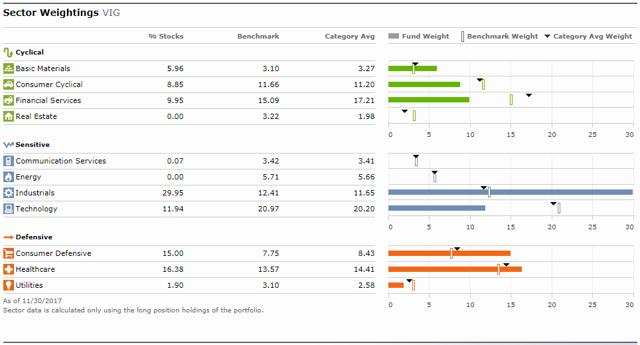 Source: Morningstar
The allocation to a single sector is nearly 30% of VIG's total allocation. In my opinion, VIG is less likely to be a complete replacement for the S&P 500 because the allocation to industrials is so high. It would make more sense to pair VIG with another one of these ETFs that has a lower allocation to industrials. The ETF with the lowest allocation to industrials is HDV and I believe HDV/VIG combine quite nicely.
Building around VIG
If I were looking to build a portfolio around VIG, I would want to consider adding a few large oil companies like Exxon Mobil (XOM) or Chevron (CVX). Either of those companies would give the investor suitable exposure to the energy sector. In my opinion, it is better to use both of them than to rely on either one. While both are oil giants, the way they earn their margins is different.
The other area where VIG carries a much lower weight is the utilities sector. An investor could use a utility ETF like the Vanguard Utilities ETF (VPU). That would be a viable and low cost way to get exposure to utilities. Alternatively, an investor could pick a few of the largest utility companies as a proxy for the sector. If the investor chooses not to use utilities at all in their allocation, then it would be more important for them to include a larger allocation to bonds or REITs. Utilities are generally viewed as an income investment and they will have a larger correlation with bonds than many investors would expect.
Another great option here would be to focus on preferred shares. Preferred shares bring some duration risk to the portfolio, but they can also carry much higher yields. An investor mixing VIG and HDV could use the preferred shares as a way to build in duration exposure while also getting a very high dividend yield from that part of their portfolio.
SCHD
If I had to pick just one ETF as my favorite, it would be the Schwab U.S. Dividend Equity ETF.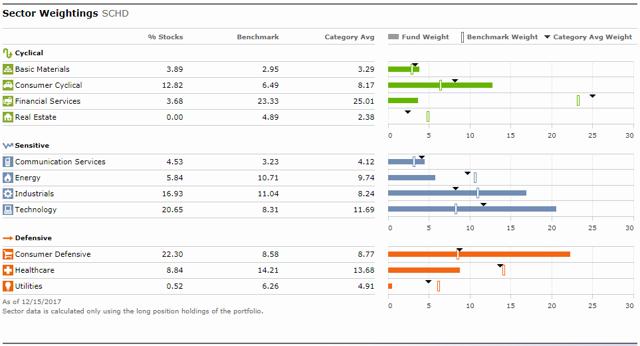 Source: SCHD
SCHD has a very high allocation to consumer staples and maintains allocations to most of the other sectors. Over the last year, SCHD's beta came in at .76 which was the second lowest in the group. Like VIG, SCHD runs extremely light on utilities and contains no real estate. It would be another great choice for an investor who wants a high dividend yield on the equity part of their portfolio and wants to pick their own rate sensitive investments.
Building around SCHD
Because SCHD carries very little exposure to the financial services sector, it is less inclined to benefit from rising interest rates. An investor could work around that by including mortgage REITs with CRE (commercial real estate) assets. Mortgage REITs focused on CRE lending have adjustable interest rates on the loans they produce. When interest rates increase, they receive a higher yield on their assets. Alternatively, the investor could use preferred shares that switch over to a floating rate after a set period of time. In most situations, the floating rate is based on 3-month USD LIBOR. They would pay out 3-month USD LIBOR + a credit spread that is identified in the prospectus. Those preferred shares would also help investors to generate more income if rates were to increase materially. If rates were to decline, the floating rate feature would cease to be positive.
DGRO
The iShares Core Dividend Growth ETF is one of the most interesting ETFs in this batch.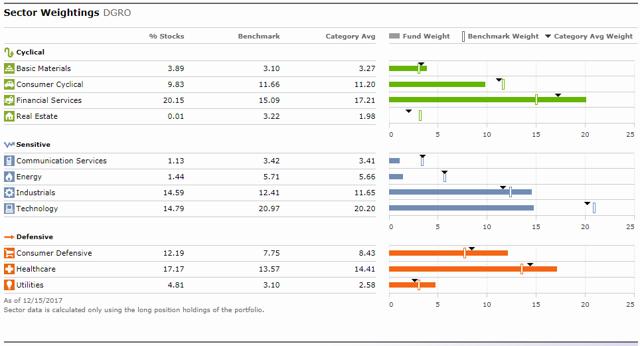 Source: Morningstar
It carries one of the lower allocations to consumer staples but have the highest allocation to healthcare. Their total allocation to the defensive sectors is not exceptionally high. Thus, investors preferring a more defensive approach would look for individual allocations to increase the consumer staples space. DGRO carries a huge allocation to financial services. It is a materially larger allocation than for any of the other ETFs. VYM had the second highest allocation at about 14%. Each of the others was running 10% or less in this space. Investors who expect more than 2 interest rate hikes over the next year may view DGRO as a top choice because of the high allocation to financial services.
Building around DGRO
I like the idea of using DGRO in a mix with the other 4 ETFs because it helps to balance out some of the allocations. However, if DGRO was used by itself, I think it would make sense to have quite a few individual allocations built around it.
I would look to add consumer staples and utilities first and then move to the more defensive names for energy and communications services. Therefore, Verizon (VZ) and AT&T (T) might fit quite nicely within the portfolio.
I would also look to offset some of the focus on rising rates through individual positions in equity REITs. Realty Income Corporation (O), National Retail Properties (NNN), or STORE Capital (STOR) would all produce very solid dividend yields while providing some interest rate exposure. They are all triple net lease REITs and sign their tenants to long contracts. Because the revenue from these deals is locked in so far in advance, these REITs often trade on correlation with bonds. It is debatable whether they should trade on such a large correlation to bonds, but it happens anyway. Each of them has a solidly covered dividend yield and excellent management in place. Therefore, they would be viable choices for the income portion of a portfolio.
The missing piece
The missing piece to all of these funds is real estate. Preferred shares from REITs offer investors a high dividend yield with less risk than investing in the equity markets. In addition to the exceptionally high dividend yields, the preferred share markets are often less efficient. Some of these securities can be ideal for dividend capture strategies. The dividend capture strategies will have virtually no correlation with the S&P 500. Consequently, it can be a nice source of income while lowering the portfolio's overall risk.
For investors interested in my preferred share ratings, here is my guide to preferred shares.
Here's an example of a dividend capture strategy with CMO-E, from Capstead Mortgage Corporation (CMO) that played out quickly: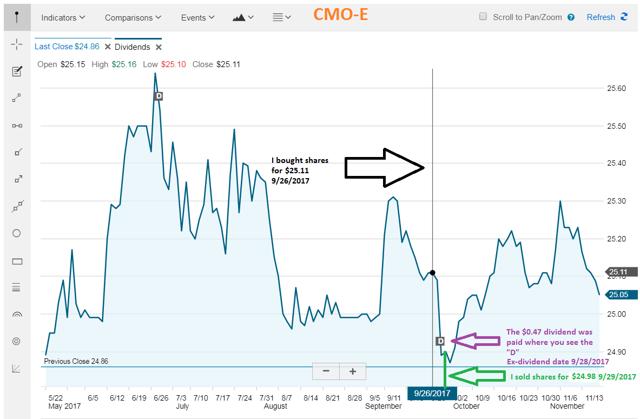 Source: Charles Schwab
In the black: I purchased shares twice on 9/26/2017 of CMO-E for $25.11.
In the purple: the ex-dividend date was on 9/28/2017. The dividend amount was $0.47 per share.
In the green: I sold the two positions in CMO-E on 9/29/2017 for $24.98 per share.
I had a capital loss on the two positions (before counting dividends) of -0.55% and -0.53%. The dividend gain was 1.87% on each position. The total returns on the two positions were 1.32% and 1.34%. Those returns were made in a 3-day period.
If you are interested in the best research on REITs and preferred shares, come join The REIT Forum. I have spreadsheets of every REIT, preferred share, and other dividend opportunities I cover. Subscribers have access to all my spreadsheets with actionable buy and sell target prices - updated in real time. The REIT Forum offers investors buy-and-hold opportunities along with my best target prices for traders.
Subscribers get instant actionable SMS alerts. Sign up before 2018 to lock in at $390/year. Feel free to read my perfect 61 reviews.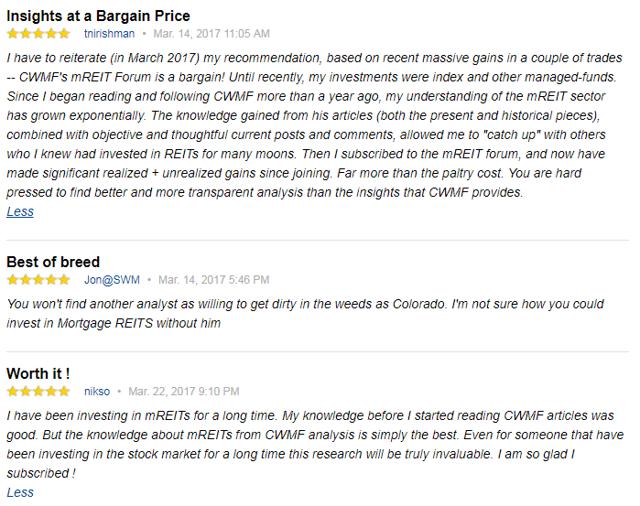 Disclosure: I am/we are long MO, PM.
I wrote this article myself, and it expresses my own opinions. I am not receiving compensation for it (other than from Seeking Alpha). I have no business relationship with any company whose stock is mentioned in this article.
Additional disclosure: No financial advice. Investors are expected to do their own due diligence and consult with a professional who knows their objectives and constraints. CWMF actively trades in preferred shares and may buy or sell anything in the sector without prior notice. Tipranks: No ratings in this article.