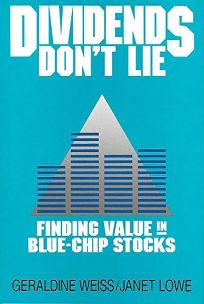 Don't shoot me for borrowing that little "dividends don't lie" remark from Geraldine Weiss' 1988 book of the same name. The phrase happens to fit.
Once you receive a dividend, it is cash in your pocket. Cash in your pocket does not "lie." It is there for whatever you want to use it for, and it is yours, period.
The simple truth is that when a company offers a dividend, it is fairly certain it has enough cash flow (or can get it) to pay shareholders to hang on to their stock. I will admit that there are companies that are stretching to pay dividends which is a big reason I am focusing on the new model Dividend King Retirement Portfolio.
I know that the current yields of these stocks are not high enough for some folks, but the lower risks that these companies offer can offset some hesitancy. If an investor starts the journey with a long time horizon to allow compounding of re-investing dividends into existing holdings (no matter what they might be) and to grow the number of shares at the same time, the income stream itself will grow exponentially.
Income Growth Upon Income Growth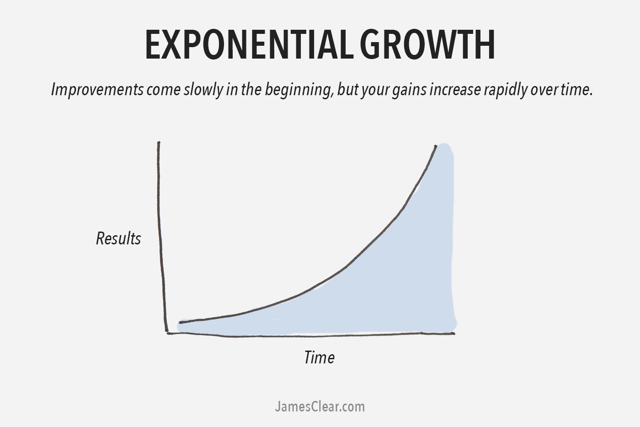 Source
Without getting into the equations, it does not take a math whiz to know that if dividend income increases by 4-10% annually, after 20 years, a passive income stream would be very compelling. Even more compelling is that the dividend income, when re-invested in the very same dividend kings or aristocrats will add more shares as well. The more shares owned while dividends are increased means exponential growth.
Exponential growth is another perk of dividend growth investing. The dividend increases, and the number of shares increases. That means that at whatever percentage the dividends are increased will obviously grow the total passive income simply by owning more shares - without adding one dime out of pocket.
I am purposely staying away from any dollar amount because everyone is different. While there are many folks who cannot even THINK of living on "just" a $250k annual stream of income, there are many, many more regular folks who are HOPING that they reach $50,000 in annual income during retirement.
The idea is to find a path, and an achievable investment amount, that gets you where you want or need to go, and I believe the path that has a lower risk profile is dividend growth investing in Dividend King stocks, that have paid and raised their dividends for 50+ consecutive years (Dividend Aristocrats have a 25+ consecutive year record as well).
The model Dividend King Retirement Portfolio currently consists of Coca-Cola (NYSE:KO), Procter & Gamble (NYSE:PG), Johnson & Johnson (NYSE:JNJ), 3M (NYSE:MMM), Emerson Electric (NYSE:EMR), Cincinnati Financial (NASDAQ:CINF), Lowe's (NYSE:LOW), Hormel (NYSE:HRL), Colgate-Palmolive (NYSE:CL), Dover (NYSE:DOV), and AT&T (T).
Other dividend kings can be found right here, and the choice is a personal one on how YOU want to build a portfolio.
From the same website, I will post a chart I have used before, and it speaks for itself: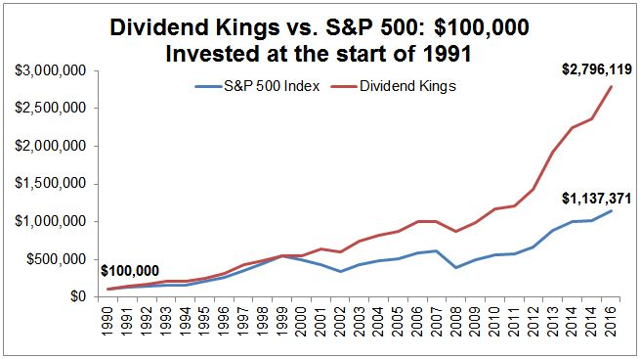 Source
A picture can speak 1,000 words, and the above chart is beautiful in its straightforward simplicity. Now the question is, why WOULDN'T an investor who seeks a more secure financial future consider implementing this approach.
The Growth Versus Income Battle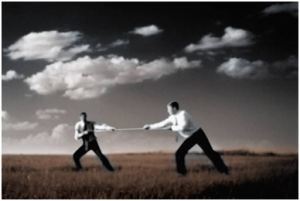 Source
I have done it all in my investing life: day trading, momentum trading, penny stocks, the "next best thing" stocks, options, futures, long and short, and I can tell you that for ME, the dividend growth investing approach has been a God-send. For me, it has reduced my stress level, enables me to sleep very well at night, and to have been able to retire at 55 (I am 68 now) with enough money to secure my financial future.
I began DGI at age 35 and I was lucky enough to be able to just buy and hold without taking a dime out of the portfolio, while putting as much as I could for as long as I could right back into the very same stocks. My all-time best stocks at the time were Exxon Mobil (XOM), AT&T (T) (in all its shapes and forms), and Altria (MO), or Phillip Morris (PM) as it was known as well.
I still own those stocks.
Growth investors are hoping for just ONE thing to happen: The share price goes from A to Z and the speculator makes a killing. That is perfectly fine and many folks have become enormously wealthy with portfolios that have grown to the moon... just not me... and I am a regular guy who just wants to live a lower risk, comfortable life in retirement. I have all I need, and while I do splurge on myself and my family, I am content.
Would I like to see a portfolio balance 5 times larger? Of course, but I do not aspire to that any longer. As a matter of fact, aside from total portfolio value, I have purposely left out stock prices. It would not change a thing.
Price is what I pay, income is what I get.
So What Is Alpha?
I believe everyone has their own "alpha" and each of us are seeking it. For my money, dividend growth investing has been, and is, MY alpha. For growth investors it might be Bitcoin, or the next Apple (AAPL). There is nothing wrong with that, and I will ask YOU, what is the "alpha" that you are seeking?
Not To Bore You, But...
Knowledge is power, and many folks shy away from the investing world because that very world makes it more confusing each and every day in an effort to sell you something: stock picks, technical strategies, books, videos, subscriptions with "secret ideas," gadgets, and even snake oil.
My promise to you is that my work here will remain free to all of my followers, with the hope of giving to you some of the things that took years for me to learn myself. That being said, let me reach out to you with my usual ending:
**One final note: The only favor I ask is that you click the "Follow" button so I can grow my Seeking Alpha friendships. That is my personal blessing in doing this and how I can offer my experiences to as many regular folks as possible, who might not otherwise receive it.
Disclaimer: The opinions and the strategies of the author are not intended to ever be a recommendation to buy or sell a security. The strategy the author uses has worked for him, and it is for you to decide if it could benefit your financial future. Please remember to do your own research and know your risk tolerance. The long positions held are based upon what the model portfolio holds, and I personally could have held all of the stocks noted at one time or another.