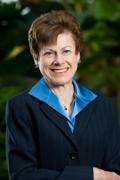 Lynn Reaser, is chief economist of the Fermanian Business & Economics Institute in San Diego and past president of the National Association for Business Economics. Previously she was chief economist of Bank of America's Investment Strategies Group.
Harlan Levy: What do the latest economic data tell you?
Lynn Reaser: Data on jobs, retail sales, housing, business capital spending, confidence, and other indicators all show that the U.S. economy is strong and possesses good momentum.
H.L.: How do you rate the U.S. economy, with your thoughts on the coming huge tax cuts?
L.R.: The economy is headed into 2018 with a strong tailwind. Tax cuts should benefit most households, which will give some boost to consumer spending. Business investment, which has been the weak link during much of the economic expansion so far, should receive a substantial boost from lower tax rates and the immediate expensing of capital projects.
H.L.: What sectors of the U.S. economy look positive to strong, and which ones look weak or negative … and why?
L.R.: Consumer spending, business investment, single-family housing, and exports all are likely to be strong in 2018. Multi-family construction and government spending could be restrained.
H.L.: What do you think holiday and retail sales data show?
L.R.: Holiday days, especially online, look very good. Wealth gains from housing and stocks along with increases in jobs and earnings, are boosting both confidence and buying power.
H.L.: What's your take on industrial production?
L.R.: Industrial production has rebounded this year, driven by a more competitive dollar, stronger economies overseas, higher oil prices, and a strong gain in business confidence.
H.L.: What do you think about CPI and inflation and the impact on Federal Reserve decisions on rate hikes?
L.R.: Inflation remains subdued, although the Consumer Price Index is now up 2.2% from a year ago. The Fed's preferred inflation index is only up 1.6% from 12 months earlier. The Fed has been restrained in raising interest rates this year primarily because of low inflation. Most Fed members believe that the shortfall below their 2% inflation target is temporary and will be reversed relatively soon.
H.L.: What's your outlook on wages and the high levels of job openings and lagging hiring rates?
L.R.: Wages, in terms of hourly earnings, are currently running about 2.5% above a year ago. Larger increases would be expected given the low level of unemployment at just 4.1%. The retirement of older and more experienced workers with higher wages and their replacement with younger, less expensive employees with lower wages may distort the actual rise in wages. The high levels of job openings and lagging hiring rates reflect the widespread problem of businesses in finding qualified workers to fill open positions. This problem is likely to continue throughout 2018.
H.L.: What do you predict for GDP next year, and what does that reflect?
L.R.: Real GDP is likely to rise 2.8% in 2018. The tax cut will probably contribute about 0.3 of a percentage point to the total. Business investment will be key. Although companies will use some of their tax savings on dividends and acquisitions, the higher after-tax return on investments and immediate expensing should make the business sector the economy's primary driver.
H.L.: Is a recession heading our way soon?
L.R.: No. The tax cut will provide stimulus in 2018 and only be modestly offset by monetary tightening by the Fed. The U.S. economy shows no signs of overheating at this juncture and inflation is still tepid. A recession will ultimately occur, but now appears unlikely before around 2020 or 2021 unless there is a major financial shock.
H.L.: Is the stock market cruising for a bruising fairly soon?
L.P.: While a correction is likely at some point in 2018, the market has not fully priced in the impact of tax cuts. The expected earnings streams for most firms will now be higher both because of lower tax rates and also perhaps a somewhat stronger trend rate of economic growth.
H.L.: How strong is the global economy and the various significant parts of it?
L.R.: For the first time in a decade the global economy is enjoying a true synchronized expansion. All of the industrialized economies are participating, including Europe and even Japan. Japan's economy has received a boost from a badly needed increase in its workforce as more women have entered the labor market. Developing countries are also expanding significantly. China's leadership is still championing growth, deferring its debt problems to a later date. A major long-term question is how much China's leadership will stifle innovation by its return to a more centrally-controlled economy.
H.L.: Is Donald Trump threatening world chaos by his protectionist and anti-environment thrust?
L.R.: Protectionist measures have actually been much less than feared a year ago, as the president realizes the value of China in helping to contain North Korea and in other issues. Restrictions on imports and foreign investment can, however, be expected in 2018. NAFTA could also be at risk. On the environmental front, other nations are going forward with their efforts to reduce global warming and even in the U.S., states such as California, are pressing ahead with their programs to protect the environment.
Disclosure: I/we have no positions in any stocks mentioned, and no plans to initiate any positions within the next 72 hours. I wrote this article myself, and it expresses my own opinions. I am not receiving compensation for it (other than from Seeking Alpha). I have no business relationship with any company whose stock is mentioned in this article.