On Friday, December 15th, PIMCO released its monthly earnings and UNII report. Just to start off, we believe the value of this report is not what it is for other sponsors, given the amount of volatility on a month-by-month basis. A few months ago, the coverage ratios were all very low, and there were questions about whether the distributions were sustainable. In fact, in early August, there were 'rumors' of cuts on several websites, which cratered the price.
At the time, the coverage ratios were just 60% for June and 72% for July (which came out in mid-August). UNII was positive but at just 4 cents per share. In mid-September, the coverage ratio had jumped to 92% (through August), which helped the price recover.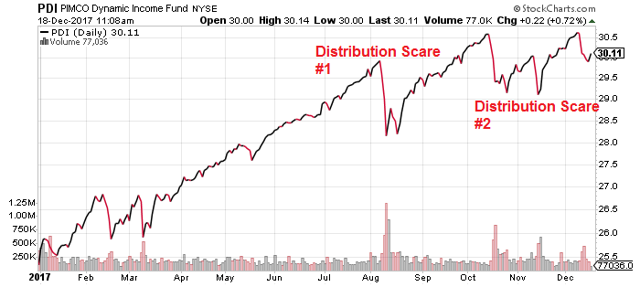 Then, distribution scare number 2 arrived in mid-October when the September numbers were released showing the coverage dropping back to 83%. Clearly, these numbers are all over the board, which makes month-to-month changes in them not very valuable.
Instead, we like to use the longer term coverage ratios that help smooth that volatility out, but also UNII changes and NAV movements. The combination of the three pieces helps complete the picture of all their taxable funds on a short-term basis. On a longer term basis, the financials are the best pieces of data we can use to form our opinions.
Coverage Ratio
Over the last three months, the taxables have seen significant improvement in the coverage ratios. We now have four of the eleven funds at 100% or greater coverage. Six months ago, there were just two funds (PCM (NYSE:PCM) and PIMCO Global StocksPLUS & Income Fund (NYSE:PGP)) with coverage above 100%. The average coverage on the taxable size was down to 76% in July but has been improving. That coincides with the maximum amount of bearishness when prices fell sharply in mid-August.

Since then, we have been rising slowly, but in mid-November, following the October report release, the average jumped to the high 90% area. To us, this appears to be PIMCO managing the coverage by realizing gains. Recall in one of our prior write-ups, we described the strategy of investing in non-agency debt as being a total return one.
The strategy of investing in non-agency MBS is part yield - they do yield the equivalent of high-yield bonds or better - plus the hope for capital gains from the increase in value of the securities. PIMCO, as well as others, have been buying up all the non-agency MBS they can. These securities trade in sizable lots, which favors a large institutional shop like PIMCO.

We asked the company who was selling these securities. It said that it was mainly hedge funds, distressed debt investors, who were unloading their positions. Why? Because, these assets are not considered "distressed" any longer, and the risk versus return isn't as skewed as it was when they acquired the assets. In other words, the return hurdle required for them to own the debt securities wasn't as prevalent compared to a few years ago.
This likely accounts for the large increases in the coverage ratios in the last couple of months - primarily in the funds that have significant allocations to this trade. Those funds include PIMCO Dynamic Income (PDI), PIMCO Dynamic Mortgage and Income (PCI), and PIMCO Opportunity (PKO). PIMCO Strategic Income (RCS) has a VERY steady NAV as the fund is primarily in agency MBS. But the premium has come down significantly and is approaching the 52-week low.
On the weaker side are the twin PIMCO Income Funds, [[PFN]], [[PFL]], which saw coverage plummet to the high 70% area. Confirming the weakness was the drops in their UNII levels falling 2 and 3 cents, respectively.
UNII Bucket
UNIIs can tell a lot, similar to leverage, but the metric has its own drawbacks just like coverage ratios. They can also foretell whether or not a special distribution will be paid or not. While we continue to believe special distributions are nothing more than a feel-good sentiment indicator whereby you get to pay more taxes, they have the ability to telegraph the health of the distributions.
The best performers in the UNII category across the entire the fund complex have been PDI and PKO. PDI improved another 4 cents in the last month and 11 cents in the last five months. There can definitely be some lumpiness which we think helps confirm the thesis stated in the coverage ratio section; that the sponsor is realizing gains in their total return strategy to help with the distribution payment.
The mortgage space continues to be favorable and the housing market improving. PCM, a mortgage fund, that is mainly asset-based HELOC, non-agencies, CMBS, and other mortgage-related securities, has performed the best. The leverage adjusted duration is just 4 years.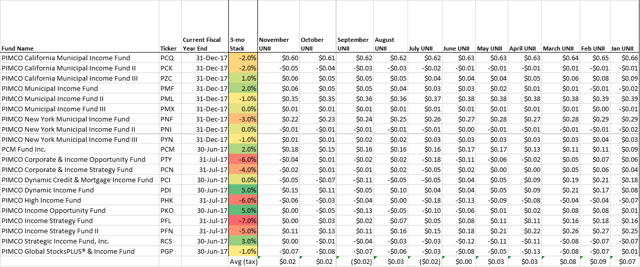 Overall, UNII figures continue to tread water around zero with the mortgage-related players performing best. PCM saw UNII rose another 3 cents to 18, PDI another 4 cents to 15, and PCI another 2 cents to -5.
Net Asset Values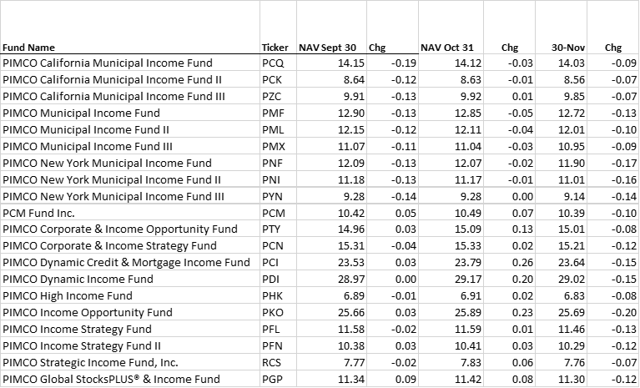 The net asset value encompasses all the relevant information in terms of the value of the fund's shares, the ability to distribute, and true factor analysis meaning what is driving the changes in value. In the last 45 days, NAVs have been under pressure. What is driving that weakness?
The decline is being felt across both taxables and munis in the space with the largest declines in PKO, PFL, PFN on an absolute basis. On the muni side, we think the lower NAV is due to the large amount of supply being driven by tax reform. We will have an update on the muni space later this week. On the taxable side, high yield has rolled over a bit which is correlating to the NAV declines.
Below is a chart from Yahoo showing the NAV of PDI with the iShares iBoxx High Yield ETF (HYG). You can clearly see the correlation. But why are the funds' NAVs correlated?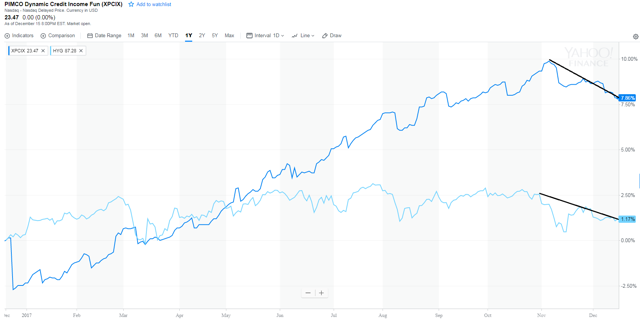 Non-agency MBS are largely 'unrated' securities. Previously, they were rated investment grade with many of them AAA-rated by the credit rating agencies. However, following the Financial Crisis, they became unrated for very well-known reasons. Unrated and high yield tend to trade together.
Spreads widened from post-recession tight levels of 3.38% to the current 3.68% levels. In November, we saw significant fund outflows from high yield due to those wider spreads.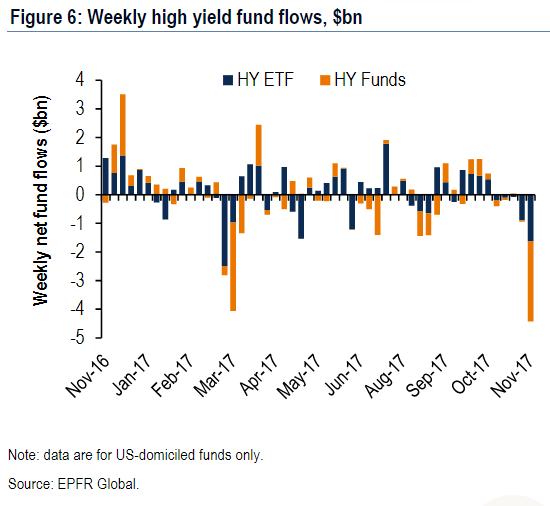 In the most recent period we have data, ETF flows out of HY remain significant with more than $1 billion coming out of HYG.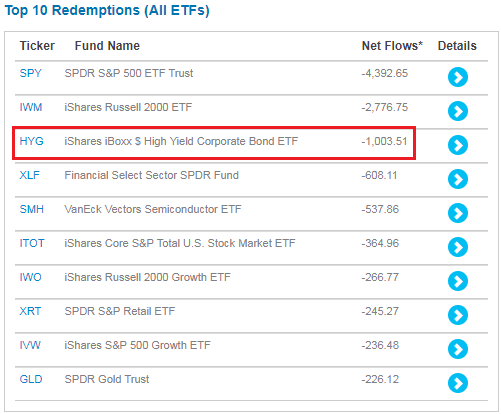 (Source: ETF.com)
Conclusion
The three primary facets of health for the PIMCO closed-end funds (coverage, UNII, and NAV) have two of the three currently working for it. Coverage ratios have largely improved across the board since this past summer when there were significant shortages. But again, this is a part of the trade that PIMCO managers have on. The coverage ratio is simply a calculation (and it is defined by GAAP) taking net investment income and dividing it by the distribution. If it's a total return trade, the coverage ratio will appear lower.
UNII trends have largely been near zero, which is not customary for many of the taxable PIMCO funds which in prior years built up more than one dollar (and in some cases more than $2.50) of UNII in a year. That was the reason for their large special distributions. This year, the range of UNII has been tight from -7 cents for PGP to 18 cents for PCM. The figures do not signal caution to us and, in recent month, have been improving especially for the mortgage-related funds.
Lastly, NAVs have been a bit weaker lately as money has largely flowed out of high yield in the last month. The peak for high yield occurred at the end of October when the post-recession spread tights were hit. Just two weeks later, we saw significant reversals in that with a large amount of fund flows coming out. It remains to be seen what was driving that decline. Some think it could be due to tax reform looking like it would pass.
Yield Hunting Members Only
Here we include more actionable data and trades.
Yield Hunting: Alternative Income Opportunities For Retirement
Alpha Gen Capital started Yield Hunting in April 2016 with one purpose in mind: to find yield in a yieldless world. While some subscription services will find yield at any cost, we pride ourselves on the fact that our core portfolio can generate a roughly 8% yield while exposing investors to one third the risk of the S&P 500. Our one-year trailing return through the end of November is 20.15%.
We utilize fixed income CEFs, dividend paying stocks, munis, BDCs, baby bonds, among other investment vehicles to generate income while mitigating the risk on the downside from adverse and identifiable risks.
Prices go up Jan. 1, so lock in the current price today. Current members lock in the rate for the life of their membership and never have to worry about a price increase.
Disclosure: I am/we are long PDI, PCI, PKO, PFN.
I wrote this article myself, and it expresses my own opinions. I am not receiving compensation for it (other than from Seeking Alpha). I have no business relationship with any company whose stock is mentioned in this article.
Additional disclosure: The commentary does not constitute individualized investment advice. The opinions offered herein are not personalized recommendations to buy, sell or hold securities. As I have no knowledge of individual investor circumstances, goals, and/or portfolio concentration or diversification, readers are expected to complete their own due diligence before purchasing any stocks mentioned.

The strategies discussed are strictly for illustrative and educational purposes and should not be construed as a recommendation to purchase or sell, or an offer to sell or a solicitation of an offer to buy any security. There is no guarantee that any strategies discussed will be effective. The information provided is not intended to be a complete analysis of every material fact respecting any strategy. The examples presented do not take into consideration commissions, tax implications or other transactions costs, which may significantly affect the economic consequences of a given strategy.
This material represents an assessment of the market environment at a specific time and is not intended to be a forecast of future events or a guarantee of future results. This information should not be relied upon by the reader as research or investment advice regarding the funds or any security in particular.