Launching the "Millennial Millions" DGI Portfolio
Two and a half years ago, we launched a DGI retirement portfolio for our (then) 22-year old daughter. She had just graduated from college and had landed a job selling insurance and other financial products.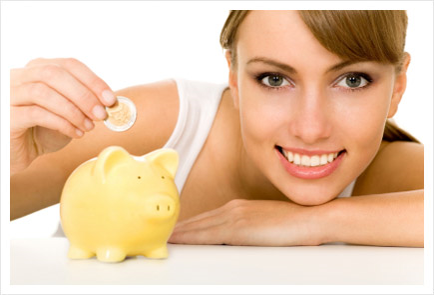 As described in my initial article about her portfolio entitled, "Our Daughter's Millennial DGI Portfolio: Project $1 Million," we invested $1,000 each month into a new stock position. Each year, our goal was to max out her Roth IRA and then invest as much as we could into her taxable account. Our initial target was to reach a portfolio value of $1 million (If you want to explain to a teenager or young adult why they should start investing now, the article describes how to become a millionaire the easy way - through the power of compounding!).
Well, you know what they say about the best laid plans! Our daughter's first career lasted only six months and she is back in college - this time earning a degree in chemical engineering. In February 2016, just after my daughter returned to school, I wrote an update on her portfolio entitled, "The 'Millennial $1 Million' DGI Portfolio - We Have Expanded!" That article demonstrates what six months of concerted investing can do to establish a budding DGI portfolio. It follows the Dividend House framework of investing by focusing on building out her portfolio's core stocks (in the foundation) while also adding to her supporting positions (in the walls) and auxiliary holdings (on the roof). If you are interested in how I build our DGI retirement portfolios, check out "How to Build a Dividend House: Which Stocks Go Where?"
Even though our daughter's earning power has been extremely limited in the year since she returned to school, we have concentrated on growing the taxable portion of her DGI portfolio through birthday and Christmas gifts. This article presents the current state of our daughter's "Millennial Millions" portfolio and discusses how we got here (We renamed the portfolio to reflect our goal of accumulating several million dollars before our daughter retires).
Below is a current snapshot of our daughter's portfolio with some key stats: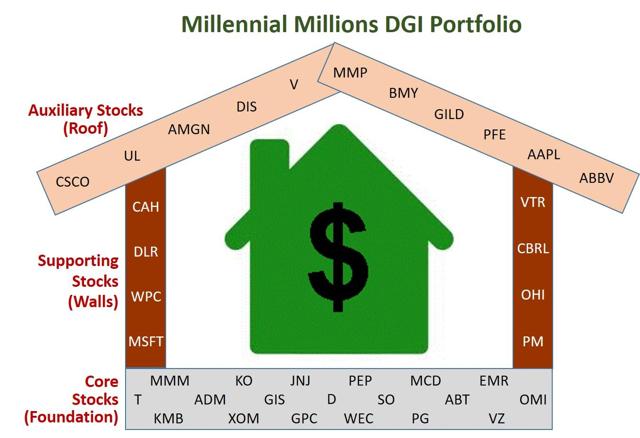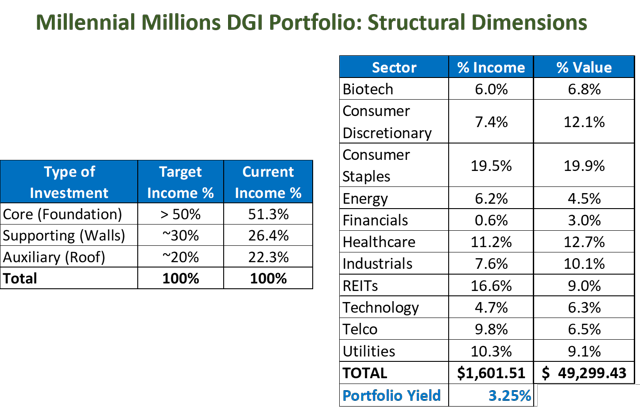 Building the "Millennial Millions" Portfolio in Leaner Times
Since February 2016, our daughter has had occasional odd jobs with no substantial income. But she has had two birthdays and one Christmas! As a result, her wonderful parents have helped her add about $20,000 to her portfolio. As the tables show below, our daughter's current DGI retirement portfolio consists of 38 stocks, up from 26 positions in February 2016!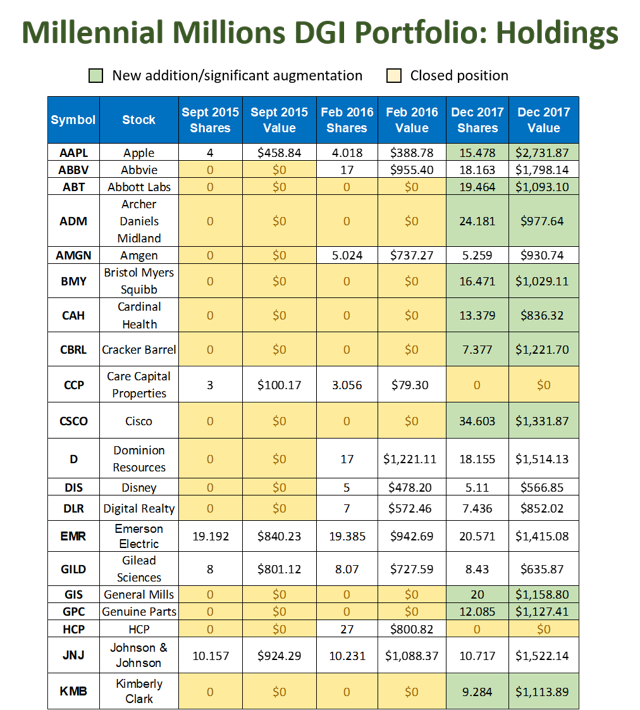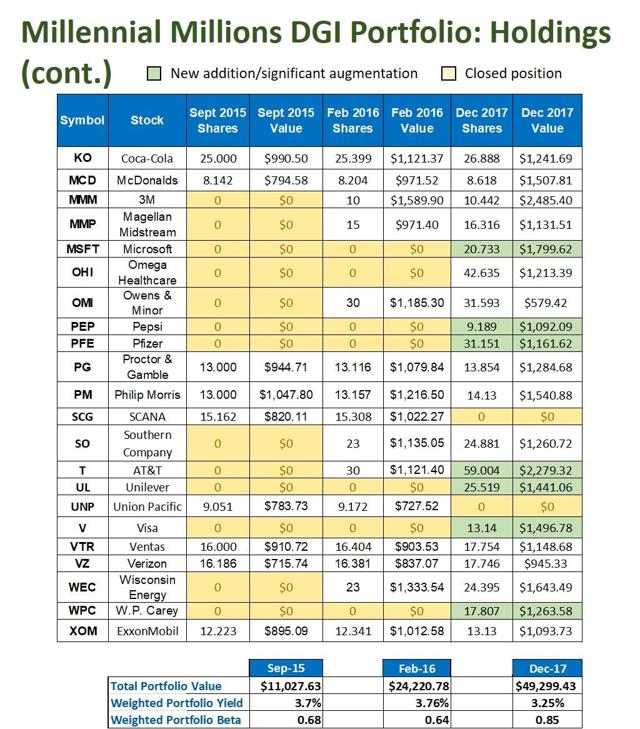 What Changed and Why?
Given our daughter's long time horizon (40+ years!), the Millennial Millions portfolio strategy is to buy high-quality DGI stocks and not touch them for decades (except to add shares). After all, our daughter has the time to ride out any bumps along the way.
Since February 2016, the Millennial Millions portfolio has added 15 new holdings to the foundation, walls and roof - Abbott Labs (ABT), Archer Daniels Midland (ADM), Bristol-Myers Squibb (BMY), Cardinal Health (CAH), Cracker Barrel (CBRL), Cisco (CSCO), General Mills (GIS), Genuine Parts (GPC), Kimberly-Clark (KMB), Microsoft (MSFT), Pepsi (PEP), Pfizer (PFE), Unilever (UL), Visa (V), and W.P. Carey (WPC). In addition, we augmented two existing positions - Apple (AAPL) and AT&T (T).
In the Millennial Millions portfolio, we never purchase a stock that we anticipate selling. Even so, in keeping with our "buy but monitor" approach, since February, 2016, we eliminated four stocks from the portfolio - Care Capital Properties (CCP), HCP (HCP), SCANA (SCG), and Union Pacific (UNP). Of these sales, the only regret I have is selling Union Pacific. I purchased UNP too high in its pricing cycle and, as a result, I was never happy with it. If I had purchased it during one of its pricing troughs, I am sure that the Millennial Millions portfolio would still be holding it today. Given our daughter's 40-year timeline, in retrospect, I should have held onto it. Lesson learned!
SCG is another stock that I would consider holding again if it survives its current nuclear project woes. With articles flying around about a possible sale or bankruptcy, SCG's future is uncertain. As a result, I am not interested in holding it now (in any of our family's retirement portfolios). I would consider adding both UNP and SCG again one day if the price is right (and the company's existence isn't obviously threatened).
Now comprised of 38 stocks, the Millennial Millions portfolio is diversified across sectors and is generating over half of its income from core (foundational) stocks - a key portfolio objective. We will continue to add new positions when attractive opportunities present themselves and we have money to invest.
Report Card: A for Effort, B for Performance?
Here's the good news - the Millennial Millions portfolio has increased in value by 22% since its inception in July, 2015. That sounds great until you compare this performance against the S&P 500 in the form of Vanguard's S&P 500 ETF (VOO). Over the same time period, VOO is up 35%!
Why don't I just give up and put our daughter's money into VOO? There are two reasons:
1. The Millennial Millions portfolio is less volatile than the market. The value of a DGI portfolio is unlikely to rise as high as the market during good times, but it is also less likely to fall as low in bad times. This can make DGI investing a "sleep well at night" approach for conservative retirement portfolios. A way to quantify this uses market beta (a measure of price volatility). By definition, the beta of the stock market equals one. A stock with a beta less than one tends to trade with less volatility than the stock market. In contrast, a stock with a beta greater than one tends to have price swings that are more exaggerated than the market's.
A stock's beta can easily be found on Yahoo Finance. Our daughter's portfolio includes stocks with betas greater than and less than one. But the important thing to note is that the weighted average beta of our daughter's portfolio is 0.81. In other words, you can say that the Millennial Millions portfolio is roughly 81% as volatile as the stock market. This may not be helpful at a time when the market is reaching an all-time high nearly every day, but it should give us comfort during the next market crash.
Frankly, the Millennial Millions portfolio beta is too high. In contrast, the Dividend House portfolio's beta is 0.66. Back in February 2016, the Millennial Millions portfolio beta was 0.64. Our goal will be to invest more in utilities and other low beta stocks to get the Millennial Millions portfolio beta back down to a weighted portfolio beta of 0.7 or below.
2. The Millennial Millions portfolio generates more income than the same investment in the S&P 500 would. While the Millennial Millions portfolio hasn't gained as much in value as the S&P 500, it has generated more in income (which we reinvest in the portfolio). The current dividend yield of VOO is 2.1%, whereas the Millennial Millions portfolio has a weighted average portfolio dividend yield of 3.25%. In other words, the Millennial Millions portfolio is generating 55% more income per year! Since generating income is the primary goal of our daughter's DGI retirement portfolio, we are not willing to give up a larger reliable, growing income stream for the gamble of stock price appreciation.
Conclusion
We remain committed to building the Millennial Millions DGI retirement portfolio for our 24-year old daughter. In the New Year, we will redouble our efforts to purchase lower beta stocks, particularly utilities. To help grow the portfolio, particularly in times of lean income, we are happy to reinvest a larger dividend stream than the same investment in the S&P 500 would generate every year, instead of gambling on stock price appreciation.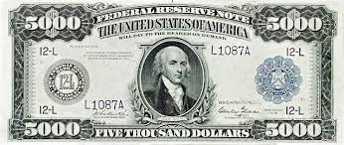 I hope this article has helped you think about investing in your DGI retirement portfolio (whether you are a millennial or not!). Speaking of investing, this Christmas, we plan to gift our daughter with $5,000 for investment in her Millennial Millions portfolio. Any thoughts on stocks we should buy with this money?
Disclosure: I am/we are long AAPL, ABBV, ABT, ADM, AMGN, AVA, BBL, BMY, CAH, CBRL, CLX, COP, CSCO, CVX, D, DEO, DIS, DLR, DUK, ED, EMR, EPD, GE, GILD, GIS, GPC, HCP, IBM, JNJ, KHC, KMB, KMI, KO, LEG, LMT, LNT, MCD, MMM, MMP, MO, MRK, MSFT, NEE, O, OHI, OMI, PEP, PFE, PG, PM, SEP, SO, SYY, T, UL, UPS, UTX, V, VTR, VZ, WEC, WPC, XOM. I wrote this article myself, and it expresses my own opinions. I am not receiving compensation for it (other than from Seeking Alpha). I have no business relationship with any company whose stock is mentioned in this article.