Unless you think the offshore drilling industry is doomed (see my article "Offshore Oil's Future and the Implications for Offshore Drillers" for my thoughts on why this is misguided), you have to think the recovery of the offshore drillers (OSDs) will come largely as a part of some combination of these three things:
Increase in oil prices.
Increased demand from OSDs' customers coming from a need to reinvest in their offshore portfolios. (Incidentally, this will probably come with an increase in oil prices.)
Reduction of OSDs supply through the attrition of rigs.
The first two of these really entail no pain on the part of the OSDs themselves; the third one, by contrast, is where the pain lay for the OSDs. In my article "Ensco: Worst-Case Valuation," I made my case for why I think Ensco has little downside risk at current prices. In that article, I imagined what I took to be the worst-case for this sort of pain for the offshore drillers – namely, that the industry would have to write down their assets by 50% to sufficiently reduce supply in order to return to peak day-rates and utilization. Having not actually done the same sort of analysis for the other four of the big five OSDs commonly presumed to have the best chance of surviving the current downturn (namely, RIG, RDC, DO, and NE), I made the following claim:
What I say here for Ensco should, in large part, be applicable (with the appropriate tweaks) to the others of the big-five offshore oil drillers as well.
While the intuition behind this statement is true (i.e., no current price for any of the big-five OSDs presents something like 80-90% downside in this sort of worse-case scenario), In this article, I will show that this claim was premature. In fact, as will be shown, only Noble Corp shares a similar downside-risk profile to Ensco relative to current prices amongst the big-five OSDs. This, in part (although not wholly, of course), speaks to my reasoning as to why I favor Ensco amongst the big-five OSDs.
Assumptions
Before getting into the valuations, it's important to note some of the assumptions I'm making:
The scrapping scenarios involved here would, ex hypothesi, rectify the supply/demand imbalance currently plaguing the OSD's and thus bring about a return to peak day-rates and peak utilization
I'm using all the same assumptions used in my "Ensco: Worst-Case Valuation" article to make the comparisons apples-to-apples. Again, the prior article might prove helpful if you'd like clarification on my rationale for these assumptions, as restating those rationales here would simply muddy up the vein of this article.
Valuations
Transocean (RIG)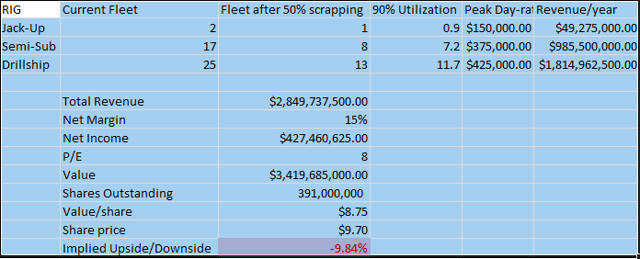 Source: Author-created from company filings and assumptions
Rowan Companies (RDC)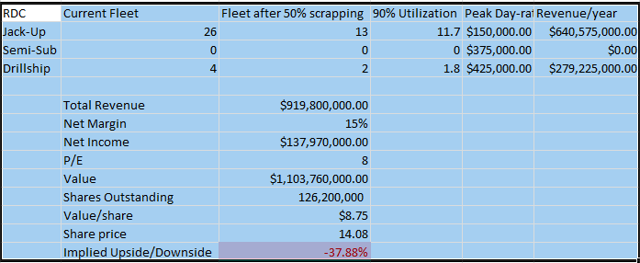 Source: Author-created from company filings and assumptions
Diamond Offshore (DO)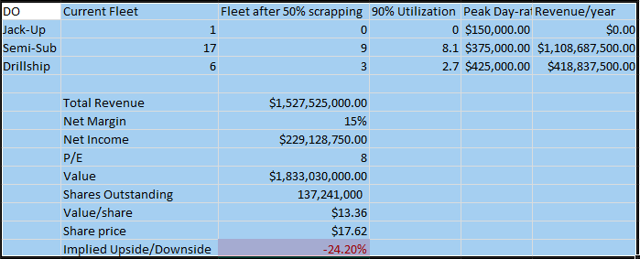 Source: Author-created from company filings and assumptions
Noble Corp (NE)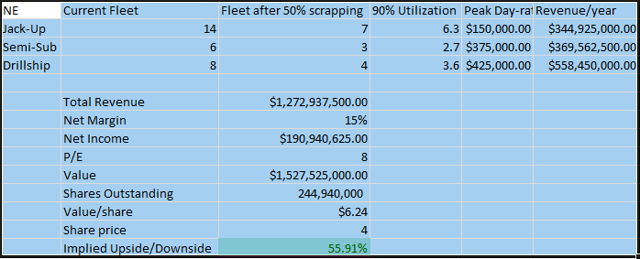 Source: Author-created from company filings and assumptions
Ensco (ESV)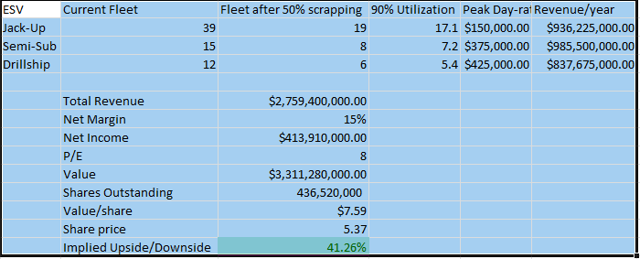 Source: Author-created from company filings and assumptions
Commentary
As we can see, on the basis of these sorts of analyses, Ensco and Noble seem to present the least down-side risk relative to current levels.
This analysis, of course though, is not holistic. It is not meant to be a portrayal of what I think is likely to happen in a recovery scenario for the OSDs. In fact, the scenarios presented are ones I consider to be highly unlikely, if not impossible. For one, this analysis makes no mention of whether the respective companies would be able to write down and scrap 50% of their rigs. In large part, one would need to jump into the company's filings and look at covenants on their debt into particular to get a better sense of possibilities in this regard. Additionally, speaking of debt, this analysis makes no claims as to how long the sort of scrapping process assumed would take, and in particular, if it played out over the course of several years, whether the companies in question would be able to make it through to the other side, in light of their respective debt positions. (As it should go without saying, investors need to get comfortable with the respective OSDs' debt positions relative to future outlook in order to get comfortable with the OSDs themselves as investments.) Instead, this analysis is simply meant to be a blunt tool, a stress-test of sorts providing some insight regarding the relative risk profiles of the big-five OSDs, given current market prices.
Disclosure: I am/we are long ESV.
I wrote this article myself, and it expresses my own opinions. I am not receiving compensation for it (other than from Seeking Alpha). I have no business relationship with any company whose stock is mentioned in this article.