In the business of networking systems for businesses and consumers, large names like Cisco (NASDAQ:CSCO), HP (NYSE:HP), and to a smaller degree, D-Link (OTC:DLINF), dominate on a global scale with market capitalization figures that dwarf that of Netgear's. Although appearing to be a smaller player in the market with a valuation of just under $2 billion, Netgear (NTGR) has carved out niches within the larger networking market with high end routers, IP cameras, and core switches. Recently, Netgear has developed technology including the Arlo Wi-Fi camera and the Nighthawk home router. Combined with strong financials, Netgear appears to be positioned for a comeback in 2018 after selling off nearly 20% through much of 2017.
Innovations in the Consumer Wi-Fi and Router Space Keep Netgear at Forefront of Industry
Netgear has placed greater focus on revenue streams from the retail consumer market in recent years, and the innovative consumer products that Netgear has developed has produced growth within these segments. Since 2014, Netgear's retail consumer market has grown at a compounded annual growth rate of 27% as Netgear builds out and develops its consumer offerings.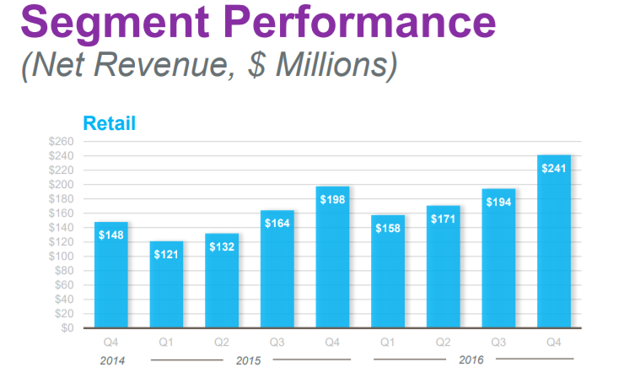 Source: Netgear Q4 2016 Presentation
The introduction of the Arlo Wi-Fi camera and further development and growth in sales of the Nighthawk router has placed Netgear ahead of its competitors in the consumer space.
The Arlo Wi-Fi camera is a $250 smart security camera that connects to mobile devices and the web. In 2016, Netgear shipped 3 million Arlo cameras to customers in 162 countries. Netgear has capitalized on the success of the original Arlo security camera and developed the Arlo Go, a portable version of the Arlo camera as well as the Arlo Baby. The Arlo Baby is a highly sophisticated camera system for monitoring children that comes equipped with music playing capabilities, night vision cameras, and air sensors. It retails for approximately $250.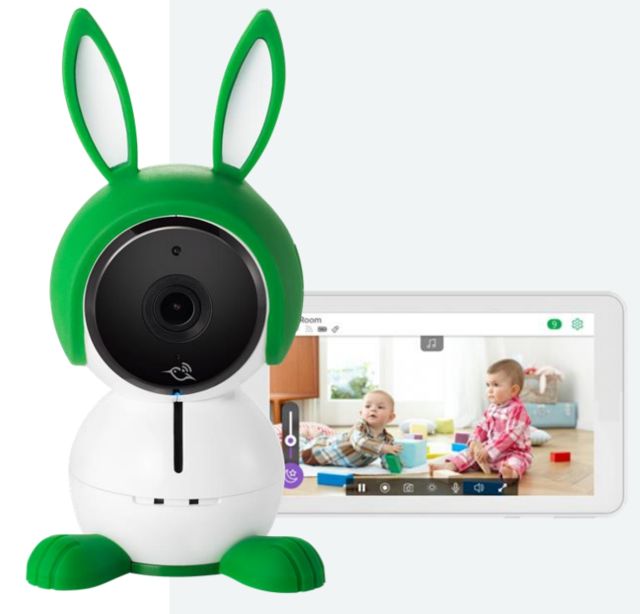 The Arlo Baby seeks to enter the monitoring space with an all inclusive system
Source: Netgear Q4 2016 Presentation
Netgear has also been revamping its Wi-Fi router systems with the Nighthawk router system. The Nighthawk router system has seen tremendous success as of late. In 2016, Netgear nabbed 21.9% unit router sales market share with its signature Nighthawk offering, increasing 3% from the previous year. It was only beat by competitor Cisco with 22.1% share; however, Cisco's share of the market actually fell 1.5%. Along with this, Netgear's router business has grown at a rate of 16% year over year and had 4 routers in the top 10 selling routers of 2016.
Despite Selloffs, Netgear Still Dominates Market Share
Competition from Google (NASDAQ:GOOG) (NASDAQ:GOOGL) Wi-Fi led to steep selloffs in Netgear stock over the course of 2017. Shares slid as much as 20% from January through November. However, optimism from the introduction of the Orbi Wi-Fi system to compete with Google Wi-Fi has helped to renew confidence in Netgear as the Orbi has shown to be up to 100% faster than the Google Wi-Fi system, though at a higher price point.
Netgear is still the dominant player in the Wi-Fi and router space, and at a valuation of just $1.8 billion, has much more room to run.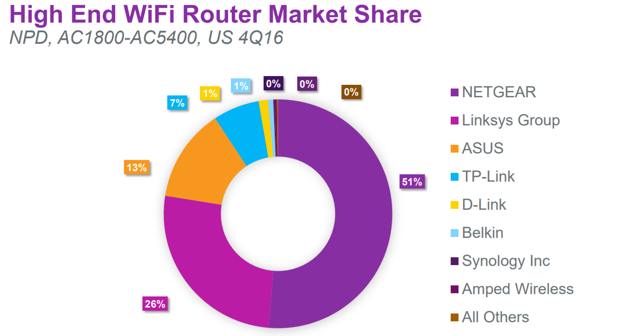 Netgear 2016 Q4 Presentation
As mentioned earlier, Netgear has entered the smart camera and Wi-Fi camera space with the Arlo and Arlo Baby. Many know of the popular Nest cameras, but Netgear is dominating Nest in the respective space.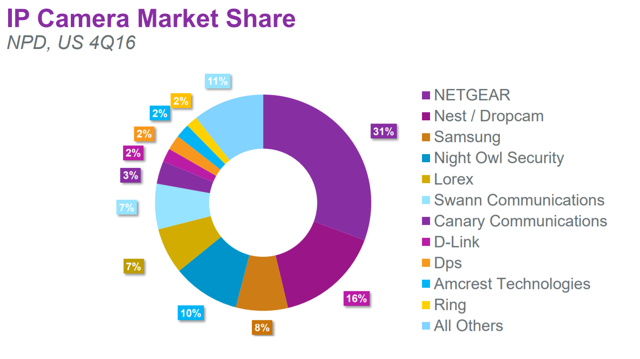 Netgear 2016 Q4 Presentation
As Netgear's signature routers continue to be top sellers, and Netgear continues to build out its smart camera brand, market share should be expected to be sustained or increased along with strong revenue upside in the future.
Improving Margins and Growing Profitability
It wouldn't be right to talk about Netgear's innovative products and market share without taking a look at the networking company's financials and how they've performed recently. Netgear has seen improvements in margins and growing profitability across its operations that presents the case for strong upside in the next 12 months.
Operating margins over the past two years were as low as 7% in 2015 but rose and maintained consistent margins between 11-12% throughout the 4 quarters in 2016. Netgear has also returned to high levels of profitability after seeing poor returns for its investors in the past two fiscal years. In 2015, earnings per share was 1.44 which rebounded to 2.25 in 2016 and is expected to stay pace through the final quarter in 2017.
As Netgear goes head to head with Cisco and other big players like D-Link, it has concentrated efforts on operations in America. Along with the improving margins in America, it has been able to significantly improve revenues in this market from the beginning of 2015, rising from $174 million in Q1 2015 to $254 in Q4 2016.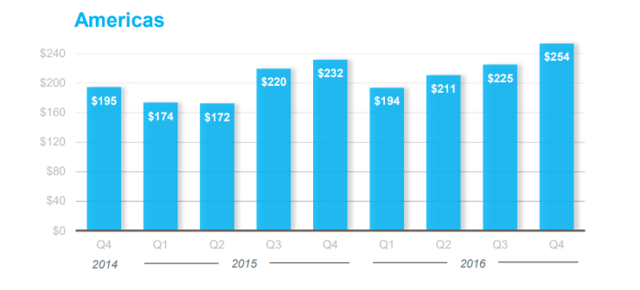 46% revenue growth in the American market for a company that dominates market share in its target operations is certainly interesting. Though an established player in the market, Netgear is still in a growth stage and could provide high returns on investment in the next few years. There are several takeaways from this deep dive into Netgear:
Netgear currently dominates a niche market with high end routers like the Nighthawk. This is expected to be sustained
Despite operating in a small niche market, Netgear's revenues are exploding at rapid rates recently. This is indicative that Netgear's new products including the Arlo cameras and Orbi home Wi-Fi are having success selling in the American markets.
Consumer demand for Wi-Fi enabled products continues to rise and with the introduction of smart technology into products like home cameras and Wi-Fi devices, Netgear has positioned itself to take advantage of demand and become the market leader for years to come.
Netgear's market capitalization is only $1.8 billion. With an already dominant market share and new product offerings into developing spaces, Netgear's valuation could soar in 2018 and beyond.
Despite a lackluster 2017, Netgear is a potential hit for 2018 that you should keep your eye on for your portfolio in the new year.
Disclosure: I/we have no positions in any stocks mentioned, and no plans to initiate any positions within the next 72 hours. I wrote this article myself, and it expresses my own opinions. I am not receiving compensation for it (other than from Seeking Alpha). I have no business relationship with any company whose stock is mentioned in this article.