I scanned the 2017 news roundup archives and no surprise, GAFA (Google (NASDAQ:GOOG) (NASDAQ:GOOGL), Amazon (NASDAQ:AMZN), Facebook (NASDAQ:FB), Apple (NASDAQ:AAPL)) was the most covered topic.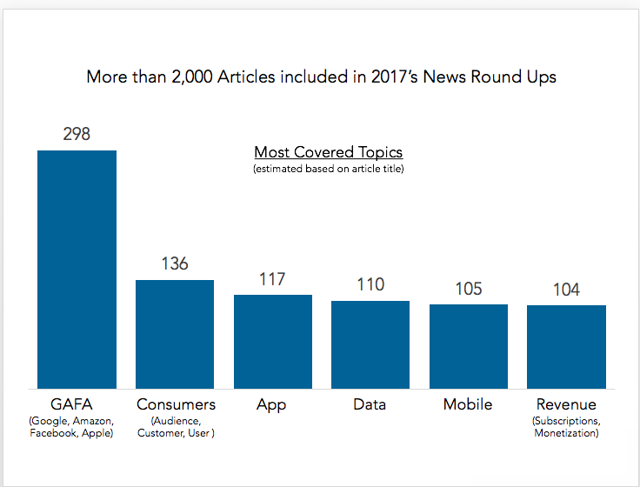 These tech behemoths have invaded our personal and professional lives, they have transformed the media business, and they are tipping into the finance space.
According to Swati Bhatt, a Princeton professor who teaches a course on the Economics of the Internet, the advantage these behemoths have is ownership of personal data. The data is self-reinforcing - as a firm transacts, it acquires data; that data is used to customize products and advertise, and this leads to more customers and more data.
Data was the fourth most covered topic in the 2017 roundups; but given its value as it relates to revenue, customers, and the undue power GAFA has across industries and globe, it merits being the most important point of discussion. I look forward to sharing more with you in 2018.
Best wishes for the holiday season and the new year.
GAFA
Other Interesting Reads from the Past Week
The 2017 archives
Media_Tech_News_2017_Archive.pdf
Disclosure: I/we have no positions in any stocks mentioned, and no plans to initiate any positions within the next 72 hours. I wrote this article myself, and it expresses my own opinions. I am not receiving compensation for it. I have no business relationship with any company whose stock is mentioned in this article.