Numerous articles on SA, such as this one, have recommended following the buy-and-hold strategy. This is not surprising, as the strategy has worked well for some investors in the past while it offers them some attractive benefits. Nevertheless, the buy-and-hold strategy has become quite risky in the last few years. Therefore, in this article, I will analyze why investors should not implement it to individual stocks.
First of all, the proponents of the strategy claim that the strategy excludes the negative impact of human emotions from the investing process. It is well documented that most investors, both professional and individual, are greatly influenced by their emotions. Consequently, they purchase stocks when the market is euphoric and sell their holdings when there is blood in the streets. In this way, the vast majority of investors pronouncedly underperforms S&P. Therefore, the buy-and-hold approach, which leaves emotions out of the picture, protects investors from selling low and buying high.
Moreover, this strategy is characterized by very few transactions and thus drastically reduces the commissions and fees. While these expenses may seem benign in the short term, they actually hurt the long-term returns to a great extent. In addition, the buy-and-hold approach saves investors numerous precious hours, as they do not need to continuously monitor all their holdings and read every piece of news related to them. All these advantages render this strategy quite attractive. That's why I have heard many friends saying that all they want is to buy some stocks and keep them in the drawer for the next two decades. Unfortunately for them, while this method was viable in the past, it has become extremely risky in the last few years.
Technological progress has become so fast that it can completely change the business landscape of a whole sector, let alone a single company. To be sure, the great technological advances in shale oil production led the price of oil to collapse to $26 early last year. While the price of oil has now recovered almost half of its losses, its earlier collapse indelibly affected numerous companies. For instance, many shale oil producers and off-shore drillers were led to bankruptcy while others, such as Ensco (ESV), significantly diluted their shareholders. Therefore, although the oil price has retrieved a significant portion of its losses and may remain in an uptrend for years, many companies will not have the opportunity to benefit from the rebound. Those who remained invested in off-shore drillers for their excellent past performance have now incurred losses greater than 90% off the peak.
Apart from the oil sector, technological progress has greatly affected most other sectors, including the retail sector. Amazon (AMZN) has expanded beyond any expectation and has thus pushed numerous retailers in distress. Investors should also realize that competition has heated to the extreme in almost every sector. Consequently, companies that used to grow consistently in the past now strive to prevent their earnings from free falling. For instance, Bed Bath & Beyond (BBBY) enjoyed excellent growth for two decades, from 1993 to 2013, and thus its stock rallied about 6000% during that period. However, competition has become cut throat in its business in the last few years. As a result, the company has seen its earnings and its stock plunge 50% and 70%, respectively, in the last four years. As a result, those who did not bother to monitor the changing business landscape of the company have incurred great losses, in a period in which the broad market has enjoyed a great rally.
Investors can also realize the great risk of the buy-and-hold strategy by checking out the trajectory of many other retailers, such as J.C. Penney (JPC) and Office Depot (ODP). Both retailers had enjoyed exceptional growth for two decades but their stocks have plunged more than 90% during the last decade. In a similar fashion, Sears Holding (SHLD) has lost 97% during the last decade while Macy's (M) has lost 65% off its peak in 2015. Fossil (FOSL) is a similar case. The stock had offered excellent returns for two decades, as it had steadily advanced from $2 in 1993 to $127 in 2013. However, at that point, the company started to feel the heat of the Apple (AAPL) watch and its stock has dived 95% since then, in just 4 years! All these seemed to be excellent buy-and-hold companies, as they had offered admirable returns to their long-term shareholders for at least two decades. However, the increasing competition completely changed their trajectory and resulted in excessive losses for their shareholders.
A striking feature from the above cases is the fast rate at which the capital gains earned in decades can evaporate. It took Bed Bath & Beyond 13 years to advance from $20 to $80 but only 4 years to return to $20. In a similar way, it took Fossil 13 years to advance from $7 to $127 but only 4 years to return to $7. In other words, the downtrend tends to be much steeper than the uptrend and thus erases profits of decades in a matter of a few years. As a result, buy-and-hold investors run the risk of seeing profits of decades evaporate within a short period. It is certainly a great mistake to fail to react and let the profits of decades disappear. Moreover, it is a shame to be invested in the stock market for decades and make so poor returns.
Even worse for the buy-and-hold strategy, all the above examples come from the US stock market and hence they constitute the light version of the consequences of this strategy. International buy-and-hold investors have suffered much more than US investors. To be sure, those who invested in the Japanese stock market 3 decades ago are still in the red, as Nikkei is still about 40% below its 1989 peak. Moreover, there are numerous Greek investors who have remained invested in the four major Greek banks. These banks offered exceptional returns for more than two decades, until 2009. However, the country went bankrupt that year and hence these banks have diluted their shareholders to the extreme at least twice in the last few years. As a result, their stock prices have essentially approached zero. Therefore, those who put these stalwarts of the past in the drawer have essentially lost all their invested capital.
The above-mentioned fierce competition also has some other implications. While many companies functioned as cash cows of their established products in the past, they now have to launch numerous products every year only to maintain their market share. General Mills (GIS) is a great example. While the food stalwart grew relentlessly for more than three decades and without any break, it has failed to grow its earnings in the last five years. In fact, its revenues and earnings are in a sustained downtrend during this period. The most striking aspect is the fact that the company has an exceptional R&D department and has thus launched several hundreds of new products in this period. Even this army of new products has proved insufficient to save the company from experiencing falling revenues and earnings. This simply confirms that competition has become so relentless that even the best-of-breed companies find it increasingly hard to defend their market share and profit. It is also worth noting that the launch of numerous new products comes with many inefficiencies in the form of higher production and marketing costs, as it is much more efficient to produce a few all-star items than hundreds of products.
The example of General Mills is also the response to those who claim that the buy-and-hold strategy has offered excellent long-term results in the case of dividend aristocrats, such as Coca-Cola (KO) and Procter & Gamble (PG). While these stocks indeed offered spectacular returns in the past, they have failed to meaningfully grow in the last five years. Part of this failure can be attributed to their own past success, as they have grown so much that it is almost impossible to keep growing at a fast pace. Moreover, these stocks are trading at remarkably rich P/E ratios, far above 20. Therefore, due to the absence of growth and their rich valuation, these stocks are likely to continue to underperform the market by a wide margin, just like they have in the last four years. For instance, Coca-Cola and Procter & Gamble have appreciated 22% and 33%, respectively, in the last five years, while S&P has rallied 83%.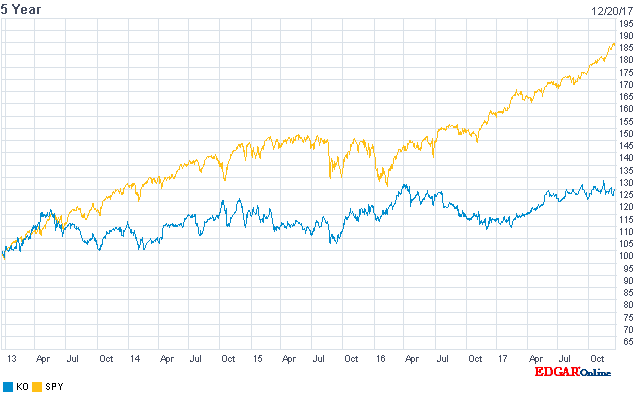 Given the above, investors should not buy some stocks and forget about them. Instead they should continuously monitor all their holdings to make sure that their growth prospects are intact and their debt remains at a comfortable level. They should also evaluate on a regular basis whether the technological advances and the heating competition are likely to permanently hurt the business model of each stock of their portfolio. If they conclude that this is the case, they have to sell their stock and find a new one, with better prospects. As this approach requires a great amount of time and effort, Buffett has repeatedly stated that most investors will be much better served to purchase a low-fee ETF of S&P, such as the SPDR S&P 500 ETF (SPY).
To sum up, the buy-and-hold strategy has become too risky to implement on individual stocks. Technological progress is so fast and competition has become so fierce in almost every sector that investors should continuously monitor the prospects of their holdings. Otherwise, they are likely to experience unpleasant surprises on a regular basis, just like the shareholders of numerous stocks, which used to thrive in the past but have now lost their edge. This does not mean that the followers of the buy-and-hold approach cannot achieve decent returns. However, it does mean that they are very unlikely to outperform S&P.