In recent years, the growth of major tech companies has been such that their systemic importance has grown dramatically. This has been reflected in their market performance, which has consistently outpaced the major U. S. indexes. In 2017, especially during the first half, the degree of tech outperformance became considerably more pronounced. As a result, traders, investors, as well as policymakers, are beginning to wonder the implications of this phenomenon.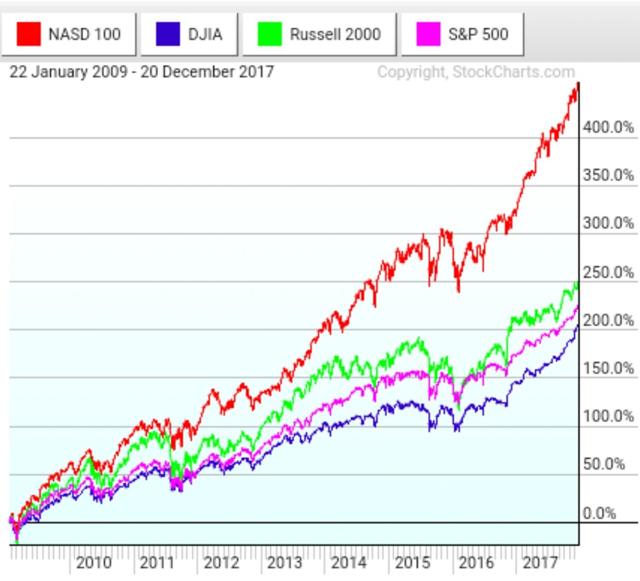 As an illustration of the precipitous rise in market power --both on a relative and absolute basis-- of Big Tech, earlier this year Jeff Bezos climbed to the top of the list of the world's ten richest people, with his net worth soaring by an eye-popping $33 billion to $98.6 billion. This should primarily be attributed to the 52 percent gain in the price of Amazon's (NASDAQ:AMZN) stock. Two other notable beneficiaries of this year's tech rally were Mark Zuckerberg, who became $23.6 billion richer as a result of Facebook's (NASDAQ:FB) nearly 50 percent rally, and Ma Huateng, the chairman of Tencent Holdings (OTCPK:TCEHY) (OTCPK:TCTZF), whose net worth nearly doubled to $44.3 billion, following Tencent's explosive run.
In all three cases, the common denominator was the warm embrace by investors of a brilliant strategy that has been spearheaded by ambitious disruptive services, which resulted in quarterly results well above consensus expectations. More importantly, their outstanding track record of self-disruption --in other words their success in systematically reinventing core elements of their presence in a way that transforms their sector-- is paving the way for even faster expansion in coming years.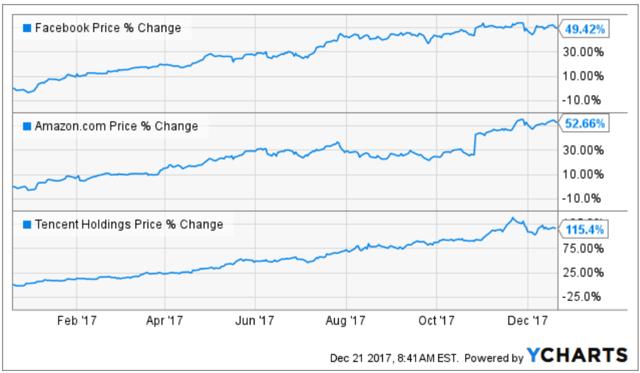 The notable consistency with which companies such as Amazon and Facebook have been surpassing earnings expectations, delivering steady and surprisingly robust earnings growth, underscores three consequential facts. First, it illustrates the growing consumer demand for the rapidly expanding universe of tech products and services. It provides concrete evidence regarding the willingness and ability of tech leaders to continuously adapt and evolve through innovation that genuinely empowers consumers, in many ways liberating and enhancing so many aspects of their lives. And, crucially, in doing so on a massive scale, they demonstrate their significance for the economy and, thereby, their systemic importance.
Nonetheless, market participants continue to face a perplexing conundrum when it comes to the sustainability of the tech sector's longer-term growth potential and how that relates to current valuations. For example, is it warranted for Amazon, despite its stellar rise, to be trading at almost 300x earnings?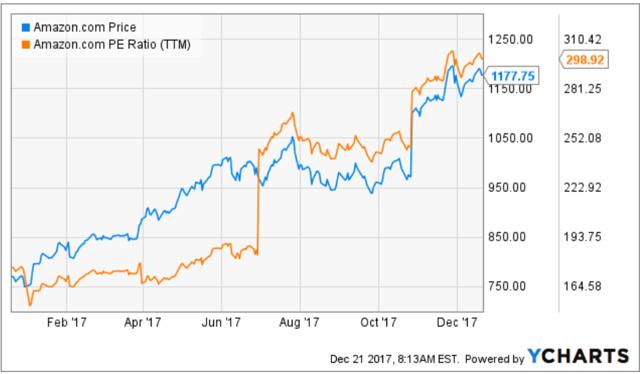 While a definitive answer to this question remains elusive, the prevailing argument is that tech giants have time and again proven their ability to develop breakthrough product offerings that utilize new technologies sufficiently disruptive to redefine their respective sectors. In turn, this phenomenon results in unlocking new, untapped sources of demand that infallibly functions as a durable earnings growth propellant, while unleashing a transformative effect on a number of other diverse industries that further stimulates growth in a self-reinforcing manner.
One decisive, albeit often overlooked, factor that has underpinned the remarkable progress of major tech companies in recent years is the broad range of free services they provide, accelerating the adoption process and facilitating the penetration of new industries. This remarkable pace of expansion is, in large part, why investors remain so confident in the ongoing growth of tech firms' profitability over the longer term. Having said that, the tech sector's impressive and persistent market outperformance may currently represent its Achilles' heel. Namely, the level of leverage and speculative positions is still alarmingly high, despite the minor corrections we had in the second half.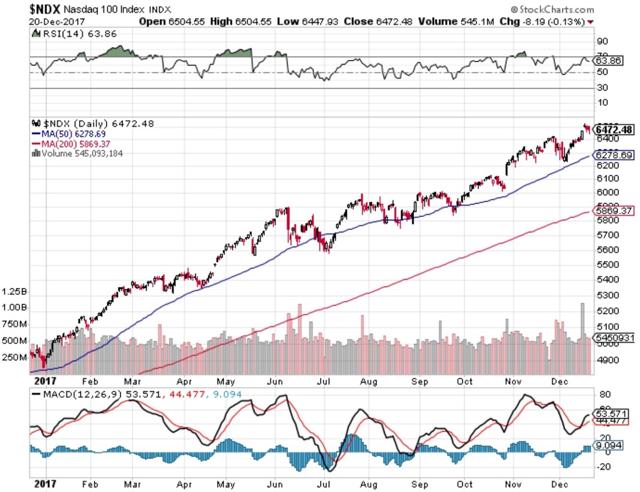 It is clear that the volatility spike we witnessed in June, which followed the Fed's warning about excessive valuations in certain market segments, has failed to derail the ongoing tech rally. In fact, from a purely technical perspective, the rally remains very much alive. Its momentum may have been weakened, but this will not necessarily translate into an imminent decline. It does, however, increase the likelihood of a substantial correction in coming months, especially if we factor in the broader market context. Let us not forget that U.S. indexes have climbed to record highs at a nearly unprecedented pace and with ultra-low volatility. As a result, a possible reversal could be rather sharp, inflicting deep market damage in a relatively short time span.
It remains to be seen whether 2018 will mark the end of this historical run. Even if market turbulence does materialize and tech stocks decline, it will likely be nothing more than a transitory unwinding of an overwhelmingly crowded trade. The long-term prospects and broader significance of the tech sector as a credible pillar of the global economic recovery will likely remain intact. What is more crucial is the extent of the industry-wide transformation that will take shape after the eventual realization of the growing responsibility that stems from the tech sector's phenomenal rise in market power and economic strength.
Disclosure: I/we have no positions in any stocks mentioned, and no plans to initiate any positions within the next 72 hours. I wrote this article myself, and it expresses my own opinions. I am not receiving compensation for it (other than from Seeking Alpha). I have no business relationship with any company whose stock is mentioned in this article.
Editor's Note: This article discusses one or more securities that do not trade on a major U.S. exchange. Please be aware of the risks associated with these stocks.