Summary
Lenders are amortizing a car loan similar to a balloon payment on a mortgage, on depreciating asset.
Nearly anyone can receive approval for an auto loan, and they're borrowing more than they can repay.
Auto loan write-offs are escalating rapidly, and auto loan debt is at an all-time high.
Financial organizations are being paid a fee for servicing these loans, but hold no risk as AFG is insuring and backing these loans.
ABS's are receiving Aaa ratings from Moody's,with very poor subprime loans wrapped in.
As we are in the second longest bull market in US history, currently spanning over 105 months, many individual investors are forgetting, or are unaware of, the destruction that occurred during the most recent crash, the Housing Crisis. Many individual investors, and even some professional money managers, have never had to manage their investments in a bear market, as we have been in a bull market for over eight years now. The investors that have joined the market since 2008 have only been involved in one of the greatest bull markets in US equity markets history. This strong bull market run has lead to very low unemployment and wage growth, which has propelled auto sales to all-time highs. With individuals having steady, stable employment for a longer period of time, and growing salaries, many are purchasing new vehicles (CARZ), if not two new vehicles, leading to a similar situation we experienced during the Housing Crisis.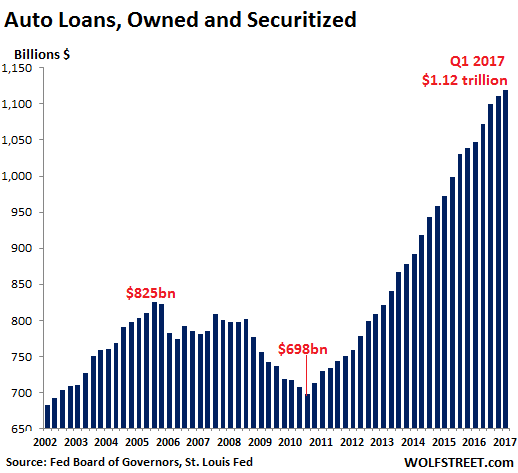 Purchasing vehicles in and of itself is not a bad thing; if the majority of these vehicles were purchased with cash, there would be no issues. However, many individuals are borrowing money that they cannot afford to pay back, which creates a big issue. These days, nearly anyone can get approved for an auto loan; you cannot watch TV or drive by dealerships without seeing advertisements similar to this one:

These ads are everywhere, and people are taking advantage of them. It's not only these types of loans that are adding to the issue, it's relaxed lending standards at financial institutions. I spent three years as a Loan Officer at a bank and I was able to witness this first hand. When I first joined the bank, we would verify income, employment history, and use other financial metrics to determine a borrower's credit worthiness. As time went on, new programs were instituted; we began issuing auto loans to individuals by just checking their credit score. If their score was over a certain number, a set threshold, they were automatically approved and granted a loan based on their income. Then, the lending standards lessened even further. We began issuing "Auto Checks", where an individual could apply for a loan and receive a blank, certified auto loan check to take to any dealer to purchase a vehicle. The borrower did need to meet certain criteria, but nonetheless, we were issuing blank checks to individuals to go on a shopping spree to their local car dealership. The check would have a small note on it stating the limit (i.e. "Not valid over $50,000"), but the borrower was allowed to spend any amount up to the limit, on any car less than 12 years old. "No doc loans" were very common during the Housing Crisis, and it seems as if they may be making a comeback with auto loans. According to Moody's, Santander (NYSE:SAN), a top subprime auto lender, verified income on only 8% of loans.
This being said, banks do not appear to be the main issue here; it seems to be finance companies, and private equity. Similar to mortgage brokers during the Housing Crisis, finance companies are issuing significant amounts of subprime auto loans, as you saw in the ad above.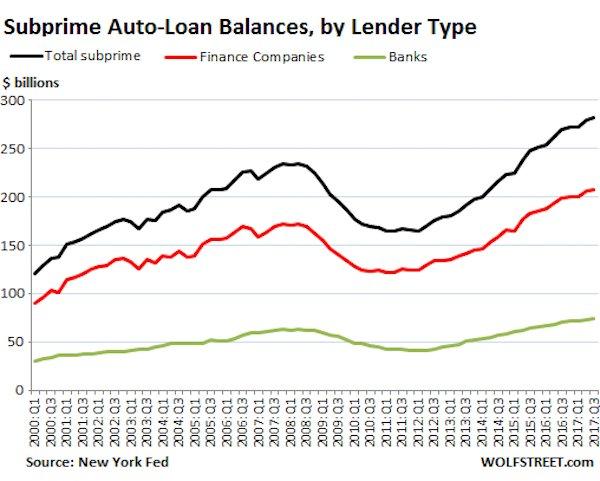 Delinquencies
With individuals borrowing more than they can repay, on more expensive cars, their inability to continuously make their payments will eventually come to light. It is not only that individuals are borrowing more than they can pay, but subprime borrowers, on average, are borrowing more than 100% Loan-to-Value (LTV) - more than the car is worth. Thankfully these LTV levels haven't quite hit the Housing Crisis levels yet, but they are hovering steady around 115%. This is not only an issue for the borrower, but also the lender. With the subprime LTV's above 100%, the lender will like lose a significant amount of the collateral once it is repossessed and sold.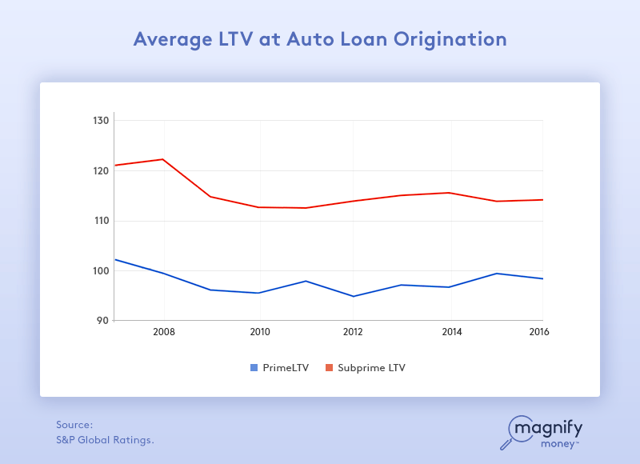 As time passes, individuals ability to pay their loans will decrease and delinquencies will rise. It seems this is materializing now. Delinquency rates have significantly risen since 2012 and are at the same levels as the last credit crisis (Housing Crisis).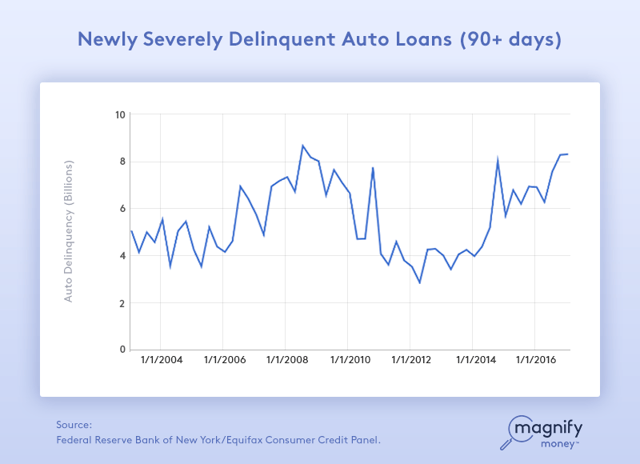 Financial Products
As we had during the last credit crisis, the Housing Crisis, Wall Street bankers were creating new financial products to profit even more. A similar situation is playing out today with auto loans.
Balloon Payment Car Loans
A company called Auto Financial Group has created a new financial product to go along with the trend of increasing numbers of auto loans. They are now amortizing a car loan, similar to a balloon payment on a mortgage.

Source: Auto Financial Group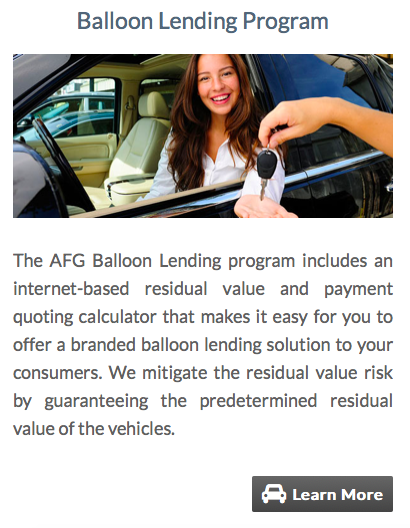 Source: Auto Financial Group
May I remind you, this is horrible because the car serving as collateral for the loan is a significantly depreciating asset. At least with homes, they usually increase in value. However, with cars, it will significantly depreciate in value the moment you drive it off the dealership lot, and more as the years pass.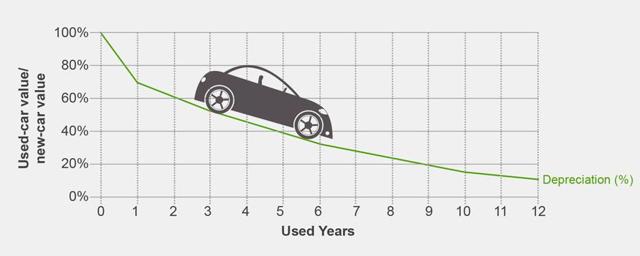 Source: Fidelity
As in 2007, many individuals did not completely understand the MBS's, CDO's and ARM mortgages they were signing up for. It's similar now; many individuals are unaware of how these balloon payment auto loans work. ARM (Adjustable Rate Mortgages) caught the interest of many borrowers, as they provided lower monthly payments. It is the same situation for balloon payment auto loans. Borrowers are intrigued by the lower monthly payment upfront, but don't understand the "balloon payment" aspect at the end. If you look at the chart above and below, you can see that your car loan balance will likely be higher than the value of your car, almost until your car is completely paid off. That is assuming they start off at 100% LTV - if the loan started off above 100% LTV, as many subprime loans do, this relationship will prove even worse. These two graphs also do not take into consideration the lower monthly payment (and therefore lower principal payments), which widens the gap between the car loan balance and the value of the vehicle. This relationship causes you to be stuck in this loan until maturity, unless you are willing to rollover the difference between your loan balance and trade-in value on a new car, at which point you would have an even higher LTV on your new loan. Also, once the balloon payment comes, that amount alone can be more than your car is even worth. But don't worry, if you don't want to make the balloon payment at the end of your initial loan (after you've already paid your monthly payment for 4-5 years), Auto Financial Group (AFG) will take the car from you and forget the balloon payment was due. You also have the option to refinance the remaining balance (balloon payment), which would lock you into another loan term, for the same vehicle. Directly from AFG's website, they state, "Borrower can choose to surrender vehicle to AFG at loan maturity in lieu of paying the final balloon installment … plenty of options at the end of the term, including: refinance remaining balance and keep the vehicle, pay remaining balance in full and keep the vehicle, trade vehicle in to a dealer, return the vehicle and walk away."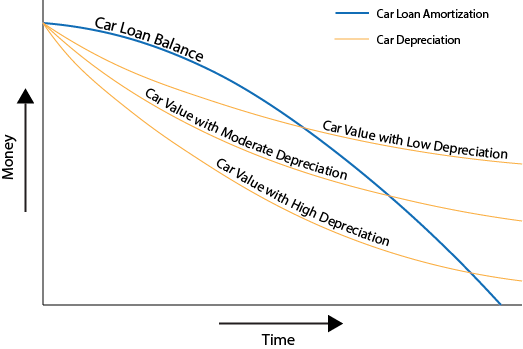 On top of all of this, financial organizations (banks and credit unions) are being paid a fee for servicing these loans, but hold no risk as AFG is insuring and backing these loans. Directly from the AFG website, "100% of the residual value is guaranteed to your financial institution by AFG on new and used vehicles … No end-of-term hassles - Auto Financial Group handles disposition of the vehicle." This is eerily similar to what was occurring with mortgages during the Housing Crisis. AFG is touting many benefits to the lender such as, "AFG's Balloon Lending program positions your financial institution to recapture consumer loans currently being lost to competitive residual based financing products … increase service offerings to your borrowers and better compete in the auto-financing market … more interest income for your financial institution due to higher average daily balances … and is a market differentiator that drives vehicle loans to help grow auto loan portfolio." All of these benefits, and 100% residual value guarantee, banks and credit unions are happy to offer these products to their customers and members. One of the benefits to the banks and credit unions proves this is not ideal for borrowers, 'more interest income for your financial institution due to higher average daily balances,". Sure, that is good for the financial institution, but paying more interest is not good for the consumer.
Asset Backed Securities (ABS)
Sound familiar? Well, they are very similar to Mortgage Backed Securities (MBS). Moody's recently analyzed a $1 billion portfolio of Santander ABS's. Not only did they find that they only verified income on 8% of subprime loans, but they also found they were issuing loans with no credit scores, no co-signers, high LTV's, longer maturities and more used cars." These ABS bonds were rates as high as Aaa. Some institutional investors had even purchased some of these bonds, similar to the Housing crisis, such as Mass Mutual Life Insurance. Santander is not the only one following this path. A General Motors (GM) subsidiary, AmeriCredit, was found to be doing the same thing as Santander on about 64% of their loans.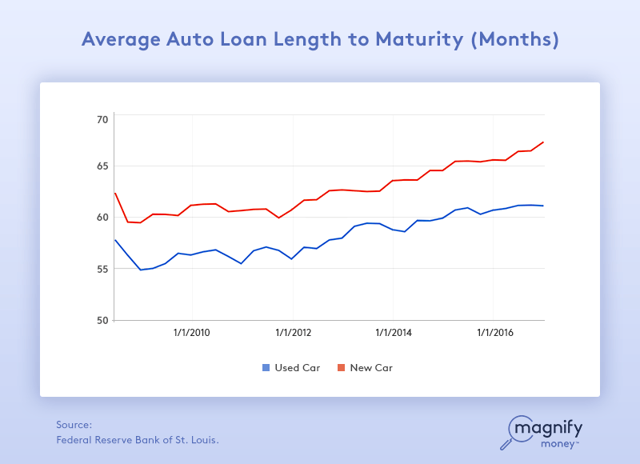 UBS (NYSE:UBS) stated, "About 20% of auto loan borrowers had admitted on a survey that their loan applications contained inaccuracies … suggesting loan fraud could be an even bigger problem than lenders are prepared for."
As for issuing the ABS's, JP Morgan (JPM) and Wells Fargo (WFC) have a significant portion of the market share. "As issuance volume rises in the bonds, Wells Fargo is growing along with the market, and JPMorgan is growing faster. Wells Fargo's market share for underwriting subprime auto bonds was around 23.5 percent in the quarter, about the same as for all 2016, according to Bloomberg data. JPMorgan's was 16 percent, up from 14.6 percent for all last year."
As the delinquencies discussed above continue to increase, this will have a trickle down effect to the ABS's, the issuing banks and ABS investors.
Conclusion
Although much of this is very concerning, it will likely not have the same magnitude of destruction in financial markets as the Housing Crisis did. Wall Street banks likely will not be hurt as bad as before, but other smaller finance companies may, as they are the ones actually issuing the loans. Investors who buy these ABS's are also at risk. As explained on American Banker, "The risks to Wall Street firms from subprime auto bonds are smaller. Big banks provide lines of credit to finance companies that make subprime loans, but these tend to be a small part of major firms' balance sheets. The auto loan bond market is much smaller, too: there were just $192.3 billion of securities backed by auto loans, including prime and subprime, outstanding at the end of March according to the Securities Industry and Financial Markets Association, compared with around $8.9 trillion of residential mortgage bonds at the end of last year … Banks might not get hurt much by subprime auto securities, but for investors who buy them, the risks are growing. Subprime borrowers are falling behind on their car loan payments at the highest rate since the financial crisis. General Motors Co. expects car prices to drop 7 percent this year and auto lender Ally Financial Inc. reported last month that prices fell that much during its first quarter, so the value of the loans' collateral is dropping. Even Wells Fargo's analysts who look at bonds backed by car loans cautioned in March that it may be a good time for investors to cut their exposure … demand for subprime auto securities has been strong as investors clamor for debt that offers higher yields than Treasuries. Total issuance jumped to $7.1 billion in the first quarter from $5.9 billion in the same quarter last year, according to data compiled by Bloomberg … at least one Wall Street bank has steered clear of underwriting bonds backed by subprime auto loans"
The auto loan subprime market likely is not big enough to derail the financial system as the subprime mortgage crisis almost did, but it could be big enough to push equity markets into a correction. If these ABS's begin to fail, auto loan sales will likely decrease, causing financial lenders Credit Acceptance Corporation (CACC), Bank of America (BAC), dealerships Carmax (KMX) AutoNation (AN), auto manufacturers Ford (F), GM, Toyota (TM), Honda (HMC), parts manufacturers and auto part retail stores AutoZone (AZO), Advance Auto Parts (AAP) and O'Reilly Automotive (ORLY) to suffer. Now may be a good time for investors to check, and adjust, their exposure to any of these industries, or remove themselves from their ABS positions, if any are held.
Additional Disclosure: Everything included in this article is not to be taken as investing advice because we are not investment advisors. Also, we have not considered your specific situation as your fiduciary. Investors are expected to do their own due diligence before making any investments, and should consult with an investment professional who knows their objectives and constraints.
The opinions and any recommendations expressed in this commentary are those of the author. None of the information or opinions expressed in this article constitutes a solicitation for the purchase or sale of any security or other instrument. Nothing in this commentary constitutes investment advice and any recommendations that may be contained herein have not been based upon a consideration of the investment objectives, financial situation or particular needs of any specific recipient. Any purchase or sale activity in any securities or other instrument should be based upon your own analysis and conclusions. Past performance is not indicative of future results. The information contained in this report does not purport to be a complete description of the securities market, or developments referred to in this material. The information has been obtained from sources considered to be reliable, but we do not guarantee that the foregoing material is accurate or complete. Any information is not a complete summary or statement of all available data necessary for making an investment decision and does not constitute a recommendation. Expressions of opinion are as of this date and subject to change without notice.
Disclosure: I/we have no positions in any stocks mentioned, and no plans to initiate any positions within the next 72 hours. I wrote this article myself, and it expresses my own opinions. I am not receiving compensation for it (other than from Seeking Alpha). I have no business relationship with any company whose stock is mentioned in this article.