Dave Dierking, CFA, is an analyst and writer focusing primarily on ETFs, mutual funds, dividend income strategies and retirement planning. He was also included in the panel for ETFReference.com's "101 ETF Investing Tips from the Experts". He is a top author in the mutual funds and ETF space on Seeking Alpha and has been contributing articles since 2012.
Earlier this month, Seeking Alpha Editor Carolyn Pairitz Morris, reached out to Dave to get his take on the past year in ETFs, and what he is watching out for in 2018.
Carolyn Pairitz Morris: Goldman Sachs issued a report in October stating that "investor demand for equity ETFs could climb from an expected $300 billion this year to $400 billion next year." What does this figure mean to you as a current ETF investor? How about as an author covering ETFs?
Dave Dierking: It means, quite simply, that investors are looking for the cheapest investment options possible, and the ETF marketplace is providing them. The recent Brown Brothers Harriman study, which found that 64% of survey respondents viewed the expense ratio as the most important factor in choosing a fund, confirms this.
Let's look at this in a real life example. Consider the flows for the three biggest S&P 500 ETFs - the SPDR S&P 500 ETF (NYSEARCA:SPY), the iShares Core S&P 500 ETF (NYSEARCA:IVV) and the Vanguard S&P 500 ETF (NYSEARCA:VOO) - for the first 11 months of 2017.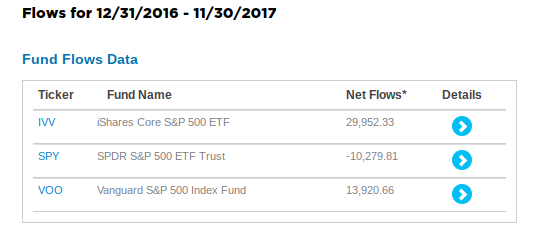 IVV and VOO have taken in more than $43 billion combined, but SPY has seen $10 billion leave. What's the difference between these funds? IVV and VOO charge 0.04%, while SPY charges 0.09%. Even if the difference is small, just a couple of basis points, investors are almost universally choosing the cheaper option. The ETF industry has been great in offering investors an easy way to invest in just about any segment of the market, but expenses are going to be the biggest driver of fund flows in 2018.
As an author, my readers are following the same trend. They're getting smarter about controlling fees and generally favor the cheaper option when filling out their own portfolios. Even an expense ratio of just 0.30% is considered expensive in the minds of many investors nowadays.
CPM: What types of ETFs should investors focus on in a rising interest rate environment?
DD: When asked what sector should perform best in a rising rate environment, the answer is usually financials. On the equity side, I'd probably lean in that direction as well, but I'd favor the regional banks since they tend to be more of a pure play on a rate rise. The biggest ETF in this area is the SPDR S&P Regional Banking ETF (NYSEARCA:KRE). Smaller banks could see bigger proportional benefits, so investors willing to take on a little more risk might consider the PowerShares S&P Small Cap Financials ETF (NASDAQ:PSCF).
On the fixed income side, investors will want to favor shorter durations. I like the Vanguard Short-Term Corporate Bond ETF (NASDAQ:VCSH) and its 2.3% yield. It's got some rate risk exposure, but enough to put your income portfolio at significant risk. The iShares Floating Rate Bond ETF (NYSEARCA:FLOT) is another option for more risk-averse folks. Since the rates on the bonds it holds adjust regularly, it carries almost no duration risk. The yield has been steadily on the rise over the past couple of years and now stands at 1.5%.
There are also three rising rate ETFs that are worth mentioning because they all have very different ways of investing. The Fidelity Dividend ETF for Rising Rates (NYSEARCA:FDRR) sounds like a good proxy, but the prospectus states that only 10% of the fund's factor weighting is based on correlation to 10-year Treasury yields. FDRR is a dividend ETF more than anything. The ProShares Equities for Rising Rates ETF (NASDAQ:EQRR) chooses stocks based solely on their correlation to 10-year Treasury yields, so it has more of the look that you'd expect. The Sit Rising Rate ETF (NYSEARCA:RISE) uses options and futures to achieve a -10 year duration.
CPM: What's your take on cryptocurrencies funds that are either actively trading or may one day launch, has that opinion changed since the first filing for Winklevoss Bitcoin ETF (COIN) in 2013? (Welcome to open the question up about cryptocurrencies further if interested)
DD: The Winklevoss Bitcoin ETF was always facing an uphill battle, because, if there's one thing that we've learned this year with respect to cryptocurrency funds, it's that the SEC doesn't like products that it doesn't regulate. That's why the launch this month of bitcoin futures contracts on the CBOE is so important.
All three proposals for an ETF that would store actual bitcoin have been rejected by the SEC (note: the Bitcoin Investment Trust (OTCQX:GBTC), which currently trades over-the-counter, applied to be listed on the NYSE Arca exchange and, essentially, trade like an ETF, but the filing was withdrawn after it looked very unlikely it would get approved, so it continues to trade in the OTC market for now). In each case, the SEC said it was uncomfortable with the potential for manipulation and the lack of regulatory oversight. Until the SEC gets more comfortable, it's unlikely we'll see the Winklevoss Bitcoin ETF in its current form ever get approved.
A bitcoin ETF based on bitcoin futures, however, is a different story. There are already dozens of funds based on futures contracts, so there's a much better understanding of how they would work. The SEC will likely give it a little time to make sure that the futures don't encounter any major problems, but I think we're looking at a bitcoin futures-based ETF getting approved by the middle of 2018 and, more likely, around the end of the first quarter. And, yes, we'll probably be getting triple-leveraged bitcoin ETFs as well.
I'm not going to get into the game of trying to figure out where the price of bitcoin is headed, but I will say that a bitcoin ETF, which would open up the bitcoin market to a much wider audience, will only increase demand for cryptos.
CPM: When speaking at a Bank of England conference in September, Allianz chief economic advisor, Mohamed El-Erian, stated: "Risk has become embedded into the system as to the proliferation of instruments that look extremely attractive, because they are very cheap - ETFs - but are overpromising liquidity in inherently illiquid asset classes." What are your thoughts on this quote and the concerns that ETFs might cause a bubble?
DD: I think he's right. In most cases, investors can buy and sell ETFs without any issue, but history has shown us more than once that there can be big trouble if liquidity dries up. Look at what happened to the Third Avenue Focused Credit Fund (MUTF:TFCIX). Investors scrambled for the exits as the junk debt that the fund loaded up on started going south. In order to meet redemption requests, the fund's managers had to sell holdings at far below market values and eventually had to liquidate the fund altogether.
That's an extreme example, but it's not unreasonable to think that a similar scenario could play out on a larger scale if the downturn occurs in the broader market. What happens if we experience a 20% correction in the stock market and those hundreds of billions of dollars that have flowed into ETFs start heading the other way? Could substantial flows out of ETFs trigger an imbalance of buyers and sellers that forces prices down even further. The honest answer is we don't know because much of the ETF industry has only experienced a bull market, but I think that it's a real risk that shouldn't be underestimated.
CPM: As we approach 2018, are you bullish or bearish on U.S. stocks?
DD: Right now, I'm cautiously bullish. On one hand, the economy's doing about as well as could be hoped for with no major catalyst for a significant correction in sight (outside of a major geopolitical event, of course). On the other hand, I worry about the Fed raising rates too quickly and the current lack of volatility making many investors complacent. While 2017 was the year where you could make money no matter where you invested, I think 2018 is going to be more of a stock picker's market. I think a 4% total return on the S&P 500 sounds about right with 2% coming from share price growth and another 2% coming from dividends.
At a macro level, I think value will outperform growth in 2018. Paying a premium multiple for stocks is fine when the economy is chugging along and rates are low. But we're looking at maybe three more rate hikes this coming year and that could lead to investors looking for bargains instead of growth stories. In this scenario, ETFs such as the PowerShares S&P 500 High Dividend Low Volatility ETF (NYSE:SPHD) could do particularly well.
My top pick for 2018 is the WisdomTree Emerging Markets High Dividend ETF (NYSEARCA:DEM). Emerging markets did great in 2017, but valuations still look appealing. Large-cap dividend payers, such as the ones you'll find in this fund, look especially attractive. This ETF has a dividend yield of nearly 4% and trades at just 9 times forward earnings.
CPM: In terms of asset allocation, how are you positioned heading into the New Year?
DD: I'm still almost fully invested in stocks with a small cash position to take advantage of dips. I still have a long ways to go until I reach retirement, so I prefer to redistribute my equity holdings periodically as opposed to moving from equities into fixed income or cash.
Right now, I'm overweight in financials and energy and underweight tech. I have a greater than average position internationally with emerging markets and Europe getting added exposure. I still favor funds that focus on strong balance sheet fundamentals, such as the Pacer U.S. Cash Cows 100 ETF (BATS:COWZ), a fund that targets companies with high free cash flow yields, and the FlexShares Quality Dividend Index ETF (NYSEARCA:QDF).
Dave will be launching a Marketplace Service on Seeking Alpha in early 2018. If you enjoyed reading his insights here, please follow Dave on Seeking Alpha for his analysis and updates on the service offering.