This is a very powerful screen that leans on basic fundamentals to uncover value stocks that outperform the market. I created this screen with one goal in mind. That goal was to identify high-quality companies trading at low prices. There are some different ways to define the specifics, but I've chosen to focus on the following parameters for this strategy:

Low P/E
Low P/B
Low P/S
Low P/FCF
USA based companies only
Low Long Term Debt / Equity
Above average 5 year EPS growth
Share price must be above $5
Defining "Cheapest" and "Highest Quality"
This strategy's measure of cheapness is low price ratios. This is a good choice because of the simplicity. Past performance does a poor job of explaining future results, so for the purposes of this screen it is ignored. Conversely, lower price ratios can indicate an undervaluation in the market. These are usually stocks that have fallen in price but have maintained impressive fundamental value characteristics, such as high earnings, book value, sales and / or free cash flow relative to their price.
I believe a low price-to-earnings ratio is a very important metric because it's a basic measure of how much an investor must pay for $1 of a company's earnings. I wanted to start the screen here because a company's ability to earn positive economic returns is key to their future success. Screening for low price-to-book ratios follows a similar logic. I consider this a useful metric when evaluating a company's worst case scenario. If the company liquidated all of its tangible assets the book value would be a proxy of how much cash could be generated for shareholders. A low price-to-sales ratio is ideal because all things equal, increasing sales is a positive sign for value investors. Price-to-free cash flow is a measure of how much we must pay for $1 of a company's buying power. Free cash flow can be used to repurchase shares, pay dividends, acquire companies or re-invest into the business. I like this measure because in theory, more free cash flow means more possibilities for positive corporate actions, that could potentially increase the share price.
The measure of quality is a combination of U.S. based companies with a low long term debt to equity ratio, a history of strong EPS growth, and that have share prices above $5. Focusing only on U.S. based companies helps avoid companies operating in volatile, less established markets. A low debt to equity ratio can indicate strong liquidity. The lower a company's debt relative to its equity, the more likely they will be able to fulfill their short and long term obligations. Thus potentially freeing up capital for positive corporate actions. Earnings-per-share growth provides an idea of the rate at which a company has grown its profitability per unit of equity. I chose this metric because it also reflects earnings growth after the dilution that occurs from new stock issuance or share repurchases. Finally, by screening for companies whose share price is above $5 this strategy avoids risky penny stocks that typically represents speculative positions with more growth potential.
Putting the Strategy to Action
This strategy is simple and repeatable. In order to replicate, go to Finviz.com and click "Screener" in the top left corner. Then input the following parameters. Next, review your options and pick 20 stocks at random to purchase. Decide which re-balancing period to apply and finally, stick to the process.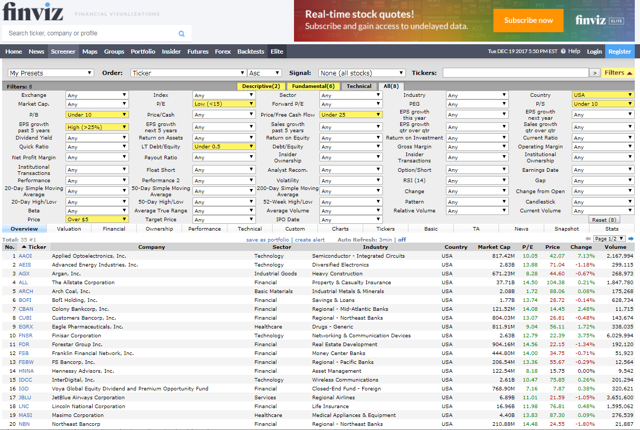 Performance of the Strategy
The strategy sounds good in theory, but does it work?
The following backtest was done using Portfolio123.com and shows the performance of a portfolio of 20 stocks chosen at random that passed the screen since Jan 1, 1999, with a monthly rebalance.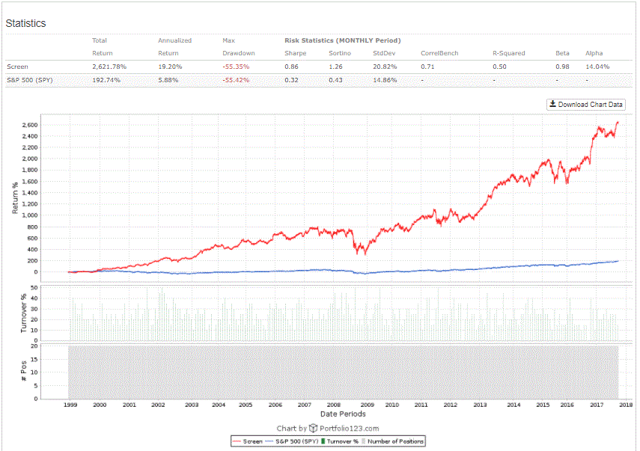 In the above test this strategy has outperformed the benchmark with annualized returns of approximately 19% from 1999 - 2017. The strategy appears to do a good job of identifying high-quality companies trading at cheap prices.
Improving on the Strategy
The first potential way to improve on the strategy's results is to change the frequency of re-balancing. I was able to improve on the strategy's results by re-balancing less often. What if instead, we only re-balanced once a quarter? If we made this change, this strategy increases annualized returns to 20.18%. See below chart.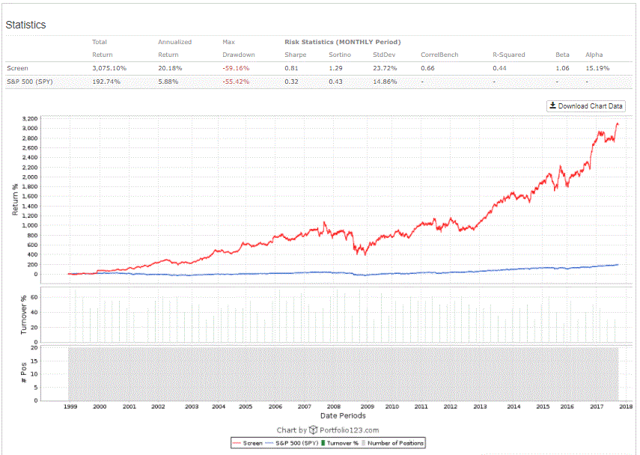 However, when this strategy is re-balanced annually it doesn't perform as well. In the test below we still see a positive annualized return of approximately 17%, the lowest of our three tests.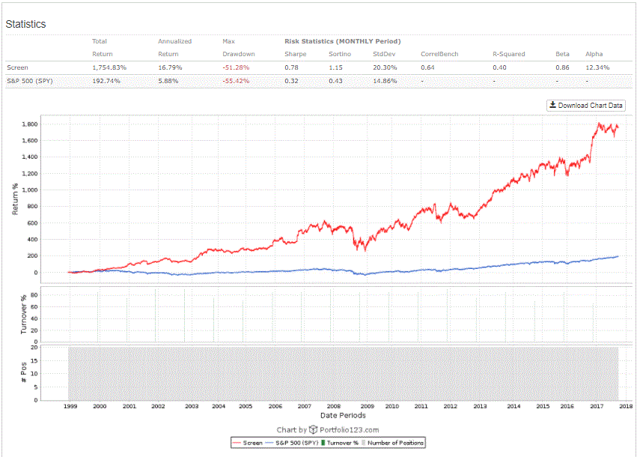 I've chosen eight stocks at random that have recently passed this screen; Applied Optoelectronics, Inc. (AAOI), Advanced Energy Industries, Inc. (AEIS), Argan, Inc. (AGX), Colony Bankcorp, Inc. (CBAN), Masimo Corporation (MASI), InterDigital, Inc. (IDCC), JetBlue Airways Corporation (JBLU), and Northeast Bancorp (NBN). All of these companies have experienced share price appreciation over the past 5 years despite negative press due to increased competition and dynamic industry specific conditions. I believe these are great examples of stocks that are inexpensive and of high quality from a fundamental perspective. It is important to remind ourselves that past performance is not indicative of future results. However, based on this simple strategy and the results from its backtest I think these companies are positioned well for future success. Chart below via Morningstar.com.

Conclusion
This is a market-beating value strategy that works. Specifically we have seen that:
In all three scenarios, this screen outperforms the S&P 500 by at least 12.34% annually.
The strategy would have delivered up to 20.18% annualized returns over the last eighteen years.
We can improve on this strategy's performance by rebalancing less frequently.
| | | | | | | | | | | |
| --- | --- | --- | --- | --- | --- | --- | --- | --- | --- | --- |
| Rebalance period | Total Return | Annualized Return | Max Drawdown | Sharpe | Sortino | Std. Dev | Correl Bench | R^2 | Beta | Alpha |
| Monthly | 2621.78% | 19.20% | -55.35% | 0.86 | 1.26 | 20.82% | 0.71 | 0.50 | 0.98 | 14.04% |
| Quarterly | 3075.10% | 20.18% | -59.16% | 0.81 | 1.29 | 23.72% | 0.66 | 0.44 | 1.06 | 15.19% |
| Annually | 1754.83% | 16.79% | -51.28% | 0.28 | 1.15 | 20.30% | 0.64 | 0.40 | 0.86 | 12.34% |
| S&P 500 | 192.74% | 5.88% | -55.42% | 0.32 | .43 | 14.86% | - | - | - | - |