We've been bulls on defense stocks for almost a decade* now, in particular on Lockheed Martin (LMT) and Northrop Grumman (NOC) and to a lesser extent Raytheon (RTN) and General Dynamics (GD). Almost all major defense contractors have outperformed the market since the great recession in 2008. However, we are starting to see signs that the market may be overvaluing defense stocks despite the prospects for increased defense spending under a unified Republican government and escalating global tensions. We are seriously considering paring back our positions in several of our major defense contractor holdings because of the disconnect between current valuations and future growth.
Prospects for Future Growth
While the prospects for defense spending growth are certainly brighter under a unified Republican government, that growth is still likely to be underwhelming given current valuations.
Accurately predicting future defense budget growth can be challenging due to a complex nature of government budget procedures as well as the Budget Control Act (BCA). The CBO compiled a report detailing the defense budget spending needed to meet the Trump administrations goals for the department.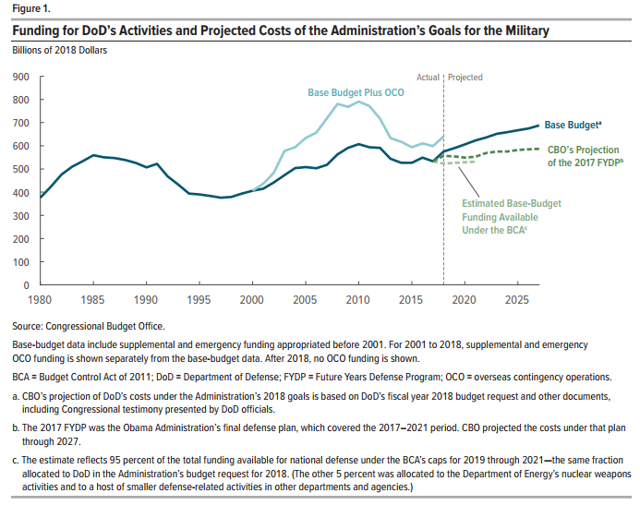 The report projects an annual increase of only 1.2% above inflation for the procurement and RDT&E (research, design, testing, and evaluation) accounts. (These are the accounts where the major weapons contractors do most of their business).
However, it's important to remember that the executive office has no statutory authority for setting the budget for the DoD, it's Congress that makes the appropriations and the president's budget request is mostly DOA (as they all usually are) in Congress.
The Center for Strategic and Budgetary Assessments compiled a report that shows defense spending under several different scenarios. The news is better for defense stock shareholders here.

Sen. McCain and Rep. Thornberry (each chair of their respective chamber's armed services committees) have proposed raising the budget to almost $740B by 2022 (almost 3.3% CAGR). The is inline with what the Pentagon is requesting as top defense officials believe the DoD needs at least 3% growth in order to "recover" from the budget sequestration years. Indeed, top defense officials believe that 3% growth would be an adequate floor on spending with 5% growth what is really need. Given unified Republican control of the government we think it's highly likely that Congress will be receptive to DoD requests and defense spending over the next few years should be in the 3% to 5% range. But will that growth be enough for defense stocks?
Valuations in the Defense Sector May Be Too High
The problem is that valuations for the defense sector appear to have risen quite a bit faster than the underlying fundamentals of the sector might warrant. The table below shows the price to sales ratio and operating margins for the four major pure-play US defense contractors over the past eight years.

Price to sales ratios have all risen by more than 100% while operating margin improvement has only been in the mid double digits. The exception is Northrop Grumman's operating margin and valuation improvement since spinning off its ship building business.
We chose to look at price to sales as a valuation metric for several reasons. First, the US government reimburses contractors for pension costs using cost accounting standards while the companies report financial results using financial accounting standards. This FAS/CAS discrepancy can produce fluctuations in net income that do not reflect underlying core business profits. Second, cash flow metrics can be lumpy due to the timing of contract payouts.
We also included the operating margins for the contractors so you can see the history of margin improvement at the companies. Most government contracts in the defense sector are either fixed price or cost plus. Contracts for research, prototypes, and new weapons systems are often cost plus since no one knows how much the system will ultimately cost to develop (or if it's even feasible). Contracts for mature platforms are typically fixed cost and give contractors the opportunity to earn higher margins if they are able to execute efficiently. Over the past decade contractors also have improved margins by getting rid of underperforming business units (such as IT contracting or ship building). Today's defense contractors are slimmed down (or bulked up with additional high margin businesses like Lockheed's purchase of Sikorsky) versions of their older selves. There is likely to be very little room for margin improvement in the future outside of the maturing F-35 program at Lockheed and Northrop.
If profit growth potential from expanding margins is muted that leaves defense contractors with only sales growth as the future driver of profits.
We built simple DCF models for each major pure-play defense company using a five-year, high-growth period, 3% terminal growth rate, and 10% discount rate. We adjusted trailing 12-month cash flow for each company to account for pension adjustments and changes in working capital.
| | | |
| --- | --- | --- |
| Ticker | DCF Implied 5YR Average Growth | Analyst Consensus 5YR Average Growth |
| LMT | 11% | 8% |
| NOC | 13% | 7.5% |
| RTN | 13.8% | 9.7% |
| GD | 5.1% | 8.5% |
We can see that outside of General Dynamics (GD) each company is trading at an implied growth rate at least 3 percentage points above consensus analyst estimates.
Summary
Given muted top line growth prospects and pricey valuations we think LMT, NOC, and RTN look relatively unattractive now. While LMT and NOC do have some upside potential for long-term margin growth due to a maturing F-35 platform moving to fixed cost contracts it is risky to assume margins increases will be a sure thing given the challenges of the program.
Disclosure: I am/we are long LMT, NOC, RTN.
I wrote this article myself, and it expresses my own opinions. I am not receiving compensation for it (other than from Seeking Alpha). I have no business relationship with any company whose stock is mentioned in this article.
Additional disclosure: *Mr. Strubel, our portfolio manager, first purchased Lockheed Martin stock in 2008 for the Drexel Dragon Fund and subsequently purchased it for clients upon starting Strubel Investment Management. Strubel Investment Management also later added positions in Northrop Grumman and Raytheon.