I started a new experiment. Since poker, specifically No Limit Texas Hold'em, is one of my favorite hobbies, I decided to attend a weekly poker session at my local poker room every Tuesday night. The goal is to sit down at the $1-2 stakes table and play anywhere from 30 minutes to 3 hours to see how much I can profit during the last few months of 2017. I started this experiment in August and have done quite well for an above average cash game amateur player.
My hobby is an income source, but a minimal one with lots of volatility. Any poker player knows that you can't win every time you play. But how well have I done since August? I am delighted to share that I have profited $1,051 at the poker table after playing 26.5 hours. These poker results calculate out to a $39.66 hourly rate. This rate is outstanding, the best I have achieved during my amateur poker career, and something I am very proud of, but there are drawbacks.
To achieve my coveted $39.66 rate, I have had to stay disciplined at the poker table, stay alert and energized at the table after working a 10-hour shift at my full-time job, deal with the stress involved in deciding to call/raise/fold in big time decision moments, and deal with the occasional large loss as the best hand in poker does not always win. Poker requires a lot of mental toughness that can take a toll on you physically if you are not disciplined and focused.
So why should you care about all the time I have spent playing in a weekly poker game? Well, it's simple. It provides a perfect example; no matter how hard I work during my free time, my dividend stocks will always work harder without costing me time, stress, and sacrifice.
Before we can compare my hourly poker rate to my portfolio income, I first must show you what income my Early Retirement Fund [ERF] has generated over the last 4 months. After I prove that my money can work harder than me, I will share my 2018 goal.
August to November Portfolio Income
The table below shows the income I received from my ERF portfolio from August to November 2017:
HOLDING

INCOME TYPE

AMOUNT

August

GNC Holdings (GNC)

Option Premium

17.32

Kinder Morgan (KMI)

Dividend

9.22

Lazard (LAZ)

Dividend

41.00

Verizon Communications (VZ)

Dividend

2.24

Waddell & Reed Financial (WDR)

Dividend

46.00

August Subtotal

115.78

September

Aircastle (AYR)

Dividend

15.60

Chevron (CVX)

Dividend

16.37

Cummins (CMI)

Dividend

118.80

Douglas Dynamics (PLOW)

Dividend

24.00

Emclaire Financial (EMCF)

Dividend

27.00

GameStop (GME)

Dividend

38.00

Helmerich & Payne (HP)

Dividend

16.80

International Business Machines (IBM)

Dividend

49.50

LyondellBasell Industries (LYB)

Dividend

90.00

Meredith (MDP)

Dividend

1.37

National Oilwell Varco (NOV)

Dividend

5.00

NOV

Option Premium

15.32

Old Republic (ORI)

Dividend

19.00

Stage Stores (SSI)

Dividend

4.85

Valero Energy (VLO)

Dividend

70.00

Waste Management (WM)

Dividend

1.61

September Subtotal

513.22

October

Bank of Nova Scotia (BNS)

Dividend

20.33

Domtar (UFS)

Dividend

28.64

Macy's (M)

Dividend

15.10

Maiden Holdings (MHLD)

Dividend

22.65

NOV

Option Premium

87.32

New Residential (NRZ)

Dividend

50.00

Steelcase (SCS)

Dividend

9.56

October Subtotal

233.60

November

Arbor Realty Trust (ABR)

Dividend

23.75

KMI

Dividend

9.22

LAZ

Dividend

41.00

NOV

Option Premium

39.82

VZ

Dividend

2.28

WDR

Dividend

46.00

November Subtotal

162.11

GRAND TOTAL:

1024.71
Source: Author Calculations
The total income I received during the last 4 months was $1024.71 which is 2.2% higher than the income I received, $1002.93, during this same time in 2016. With one month left to go in 2017, I am averaging $237.22 a month in dividends and $55.43 a month in premiums. Comparatively, I averaged $175.27 a month in dividends and $134.84 a month in option premiums during the first 11 months of 2016. My dividends have increased 35.3% year over year, and my option premiums have decreased by 58.9%. I am very pleased with my dividend income growth and not too concerned about my option premium decrease. I only use options to move in or out of a position. It is not a consistent source of income like my dividends are.
I received premiums over this time frame for writing covered calls as I am attempting to completely sell out of my GNC and NOV positions due to both companies cutting their dividends. My September GNC option was called at an attractive price so I no longer own any GNC stock. I continue to own NOV and I am actively writing calls to pick up extra income and exit my position at a predetermined price. If covered calls are unfamiliar to you and you want to learn how you can benefit from them, please read my article here that explains them in detail.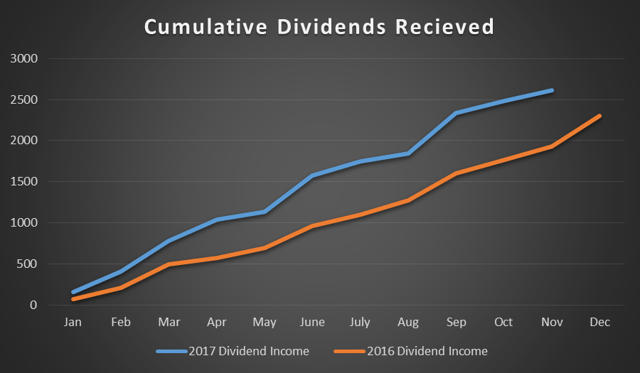 Source: Author Calculations
During the 4 months, a few of my holdings raised their quarterly dividend payments. I had to do nothing to earn these raises. The table below shows the changes in my quarterly dividend payments for the following holdings:
| | | | |
| --- | --- | --- | --- |
| Holding | 2016 Quarterly Payment | 2017 Quarterly Payment | Change |
| AYR | 15.60 | 16.80 | 7.7% |
| CMI | 112.75 | 118.80 | 5.4% |
| VZ | 2.24 | 2.28 | 1.8% |
Source: Author Calculations
It is evident that the cumulative dividend raises were greater than current US inflation rate of 2.2%. Dividend raises are one of my favorite benefits of dividend growth investing.
How Hard Does My Money Work?
So now that we know my portfolio income from August to November, we can compare it with my poker income. The chart below shows why it is very difficult to work harder than your money:
| | | | |
| --- | --- | --- | --- |
| Income Source | Hours | Income | Hourly Rate |
| Poker Experiment | 26.5 | $1051.00 | $39.66 |
| ERF Portfolio | 10.0 | $1024.71 | $102.47 |
Source: Author Calculations
I need to point out the 10 hours associated with my ERF portfolio. I only spend about 30 minutes a month of portfolio maintenance. These 30 minutes involve logging into my brokerage account at the end of every month to view my dividend transactions so I can enter them into a spreadsheet. I then use Seeking Alpha's portfolio function to keep tabs on my holdings. The only headlines I really pay attention to are dividend announcements and earnings reports. I will read the occasional article about one of my stocks if the headline seems interesting to me. Since I am a long-term buy-and-hold investor, portfolio maintenance is very minimal. Writing a call option takes mere minutes when I decide to exit a position due to an unfortunate dividend cut.
I did initiate two new positions during this time frame; ABR and SCS. Because I keep my stock research and rating system simple, I spent only 8 hours analyzing and learning about the two stocks before I bought shares.
It's easy to see the time-saving benefits of dividend investing evidenced by the table above. My poker experiment has been a giant success but when you compare the risk, time, efficiency, and stress involved to that of a passively managed dividend portfolio, I realize that maybe I would be better off spending more time increasing my dividend income stream than playing poker. No matter how hard I work playing my best game at the poker table, or even working hard at my full-time job, I am certain my ERF portfolio will always work harder.
New Year's Resolution
After running the numbers, I am expected to surpass $3000 of dividend income in 2017 as December will prove to be a record-breaking month of dividend payments. I am ecstatic about reaching this milestone and look forward to achieving $4000 or more of dividend income in 2018. To reach this goal I will need to increase my dividend income by about 33%. This will be a lofty goal as I am only projected to increase my dividend income from 2016 to 2017 by about 30%. I am very proud of my 30% increase but love to challenge myself to accomplish bigger and bigger goals every year.
To reach the $4000 milestone, I will have to stay focused and remain disciplined. Life is always full of distractions so I plan on putting my investment savings on autopilot so I am not tempted to "forget" a portfolio contribution or two. I plan to set up a direct deposit to my brokerage account so that every month I am contributing a set amount to the ERF portfolio without effort and the temptation of spending that money elsewhere.
Conclusion
As 2017 comes to a close, my monthly portfolio income has grown year over year due to dividend payment increases, reinvestment of all portfolio income, and steady monthly contributions. I have spent very little time maintaining and managing my portfolio, yet it continues to provide record-breaking results. In the meantime, I have spent a lot of my free time honing my valuable poker playing skills. With the time, risk, and sacrifices I have made to manage this "alternative" investment, I have realized that no matter how talented I am at a game, my money is always going to work harder and sacrifice less than I ever could.
Editor's Note: This article covers one or more microcap stocks. Please be aware of the risks associated with these stocks.