Daily Forex Market Preview, 22/12/2017
The common currency was seen weakening in the early Asian trading session following the Catalonia elections. After taking direct control of the region, the snap elections announced was expected to be a close call between the pro-Spain parties and the pro-independence parties.
The election results showed that the pro-independence parties winning with an absolute majority with three of the parties winning 70 seats from the 13-seat assembly and just enough to form a government.
Ahead of the holiday week economic data today will include the final GDP data from the UK. GDP is expected to remain steady at 0.4% for the third quarter. Canada will also be releasing its monthly GDP figures. Data from the U.S. includes the durable goods orders report and the personal income and spending data.
EURUSD intra-day analysis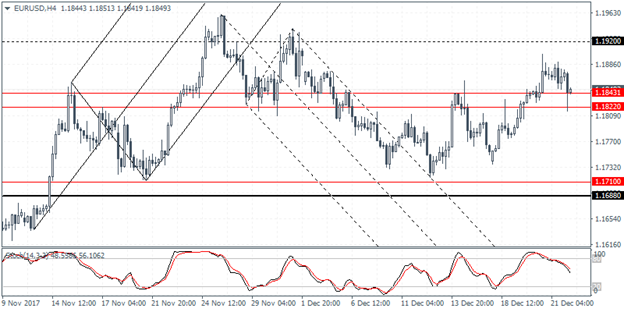 EURUSD (1.1849): The EURUSD closed with a doji yesterday indicating a temporary pause to the rally. Price action remained trading above the support level of 1.1843 - 1.1822. As long as this support level holds, the euro is expected to remain biased to the upside. Immediate resistance is seen at 1.1920 which could be tested. However, watch for a possible break down of price below the support level, which could potentially keep the euro biased to the downside. A break down below 1.1822 could signal a sideways pattern with lower support at 1.1710 - 1.1688 likely to hold the declines.
---
USDJPY intra-day analysis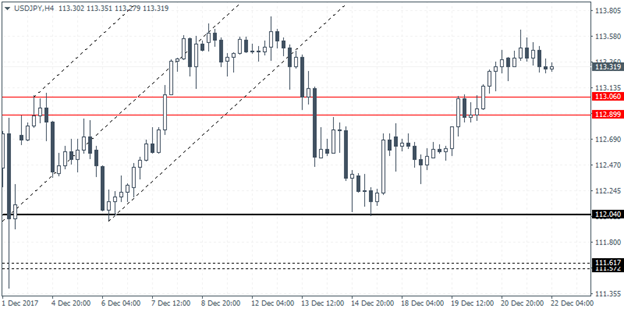 USDJPY (113.31): The USDJPY stalled its two day winning streak with price action forming a doji pattern near the previous highs. This potentially suggests a decline in the near term on a bearish close. Support is formed at 113.00 - 112.90 level which could be tested in the near term. A breakdown below this level will indicate further declines with support at 112.00 coming into focus. USDJPY could however be seen posting further gains on a rebound off the 113.00 support.
---
NZDUSD intra-day analysis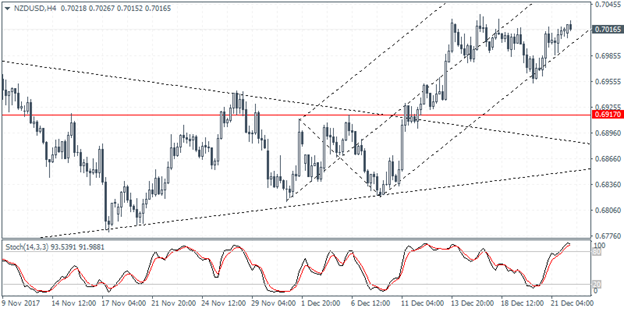 NZDUSD (0.7016): The New Zealand dollar continues to consolidate around the 0.7000 level. Following the decline to 0.6950, the NZDUSD is attempting to retest the previous highs. A breakout above this level could suggest further gains with 0.7100 coming into focus. However, failure to breakout above the previous highs could suggest a near term correction. Support at 0.6917 could be tested in the short term ahead of further gains.