Canada is celebrating its 150th birthday this year. However, the country has less to celebrate when it comes to its residential property market. Residential property prices across Canada have screamed past those in the United States, reaching record highs. Canada's largest banks are calling the phenomenon a bubble. Unsustainable price growth and households amassing high levels of debt are concerning for the Bank Of Canada, which raised its policy interest rates for the first time in seven years this year, partly to combat this trend. Both the Organization for Economic Co-Operation and Development (OECD) and Parliamentary Budget Officer of Canada (PBO) have described Canada's property market as overheated and its household debt levels as potentially catastrophic. Meanwhile, a fund of Canadian financials has showed no signs of investor distress. Stricter lending measures along with nuances in Canada's mortgage market are likely to prevent a mortgage meltdown. So what is happening in Canada? This update recommends holding Canadian Financials (XFN) long in defense of Canada's financial system, first examining why Canadian property prices have risen to peak levels, and explores the implications and nuances of the country's household debt and mortgage market.
Part One: Canada's Home Price & Mortgage Market Explanation
Not your grandfather's property market.
Basic economic concepts like supply and demand are salient to home prices; units of households built compared to households formed dictate whether the residential property market is over- or undersupplied. As we remember from EC10, as more households are formed an equal amount of housing must be provided. When residential completions are insufficient, then housing is undersupplied, creating excess demand, which pushes prices upward. Straightforward enough? Examine Exhibit 1 for this relationship. Starting late last decade, household formation (demand) skyrocketed while the average completions (supply) were declining. There were 4% fewer average annual residential property completions between 2012 and 2016 than between 2007 and 2011, while 15% more average annual households were formed in the same time period than between 2007 and 2011.
Exhibit 1: Household Formation And Housing Completions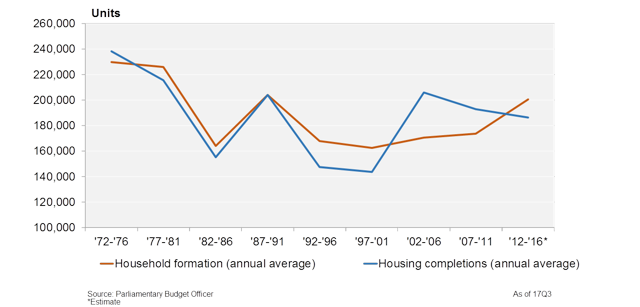 A bellwether of supply and demand, the national residential vacancy rate has come down from the 40-year high it hit in 2008, when completions outstripped household formation, and is now on track to dip beneath 5%, which is below its 45-year average rate. However, total residential building permits, both multifamily and single-family, have only begun to increase this year, after remaining largely constant over 2016 and 2015, according to Statistics Canada. The historically low aggregate vacancy rate corroborates excess demand in the market.
In addition, comparison of performance data between Canada and the U.S. is striking (see Exhibit 2). Home prices in the U.S. suffered dramatically circa 2008 and, on aggregate, haven't reached pre-Great Recession levels. Canada and its banks came out of the Great Recession relatively unscathed. It was also at this time that household formation began to rapidly accelerate and homebuilding lag (as seen back in Exhibit 1). Also, as is apparent in Exhibit 2, as the cost of borrowing grows cheaper (via low interest rates), the more it fuels demand for properties by way of easier financing (represented by the simple average of closed five-year interest rates for mortgages issued by Canada's lenders).
Exhibit 2: Real Housing Prices U.S. Vs. Canada (1975–2017)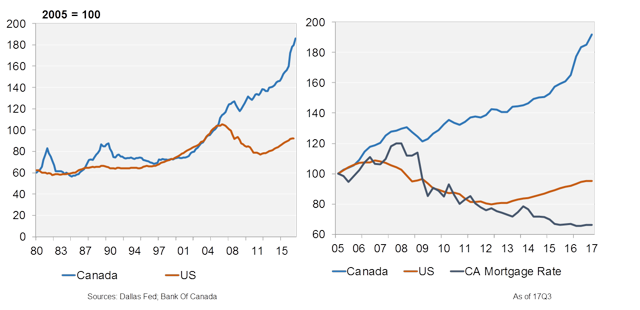 Of all Canadian metros, Toronto's rapid price appreciation has been most severe, thanks partly to foreign investment. And in order to curb current trends, provincial governments are combating asset price appreciation with all the tools in its chest. Whilst Statistics Canada does not offer data on foreign investment, the Toronto Real Estate Board (TREB) published that 4.9% of transactions in the Greater Toronto Area involved a foreign purchaser. To curb an influx of overseas money, the Ontario Ministry of Finance imposed a 15% Non-Resident Speculation Tax on foreign nationals or corporations in the province along with tightened mortgage eligibility rules. This move is in line with other governments curbing excess foreign speculation, like Switzerland's annual quota on homes to be transferred and London's added non-resident capital gains tax. The exact dollar amount invested in Canadian real assets from non-residents and percentage of total stock owned by foreigners are not easily accessible data points. In response to calls for greater granularity of real estate data, Statistics Canada is assembling a data series of information regarding residential property affordability and accessibility as well as data regarding foreign ownership. In addition, institutional investment of multifamily properties has increased as property markets offer attractive yield relative to equity and credit markets. As a percentage of the C$9.3 billion total investment volume across Canada in 17Q3, multifamily received the second greatest share of investment behind office properties.
Since shelter is a universal need, the effect on home prices is felt across the economy. More specifically, as economic growth picks up steam residential properties are often the first to receive supply and investment based on expected demand. This was evident in U.S. multifamily properties circa 2013, when the massive supply wave was met by strong demand. Back in Canada, the volume of transactions have cooled. In November, sales of detached single family homes across Greater Toronto were down 19% Y-o-Y, recording a 6% price drop over last year. Buyers have likely come to their wits about the inflated property markets, delaying purchases until further price reductions. But a rapid price deflation could hurt precarious borrowers, creating cause for alarm among regulators and banks.
Canada's mortgage market is different.
Governor of the Bank of Canada, Stephen Poloz's speech, Three Things Keeping Me Awake at Night, highlighted high house prices and household debt as one of the BoC's nagging worries. Most alarming, the average Canadian household total indebtedness has reached a high of 175% of disposable income, as of 17Q4, undeterred by the Great Recession, whereas in the U.S., total household debt as a percentage of GDP has fallen from 20-year peak levels in 2008 of 140% to around 120% today (see Exhibit 3). Simply put, for every $100 of disposable income, the average Canadian household had to make $174 in debt payments.
Exhibit 3: Total Household Debt, Percentage Of Net Disposable Income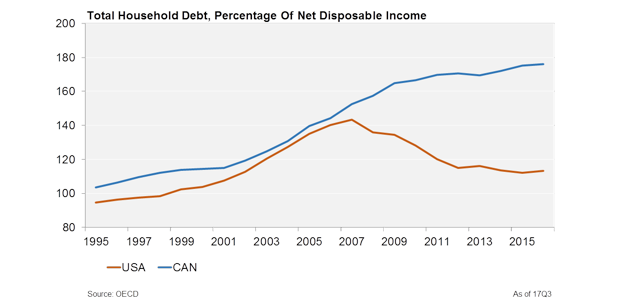 This acute financial vulnerability is due to mortgages capturing a larger share of household debt, increasing by 11% since mid-2015. To put in historical context, mortgage debt accounted for an average of 63% of all household debt between 1990 and 2017. But by November 2017, mortgage debt represented 80% of all outstanding household debt. If this doesn't highlight the hike in cost of living, perhaps the next figures do: Since 2002, monthly housing-related costs have risen from 26.5% of disposable income to 35.6% in 17Q1, marking deterioration of affordability. Concerned, the Parliamentary Budget Officer of Canada claimed household debt-servicing capacities are "beyond historical experience".
Although, it is not just the amount of debt, the composition is worrisome: according to the BoC, 40% of all housing-backed loans are blended with a home equity line of credit (HELOC) component. HELOCs have been a convenient tool for households to borrow, giving flexibility to finance home improvements or emergencies. This mortgage tool isn't without its risks: HELOCs typically allow borrowers to pay interest-only (BoC numbers suggest 40% of HELOC borrowers follow this practice), amassing debt for longer. This interest-only clause increases the vulnerability of the financial system given property prices dropping and estimated higher interest rates as some may use HELOCs to speculate on second properties as investments or flips. But the latest Statistics Canada data points show improvement in country-wide debt service ratio – interest only – reverting to the 10 year average by late 2018.
Part Two: Long Canadian Financial Services
Why buy banks?
There is no doubt that credit in Canada has expanded rapidly to meet this housing demand, but even if mortgages in arrears climb significantly, Canadian banks face diminished risk because of the mortgage market's structure. Unlike in the United States, only Saskatchewan and Alberta have non-recourse loans, the kind of loans that allowed many borrowers to evade personal liability of the mortgages they defaulted on. Therefore, fewer borrowers are inclined to assume risk knowing their financial assets could also be seized by lenders should they default. In fact, Canada has one of the lowest mortgage default rates in the world at 0.25% nationally. The number of highly indebted Canadians (debt to income greater than 450%) obtaining high-ratio mortgages (loan-to-values greater than 80) have dropped following the introduction of new lending guidelines. Each new mortgage under the guidelines is stress-tested to ensure the borrower can manage a higher interest rate at renewal. For instance, the BoC found that 10% of high-ratio mortgages, around 36,000 loans, representing $15 billion worth of borrowing, would not have qualified under new stress-testing requirements. As a result of these stricter mortgage practices, those who are borrowing with LTVs greater than 80 and are highly indebted are likely to circumvent the regulated lenders who adhere to stricter guidelines, seeking to borrow from non-federally regulated lenders. This partly explains alternative lender's, Home Capital Group (OTCPK:HMCBF), share price decline, a fallout from bundled lending risks among other governance allegations – the paring of a primary mortgage with a second loan from unregulated Mortgage Investment Corporations. If the new guidelines are not reassuring enough, all high-ratio mortgages are required to be insured against default risk with government guarantees.
Acting as a leading indicator of sentiment, Wall Street has feared the worst, selling and short-selling those likely to be affected by a property price collapse and subsequent mortgage fallout. The current 5-year mortgage lending rate at 4.1% and expected to climb super-5% next year, beefing up consumer lending revenues for banks. And although the net interest margin for Canadian banks is lower than that of their U.S. counterparts, faster rate hikes by the BoC may reverse this.
Exhibit 4: Home Capital Hurt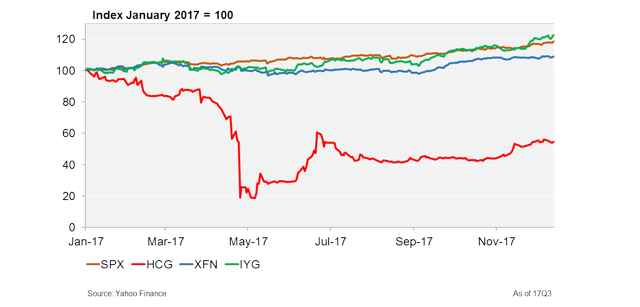 Aside from mortgages, Canadian financial services (XFN) look attractive on a relative to their U.S. peers, like the iShares U.S. Financial Services ETF (IYG). For the purposes of this argument, comparing two exchange-traded-funds of financial service firms, both issued by BlackRock, with slightly more than $1 billion assets. XFN is undervalued compared to IYG – price-to-book ratio of XFN is lower than IYG. But holding period returns have rewarded holders of the S&P 500 (SPY) at 19% YTD, and U.S. financials at 22%, amidst the backdrop of a strong U.S. economy and proposed financial deregulation; Canadian Financials are up only 9% YTD. If your seeking yield, XFN's distribution yield is higher than IYG by 1.4%.
Next year, Canada's 151st birthday, the nation-wide housing boom will chill over as the BoC likely further tightens monetary policy to slow economic growth and meet its inflation target. Despite rapid price inflation of Canadian residential properties, holding long XFN, on the basis of mortgage market safeguards and aforementioned benefits, seems prudent.
Editor's Note: This article discusses one or more securities that do not trade on a major U.S. exchange. Please be aware of the risks associated with these stocks.