Since the Brexit vote to leave the U.K. happened on 23 June 2016, the U.K. FTSE has risen from 5800 to approximately 7500 points in 18 months. The outlook looks very positive despite the drop in the value of the British Pounds.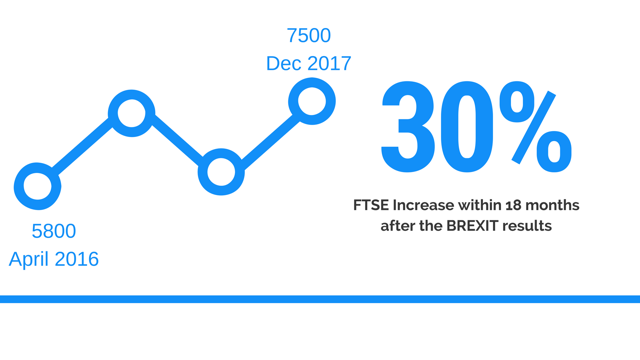 Infographic Created by Alex Koh
There are four key contributing factors to this extraordinary rise in the FTSE 100.
The first factor is the recovery of commodities stock company such as BHP Billiton (BHP), Glencore (OTCPK:GLCNF), Anglo American (OTCPK:AAUKY) and Rio Tinto (RIO). During the Chinese financial crisis in 2014 to 2015, the raw material commodities suffered a huge oversupply globally and causing the price of raw earth materials to drop drastically. With the recovery of China and the Global market, the demand for raw materials has returned.
The second factor is the recovery of the price of Brent Oil price from $20 to $65. Between this period the major oil companies such as Shell (RDS.B) and BP (BP) have significantly performed a huge cost-cutting exercise and drastically reduce their capital expenditure by stopping all major project globally. At least 84,000 jobs have been lost in the North Sea alone and plenty decommissioning of old non-performing assets.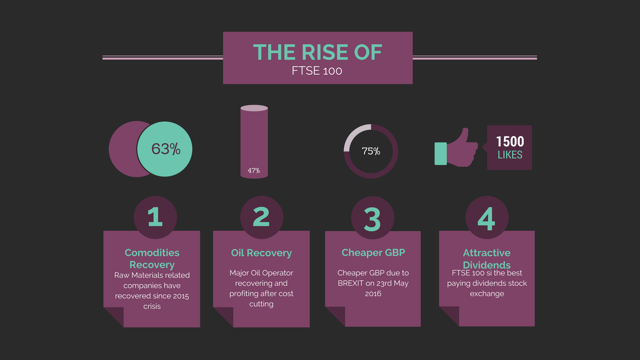 Infographic Created by Alex Koh
Third and fourth factors are the cheaper Great Britain Pounds (GBP) and attractive dividends from the FTSE 100 companies. This has attracted foreign investors into the U.K. economy.
However not the same can be said for the FTSE100 non-cyclical stocks. 2017 is a year of the phenomenal bull run of Technology stocks and Bitcoin cryptocurrency. With traders and investors favoring these stocks, the FTSE100 traditional high yield defensive non-cyclical stocks have been impacted. The market capital for these increasing dividend stocks has fallen up beyond 10-20% in 2017 which is a correction which is not reflected on the FTSE 100 index.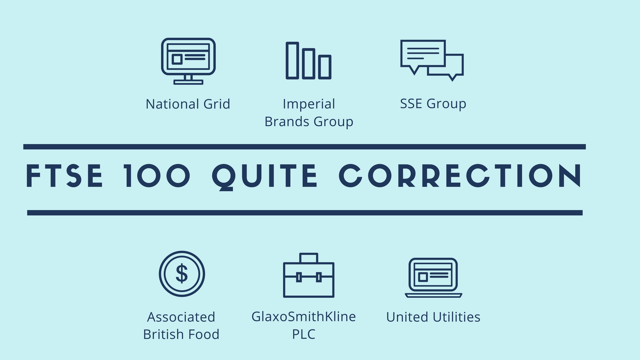 Infographic Created by Alex Koh
The FTSE 100 is always popular for passive income and self-invested pension investors as they hold good quality non-cyclical companies which pay excellent growing dividends. National Grid (NGG), Scottish Southern Energy (OTCPK:SSEZF) and United Utilities (OTCPK:UUGRY) have been rewarding their investors with growing dividends over the last 18 years. 2017 have been a rather unfortunate year for this energy and utility companies to shed its shares value of up to 20%.
With high inflation and increasing interest rates, the U.K. government are forcing these companies to freeze and cap their energy price supply. With the interest rates going on an upward trend, these company prices tend to react like bonds where it goes on a downward trend.
National Grid, Scottish Southern Energy and United Utilities are also going through a significant capital expenditure spending to improve their facilities with the ongoing population growth in the Midlands and North East of the countries. More houses are being built outside of London to keep up with the shortage, and these companies have to spend and expand to cope with demand. However, this spending is not impacting the payout of dividends to its shareholders. In term of their balance sheet and business, the number of customers will only increase with slow growth. Investors will return when the technology stocks rally is over.
Imperial Brands (OTCQX:IMBBY) a world leader in supplying to tobacco and cigarettes have recently expanded into e-cigarettes and vaping have lost about 20% share price in 2017. The basic issue about tobacco companies is that millennials (People born in 1990's onwards) are becoming very health conscious and are smoking less than the previous generation. Fundamentally, its a matter of time the EPS will gradually start to decline with sales which will impact the dividend payout to investors.
Associated British Food (OTCPK:ASBFF) has reported growing sales in its fashion, food and sugar business in the last quarter 2017. Associated British Food has lost 15% share price in 2017. Its well known Primark business is one business online giants are struggling to compete with. Cheap chic items for both men and women of all ages with a wardrobe change without breaking the banks. Millennials no longer follow a specific brand are only conscious of the variety of clothing and apparel to match their social media camera filters. With the cheaper pounds, the international business is gaining from the foreign exchange rates. The food and sugar areas future EPS are lowered in December 2017 and this pushes investors away as this signals slower growth. Financially Associated British Food (OTCPK:ASBFF) are looking for growth and expansion by routing their business into North America. Associated British Foods long-term fundamentals appear robust and profitable.
GlaxoSmithKline (GSK) is one company who has been struggling for years to grow. The company is too big and bloated and struggling to compete with other biotech and household good companies to generate more income. Star Manager Neil Woodford have suggested for the company to break up to allow profitable areas to sprout without the old burdens. In my conviction, GSK needs to be own at the right price to allow the dividends reinvestment to be efficient. At a 20% drop from its 2017 peak, makes GSK rather attractive for income investors.
I agree with U.K. star manager Neil Woodford, that there are plenty of opportunities in the FTSE 100 shares and this is the time to invest in excellent growing dividend returns which will boost your current portfolio. This is an even better opportunity for foreign investors who require buying the relatively cheap British pounds before investment.
Final Words; FTSE 100 may have peaked and I would recommend getting Associated British Food, GlaxoSmithKline and National Grid individual shares due to good correction value and exposure to international business. These three stocks will boost your defensive and also dividend growth shares potential in your existing portfolio. GlaxoSmithKline and National Grid are also available on the NYSE stock exchange as well as ADR shares for US investors.
Disclosure: I/we have no positions in any stocks mentioned, and no plans to initiate any positions within the next 72 hours. I wrote this article myself, and it expresses my own opinions. I am not receiving compensation for it (other than from Seeking Alpha). I have no business relationship with any company whose stock is mentioned in this article.
Editor's Note: This article covers one or more microcap stocks. Please be aware of the risks associated with these stocks.