A growing Congressional split between the GOP's farm state and fossil fuel wings has important implications for U.S. renewable fuel producers and small refiners. Last month, the U.S. Environmental Protection Agency [EPA], which is headed by Trump administration appointee and long-time critic of the revised Renewable Fuel Standard [RFS2], established biofuel blending volumes for 2018 that were largely in-line with those set by the Obama administration for 2017. This result was especially notable given that 2017 saw a strong lobbying effort from the merchant refining sector in favor of reduced compliance costs, including by former Trump administration adviser and owner of CVR Refining (CVRR) Carl Icahn, and subsequent volatility in the renewable fuels markets.
That lobbying effort failed to achieve its immediate goal of expanding the pool of obligated blenders and thereby reducing individual refiners' compliance costs, leading to Mr. Icahn's resignation from his advisory position in August amid conflict of interest allegations. Subsequent attempts by the EPA to reduce refiners' compliance costs by other means also fell apart in the face of opposition from Corn Belt politicians and, ultimately, President Donald Trump himself, concluding with the release of a rather surprising EPA report that, among other things, rejected the claim by merchant refiners that their compliance costs under the mandate negatively impact their earnings. By the first week of December it appeared that there would finally be tranquility in the market for Renewable Identification Numbers [RIN], as the mandate's compliance credits are known, much to the relief of biofuel producers such as Archer Daniels Midland Co. (ADM), The Andersons (ANDE), FutureFuel (FF), Green Plains Inc. (GPRE), Pacific Ethanol (PEIX), Renewable Energy Group (REGI), and REX American Resources (REX), and non-obligated blenders such as Casey's General Stores (CASY) and Murphy USA (MUSA).
In the famous words of ESPN personality and former college football coach Lee Corso: "not so fast, my friend!" The price of the largest category [D6] of RINs has fallen by 27% over the last month (see figure), leading to the second-largest 1-month decline in a year that has been characterized by strong volatility. The decline began after Reuters reported that White House Chief of Staff, General John Kelly and USDA Secretary, Sonny Perdue had contacted Senators Chuck Grassley (R-IA) and Joni Ernst (R-IA) and encouraged them to join talks on the future of the RFS2 with GOP senators from states with refining capacity, including Senator Ted Cruz (R-TX).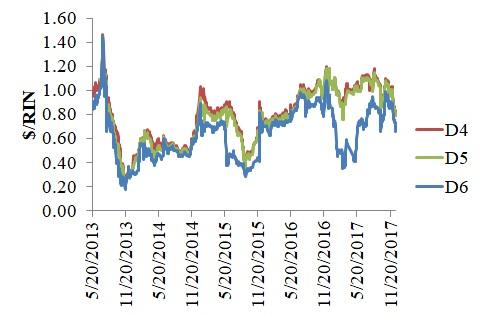 Source: EcoEngineers (2017)
The following week Mr. Cruz increased the stakes by releasing a proposal to have the price of D6 RINs capped at $0.10, a threshold not seen since January 2013. The news of this proposal caused RIN prices to decline further, and D6 prices had fallen to $0.66 at the time of writing on December 21. Any attempt to artificially cap the D6 RIN price near an almost 5-year low would have major ramifications for biofuel producers. While these producers generally do not directly benefit from RINs since it is blenders rather than producers that usually earn the credits via their operations, high RIN prices do indirectly benefit biofuel producers. High RIN prices boost demand for biofuels since RINs can only be obtained by blending biofuel for retail, and high RIN prices have historically coincided with a high ethanol price premium over gasoline. Capping the main RIN price would also propagate through in the form of lower prices for other RIN categories, potentially hurting demand for advanced biofuels such as cane ethanol, biodiesel, and renewable diesel as well.
Not surprisingly, biofuel producers consider Mr. Cruz's proposal to be a non-starter. To quote an OPIS Biofuels article on the subject, "To say that Cruz's proposal will be viewed as dead on arrival by the biofuels sector may be an understatement." It increasingly appears, however, that the proposal is aimed at getting Corn Belt politicians to the negotiating table with their colleagues from refining states. Mr. Cruz has already pledged to continue blocking Iowan Bill Northey's confirmation to the position of USDA undersecretary in the Trump administration until such a meeting takes place, prompting Mr. Trump to endorse a negotiation between the two sides of the debate. (Mr. Cruz famously defeated Mr. Trump in Iowa's GOP presidential primary despite the former's opposition to and latter's support for corn ethanol production.) More recently, the GOP's Congressional leadership has also become involved, with Senator John Cornyn (R-TX) working to develop "reform" legislation that both sides can agree to.
Following the recent passage of the GOP's major tax reform legislation and subsequent (temporary) government funding legislation by Congress, the GOP leadership can turn its attention to the biofuels mandate if it wishes. I don't expect much progress to be made on such an effort, however, for the simple reason that the Corn Belt legislators have no reason to compromise, Mr. Northey's confirmation hold-up notwithstanding. The legislation that created the mandate established explicit blending volumes through 2022 and the federal courts have frowned upon past attempts by the EPA to reduce those numbers barring a major emergency. Furthermore, Mr. Trump will be increasingly focused on next year's Congressional midterm elections and his subsequent re-election campaign moving forward, both of which will seek to attract Corn Belt voters.
Finally, the argument that merchant refiners are harmed by high RIN prices is looking increasingly weak, and not just because of the academic research on RIN pass-through rates that was heavily quoted in last month's EPA rejection of Mr. Icahn's proposed reform. The share prices of those merchant refiners that have reported the highest nominal RIN expenditures in recent years, including CVR Energy (CVI), CVR Refining, HollyFrontier (HFC), Marathon Petroleum (MPC), PBF Energy (PBF), and Valero Energy (VLO), have all vastly outperformed a bullish S&P 500 index since Mr. Trump's election victory (see figure). Mr. Icahn's repeated claims that high RIN prices could prompt a wave of bankruptcies among merchant refiners have certainly not come to pass despite this year's near-record average RIN prices.
Disclosure: I am/we are long FF. I wrote this article myself, and it expresses my own opinions. I am not receiving compensation for it (other than from Seeking Alpha). I have no business relationship with any company whose stock is mentioned in this article.