While I share some of the concern others have about tax reform's impact on the national debt, there are many winners in the tax bill and perhaps one of the biggest winners is REITs. This has gotten surprisingly little coverage, but a sizable deduction was added for REIT dividends. Take a look at the senate amendment pasted below.

Currently, REIT dividends have no deduction, so the marginal impact here is immense. Going from 0% deductible to 23% deductible is a bigger change than just about anything else in the tax bill.
For clarity, this means $10,000 of Qualified REIT dividends results in a $2,300 deduction toward one's taxable income.
Implications for REITs and REIT owners
For those who already own REITs in taxable accounts this is functionally a dividend raise as they will get to keep a larger portion of the dividend income. I suspect, however, that there will be additional gains from market prices increasing due to the capital flows resulting from this change.
Presently, REITs are generally held in qualified accounts because financial planners often advise their clients to not hold REITs in taxable accounts due to the different tax treatment of REIT dividends. While the dividends of most stocks are taxed at the dividend rate, REIT dividends are considered non-qualified and are taxed as ordinary income. Thus, REITs are presently excluded from a sizable source of capital (individual taxable investment accounts) that would otherwise benefit from the diversification and returns REITs provide.
With this change that introduces a 23% deductibility to REIT dividends, the taxation will be brought much closer to parity, give or take a little depending on which tax bracket people fall into. There will no longer be a reason to exclude REITs from taxable accounts which unlocks a vast source of capital that can now flow into REITs.
I do not think the capital flows will be immediate as it will take time for the information to disseminate and for financial planners to get comfortable with the idea. However, the aggregate capital flows over time should be quite substantial. With fresh capital pouring into REITs, market prices will be more inclined to rise.
The new deductibility is made even more powerful by the fact that 23% of qualified REIT dividends can be deducted even if someone is taking the standard deduction. Many other deductions are limited to those who itemize, but the language in the tax bill is quite clear here.
"The conference agreement clarifies that the deduction is available to both nonitemizers and itemizers."
Additional benefits
REITs participate in just about every aspect of the economy, so to the extent that the economy is stimulated by lower corporate taxes, REITs will benefit. Tenants in struggling sectors like retail and skilled nursing may be more capable of paying rent and those in healthy sectors can better afford rent increases.
The trickle into REIT cash flows will take time as contracts will generally have to expire before they can roll up. It should show up in higher same store NOI growth for most REIT sectors for the next 5 or so years as the contracts expire a little bit each year.
Not priced in
Not only have the tax benefits not been priced into REITs, they have gone down. The MSCI US REIT index (RMZ) has gone down over 3% in the last 3 days as the tax reform bill passed.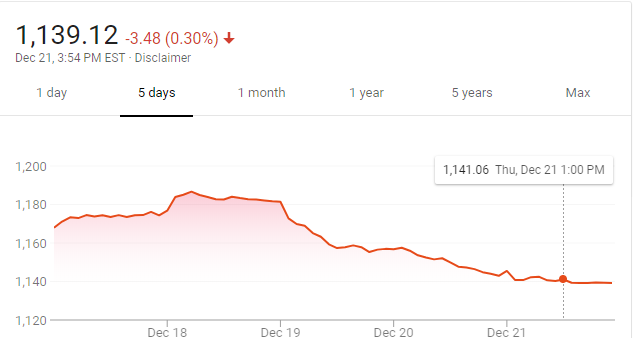 Source: Google Finance
I am perplexed by this move as the language in the bill seems unequivocally good for REITs. We have scanned the bill and have not found anything that appears to hurt REITs.
Beyond the tax favorable dividends, there was another change that helps REITs relative to the S&P: Interest expense deductions are now limited for most companies, but REITs can still elect to take full interest expense deduction. This will provide further cost of capital advantages to REITs over their C-Corp counterparts.
How to take advantage
With REITs trading down so much relative to the broader market, it is fairly easy to take advantage of the new tax favorability. While I strongly disagree with passive investing on a philosophical level, the Vanguard REIT ETF (NYSEARCA:VNQ) is an easy way to capture the relative undervaluation of the REIT sector.
I know significantly less about mREITs than equity REITs, but all of the tax benefits just mentioned apply equally to mREITs. Thus, baskets of mREITs such as the UBS Etracs 2X Leveraged Mortgage REIT ETN (NYSEARCA:MORL) have increased in intrinsic value.
My preference is to own hand selected high yield REITs which will receive even more benefit because the larger the yield, the more deductions one will get. There are plenty of high quality undervalued REITs with dividend yields around 7% to 12%. For specific names please feel free to check out my archives.
Caveats
It is important to note that not all REIT dividends are the same. Most often, REIT dividends will come in 1 of 2 forms:
Return of capital
Qualified REIT dividends
Both forms have tax advantages, but in different ways.
Return of capital dividends are not taxed until the stock is sold. Essentially, they reduce the cost basis of the holding such that a higher capital gain will be incurred upon sale of the stock.
Qualified REIT dividends are the kind we discussed at the start of this article. These dividends will be taxed at one's marginal tax rate but also give a deduction to taxable income equal to 23% of the size of the dividend.
Different REITs will have different kinds of dividends, but as a rule of thumb, those with high amounts of depreciable property will have more return of capital dividends, while those with less depreciation will have more qualified REIT dividends.
Wrapping it up
We already believe REITs offer better relative value than the S&P and the benefits of this tax bill are icing on the cake. The benefits are summarized below:
Qualified REIT dividends provide a 23% deduction toward taxable income.
Capital flows could move toward REITs as this change makes investment more viable in taxable accounts which presently hold very few REITs as a percentage of assets.
Economic stimulation should help same store NOI.
REITs are one of few structures that retain full deduction of interest expense.
If there are any changes in this tax reform that hurt REITs I am not aware of them. Please point them out in the comments below if you know of any. I look forward to the discussion.
Disclosure: 2nd Market Capital Advisory Corporation does not provide tax advice. The material contained herein is for informational purposes only and is not intended to replace the advice of a qualified tax advisor. Investors should consult with their own tax advisor or attorney with regard to their personal tax situation. This article is not a recommendation to buy or sell any security and is strictly the opinion of the writer. Information contained in this article is impersonal and not tailored to the investment needs of any particular person. It does not constitute a recommendation that any particular security or strategy is suitable for a specific person. Investing in publicly held securities is speculative and involves risk, including the possible loss of principal. The reader must determine whether any investment is suitable and accepts responsibility for their investment decisions. Dane Bowler is an investment advisor representative of 2MCAC, a Wisconsin registered investment advisor. Commentary may contain forward looking statements which are by definition uncertain. Actual results may differ materially from our forecasts or estimations, and 2MCAC and its affiliates cannot be held liable for the use of and reliance upon the opinions, estimates, forecasts and findings in this article.