REIT Rankings: Shopping Center
In our REIT Rankings series, we analyze one of the fifteen real estate sectors. We rank REITs within the sectors based on both common and unique valuation metrics, presenting investors with numerous options that fit their own investing style and risk/return objectives. We update these rankings every quarter with new developments.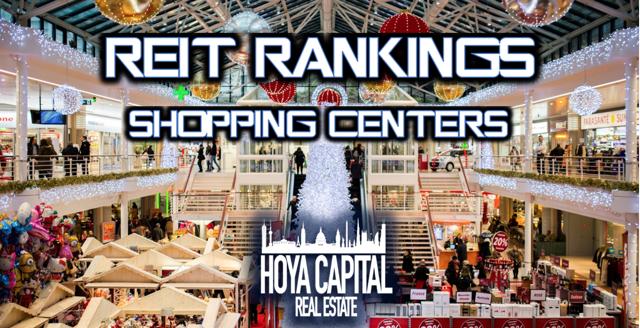 We encourage readers to follow our Seeking Alpha page (click "Follow" at the top) to continue to stay up-to-date on our REIT rankings, weekly recaps, and analysis on the REIT and broader real estate sector.
Shopping Center REIT Overview
We separate retail REITs into two categories: open-air shopping center REITs and enclosed mall REITs. We recently updated our quarterly mall report: "iMall X: A Holiday Resurgence." While the macro trends are similar with retail REIT categories, open-air shopping center REITs are generally seen as more resistant to e-commerce than malls and exhibit distinct operating characteristics.
Shopping center REITs comprise roughly 7% of the REIT Indexes (NYSEARCA:VNQ and NYSEARCA:IYR). Within our market value-weighted Shopping Center REIT index, we track ten of the eighteen shopping center REITs within the sector, which account for roughly $50 billion in market value. American Assets (NYSE:AAT) Acadia Realty (NYSE:AKR), Brixmor (NYSE:BRX), DDR (DDR), Federal Realty (NYSE:FRT), Kimco (NYSE:KIM), Regency Centers (NASDAQ:REG), Retail Opportunity (NASDAQ:ROIC), Retail Properties of America (RPAI) and Weingarten (NYSE:WRI).

We separate the space into three categories: power/strip centers, grocery-anchored centers, and street-level urban retail. Grocery-anchored centers have historically commanded premium valuations relative to power centers, a premium that has expanded in recent years as e-commerce has encroached on the competitive positioning of many "big-box" retailers that reside in power centers. Shopping center REITs have been proactive in recent years in transforming the tenant mix into a more "experience-oriented" portfolio that is less threatened by disintermediation.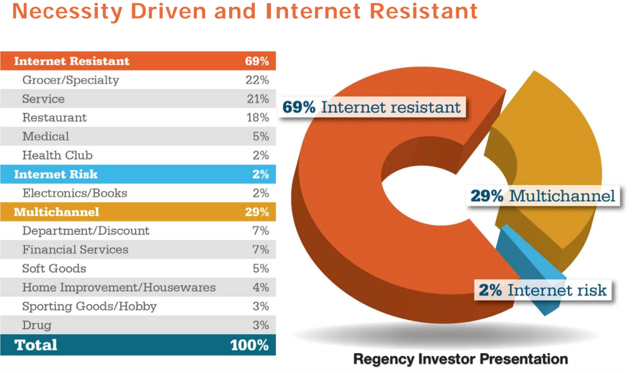 Despite these efforts, the retail landscape remains challenging for both retailers and retail REITs. Anemic wage growth during the recession, combined with the rise of e-commerce, has forced many large retailers to halt expansion plans and redeploy capital towards their e-commerce platform. Overdevelopment of retail space in the lead-up to the recession, particularly in less desirable trade areas, has left an overhang of supply that remains partially unfilled. Additionally, "big-box" retailers now desire less square footage in new and existing stores, requiring many REITs to redevelop and "de-box" properties. Same-store NOI growth for shopping center REITs has lagged the REIT average in every quarter since 2005.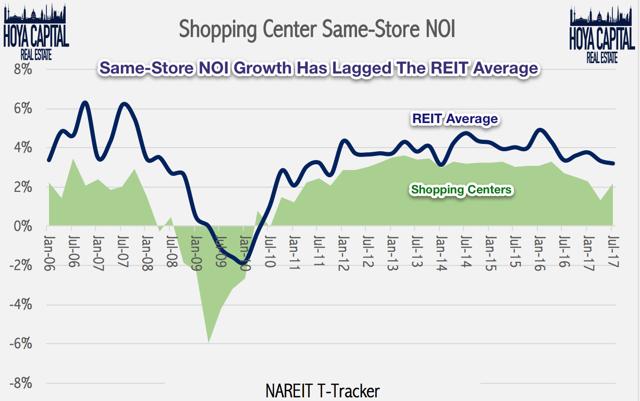 Despite these challenges, we are far from the "retail apocalypse." Considering the onslaught of negative press about retailers, it's important to clarify some misperceptions about the retail space. Following rapid expansion from 1990 through 2008, construction of new shopping center facilities has come to a screeching halt. Shopping center supply growth has hovered around 0-1% since 2009. Currently, shopping center REITs are roughly 95% occupied. Low supply growth, which is expected to continue for the foreseeable future, has allowed these firms to retain pricing power over retailers.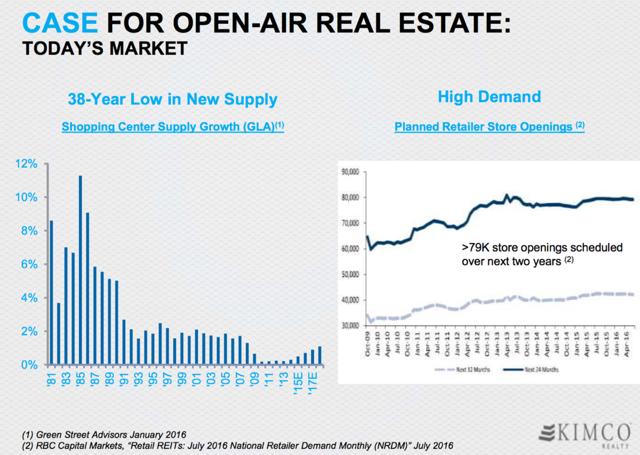 While it is true that the US has the highest retail space per capita, when this data is adjusted for the actual amount spent on retail trade by country, we see that the US is not far out-of-line with the rest of the world.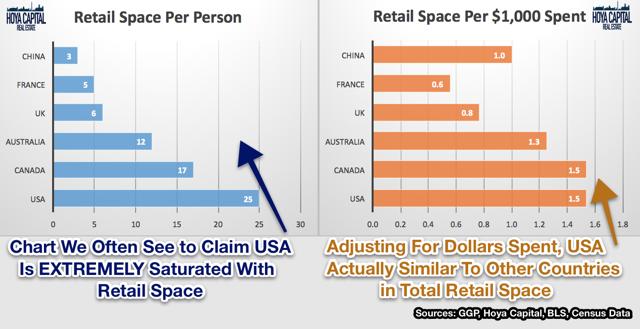 There is another financial media-fueled misperception related to the actual number of store closings and openings. In pursuit of the 'retail is dying' narrative, store openings are rarely reported by financial media outlets, but store closings often get front-page treatment. The IHL Group published an excellent report, "Debunking The Retail Apocalypse" that examines the decomposes the false narrative. While the first half of 2017 had seen elevated store closings, this trend sharply reversed in the second half of the year. IHL points out that for each company closing stores, 2.7 are opening stores. For full-year 2017, IHL Group estimates that the US will see roughly 4,000 net new store openings.

Stars Aligning For Record Holiday Season
The health of retail REITs ultimately comes down the health of their underlying tenants. We believe that the stars are aligning for a record holiday season and one that could significantly alter the narrative surrounding the retail space. Across nearly all metrics, financial conditions are ideal for robust growth in retail sales this holiday season.
November retail sales were stronger than expected, led by a resurgent brick-and-mortar segment. Brick-and-mortar (Retail & Food ex. auto, gas, nonstore) retail sales rose 4.1% from last November, the second strongest month since late 2015. When we also include the online sales purchased from the primarily brick-and-mortar retailers, the growth rate rises to 4.4%. E-commerce bounced back after a negative print in October. We continue to point out that, while online sales growth continues to take incremental market share away from traditional retail, the sentiment around brick-and-mortar retail appears to be far too negative given the otherwise solid data.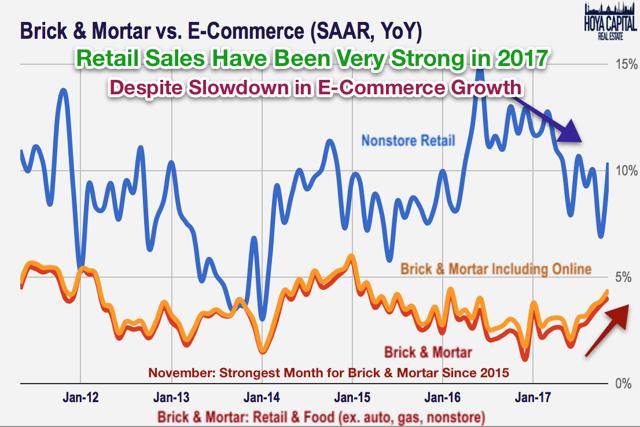 It's also important to note that the Commerce Department includes all online sales in the nonstore retail category, not just pure-play online retailers. Even in-store pickups of online items are counted towards the nonstore retail category. This has been a source of confusion among analysts and journalists. This tends to overstate the growth rate in the nonstore retail category and understate the health of the brick & mortar category.
The slowdown in e-commerce growth from the 15% rate in 2016 to the 10% rate in 2017 could be related to proactive measures that many retailers (including Wal-Mart (WMT)) have undertaken to prioritize in-store purchases to avoid margin-killing shipping costs. Wal-Mart offers 3-5% discounts on many items for consumers who purchase items in-store. We've detailed in other articles that Amazon's "free 2-day shipping" is anything but free for Amazon and accounts for several billions of dollars in lost revenue each year, which gets subsidized through its other more profitable business lines. Distribution remains a significant and costly hurdle for pure-play e-commerce retailers.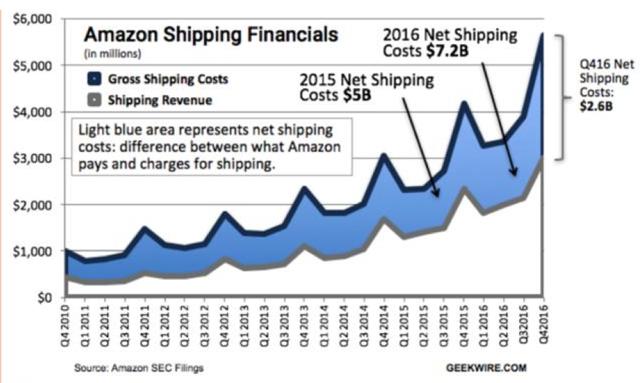 Our favorite chart below shows the "Amazon effect" or lack thereof in many of the retail categories. Restaurants, furniture stores, grocery stores, and building/home improvement retail sales continue to be strong. Even in the "retail losers" category, we've seen a recovery in the general merchandise and clothing categories in recent months, which are now in positive growth territory YoY. Only the electronics and sporting goods/books categories have seen negative TTM growth, but these two categories were strongly positive on a MoM basis in November.

Clearly, there is positive momentum in retail sales data heading into this holiday season, but will it carry-through through the end of the year? One of the most promising early data points this holiday season comes from First Data's SpendTrend Report. Through mid-December, First Data sees the strongest rate of holiday retail spending growth over the last four years, highlighted by 8% growth during the Black Friday weekend. During the Black Friday weekend, brick-and-mortar sales grew by more than 6% while e-commerce sale grew 15%.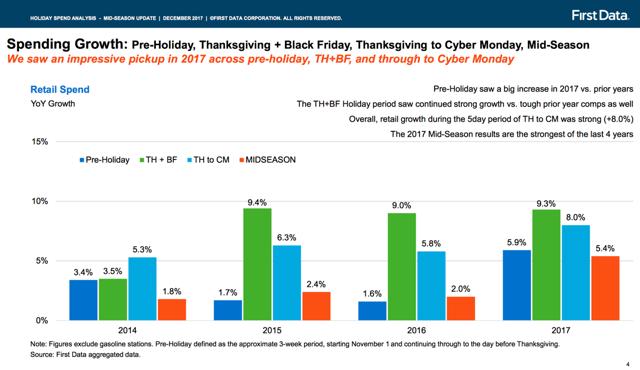 The apparent strength in retail sales is consistent with economic data showing a resurgent and optimistic American consumer. Consumer sentiment in October topped 100 for just the second time since 2004. The unemployment rate remains near its lowest level since the BLS began tracking it in 1948. Household net worth is on pace to rise more than 8% in 2017, buoyed by a 6% rise in home values, a 20% rise in equity market values, and an estimated 4-6% growth in median family income, capping off a 30% surge in this metrics since 2013. Nearly every economic data metric that correlates with retail sales has broken-out to the upside.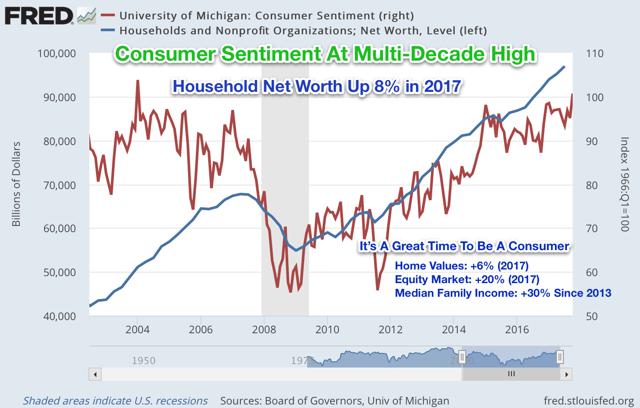 To cap it off, retailers got an early Christmas present in the form of sweeping tax reform. There was immense fear early in 2017 within the retail industry that tax reform would entail a transition to a "territorial tax" system which would upend retail supply chains through the institution of a "border tax." This would have been a worst-case-scenario outcome for retailers, particularly clothing and electronics sellers. Instead, the final version of the tax reform package was essentially a best-case-scenario outcome for retailers. Per the WSJ, the retail sector pays some of the highest effective tax rates among all US industries. Lowering the corporate rate to 21% is expected to significantly improve the financial health of US retailers.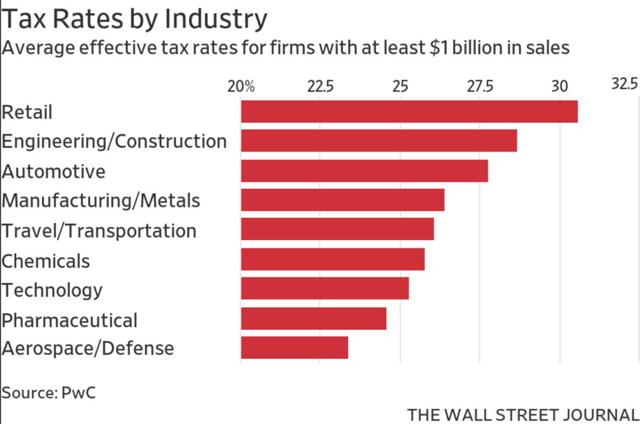 Despite all of this, the sentiment surrounding brick-and-mortar remains profoundly negative. Retail REITs remain the most heavily-shorted REIT sector. We believe, however, that this negativity may have recently reached a "fever-pitch," illustrated by the launch of the "Death of Retail" ETF (NYSEARCA:EMTY). Since launching in November, this ETF has plunged more than 9%. If holiday retail sales are as strong as the early metrics suggest, we foresee the potential for sharp short-squeeze rallies in many retailers. The narrative around brick-and-mortar could quickly shift from "retail apocalypse" to "retail euphoria."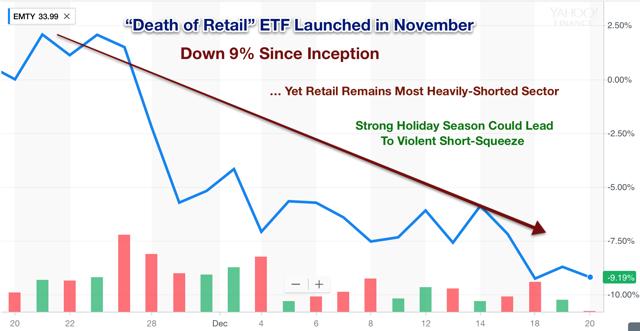 Recent Developments and Quarterly Performance
Shopping center REITs have outperformed the REIT average over the last quarter, led by strong performance in Regency Centers and Federal Realty. Despite the recent rally, however, the sector has declined 14% YTD, among the worst-performing real estate sectors.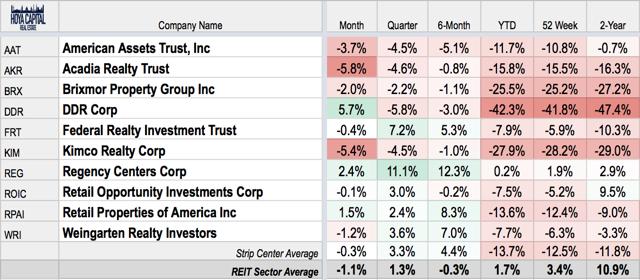 3Q17 results were generally better-than-expected. Six of the ten REITs beat earnings estimates while one missed. Forward guidance was quite strong with six REITs raising full-year estimates. Occupancy remains strong at 95% despite the brief flurry of store closures announced in the first half of 2017. Same-store NOI growth has moderated to just under 2%, down from 3% achieved in 2016 and 3.5% in 2015. Leasing spreads continue to be robust at 11% and point to near-term occupancy gains and stronger-than-average FFO growth over the next several years.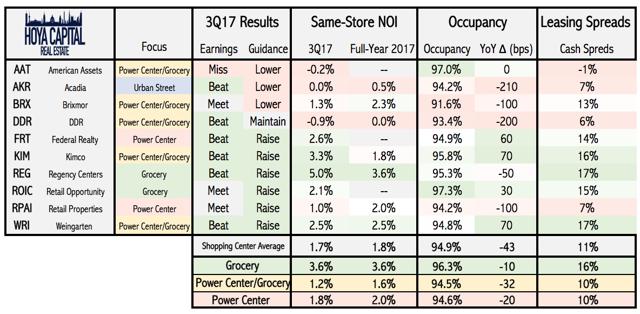 On earnings calls and at the recent NAREIT and ICSC conferences, several key themes are being discussed. First, Amazon's (NASDAQ:NASDAQ:AMZN) acquisition of Whole Foods (WFM) continues to be a central focus on many earnings calls. REIT executives universally agree that the move is a clear positive for the sector, as it validates the idea that well-located shopping centers are indeed the 'last mile' of e-commerce delivery. From the Regency earnings call:
"Amazon's announced purchase of Whole Foods reinforces our conviction that a well-located bricks and mortar presence that is convenient to the customer is a critical component to the success of any omni-channel platform… They are paying over $40 million a store, so we don't expect it to be convert them to 40,000 square-foot warehouse. But I am sure they are going to use some of the store to - for pick-up, delivery etcetera from an Amazon standpoint. I think it reinforces our conviction about the importance of retailers being able to conveniently service their customers through bricks-and-mortar. It is and it remains the most efficient way to deliver the last mile."
Second, grocery-anchored and higher-quality REITs continue to outperform, a continuation of the trend of bifurcation within the retail real estate space that we have noted for several quarters. Small-shop occupancy dipped slightly, but surging small business optimism bodes well for future occupancy gains. Many REITs, however, reported increased capex and tenant improvement allowances, a function of the changing retail landscape and a potential drag on FFO growth. The retail development pipeline, however, remains muted as new ground-up development remains almost non-existent across the shopping center space.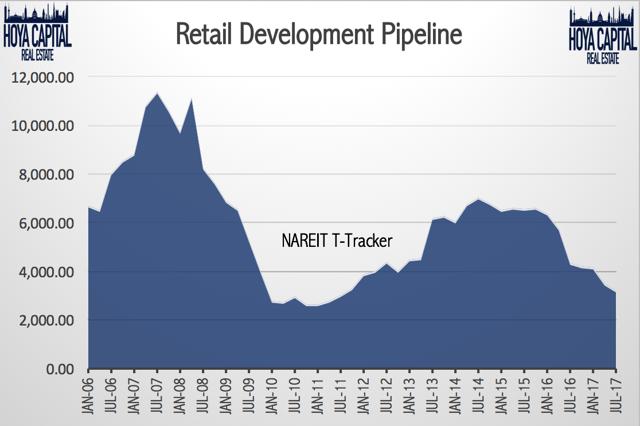 Third, aligned with underlying fundamentals, private market valuations have bifurcated as well. Based on estimated cap rates, grocery-anchored centers have appreciated 2-5% over the past year. High and average-quality power center valuations have fallen 3-7%. Lower quality power centers, particularly those without a grocer, have seen cap rates expand and valuations decline between 10-20%, a significant one-year change. On average, shopping center REITs trade at an estimated 5-15% discount to Net Asset Value. As a result, these REITs have been quiet on the acquisition-front and were net-sellers in 3Q17.

2017 Performance of Shopping Center REITs
Below is our REIT Heat map showing the YTD performance of shopping center REITs compared to the other REIT sectors.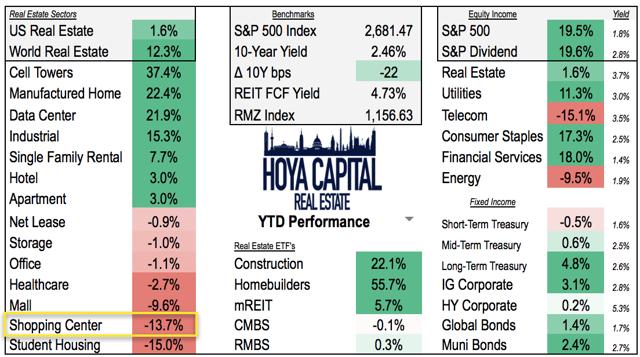 Valuation of the Shopping Center REITs
Even after the recent modest outperformance, shopping center REITs appear moderately attractive across cash flow-based valuation and Net Asset Value metrics. Shopping center REITs trade roughly in line with the broader REIT Free Cash Flow (AFFO) average. When we factor in two-year growth potential, the sector appears mildly expensive relative to other sectors. Using an aggregation of analyst estimates of NAV, we see that shopping center REITs trade at a roughly 5% discount to NAV.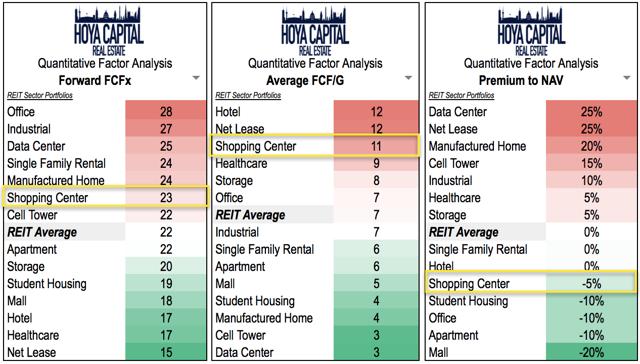 Similar to the mall sector, there is a significant bifurcation in valuation metrics between higher-quality and lower-quality REITs. The high-quality names including Acadia, Federal Realty, and Regency, command significant premiums to the average. Lower-quality names, including Brixmor, DDR, Retail Properties of America, and Weingarten, trade at sizable discounts.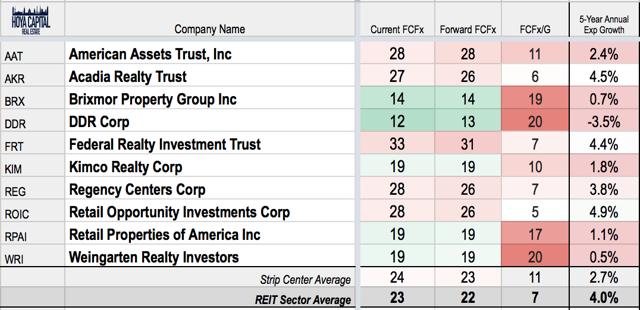 Interest-Rate Sensitivity
While they are more bond-like than mall REITs, shopping center REITs are not highly sensitive to interest rates nor are they particularly sensitive to movements in equity markets. Over the past three years, shopping center REITs have exhibited factor sensitivity that is roughly in line with the broader REIT average.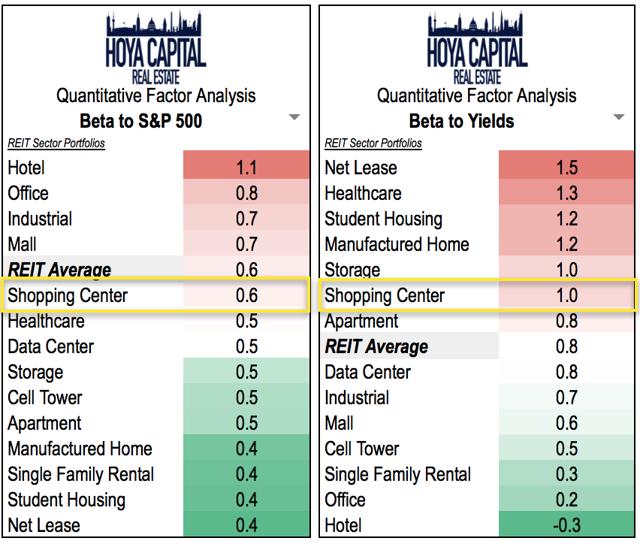 We separate REITs into three categories: Yield REITs, Growth REITs, and Hybrid REITs. (Click to read more information about our methodology).

As a sector, shopping center REITs straddle the line between the hybrid and yield REIT category. As we see below, the high-quality grocery-anchored centers have higher interest rate sensitivity while the lower-quality power-center REITs exhibit less interest rate sensitivity and more equity risk.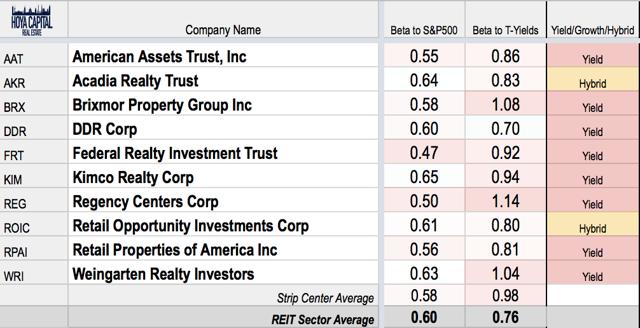 Dividend Yield and Payout Ratio
Shopping center REITs are one of the highest-yielding REIT sectors, paying an annualized dividend yield of 4.5%, above the REIT average of 3.7%. To do so, though, these REITs payout almost 97% of their available free cash flow, limiting their flexibility to deploy the capital towards redevelopment, acquisitions, or increased dividends.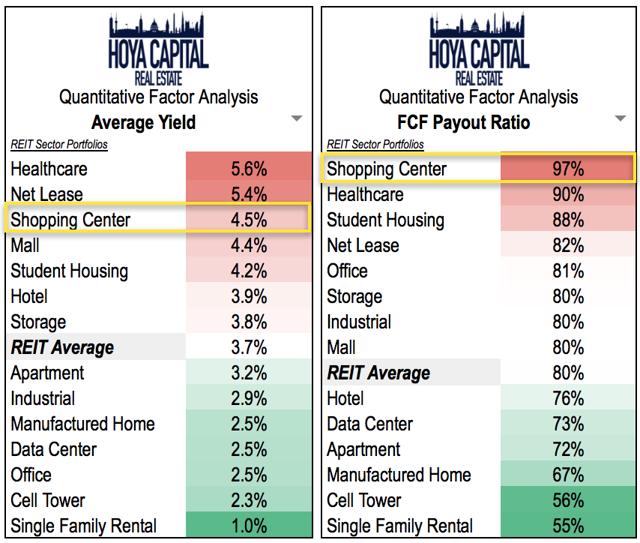 Within the sector, we note quote a bit of divergence in dividend yield, which is inversely related to the quality of the underlying portfolio. DDR pays the highest yield of nearly 9% while Federal Realty pays a yield of just 3.0%. Several REITs are paying dividend yields above their 2017 free cash flows, so investors should expect more modest dividend growth from these REITs in future years.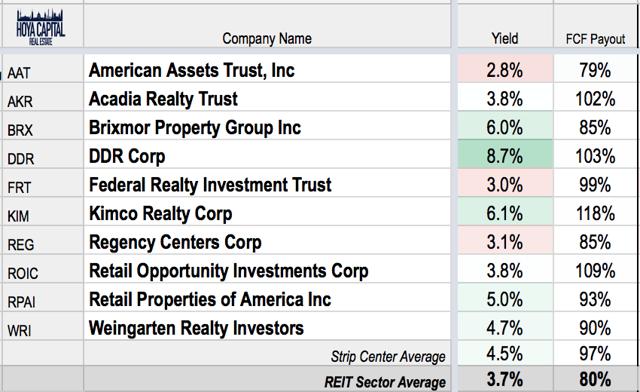 Bottom Line: Retail Apocalypse Could Become Retail Euphoria
The "retail apocalypse" narrative that has been aggressively pushed by the financial media couldn't have been more wrong. The stars are aligning for a record-smashing holiday season for retailers. Financial conditions are ideal for robust growth in retail sales. Consumer confidence is near multi-decade highs, real wage growth has been solid, and wintery weather conditions have been favorable.
Brick-and-mortar sales trends have seen a resurgence in 2017 amid weakening growth in e-commerce. Retailers like Wal-Mart are proactively emphasizing and encouraging the higher margin in-store sales channel. Retailers themselves got a huge Christmas present from the tax reform package. Retailers stand to benefit more than any other industry from the corporate tax cuts.
Last-mile delivery continues to be a hurdle that has bedeviled e-commerce retailers. Amazon's purchase of Whole Foods is an affirmation that brick-and-mortar is that 'last-mile'. The financial media narrative surrounding brick-and-mortar retail has been widely out-of-touch with reality and borderline deceitful. Store openings continue to outpace store closings, but you would never know. Outside of the NYC media bubble, most Americans still prefer the in-store experience for the vast majority of their shopping. Surging small business confidence bodes well for small-shop occupancy.
3Q17 results were generally better than expected across the board. After getting hammered early in 2017 amid a wave of store closures, retail REITs have outperformed into year-end. The sentiment remains far too negative and could reverse after the holiday. We aggregate our rankings into a single metric below, the Hoya Capital REIT Rank. We assume that the investor is seeking to maximize total return (rather than income yield) and has a medium- to long-term time horizon. Valuation, growth, NAV discounts/premiums, leverage, and long-term operating performance are all considered within the ranking.

We currently view Brixmor, Regency Centers, and Retail Properties of America as the most attractively-valued REITs in the shopping center sector. To see where office REITs fit into a diversified REIT portfolio, be sure to check out our other REIT Rankings: Single Family Rental, Healthcare, Apartment, Net Lease, Data Center, Mall, Manufactured Housing, Student Housing, Storage, Cell Towers, Industrials, Hotels, Office, and International.
Please add your comments if you have additional insight or opinions. Again, we encourage readers to follow our Seeking Alpha page (click "Follow" at the top) to continue to stay up to date on our REIT rankings, weekly recaps, and analysis on the REIT and broader real estate sector.