With the sweeping tax bill, the market is cheering about the reduction in the corporate tax rate from 35% to 21%. Bloomberg authored a nice piece laying out which industries would likely receive the most benefit from the change. The largest beneficiaries are businesses that have fat operating margins but significant tax burdens, particularly for companies domiciled and operating within US borders. On the flip side, companies that use debt and/or have taken on massive debt burdens are now compromised with the change that net interest expenses can only be deducted up to 30% of "adjusted income". There has been a debate between EBIT and EBITDA being the appropriate measure. However, using the former would simply favor capital-light versus capitally-intensive industries. No need to make things more complicated than they should be, right? So, EBITDA appears to be the rule.
According to most estimates on the Street, tax reform is expected to increase S&P 500 earnings per share by approximately $8. Based on forward estimates generated by FactSet earnings insight, the 2018 consensus lands at approximately $133 based on a normalized assumption (trailing 12-month EPS is less than $120). So, if we add these together, we have $141 EPS and then apply a 17x multiple (15-17x is considered to be the standard range), we find that the S&P 500 should have a fair value of approximately ~$2,400. The most recent print of $2,683 therefore puts the index about 12% overvalued. For a direct comparison, the SPDR S&P 500 ETF (SPY) should be trading at approximately $239/share at "fair value." In other words, the market has already accounted for tax reform and then some.
Leverage
It's also important to note that margin debt is trending at a record high. Advisor Perspectives provided some interesting charts in their November report, showing the growth in margin debt over the last few decades and the total dollar amount outstanding currently. Not only does this support how much risk is present in today's market, but if credit growth were to stall, or unwind, liquidity would dry up very quickly.
US corporate net debt as well as financial leverage both stand at record levels as well. Pulling from the Federal Reserve, outstanding debt securities is approximately $6 trillion, nearly twice the amount in Q4 of 2007. The bigger concern, however, is that approximately two-thirds of US issuers are now junk rated (i.e. BB or less). While many companies have refinanced their debt closer to 2020 and 2021 maturities, some issuers are still at risk of rising interest rates and tighter credit conditions going forward. Following Fed rate hikes, particularly the most recent one in December, 3-month LIBOR just pushed to 163 bps.
Just to reiterate, the new tax bill will have corporations limiting their net interest tax write-offs while short-term borrowing costs are materially increasing. This presents a one-two punch to lower grade junk debt issuers, particularly companies that fall into "CCC" or "B" credit rating classifications. These are companies that tend to have an interest coverage ratio of 2 times or less, using one metric as an example.
Yield Curve
Moving on to broader credit conditions. The yield curve is a strong gauge for this and acts as a useful leading indicator as well. Over the last four to six quarters, the long-end of the curve has flattened considerably: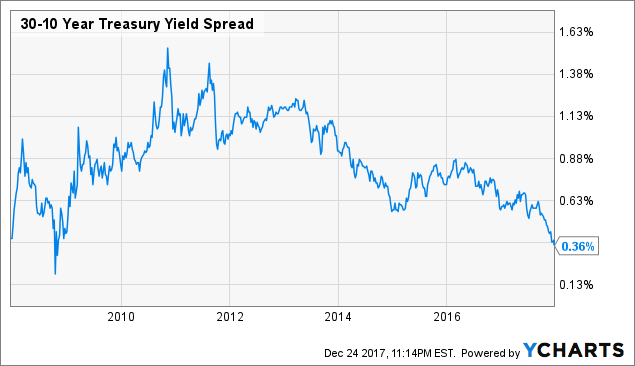 Some will argue that a 36 bp spread is still constructive and is therefore not indicative of significant risk. However, it does fall in line with the last downturn of 2008, and we think this activity certainly warrants caution.
While we are not ringing the death knell of the bull market, we do think it is prudent to allocate defensively at this stage in the cycle. Buying ETFs is probably not the best way to do so. In our view, a good strategy would involve the accumulation of cash, gold, and/or careful selection of individual equities.
Bottom Line
The timing of a stock market correction/crash is a fool's game. However, there are multiple factors that point to significant risk at current levels, both in terms of valuation and downside catalysts. It is broadly three-fold: an S&P 500 overpriced by 10-15%, excessive financial leverage across all categories, as well as incremental factors that set up for deteriorating credit conditions. Let us know what you think in the comments section below. Thank you for reading.