The holidays are in full swing, and in the spirit of this time of year, sin stocks are in focus. The sectors that fall into this "sin" category include gambling, alcohol, tobacco, and even sex-related industries.
As popular culture continues to evolve, alcohol and tobacco will most likely be a vice that people will remain supportive of, but now there is a new participant that is beginning to make a noticeable impact: cannabis. This comes in a multitude of forms. It can be smoked, drunk, eaten, and vaporized, and companies are finding other ways to enhance its use. So why is now the time that investors should take a more serious look at this industry and marijuana stocks in general?
Catalyst #1: Canopy Growth Brings Cannabis Into The Mainstream
Though this industry has been growing ever since legalization began years ago, it wasn't quite as relevant or mainstream until this year's investment by Constellation Brands (NYSE:STZ). The owner of Corona and a laundry list of other alcohol brands made an investment of roughly C$245 million and equated to just under 10% for a minority stake in Canopy Growth Corp. (TWMJF).
"We are thrilled to have the backing of such a well-established and respected organization such as Constellation Brands... Canopy Growth Corporation. "We look forward to working with the Constellation Brands team to access their deep knowledge and experience in growing brands as we continue to expand our business," said Bruce Linton, chairman and chief executive officer, in the company's initial release at the end of October.
So this begged the question: what will other alcohol companies do in response? The simple fact that the industry is growing doesn't necessarily warrant the expansion of a new business arm just to address "some competition." But the growth of cannabis, in particular, isn't something that can be ignored much longer. The reason for that has a lot to do with Canada.
Catalyst #2: Canada Set To Legalize Recreational Cannabis Sooner Than Expected
Canada's Prime Minister, Justin Trudeau, gave an interviewer at the TVA network in Quebec insight into the Canadian recreational legalization deadline. The story line has been that July 1 will mark the day Canada can start selling recreational cannabis. But according to Trudeau, that's not the case.
"The date will not be July 1, I can assure you of that," Trudeau said. "I don't know where that date came from."
Should this be true and Canada's Prime Minister's definition of summer be a day before July 1, investors should begin to take note. As previously written, US investors can start gaining exposure to Canadian-based cannabis companies via 5-letter stocks ending with the letter "F."
Obviously, Canopy Growth is one of the larger companies making headway in the space, but with this new development, other Canadian cannabis companies could begin to take on their own spotlight. Among the top four right now are Aurora Cannabis (ACBFF), Aphria Inc. (APHQF), and MedReleaf (OTCPK:MEDFF), joining the pack alongside Canopy with a total value of more than $7.8 billion.
If you look at just these stocks alone, investors will notice a dramatic boost that the companies have seen in the market over the last few weeks. MedReleaf, for example, was subjected to numerous reports of a less-than-favorable outcome from their IPO. The company raised $100 million, which valued MedReleaf just shy of $900 million. Though the stock fell to lows of under $6 per share during the months following the IPO, it has recovered and moved as high as $15.25.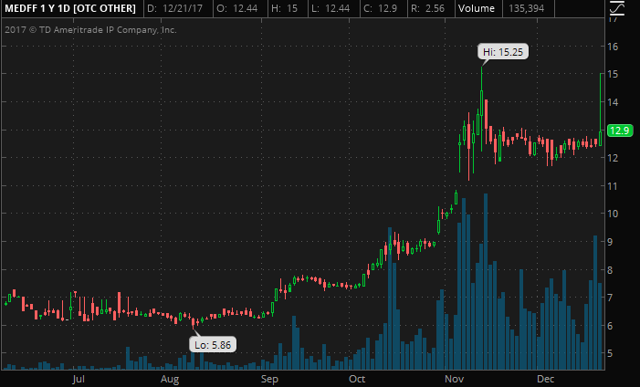 The company has also made headlines, which surely have helped boost more attention toward Canada after announcing that it came to an agreement with Canadian retailer Loblaw Companies' Shoppers Drug Mart. The agreement will allow MedReleaf to actually sell medical cannabis online.
But this wasn't the first big deal to happen with Shoppes. A few weeks prior, Aphria entered into a similar agreement. Due to Canada's regulations, Aphria was also only selling medical cannabis online. It is currently prohibited from being sold in retail pharmacies.
A report from Economic Insights concluded that in 2015 alone, consumption of cannabis was nearly 700 tons. With an assumed price of $7.14-8.84 per gram, the market was able to produce between $5 billion and $6.2 billion. This was even before the thought of recreational legalization coming into play.
The opening up of a much broader, recreational audience will only help build on this rapid growth. So what does this mean for other sin stocks which traditionally deal with things like alcohol and tobacco?
Catalyst #3: "This Bud's For You" Has Multiple Meanings Now
Popularized by Anheuser-Busch (NYSE:BUD), "This bud's for you" has stood the test of time, but now North Americans are finding a different bud to use. Researchers at the University of Connecticut and Georgia State University have a working paper that has followed the impact that marijuana has, and most likely will continue to have, on the alcohol industry.
Growing evidence supports that new availability to marijuana can actually reduce alcohol consumption. Researchers studied alcohol sales that were included in Nielsen's Retail Scanner database.
"We find that marijuana and alcohol are strong substitutes [for each other]... Counties located in [medical marijuana] states reduced monthly alcohol sales by 15 percent". This was observed after medical marijuana laws were introduced, for example. The majority of other reports also support the idea that marijuana is a substitute for alcohol. There are even privately owned companies like Rebel Coast Winery which are aiming to take advantage of California's upcoming recreational market in 2018 with an alcohol-free, TCH-infused "wine."
Constellation isn't the only company "monitoring" this new development. Molson Coors (NYSE:TAP) CEO Mark Hunter has come out to say that the beer giant has a team to "evaluate the potential impacts and/or the opportunities" of the cannabis industry. Since the company is actually based in Colorado, it comes as no surprise that it is watching all of this unfold first hand.
Other companies like Jack Daniel's maker Brown-Forman (NYSE:BF.B) and Samuel Adams' maker Boston Beer (NYSE:SAM) have also commented on the matter. Furthermore, the former chief marketing officer for Anheuser-Busch InBev NV is trading in hops for cannabis. Chris Burggraeve joined the advisory board of GreenRush Group and co-founded Toast, which makes pre-rolled joints.
He stated to the Chicago Tribune, "The same way that craft beer started and, for the longest time, was ignored and then exploded, there's no reason why the same thing wouldn't happen in this space... There will be part supplementing and part complementing. The jury is out on how and where that will happen."
The growth in the sector can clearly be seen from the dramatic boost in the Marijuana Index over the last 3 months: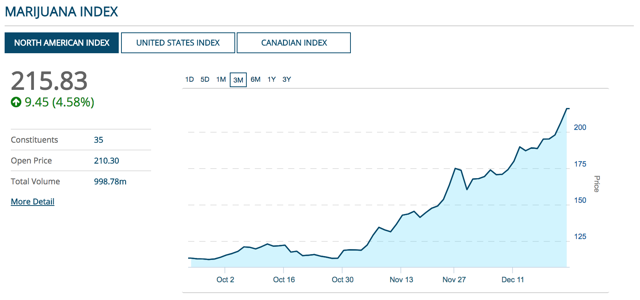 Companies include Namaste Technologies Inc. (OTCQB:NXTTF), Golden Leaf Holdings Ltd. (OTCQB:GLDFF), Maricann Group Inc. (OTCQB:MRRCF), and Cannabis Sativa Inc. (OTCQB:CBDS).

There Are Still Risks To Keep In Mind
No investment comes without risk, and cannabis companies are no exception to the rule. Most of these stocks (including Canadian cannabis stocks) are listed on the OTC exchange. Though as a standalone it may not appear as much of a risk due to the large increase that many of these stocks have, fundamentally speaking, an investment based on hype alone is not sound. OTC listing requirements are not the same as those of an exchange like the Nasdaq or NYSE, which tend to have additional requirements for companies.
Also, many of the companies that are starting to gain in popularity are ones that are foreign reporting entities. So they will report whatever is required by their native securities agencies.
Furthermore, let's not forget the hype. Just because there may be a trend in cryptocurrency stocks right now doesn't mean the rumor mill hasn't stopped in the cannabis arena. With a frenzied feeling about the new green rush about happen in Canada, it wouldn't be surprising to hear about how much square footage of grow space a company may have.
That's excellent if it's true, but always make sure that your investment in a company that focuses on growing, for example, actually holds the assets that rumors say it does.
In addition to this, US-based companies also still have to worry about federal crackdowns on their operations. Cannabis is still not legal across the US, and that means at any given moment the DEA can seize or even shut down operations of a cannabis company.
At this point, that may not be likely, unless there are other activities - like illegally operating a grow operation, similar to what two men attempted to do at a West Bank warehouse. The fact still remains that it is a possibility, however.
Conclusion
If the alcohol companies are starting to pay attention, this should be a wake-up call for investors. Not only will Canada be anticipating full legalization before the previously cited July 1 date, but also remember that one of the biggest states in the US, California, will be turning on the switch for full legalization in 2018. Though it is not legalized on a national level in the United States, Canada could be the litmus for what's to come.
In anticipation of this, investors should look to Canadian stocks and IPOs first, as this will likely be the most near-term boost to the industry. As more states in the US opt for recreational legalization as well as medical legalization, the process should become more refined.
In the end, the fact that a major niche like "sin" companies are considering this an immediate risk or "something to monitor closely" should be the indicator that investors need. The market is still risky because of the legal ramifications on a federal level and that most of these stocks are listed on the OTC exchange, which doesn't hold the same requirements like companies listed on the Nasdaq or NYSE. However, those who have part of their portfolio dedicated to higher-risk investments should consider cannabis stocks as an option.
The sheer fact that larger, established companies that are not involved in this space are starting to pour millions of dollars into this market should be a clear indication that this industry is here to stay.
Disclosure: I/we have no positions in any stocks mentioned, and no plans to initiate any positions within the next 72 hours. I wrote this article myself, and it expresses my own opinions. I am not receiving compensation for it (other than from Seeking Alpha). I have no business relationship with any company whose stock is mentioned in this article.
Editor's Note: This article covers one or more microcap stocks. Please be aware of the risks associated with these stocks.